Take the Plant Plunge
November 9 - 6:00 pm

-

7:00 pm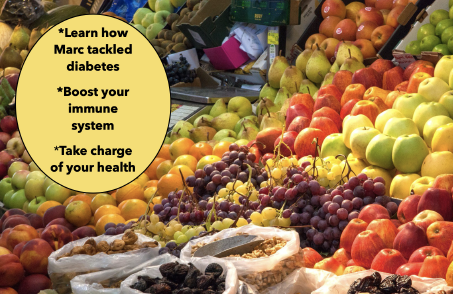 Ready to take charge of your health and boost your immune system? Dive into a plant-based lifestyle with our 5 week online Plant Plunge!
About this Event
Marc tackled type 2 diabetes, high cholesterol, high blood pressure, and obesity with a plant-based lifestyle—no more insulin shots or metformin! Take the plunge and learn exactly how he did it.
Dive in with us! Our Plant Plunge starts Monday, November 9th, 2020 and you're invited to join us! (If you join after November 9th you will receive a recording of the session you missed)
Check out what people are saying about the Plant Plunge:
"I had a weight of 298.6 lbs at the start of the new journey. After 2 months of embracing the vegan lifestyle I now have a weight of 277.8 lbs. Along with the weight I have lost inches along with the intangibles of having more energy as well as quality sleep at night to recover and start a new day. This is not a journey that will be ending anytime soon. I plan on being in it for the long haul. Thank you for educating me on the benefits of this new lifestyle."–Matt
"I'm very frugal and I am happy to say it's the best money I spent in 2018. The valuable information, encouragement and support I got helped me get much healthier. I feel good about reducing my impact on the environment and reducing suffering. Kim and Marc are very sincere about making themselves available to people. That's a lot of bang for the bucks." — Lisa
Here's what you'll get with the Plant Plunge:
5 live online classes with Marc & Kim (Can't join at the scheduled time? No worries–we record the sessions so you can listen later.)
Phone consultation with Marc & Kim to design a plan for your unique situation(optional).
Meal ideas
Cooking demos
Shopping strategies
Helpful emails
Recipes
Instruction for label reading
Tips for eating out, social situations, and more!
Special price $49.00  –  PLUS VegMichigan Members get $10 off when you register with the promotion code VEGMICH
Register HERE
Schedule:
Monday, November 9, 6pm-7pm
Monday, November 16, 6pm-7pm
Monday, November 23, 6pm-7pm
Monday, November 30, 6pm-7pm
Monday, December 7, 6pm-7pm
Marc Ramirez, B.S. Kinesiology, is a TEDx presenter, motivational speaker, and certified Food for Life instructor with Physicians Committee for Responsible Medicine (PCRM).
Kim Ramirez, A.B., is Forks Over Knives Plant-Based Certified through Rouxbe Cooking School, has a certificate in Plant Based Nutrition with T. Colin Campbell Center for Nutrition Studies, and is a certified Food for Life instructor with PCRM.
Disclaimer: By enrolling in this event I understand that the information presented is not intended to replace the advice of my medical doctor or other health care professional and that the information and materials presented are not intended to be a substitute for professional medical advice, diagnosis, or treatment. I understand that results vary among individuals and there are no guarantees regarding the results I may or may not experience. I understand that I am encouraged to consult my health care provider regarding any changes I make to my lifestyle and diet. By providing my email information I will receive information from Chickpea and Bean, Inc., a 501(c)(3) nonprofit.
Check out Chickpea & Bean