This recipe is about as Pure Michigan as it gets: gooey fudge that melts in your mouth and rich chocolate coats your palette as you bite into this perfect plant-based fudge. 
With only five ingredients, you are going to love this vegan DIY Mackinac Fudge. The texture is similar to fudge made with dairy and the flavor is phenomenal. Don't worry, you will not be using those long paddles or folding your fudge for hours over marble. This recipe is straight from the double boiler to cool. 
We all know this summer has been hot, hot, hot and if you are anything like me, you have been craving cool, refreshing treats often. I love to eat my favorite store-bought ice creams just as much as anyone but unfortunately, these ice creams quickly end up on the waistline and I don't feel good about eating them nearly as often as I crave a treat. Enter nice cream. This is the solution to all of your ice cream cravings.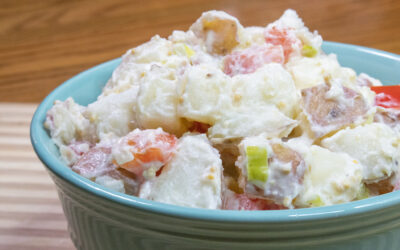 We are all looking for that super simple yet super tasty recipe that is loved by everyone, no matter if they are vegan or not. This potato salad has got you covered.
Made from only six ingredients, this dish takes almost no time to make. Plus, with the popularity of vegan mayos, and how delicious they have become, no one will know this isn't the same egg-based mayo they grew up with.