dIY vegan MackInac Island fudge
guest blog by cookIng up vegan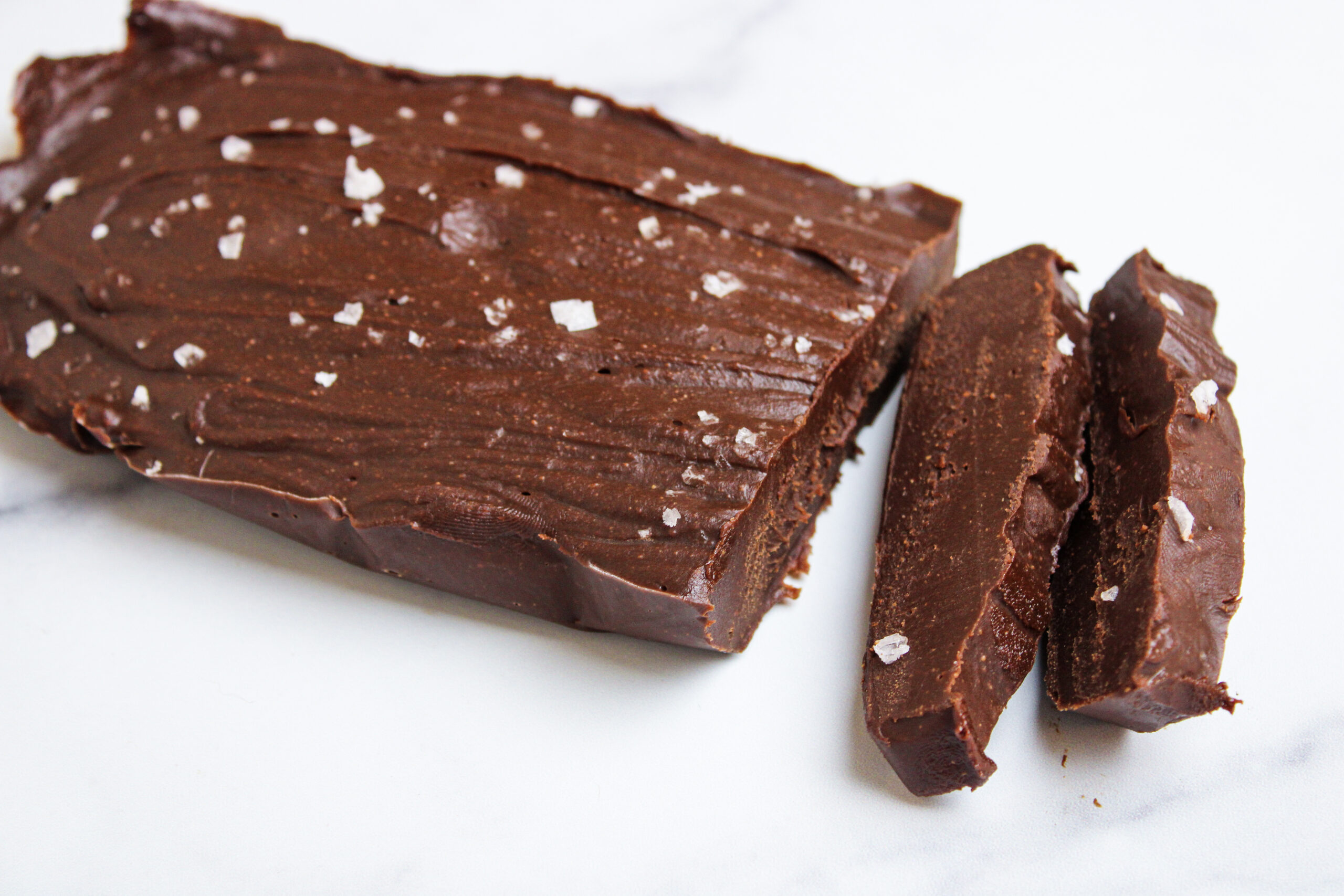 Looking for a DIY dairy-free, cholesterol-free, cruelty-free fudge? Then look no further! 
This recipe is about as Pure Michigan as it gets: gooey fudge that melts in your mouth and rich chocolate coats your palette as you bite into this perfect plant-based fudge. 
With only five ingredients, you are going to love this vegan DIY Mackinac Fudge. The texture is similar to fudge made with dairy and the flavor is phenomenal. Don't worry, you will not be using those long paddles or folding your fudge for hours over marble. This recipe is straight from the double boiler to cool. 
You won't be missing that milk and butter in this recipe, either. The nut butter provides you with a rich and healthier fattiness!
This recipe is: 
Easy 
Quick 
5 Ingredients 
Refined Sugar-Free 
Chocolatey 
Sweet 
Rich 
Chewy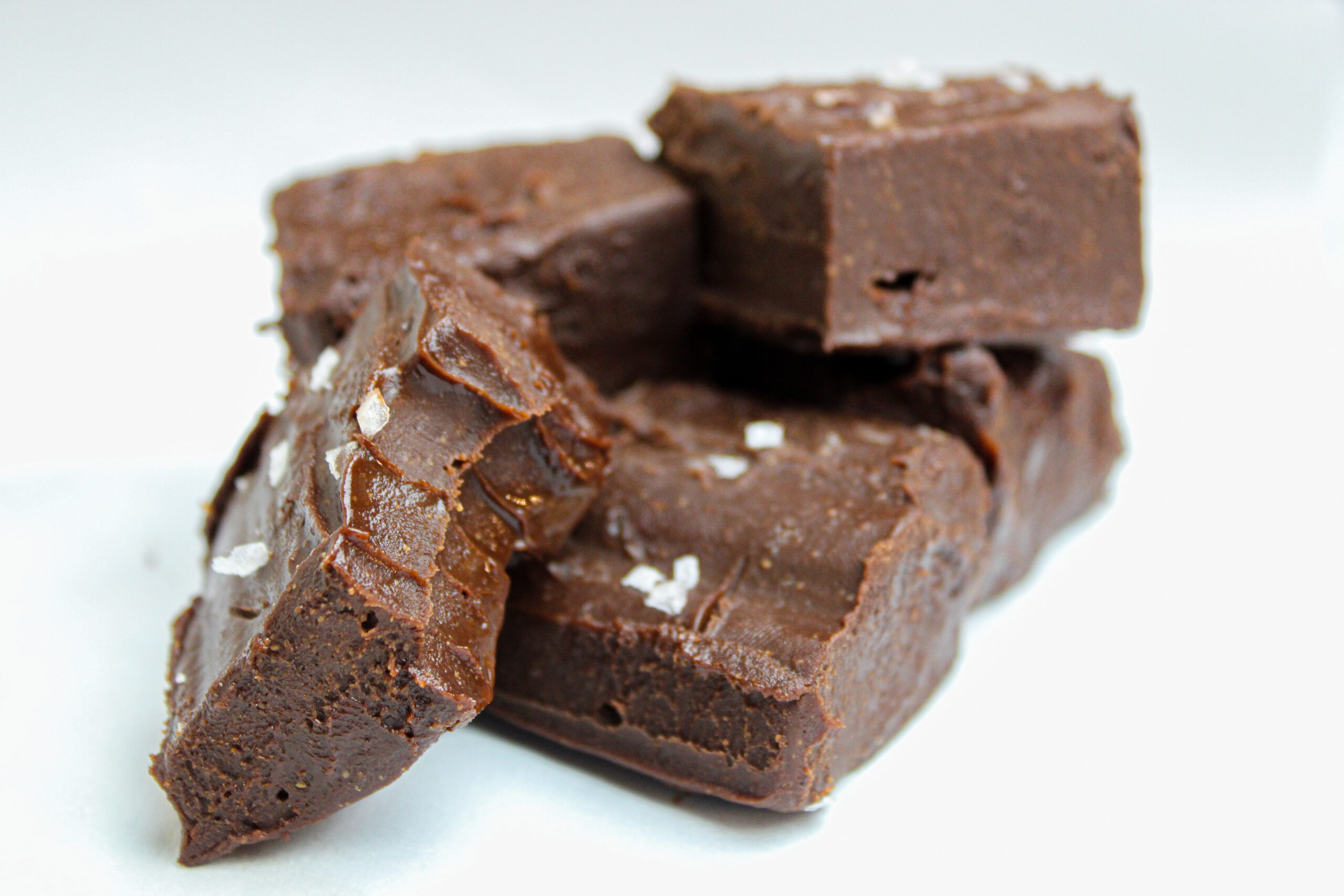 Whether you are a Michigander, have visited Mackinac Island, or simply love fudge, you have found the right page.  
Nate's love for fudge came from growing up in Michigan. Every summer his family goes to Mackinac Island and it is here where they bought many pieces of fudge. It was a family tradition for everyone to pick out a flavor and then sample a smorgasbord of fudge!
If you've yet to visit, we'll give a little tour:
The only way to arrive at the island is by ferry. As you ride across Lake Huron, you can feel the cool breeze of the Upper Peninsula. It gets pretty cool on the ferry ride, and can even be cooler in the summer months, so be sure to pack a jacket! Also, if you decide to sit on the top level of the ferry, you'll most probably get wet from the splashes of Great Lakes water.  
The first building you can spot on the island is the historic Grand Hotel. It is giant and truly spectacular to see up close. As the boat turns the corner of the island, you begin to see the shops, boats, horses, and feel the buzz of the island. The captain will make this amazing maneuver and perfectly park the ferry at the dock of the island. 
Once docked and out of the boat, you'll feel a sense of magic. You'll only understand when you walk toward the main street that Mackinac Island is really a Disney World for adults. The thrill rides of the island are the horses and bikes.
Of course, it's hard to explain unless you've been there, but imagine a time machine just took you back in time to the late 1800s. The small streets are filled with horses and tourists and lined with lots of colorful flowers. There are magnificent gardens and the landscaping is held to a very high standard. 
Part of what makes the island feel so magical is the lack of cars on the island. Most vehicles are prohibited, so the only way to travel is via bike, on foot, by horse, or horse-drawn carriage. Personally, we prefer to ride bikes because it is a much better workout. Plus, we like knowing that no animals were forced to do our bidding. It's easy enough to bike around the whole island! 
In addition to colorful flowers, souvenir shops and candy stores line the streets. You'll smell sweet fudge being cooked all up and down the main drag. Most candy stores have large glass windows inviting you to come inside where you'll find groups of tourists watching artists cooling fudge on marble countertops. This is truly a spectacular sight to see and an amazing culinary technique filled with much tradition and love. 
FOR THE LOVE OF FUDGE
Mackinac Island is famous for its fudge and it's a classic Michigan sweet treat!
A couple of summers ago, Nate took Luna to Mackinac Island for the first time. By this trip, Nate was vegan, as was Luna. Traditionally, fudge is made with sugar, dairy, and flavorings like chocolate or peanut butter. So the hunt was on to find dairy-free fudge. Lo and behold, out of what seemed like 50 shops, only one had dairy-free chocolate fudge. Shout out to Sanders for coming in for the dairy-free win! If you are ever in northern Michigan, be sure to have a visit!
Before we get into the recipe, here's a little history of the famous Michigan island.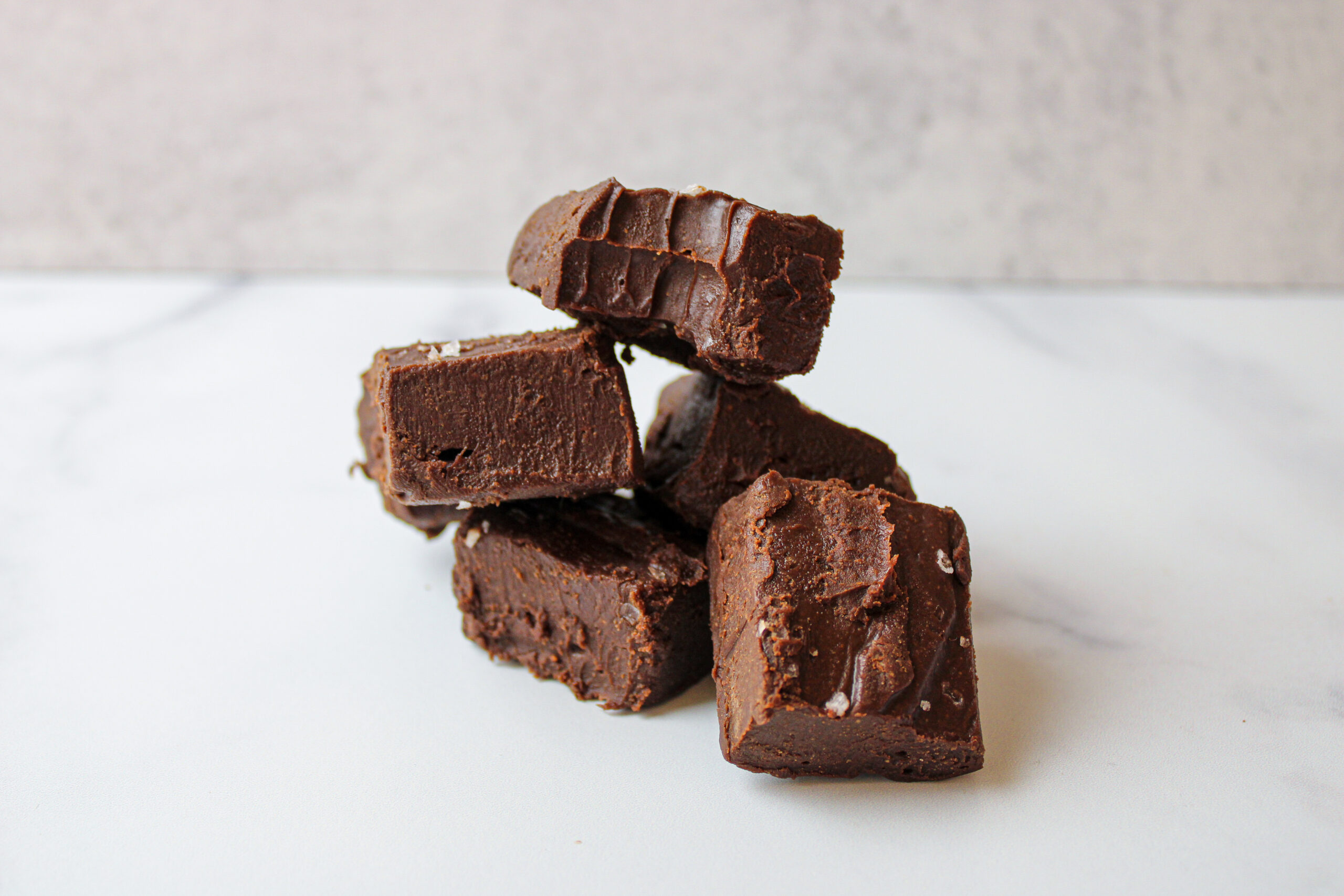 hIstory of MaCKINaC ISLaNd
Like many places in the Great Lakes region, Mackinac Island's name originates from the Ojibwe language. Mackinac Island is located in Lake Huron between the Upper and Lower Peninsulas. Before European colonization in the 17th century, the island was inhabited by the indigenous Odawa as a settlement. Archaeologists have found pottery, fish hooks, and other artifacts that prove a Native American presence about 700 years before European exploration. 
The island was an important location for the fur trade in the Great Lakes. In addition, one of the former trading posts became Fort Mackinac, a British fort used during the American Revolution. 
By the 19th century, the island became a popular tourist attraction. Many of the building structures have undergone historical restoration and preservation. Due to its historical significance, the whole island is considered a National Historic Landmark. In addition, more than 80% of the island is preserved as a state park.
MaKING MaCKINaC ISLaNd fUdGE
Fudge became popular in the United States during the 19th century. This was mostly because the cost of refined sugar had decreased. Recipes were printed in advertisements and periodicals during the late 1800s. Fudge became popular because of its unrefined and inexpensive qualities. 
To begin with, fudge is technically considered a sugar candy, meaning that the sugar is crystallized by repeated boiling and via slow evaporation. Traditionally, this treat is made using sugar, butter, and milk. The ingredients are heated and then mixed. While the mixture cools it becomes creamy and smooth. The end texture is a mix between caramel and fondant.
Nuts, nut butters, fruit, caramels, chocolate, and sometimes other flavors are mixed in or added on top.
While fudge was not invented on Mackinac Island, it certainly has become part of the culture –  as can be seen by the annual Mackinac Fudge Festival. For over a century, candymakers have used magic marble slabs to create a treat so sweet and delicious it embodies the essence of comfort. 
Mackinac Island has an abundance of fudge shops, but only two offer vegan fudge; Sanders on Mackinac and Ryba's Fudge Shop.
The last time we were fortunate enough to visit Mackinac Island was last summer. Since the Covid-19 outbreak, we have not ventured to visit the fairytale-like island. 
So, instead of going to Mackinac this year, we decided to put our culinary talents to the test. We developed our very own dairy-free, vegan-approved DIY Mackinac Island Fudge.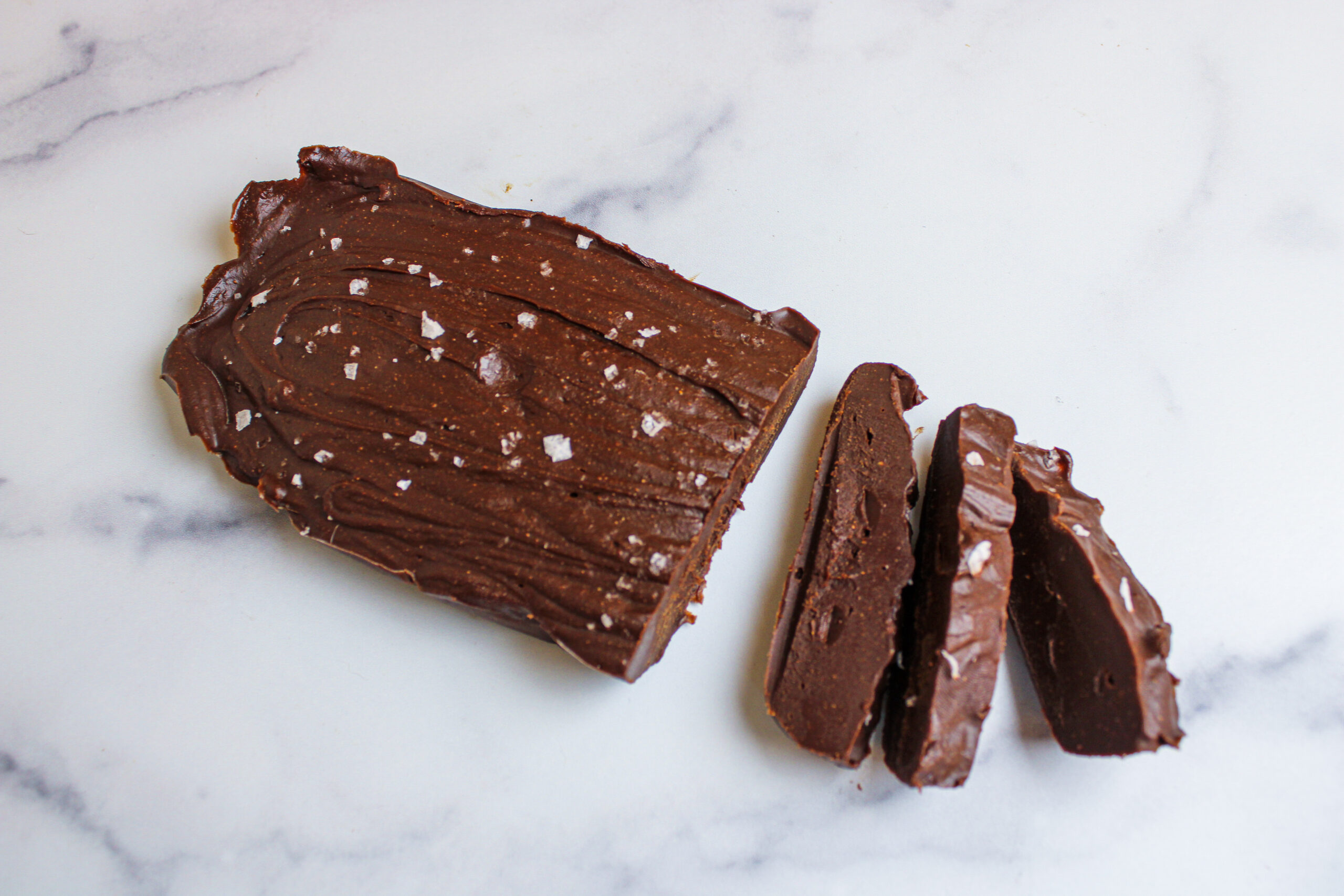 Get creative with this vegan DIY Mackinac Island Fudge recipe. You can leave it plain chocolate or add in things like:
Nuts
Cherries
Seeds
Fruit
This recipe is also flexible.  We have used many different nut butters in this recipe including:
Cashew 
Peanut
Almond
Sunflower Seed
When searching for your nut or seed butter, it's best to make sure it's texture is creamy and smooth. We've found that if the nut butter is a bit firm and hard, it can make the fudge too thick.  
Let us know in the comments below what type of ingredients you used in your fudge! Also, leave a comment about your favorite fudge shop on the island.
Peas,
Luna & Nate
1 cup     Semi-Sweet Chocolate Chips, Dairy-Free

½ cup    Sunflower Butter or Cashew Butter or Peanut Butter

2 Tbsp   Agave

3 Tbsp   Plant Milk

Tt          Maldon Sea Salt
Begin by setting up a double boiler.

Bring the water to a simmer and set a bowl on top. Add all ingredients to the bowl and mix until all ingredients are smooth and the chocolate is fully melted. 

Once melted and fully mixed, pour the mixture into a parchment-lined pan.

Add a sprinkle of Maldon salt and place in the freezer.

Allow the fudge to set for a minimum of 1 hour in the freezer.

Once set, feel free to cut the fridge into slices or squares. 

Store in the fridge.

Enjoy!
check out the recIpe vIdeo
Hi everyone, we're Luna and Nate, professional vegan chefs. We run a vegan food blog called Cooking Up Vegan and are currently based in the Ann Arbor area. Combined, we have spent over 15 years as professional chefs. Whether you have dietary restrictions, are looking for a quick and healthy recipe, or are willing to try something new, we're sure you'll find something delicious at Cooking Up Vegan.