a vegan guIde to detroIt's eastern market
guest blog by the vegan Mary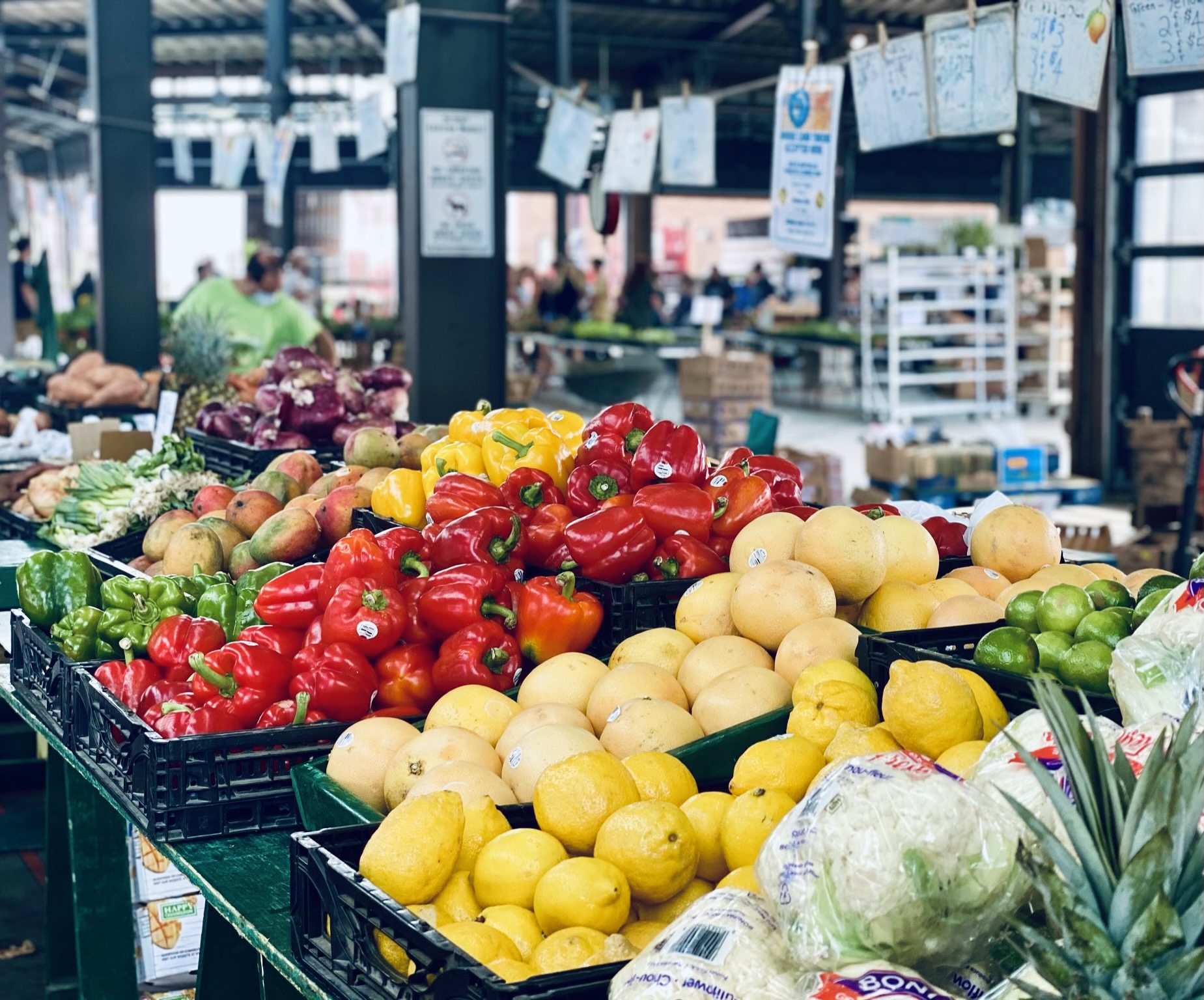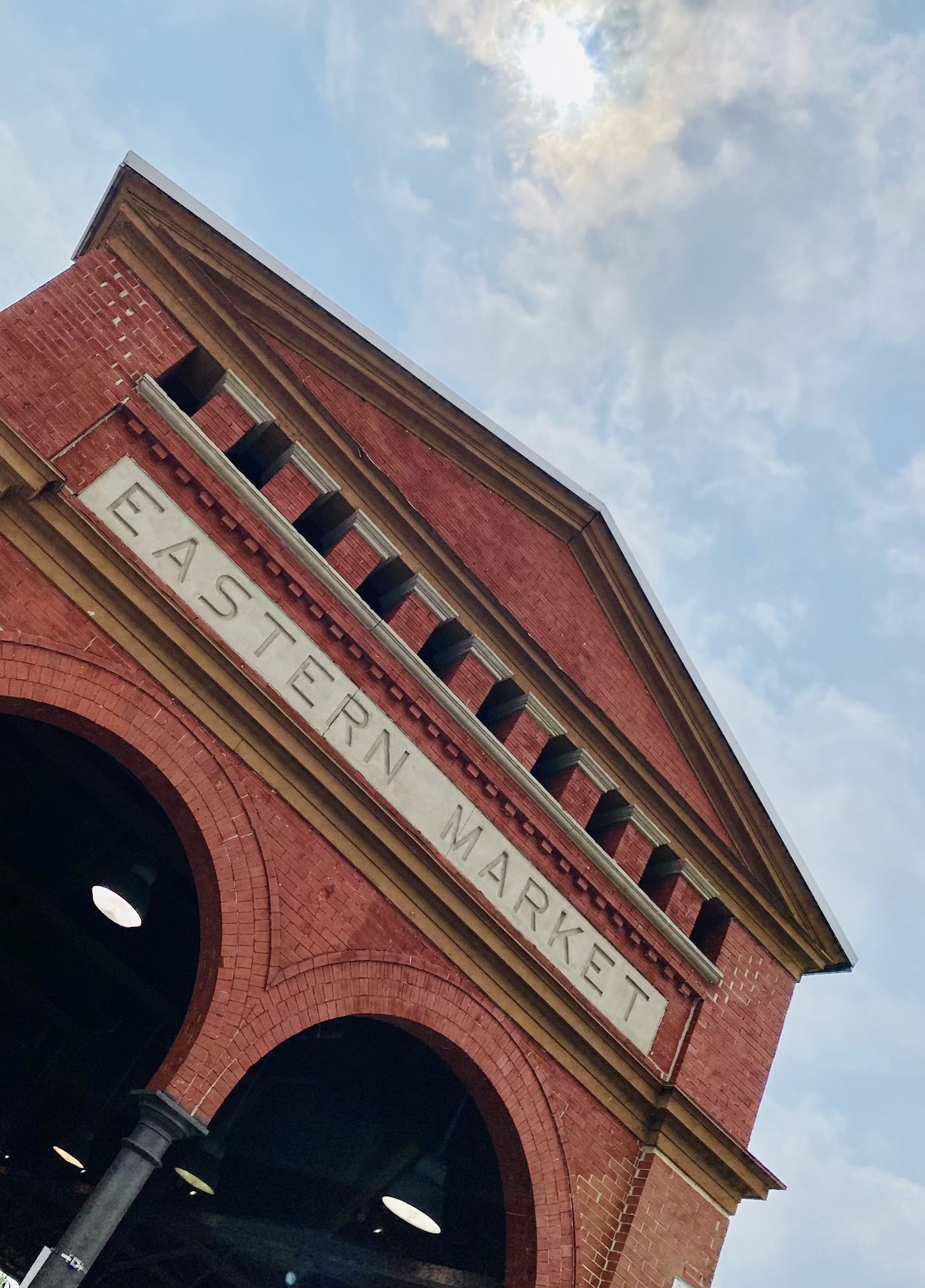 Not much beats the beauty of a Michigan summer or the bounty of a farmers market during said summertime. August is prime time for such a market, as much of Michigan's succulent produce is at its peak. August favorites like green beans, sweet corn, squash, tomatoes, blueberries, and cherries are just some of these tasty late summer gems.
While communities all across Michigan host farmers markets, especially in the summertime, Detroit's Eastern Market features various year-round offerings. The Market, spanning well over 125 years, enjoys a rich legacy of community and culture. Originally home to wood and hay sales, the Eastern Market neighborhood has now blossomed into a Detroit hot spot featuring eateries, breweries, shops, nightlife, festivals, and of course the thrice-weekly market itself; all of which make the Eastern Market experience a draw for visitors and native Detroiters alike.
Sunday's market (open June-September) features arts, crafts, jewelers, and home goods, while Tuesdays (open June-September) and Saturdays (year-round) showcase vast arrays of produce, from Michigan and beyond. Interested in enjoying the richness of Michigan bounty, but want to avoid the Saturday crowds? We recommend trying a Tuesday visit or taking advantage of Eastern Market's online ordering system; pre-order your favs and simply pick up at the market on Saturday. For more info on online ordering, head to https://eastern.market/
Any produce-loving vegan could spend an entire Saturday (or Tuesday during the summer) deliriously wandering vendor to delicious vendor. And that's just what we did last Saturday! While we were drawn to the myriad dining options, lively murals, and unique food trucks, our heart really belongs to the 'sheds' (covered structures) which are home to produce and eatable goodies as far as the eye can see.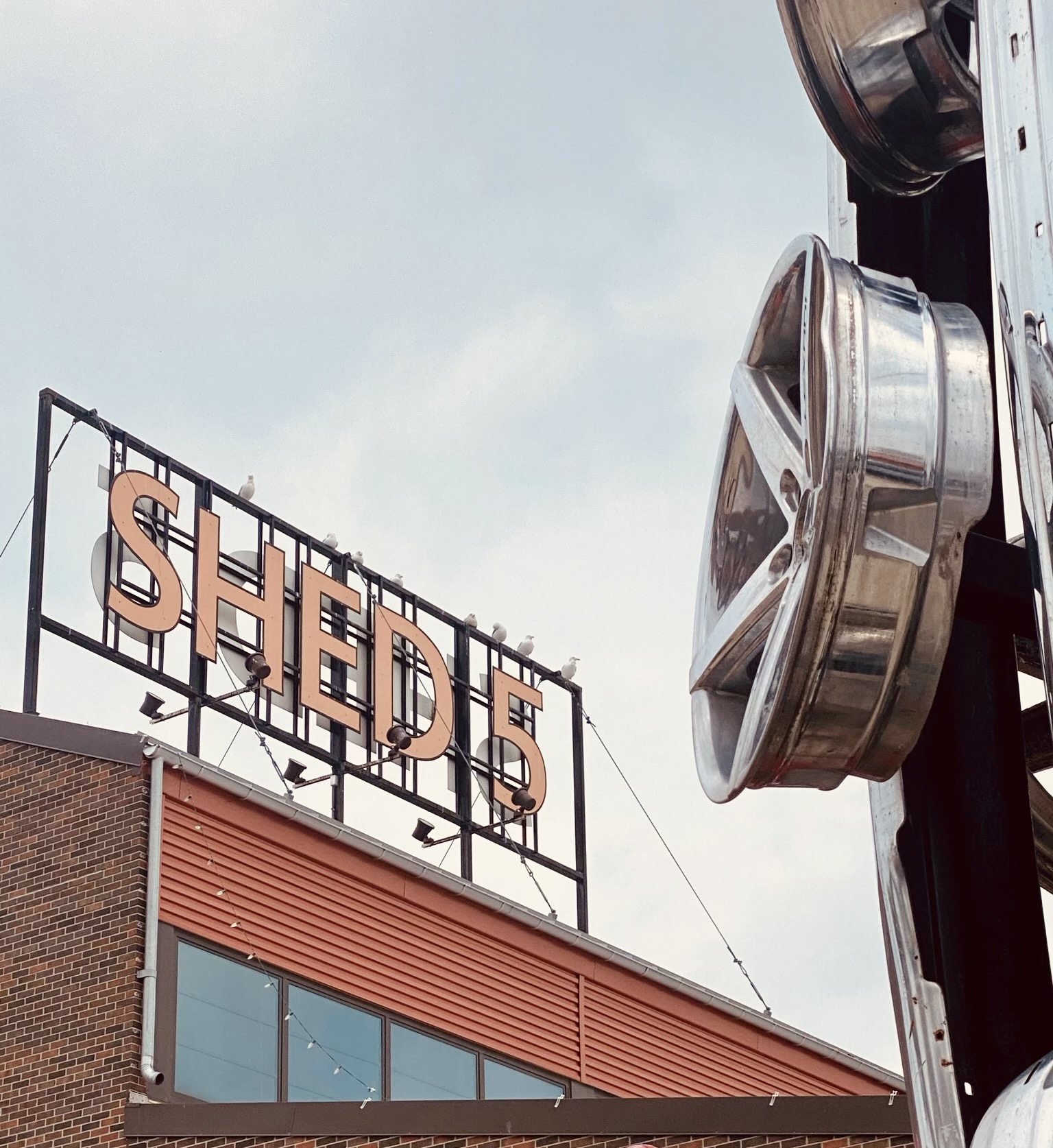 Arguably the anchor of any Saturday experience at Eastern Market is the recently renovated Shed 5, complete with a community kitchen (part of the Detroit Kitchen Connect program). This space is home to nutritional education and cooking classes, as well as demonstrations. What's more, this fully licensed kitchen can also be used by nascent food entrepreneurs; all in an effort to support and grow Detroit's food economy.
The vastness of Eastern Market's Saturday offerings doesn't end with Shed 5. The additional sheds (located to its south) showcase even more abundant products and produce. Join us as we share last weekend's highlights, featuring our Michigan-based growers and CSAs.
CSAs (community-supported agriculture) allow consumers like you and me to 'subscribe' to a crop from certain farms (or collection of farms), thereby sharing the risks and rewards of farming. This crop sharing is a wonderful way to receive the bounty of in-season eats like fruits, veggies, nuts, seeds, baked goods, and flowers, delivered in weekly (or bi-weekly) boxes to its membership. Some variations exist, including 'market style', in which the member chooses what to add to his/her weekly box.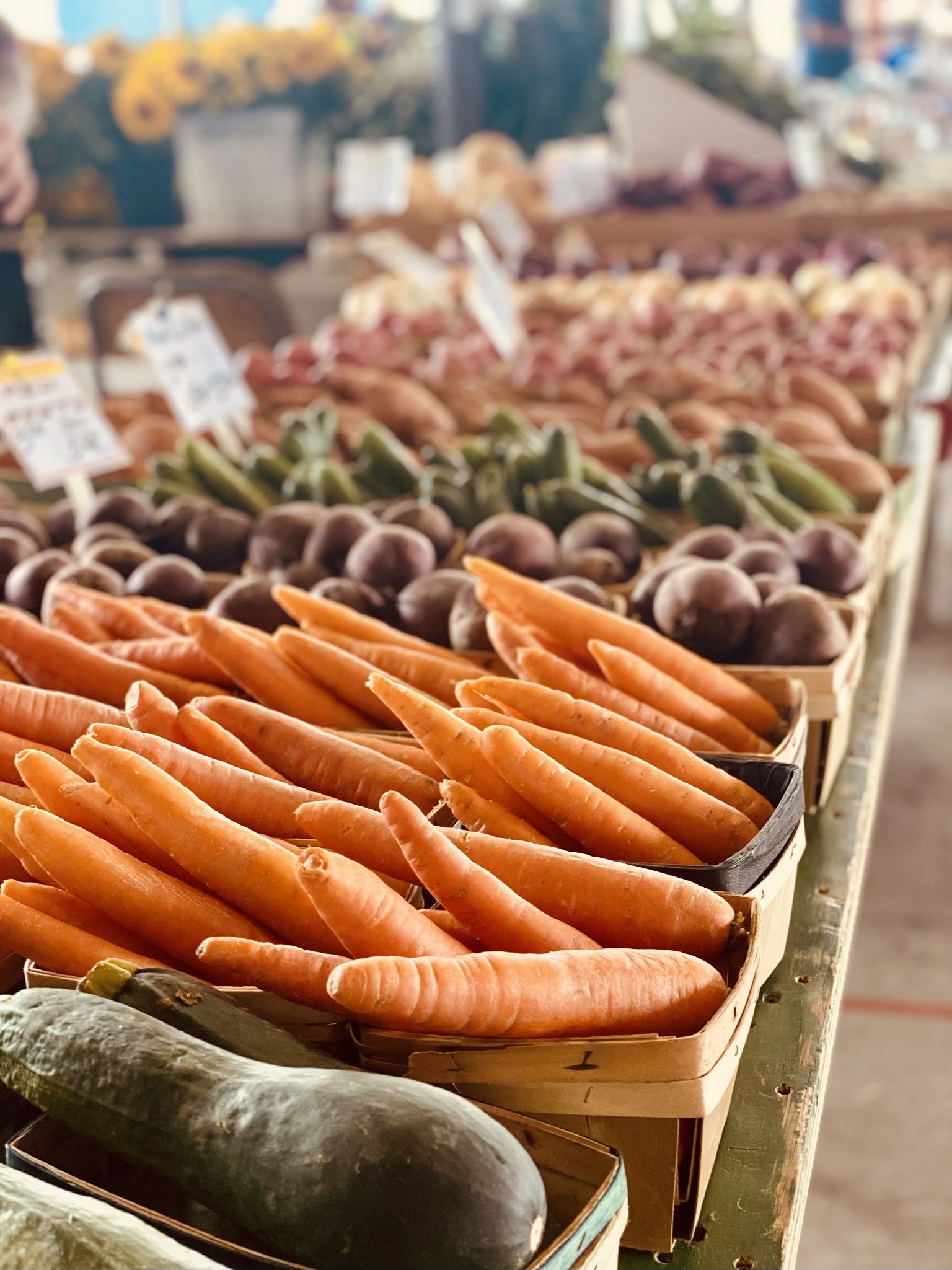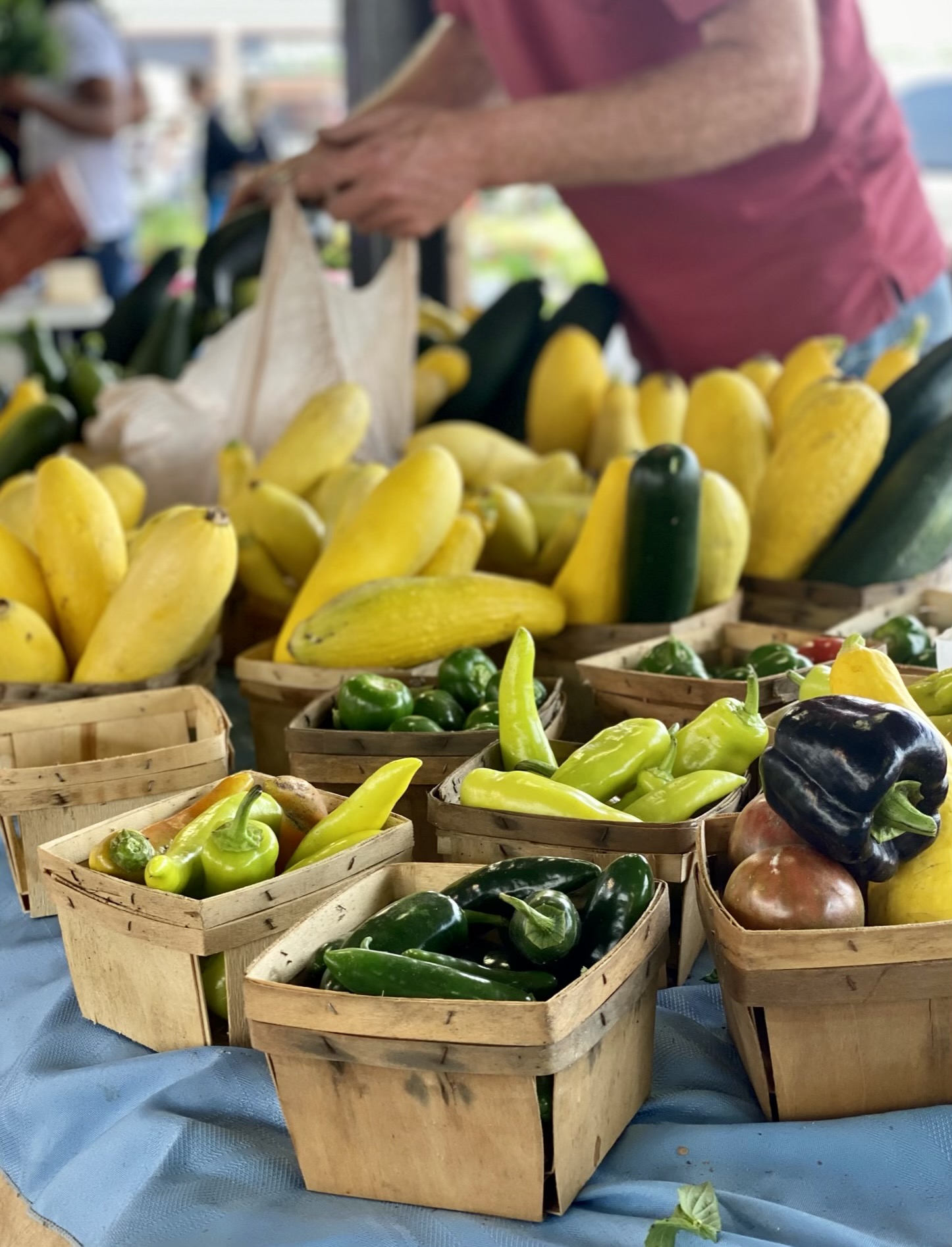 Saturday's Eastern Market is home to a host of produce growers who engage in such crop sharing. (And in case you're wondering, you don't have to be a member to stop by and shop their stand.) Interested in learning more about CSAs in your area? Keep on reading!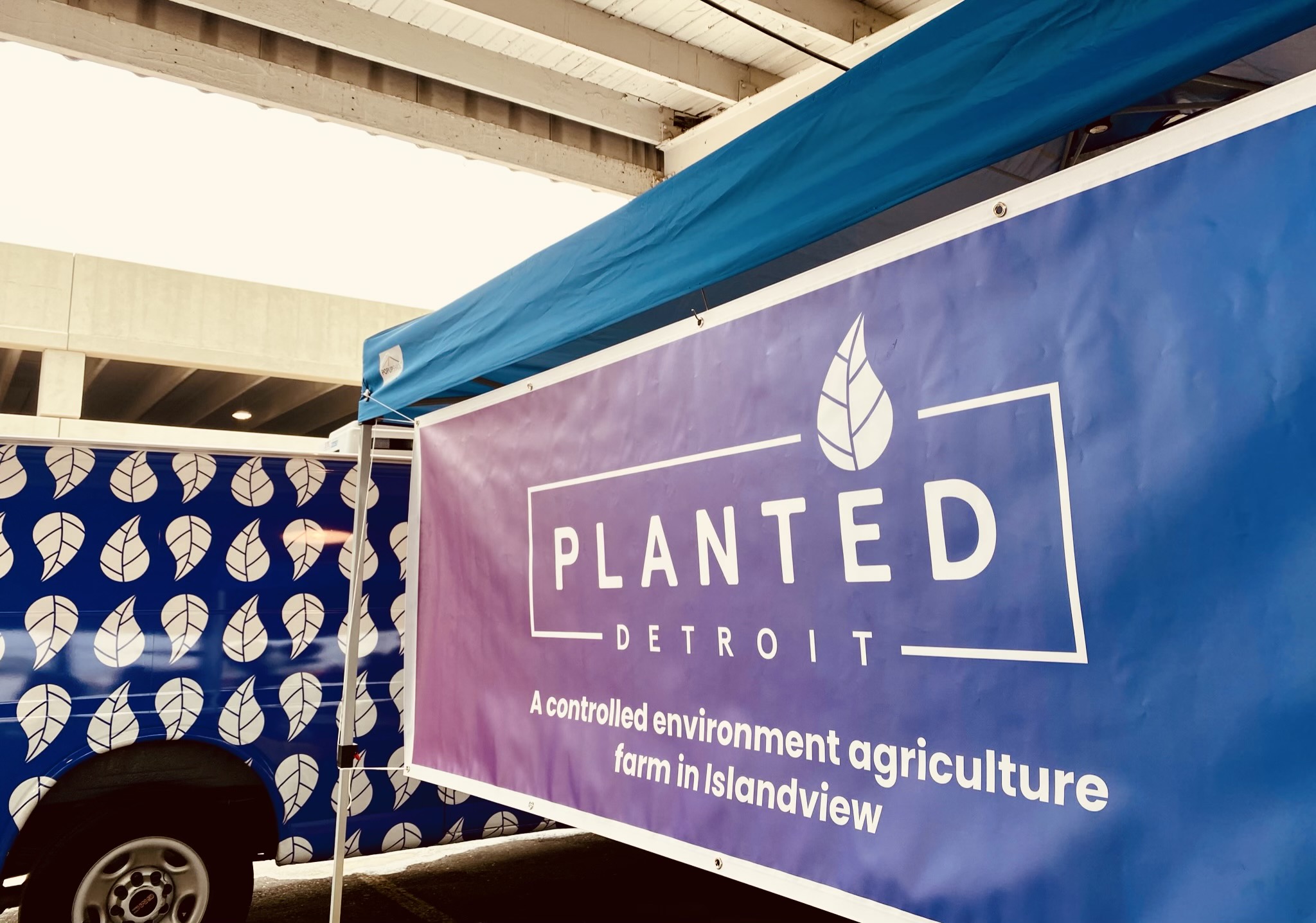 Detroit, MI
Offering prepared salads, as well as microgreens, herbs, and salad mixes, Planted Detroit uses vertical hydroponic systems to grow everything from cilantro to sunflower shoots, pak choi to kale, all only a few miles from downtown Detroit. Not in Detroit? Not to worry. Its service delivers to extended communities throughout Oakland and Wayne County. They also now offer immediate delivery of prepared salads and certain greens to Detroit, Ferndale, Grosse Pointe, St. Clair Shores, and beyond. If this sounds up your alley, check out www.planteddetroit.com for more details.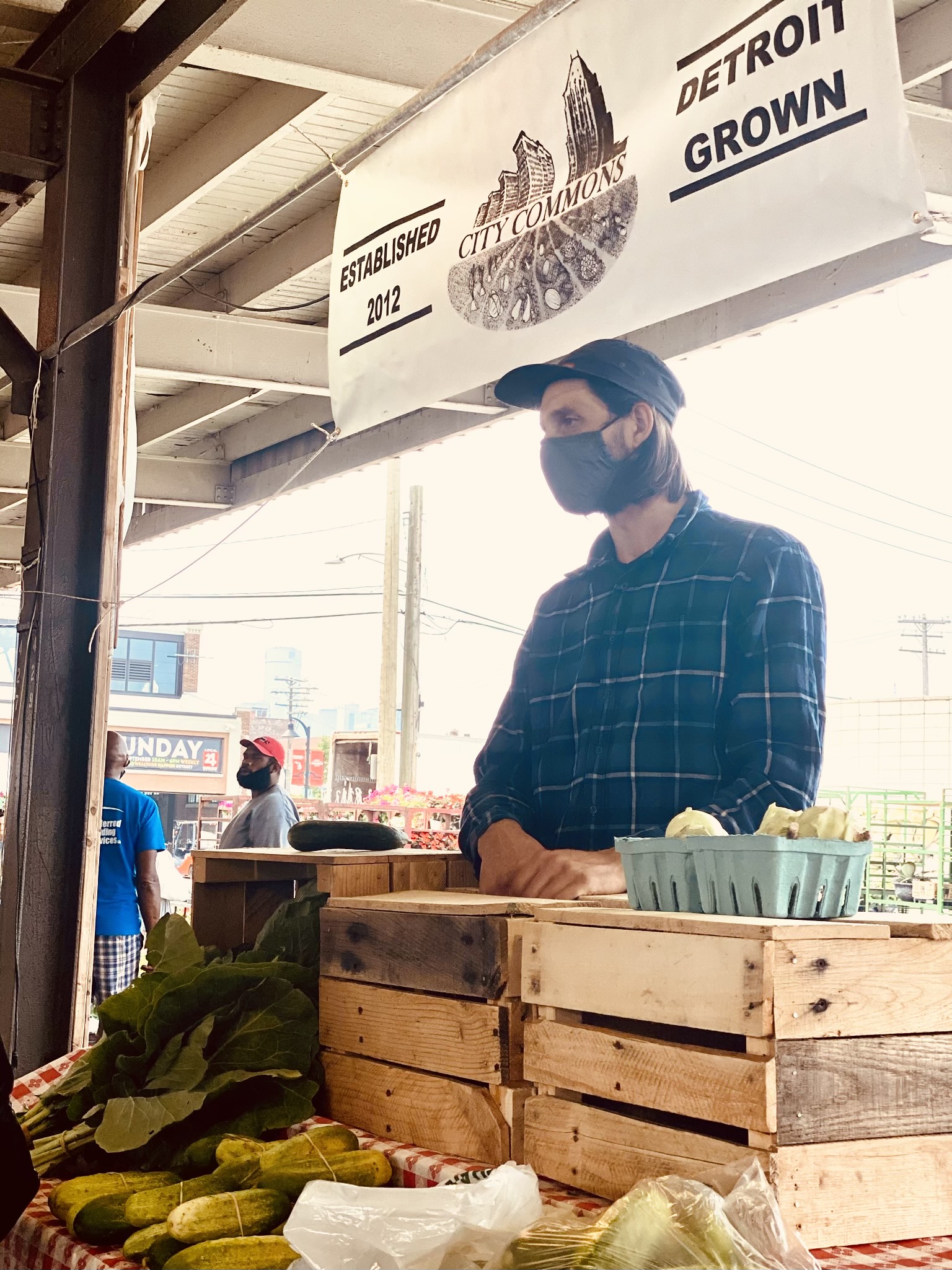 Detroit, MI 
A collective of seven Detroit farms, ranging in size and specialty, City Commons offers produce void of any pesticides, herbicides, or GMOs. What's looking good this week? How about cherry tomatoes, chard, carrots, collards, and cucumbers…or sorrel, scallions, and summer squash! While CSA membership (also known as a 'share') is currently sold out, the waitlist is open: www.citycommonscsa.com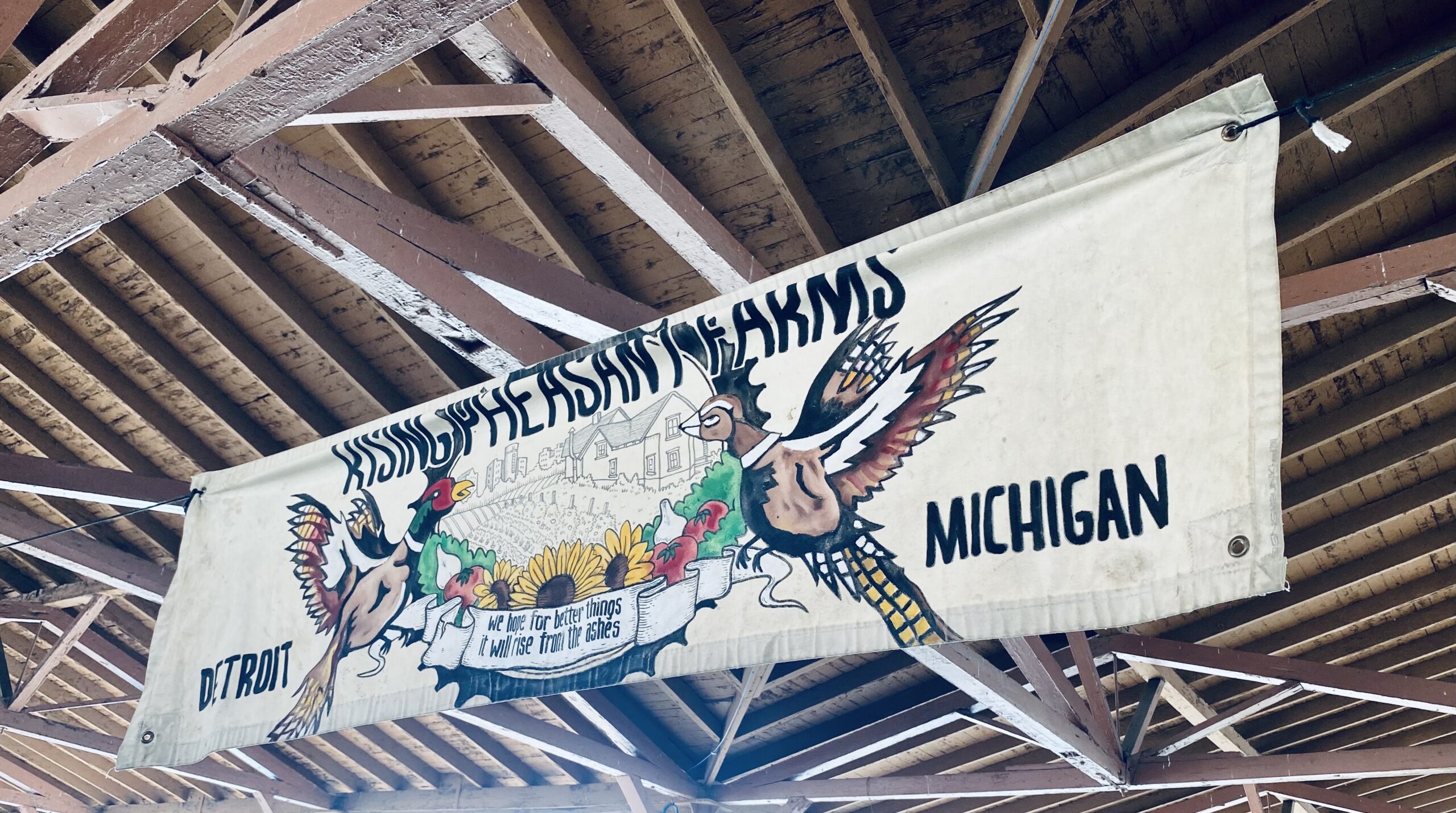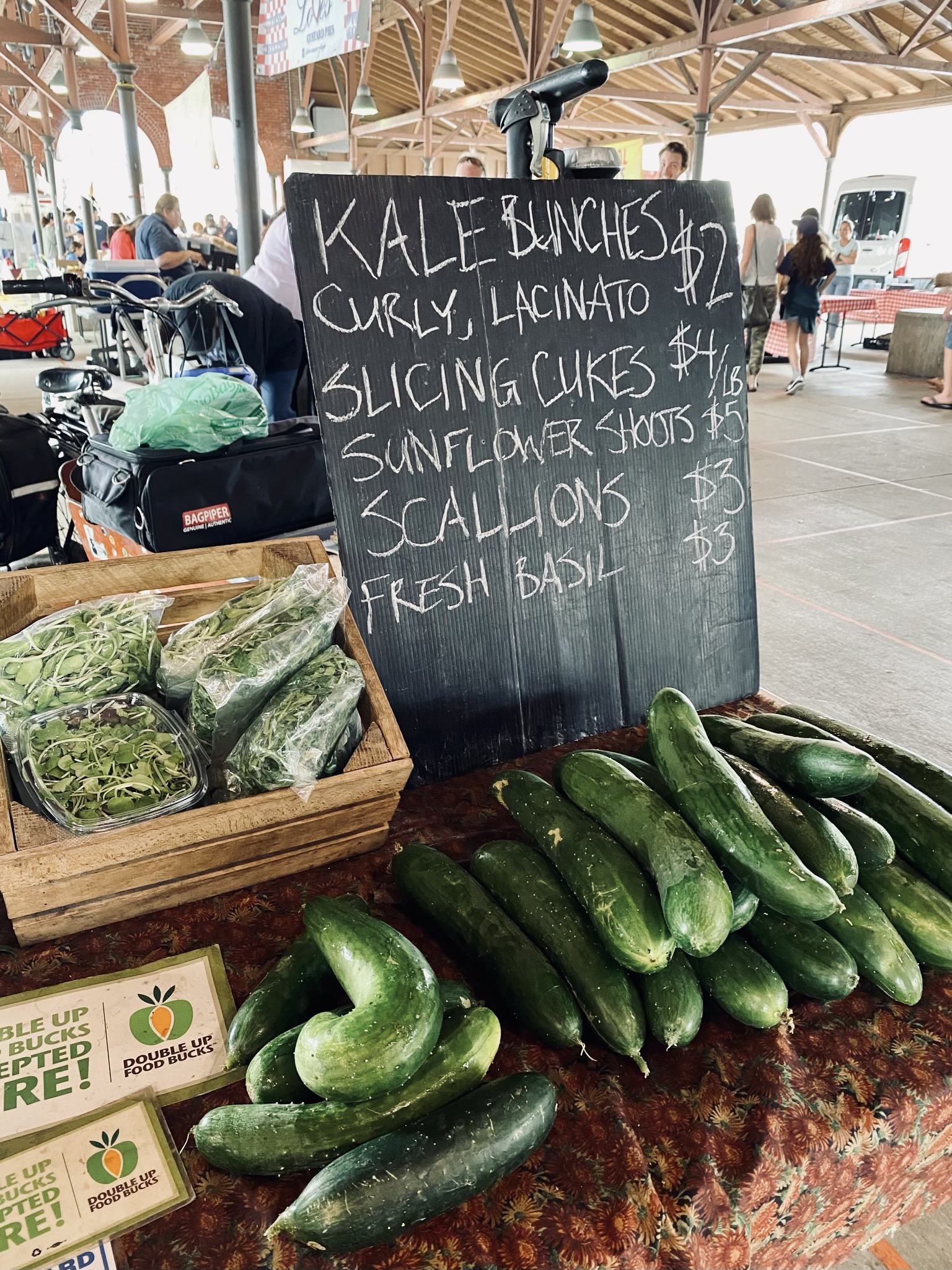 Detroit, MI
In Detroit and looking for homegrown veggies and microgreens? You can get them delivered by bike from Rising Pheasant Farms! This small, all-natural grower offers a market-style CSA, allowing its members to select and enjoy various produce year-round. Like many CSAs, it has several levels of membership (with its prices ranging from $100-$1,000). Find them on Facebook for more info.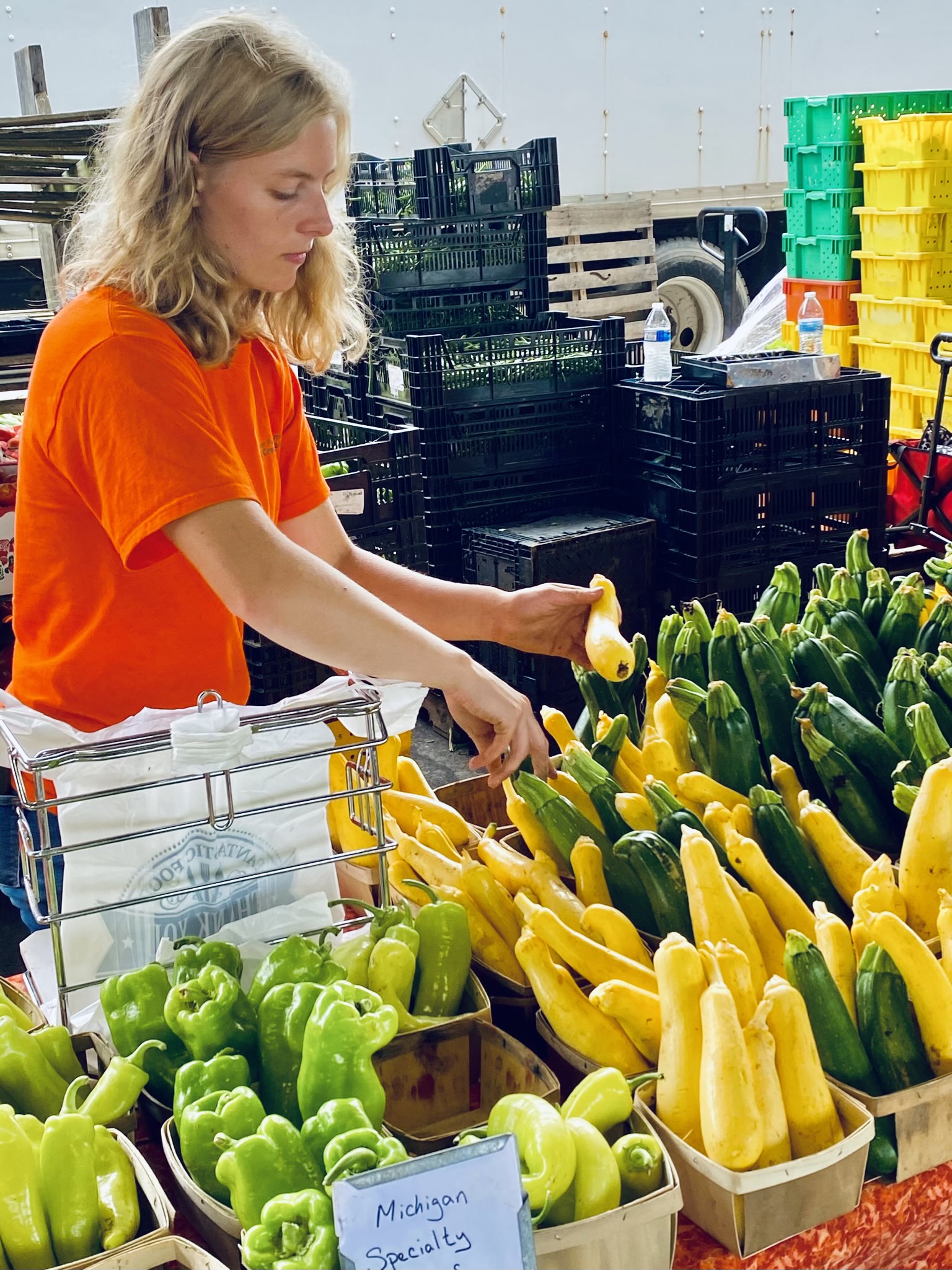 Manchester, MI 
Just south of Chelsea, this small-town family has been farming for six generations. You can find them at several farmer's markets in metro Detroit, including Birmingham and Northville, and of course Saturdays at Eastern Market. Fusiliers' CSA boxes are available for pick-up at any of these farmers markets, the farm itself, or at its stores (in Chelsea and Manchester). I have to admit this one is particularly close to my heart, as this family hails from the area where I grew up. Support local, eat local! More details here: www.fusilierfamilyfarms.com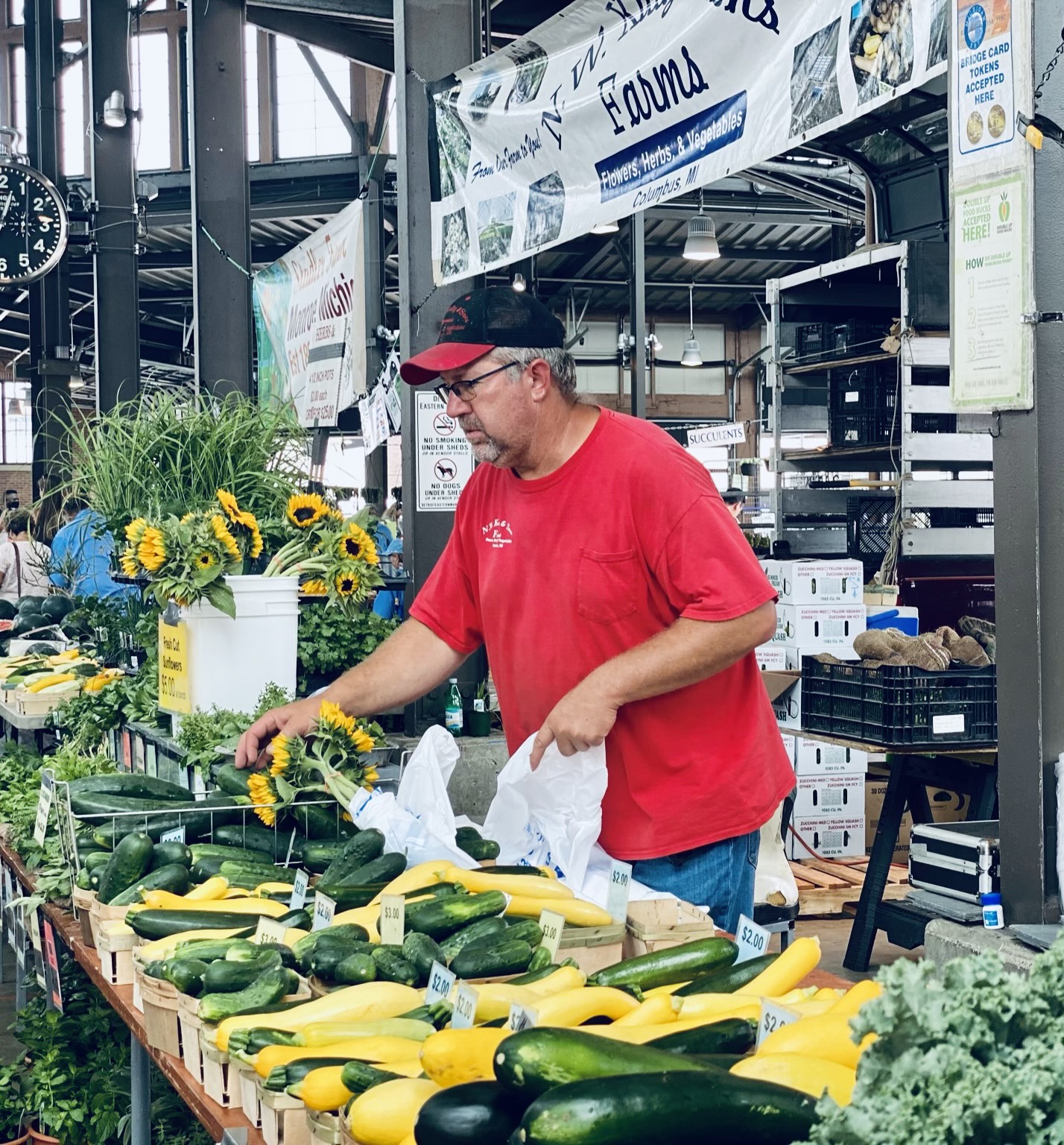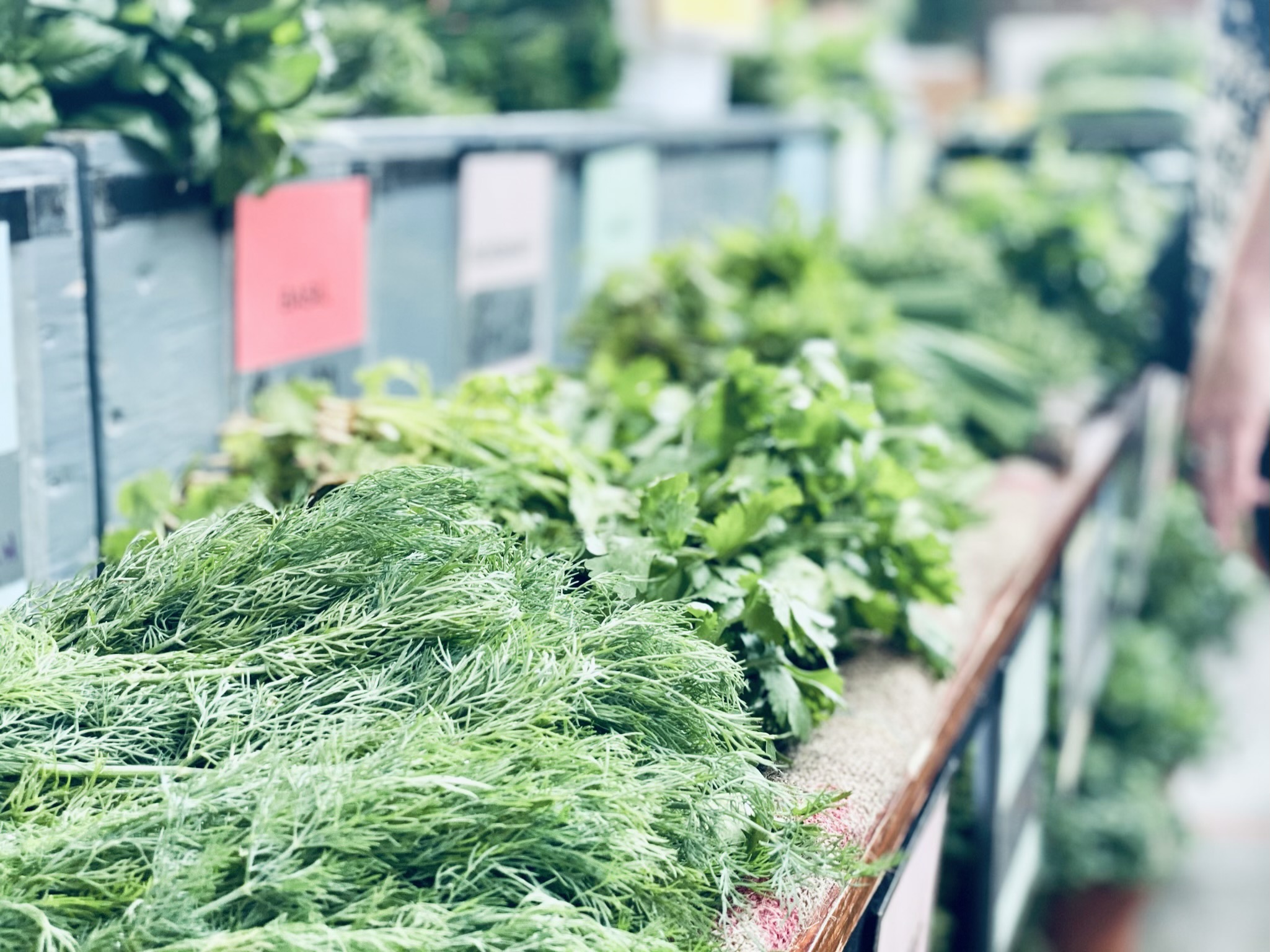 Columbus, MI
While Columbus is an hour north of Detroit, Kaltz & Sons is a four-generation veteran of Eastern Market (not to mention a board member). Its stunning array of produce, flowers, and herbs are all grown on this family farm. Among its treasures, some of the most stunning collards we have ever seen, along with the most aromatic dill we have ever smelled. Interested in more details about its CSA options? Reach out via Facebook.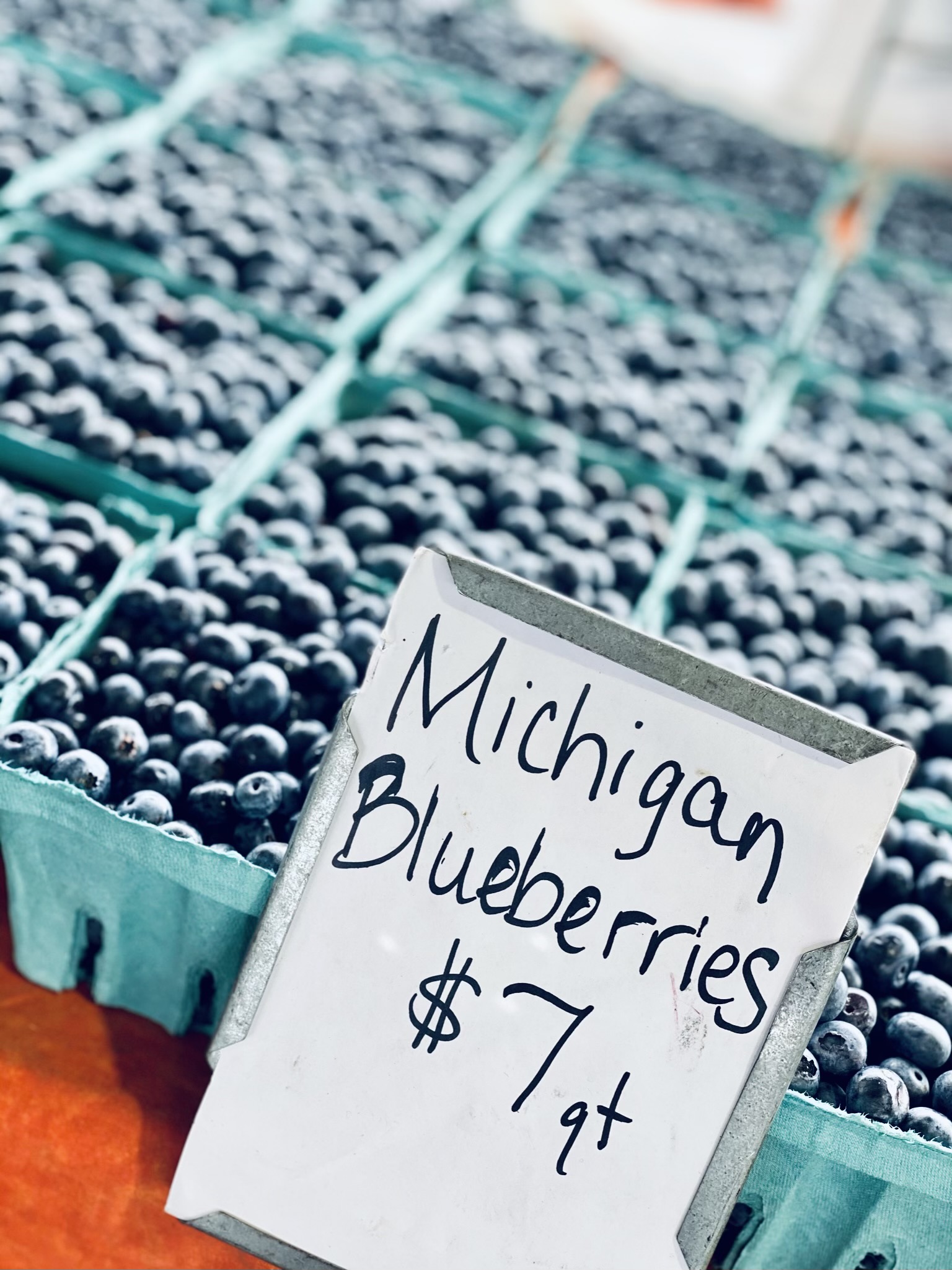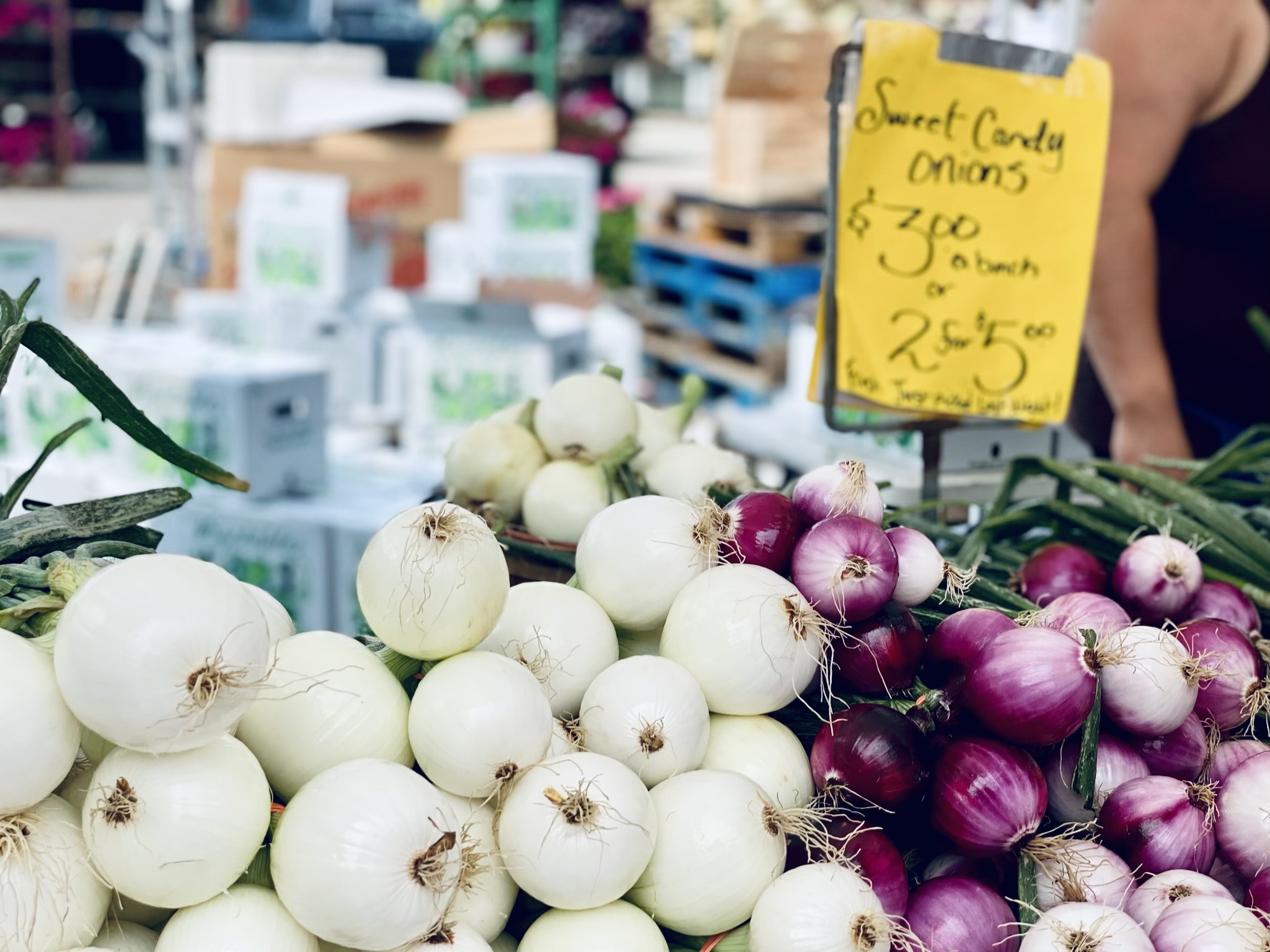 While we love our Michigan-grown produce, Eastern Market also offers non-native fare. As you stroll along the aisles, you will likely spot produce not indigenous to Michigan. Pears may be from Chile, limes from Mexico, and avocados from California. While it may be logical to recognize that an avocado isn't grown in Michigan, it may be a bit trickier to discern if those cherries you are spying are Michigan-grown or shipped in from Washington. Naturally, you can always ask the vendor to clarify where the product was sourced. Alternatively, to know at-a-glance, you can check out the vendor's sign which lets you know whether they accept gold or silver Bridge Card tokens. Gold tokens represent that the vendor is part of Michigan's EBT program (but not that the products are from Michigan). While silver tokens are only redeemable for Michigan-sourced products. So if they accept silver tokens, you know you are getting Michigan-grown produce.
Make your way through Eastern Market on a Saturday and you will soon realize this spot isn't just for CSAs! Our bags loaded with veg, we explored further and found some fun, new vegan eats as we wove through the sheds. Our favs?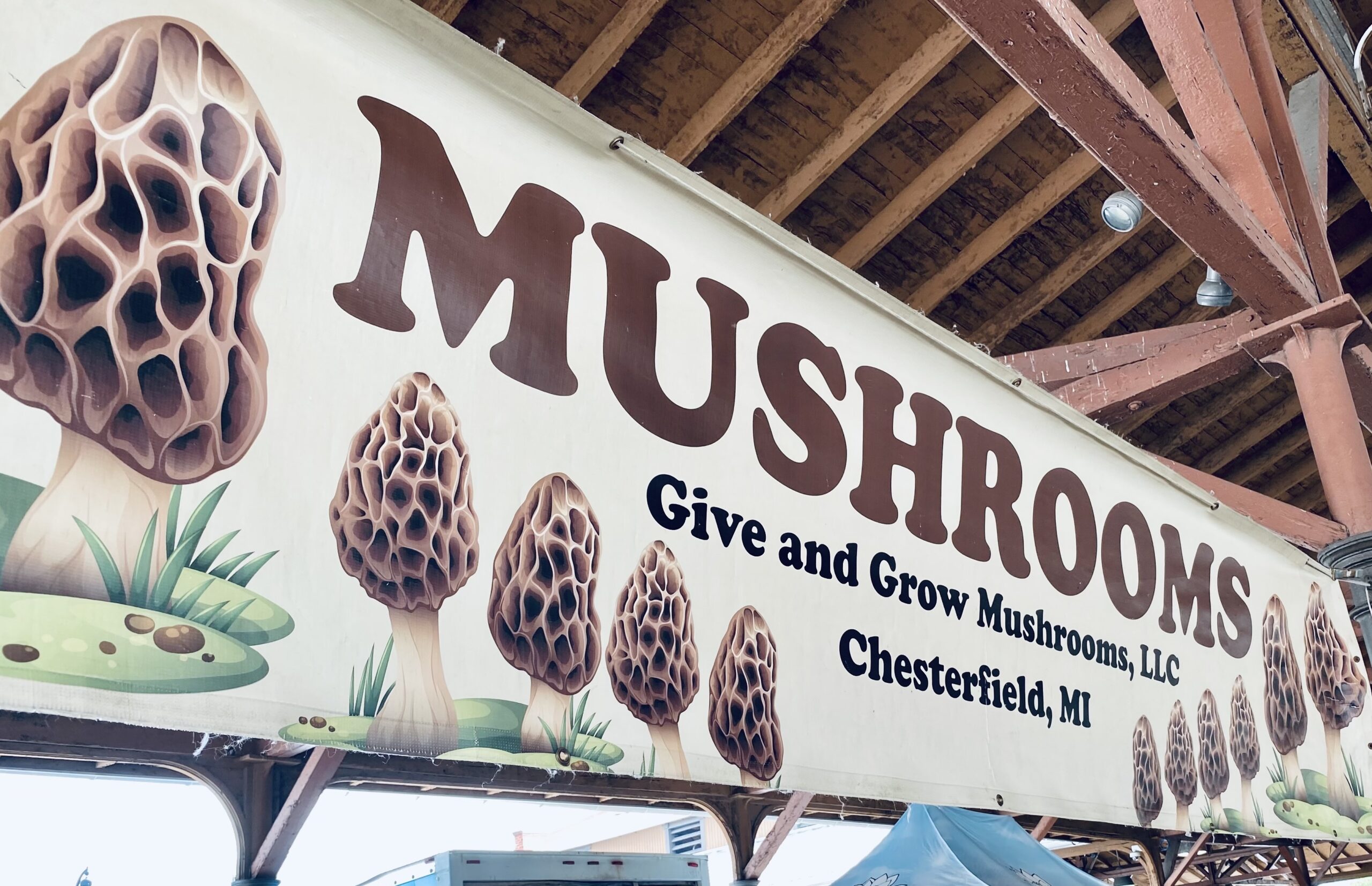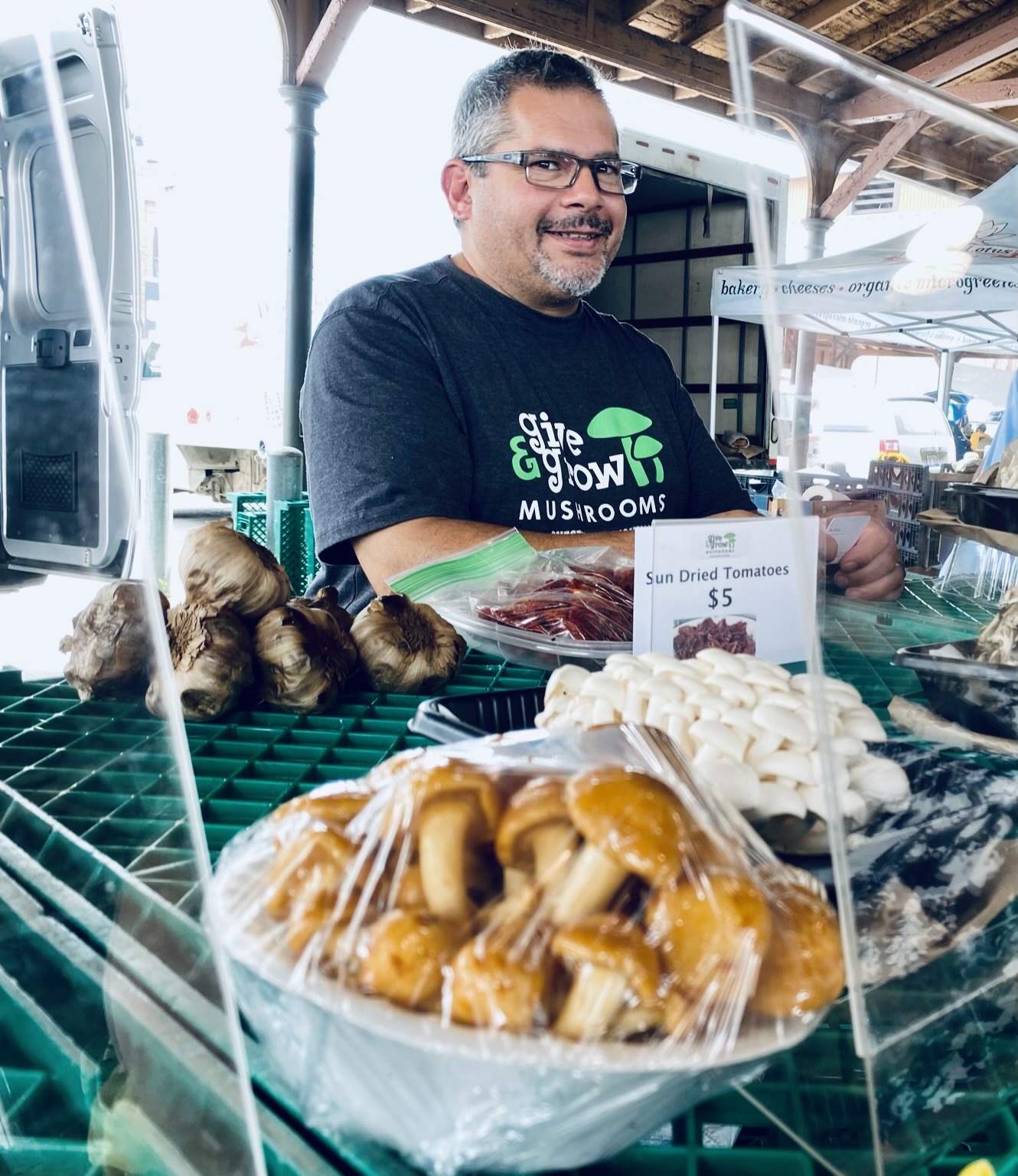 This year-round Michigan enterprise farms and forages dozens of different varieties of the finest mushrooms around. We are talking mushrooms way beyond bella! Looking for king oyster mushrooms for scallops or pulled 'pork'? They have them. How about white beach for pizza? Nameko for miso soup? Check and check! Can't make up your mind? Try the soup bag. For $10 you'll walk away with 4-5 different 'shooms for your soup or snacking pleasure.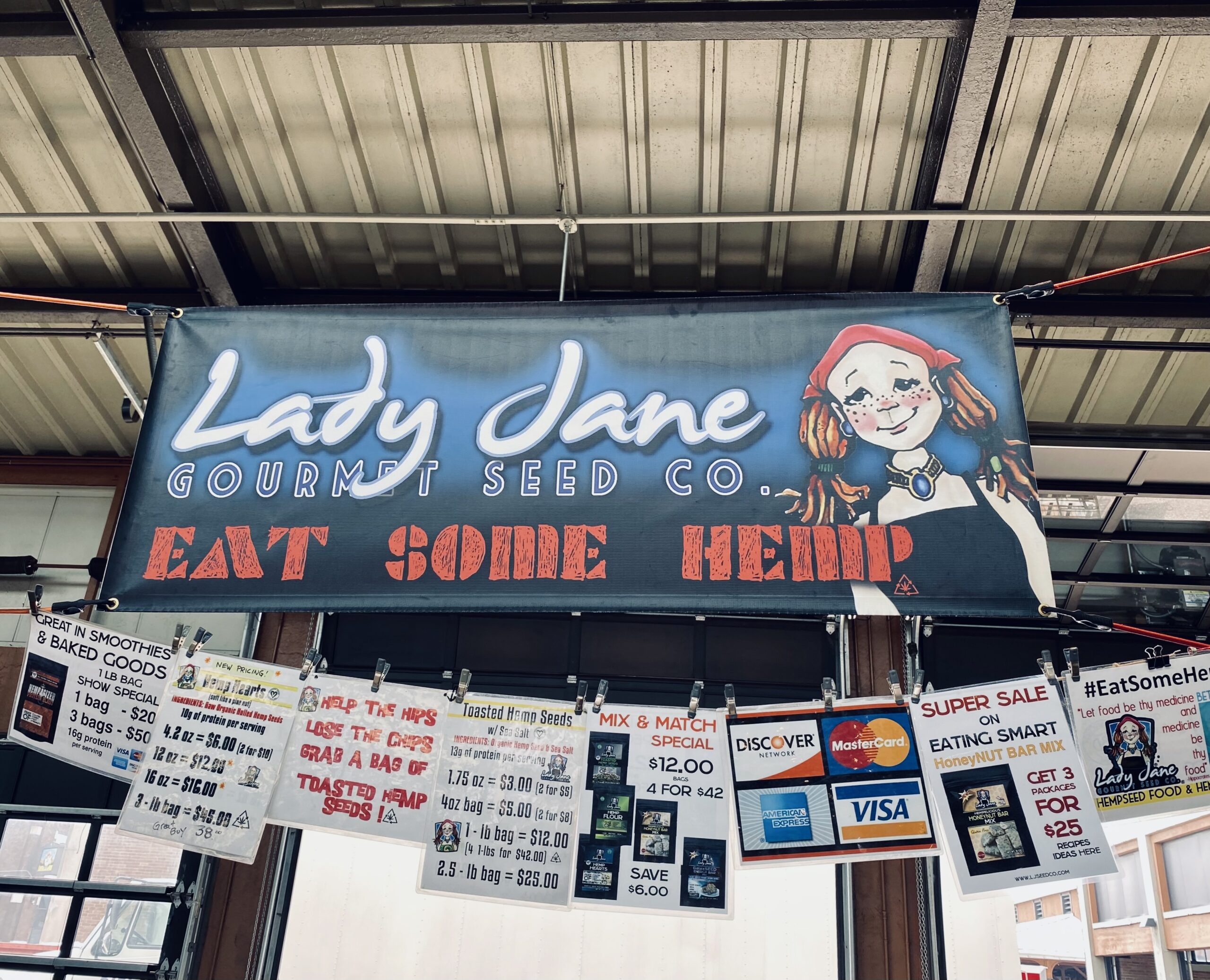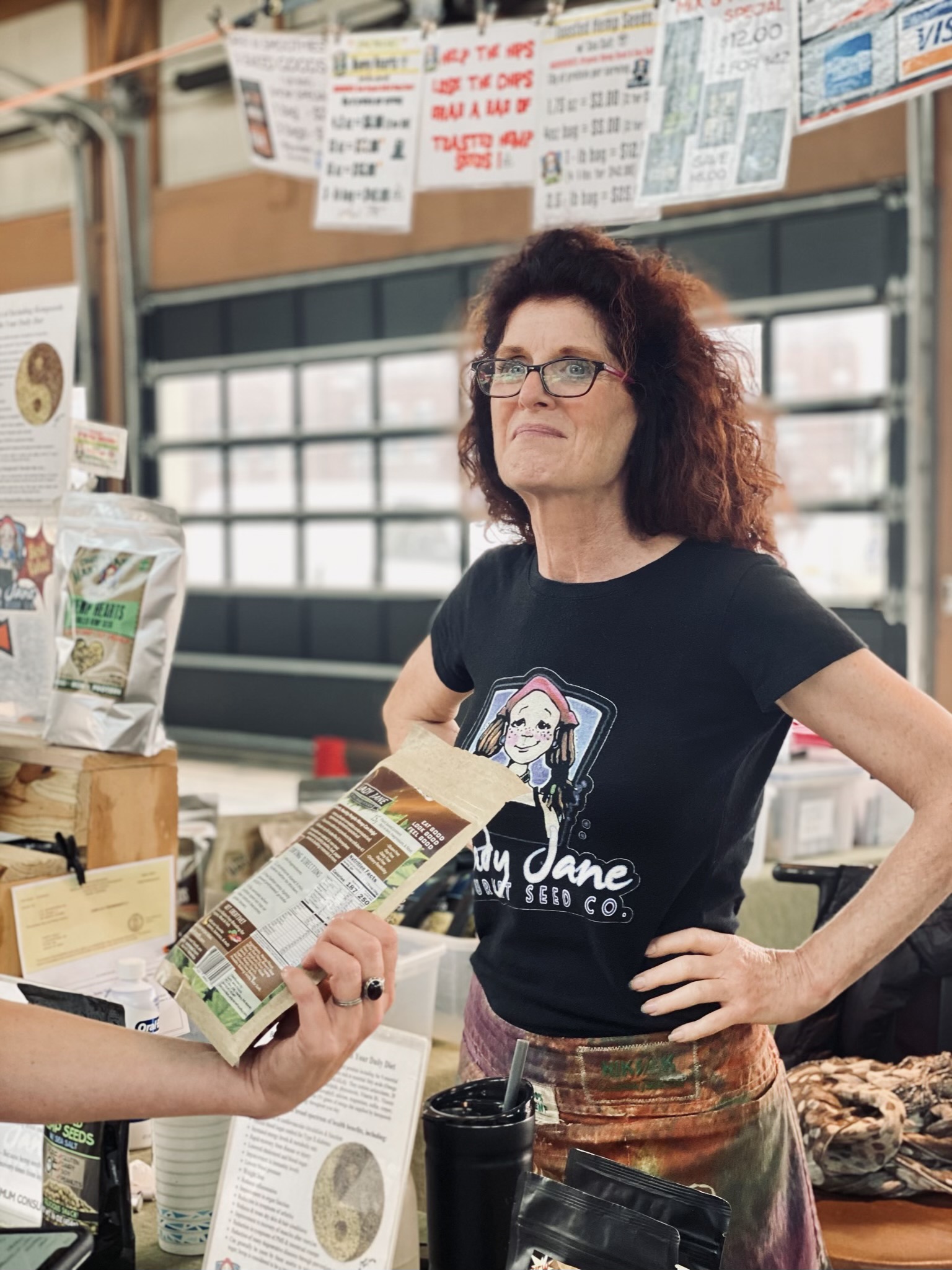 Using Canadian-sourced hemp, Lady Jane sells various hemp products ranging from CBD oils to pancake mix. Talk about variety! We made off with some of the Michigan company's toasted hemp seeds with sea salt intended for our dinner salad, but we actually ended up just snacking on them as we strolled. We loved the nutrient-dense crunchy, earthy snacks. And bursting with amino acids (including the nine essential), we had no guilt after finishing our entire bag.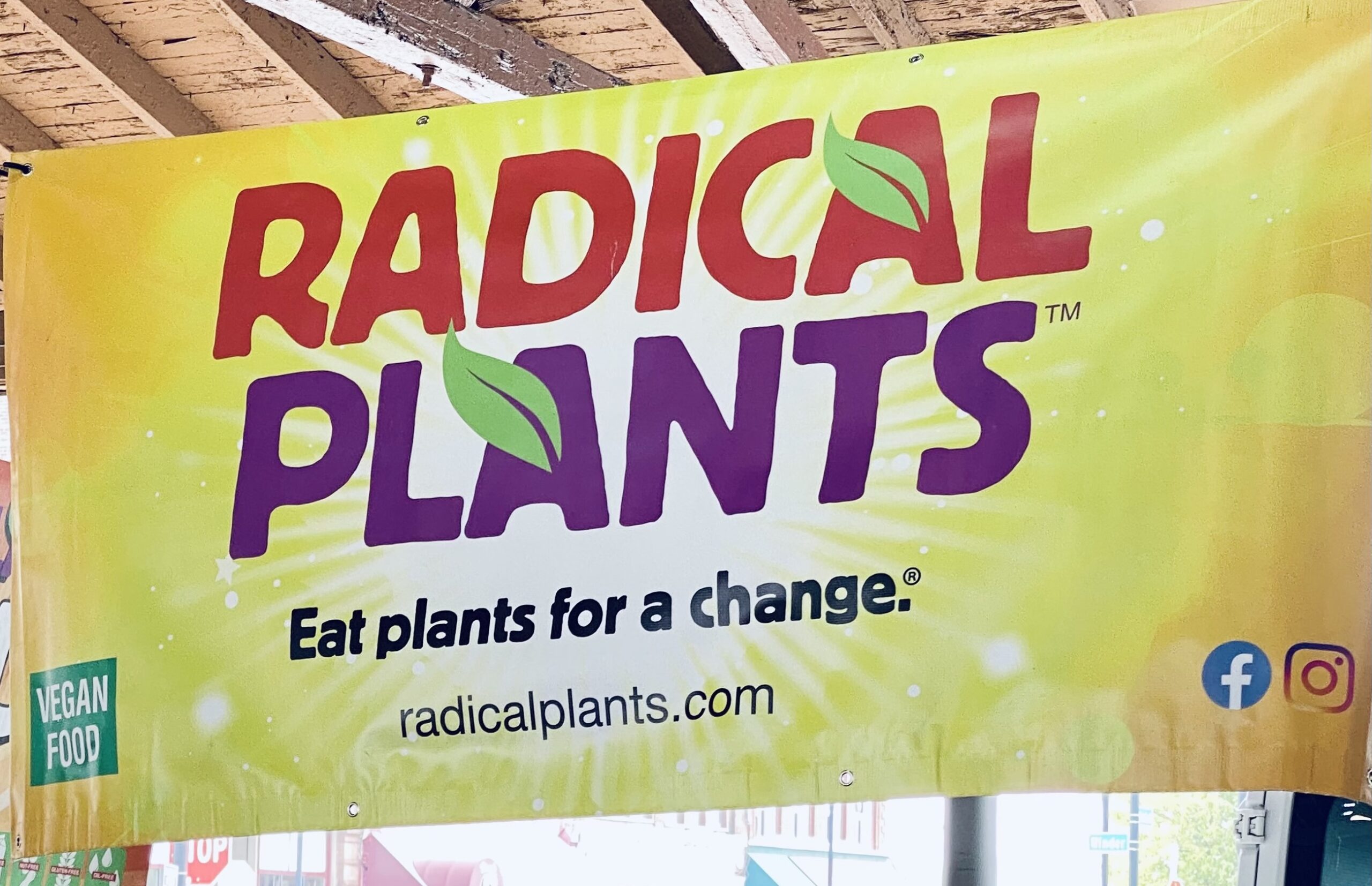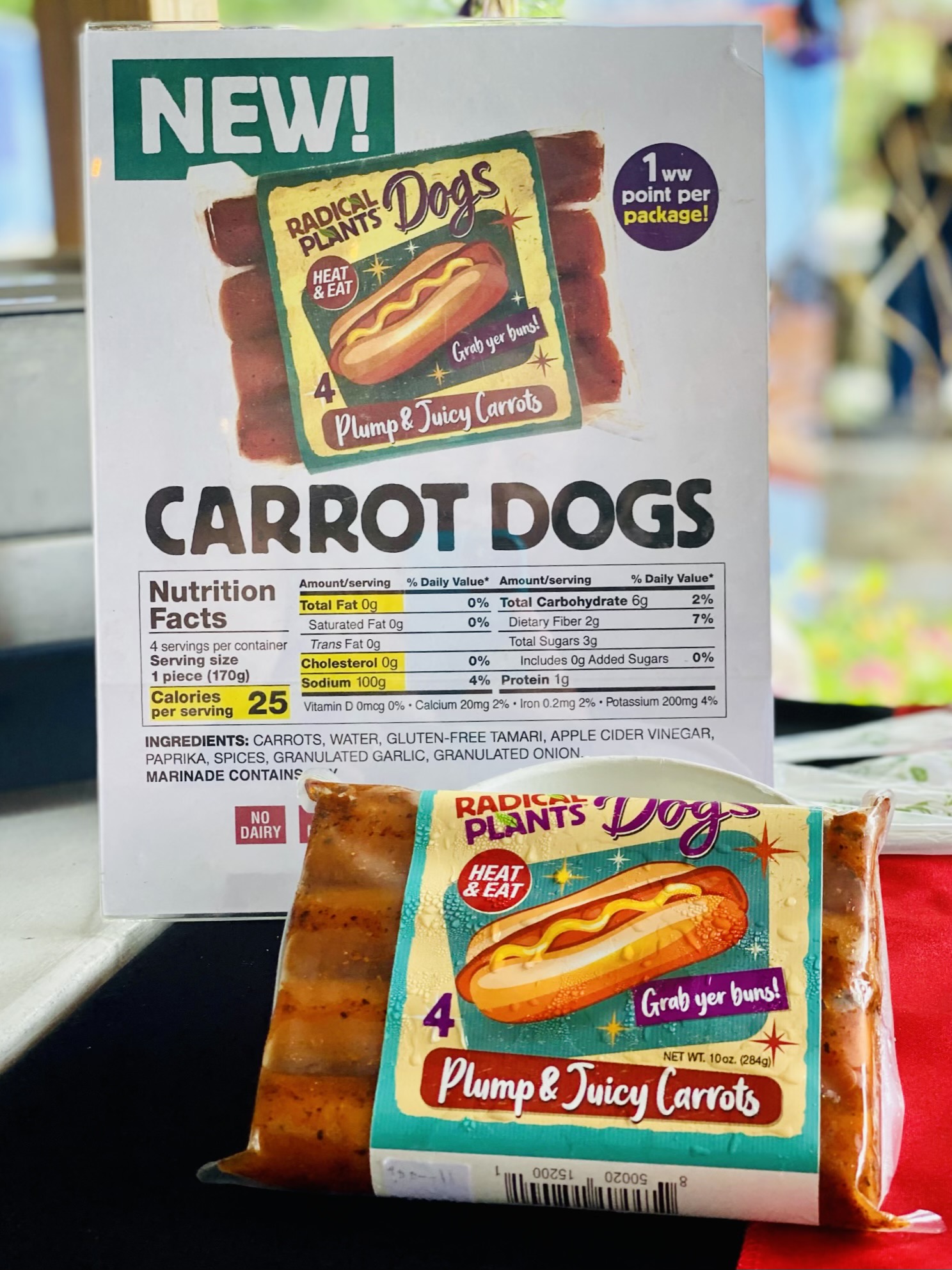 Michigan VegFest attendees and vegan foodies might know Michigan-based Radical Plants for its delicious plant-based Superdips (if you haven't tried chipotle lime, it's a must). What might be news to you? Their (new!) carrot hotdogs. While this foodie has never been particularly keen on carrots in lieu of 'traditional' soy-based vegan hotdogs, I'm always game to try new products. Simple par-cooked carrots with secret seasonings, this healthy (unprocessed) alternative is outstanding. I enjoyed just as I would any veggie dog, with ketchup, mustard, and diced onion. Highly recommend!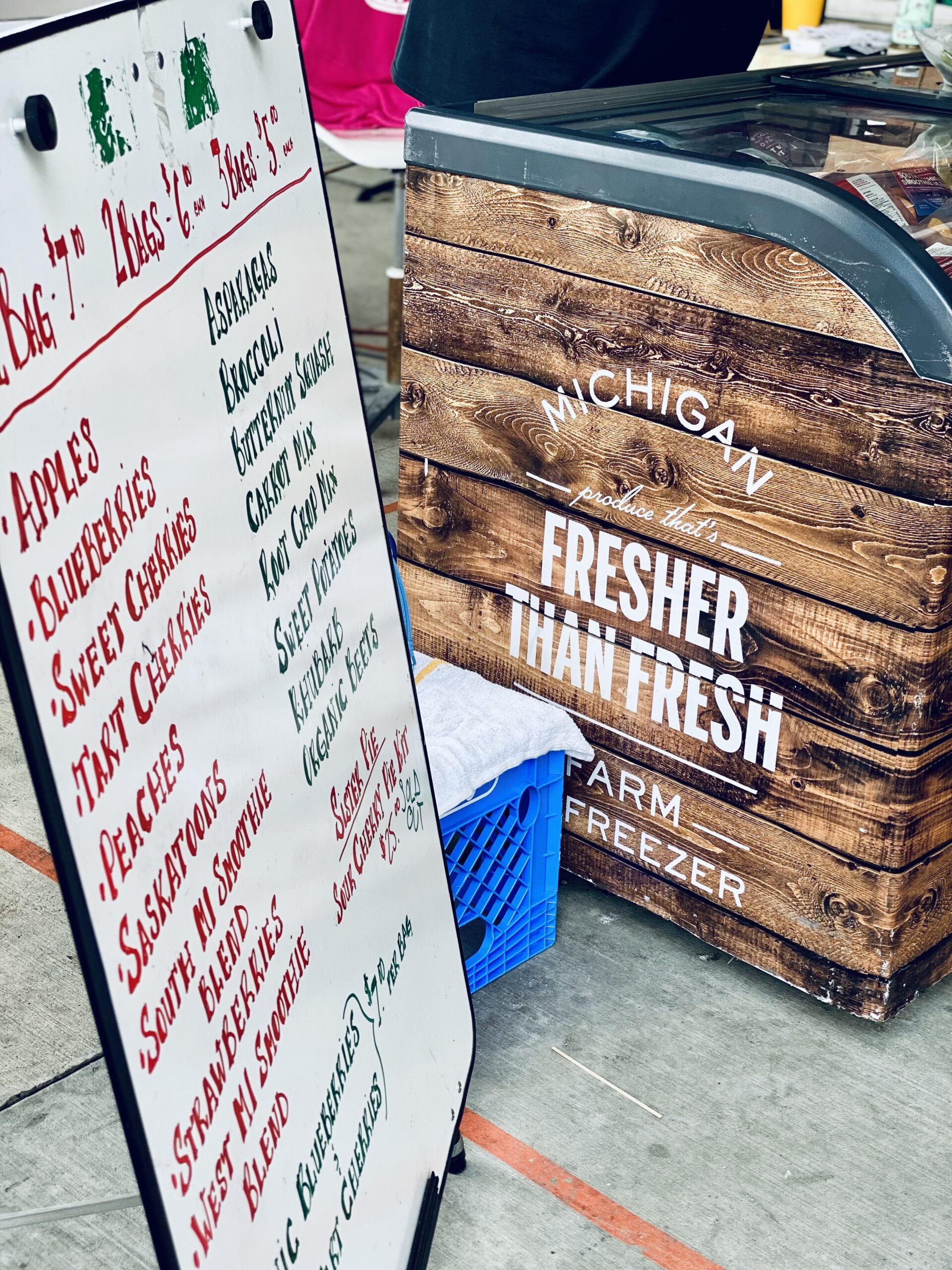 In partnership with small local farms, this company specializes in flash-freezing seasonal produce in small batches. Making Michigan's perfectly ripe produce available year-round. Peaches, rhubarb, cherries, broccoli, and asparagus are just a sampling of the vast assortment of Michigan eats. These fruit and veg blends are perfect for the busy chef, looking for locally grown quality. Can't make it to Eastern Market? Check your local Kroger store for these frozen eats.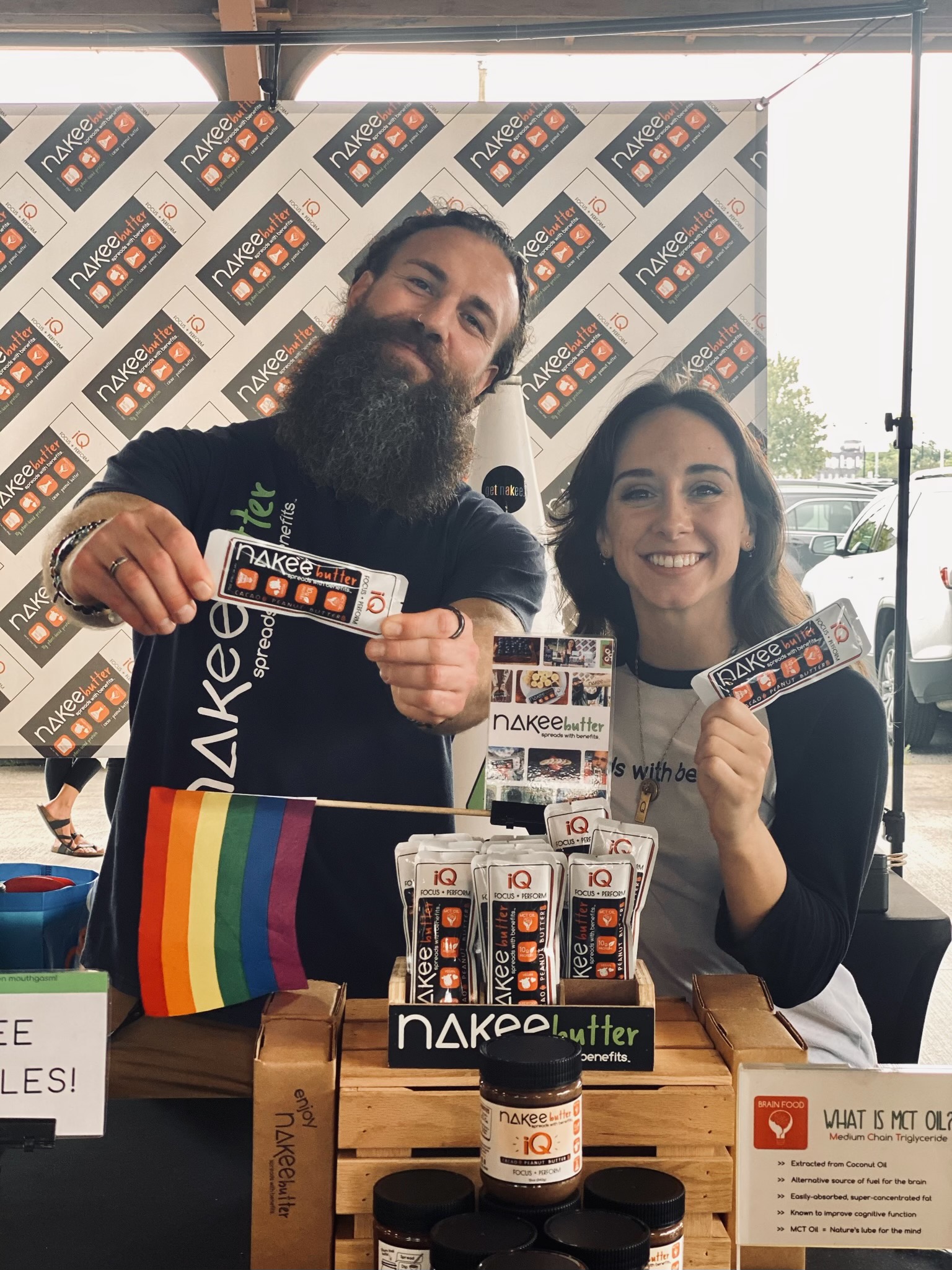 Think you've tried all nut butters? Think again! This Detroit-based company is amping up the snacking game with Nakee iQ, a squeeze pouch filled with organic peanut butter-cacao with MCT Oil (Medium Chain Triglyceride). What does this mean for you? Delicious, organic on-the-go omega fatty acids and plant protein. We even tried it on our wheat toast for a rich, decadent, and healthy breakfast. We were lucky enough to find it at Eastern Market, but it is also available on Amazon.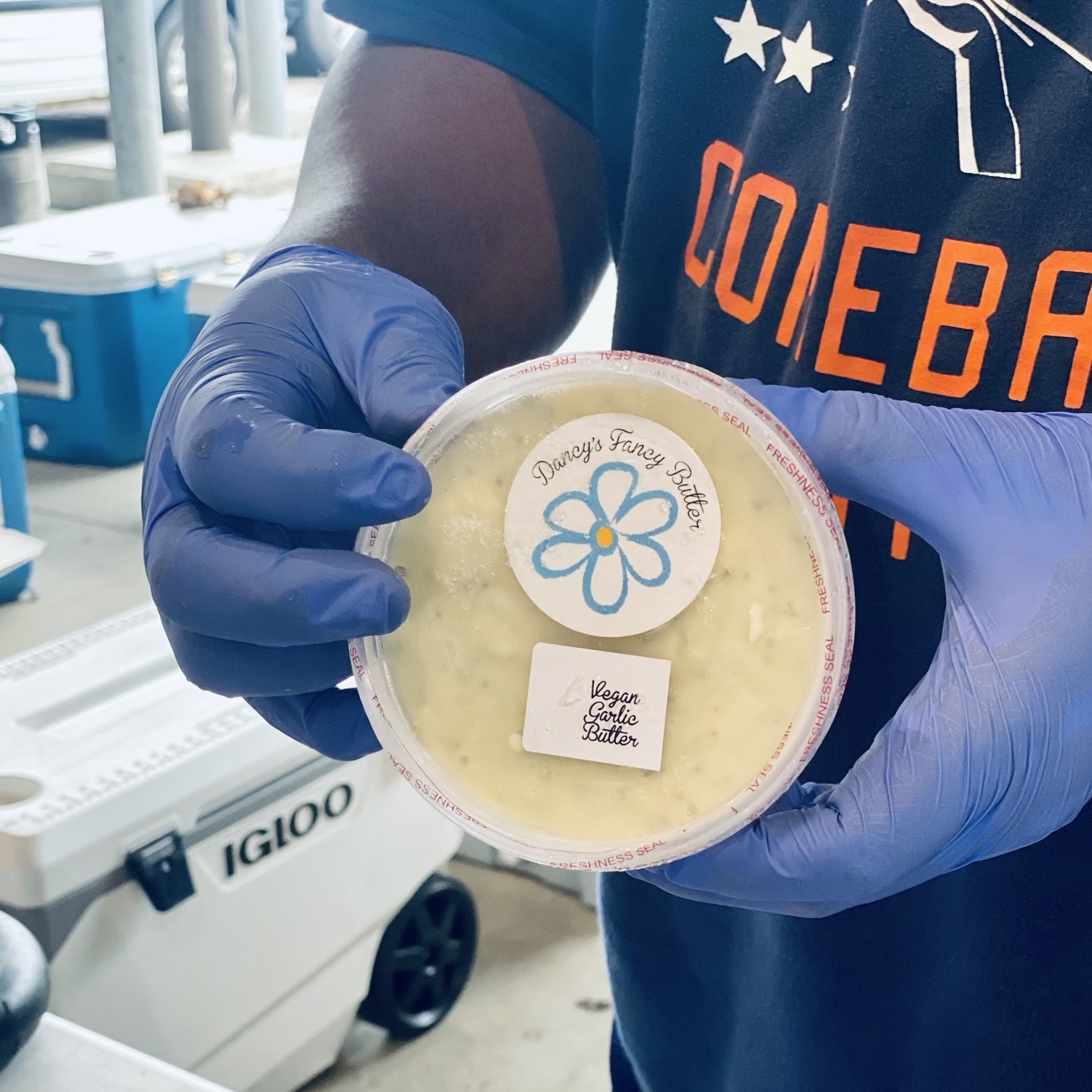 We couldn't resist the charm of this Jackson-area producer, offering herbed vegan (and dairy) butter. Its newly launched dairy-free butter is coconut oil-based and comes in irresistible flavors such as brown sugar and cinnamon, garlic, herb, and strawberry (seasonal). These scrumptious spreads don't contain any artificial preservatives, so you can only scoop them up at farmers markets and events. Worth the trip!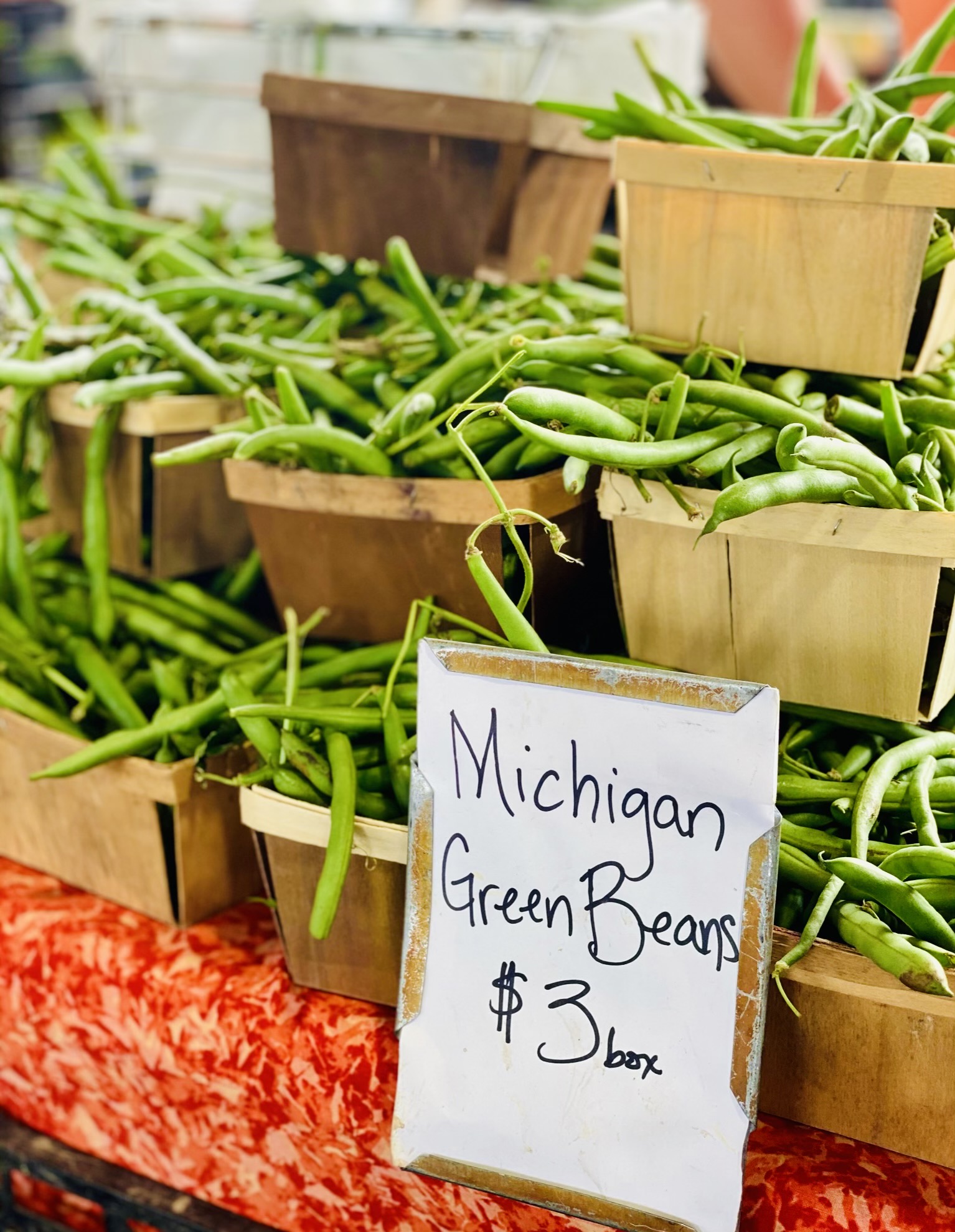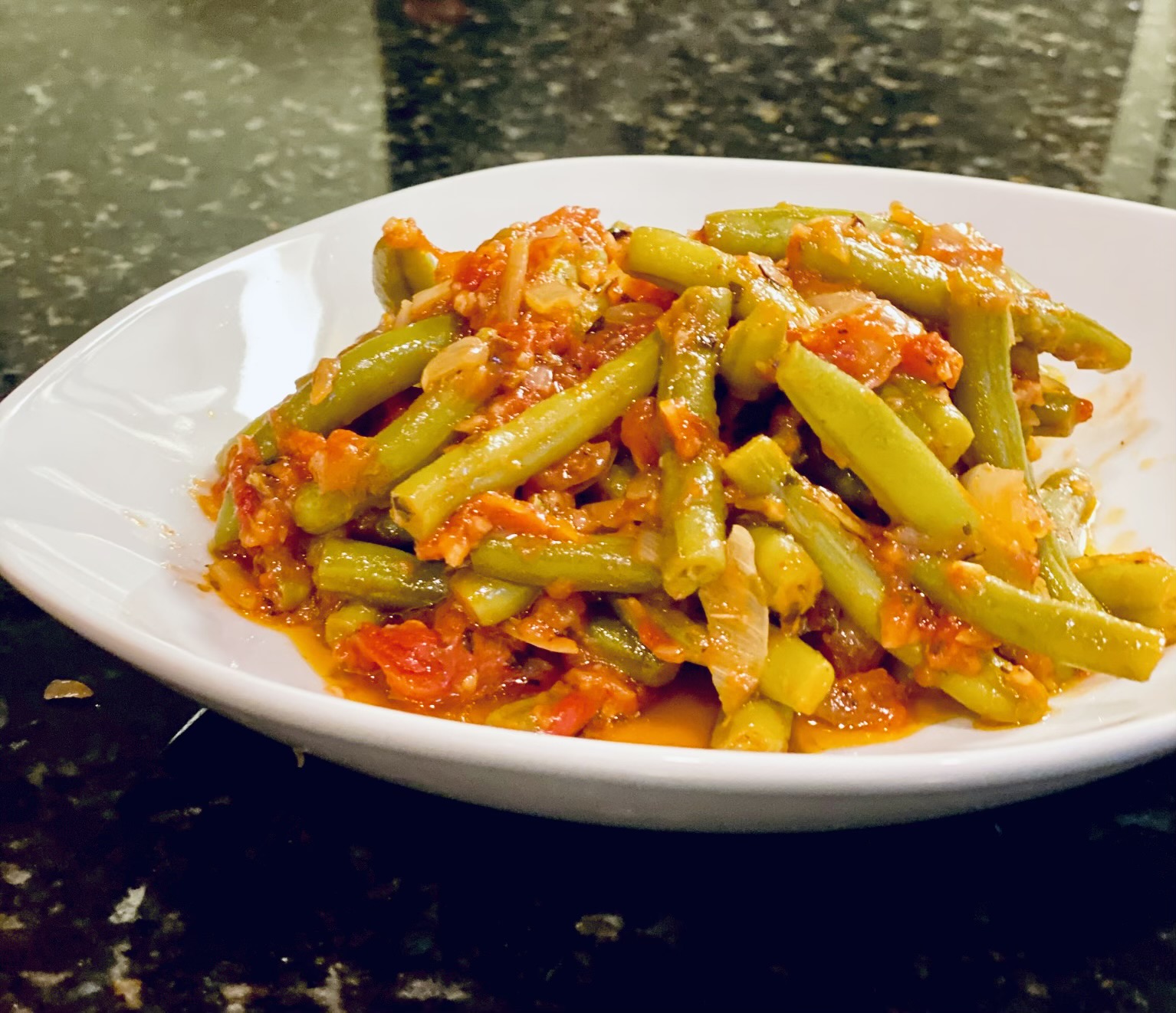 Does all this fresh veggie talk have your mouth watering? Try The Vegan Mary's recipe for Market Fresh Savory Sauteed Green Beans!
What you'll need:
4 c. fresh green beans, trimmed and cut in half
14 oz. diced tomatoes
4 garlic cloves, minced
4 pearl onions, diced
2-3 T olive oil
1 lemon, juiced
1 t dried oregano
½ t salt
½ t pepper
¼ t red pepper flakes
½ t sugar
What you'll do:
Heat olive oil in a Dutch oven or stockpot over medium-high heat. Sauté onions until translucent. Add garlic, sauté for 2-3 minutes until fragrant. Add beans, stir to coat. Next, add all remaining ingredients and reduce to a simmer. Cook for about 40 minutes, or until beans reach desired tenderness. (Ensure beans stay moist, add a splash of hot water if needed.) Adjust seasonings to your preference and serve immediately.
Enjoy Michigan and all of its summer bounty! Maybe we will see you at the market!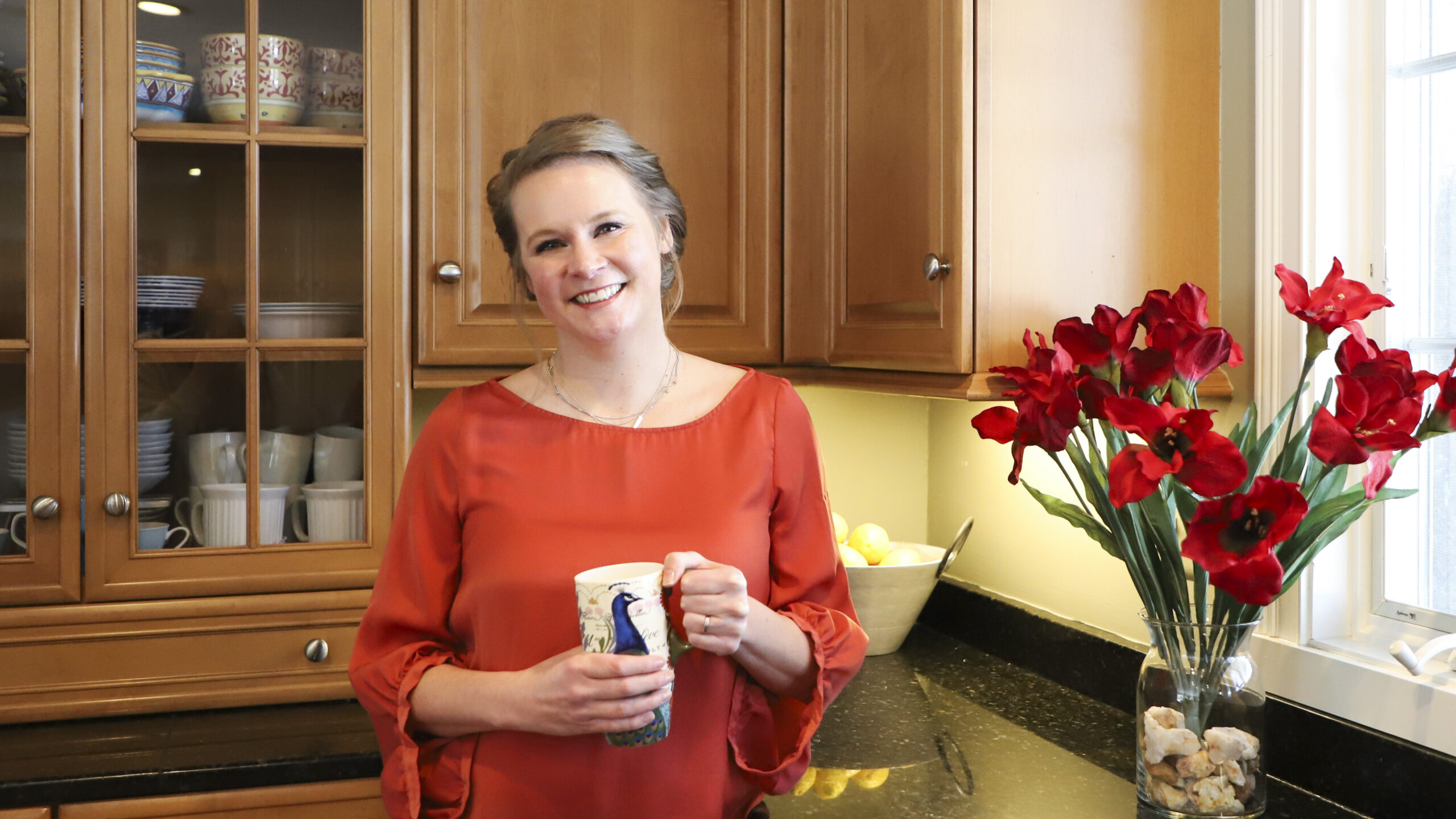 The Vegan Mary is a plant-based consultant, connoisseur, and writer, based in Oakland County. Mary holds a certificate of Plant-Based Nutrition from Cornell University, as well as a Master's degree in Business. Her continuing education includes multiple food and nutrition courses at Harvard and Stanford Universities. She spent the last two decades as a marketing executive before turning her sites and her experiences to vegan consultancy. TVM services clients across the US. When she's not cooking (or eating!), her passions include physical fitness, reading, and traveling. Find her on Instagram @the.veganmary and on Facebook @therealveganmary.