fun thIngs to do In detroIt durIng vegfest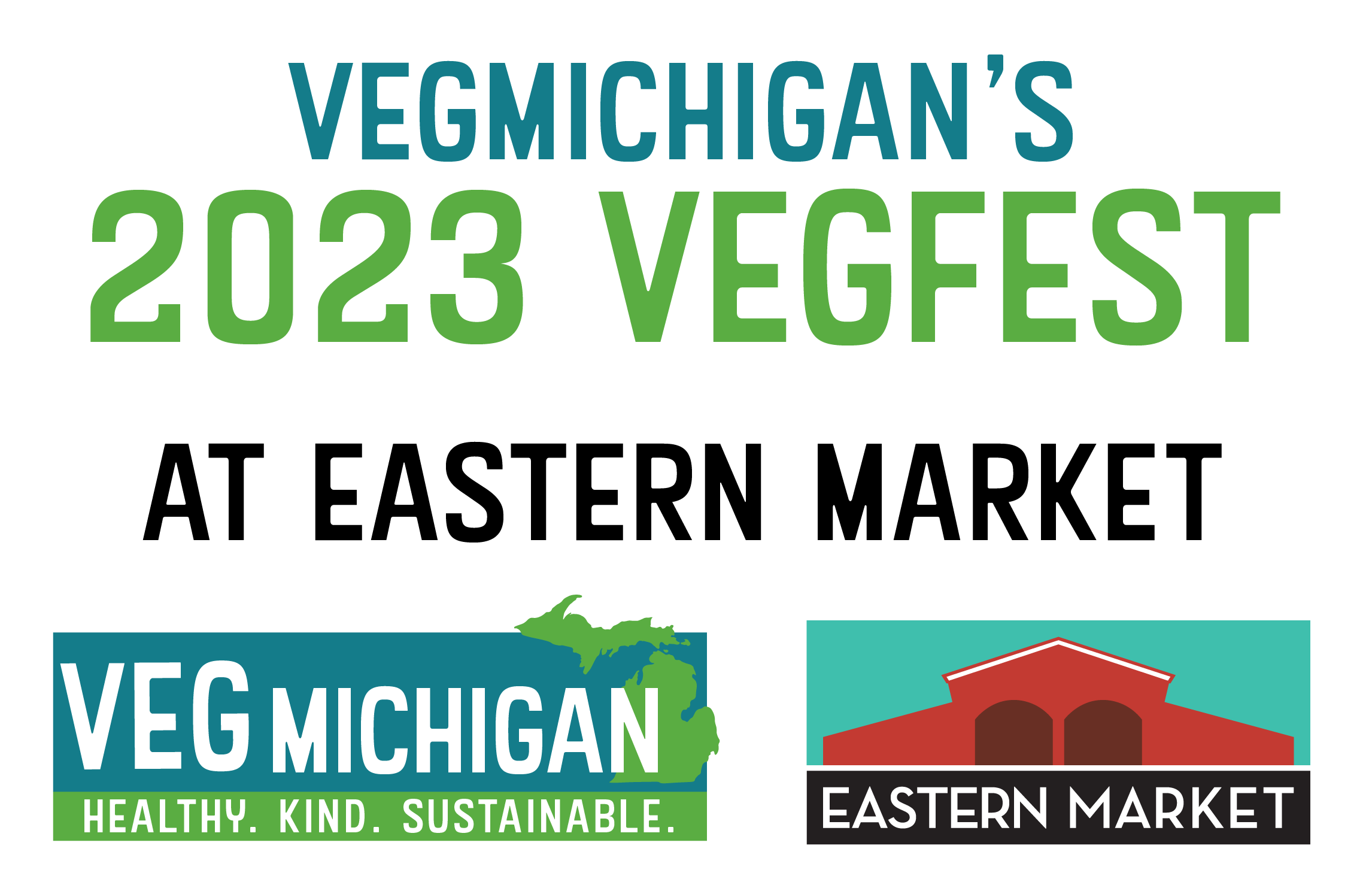 The biggest VegMichigan event is just around the corner! To join in on the fun, remember to save the date Sunday, June 4th, from 10 am – 4 pm for VegMichigan's Spring VegFest. Michigan's ultimate veggie palooza is back at Eastern Market for the second year in a row. Last year's event had an amazing turnout and such positive energy so we were thrilled when Eastern Market invited us back!
With nearly 100 unique vendors, you'll be able to eat your way through a scrumptious assortment of sweet and savory plant-based foods, peruse the booths of a variety of sustainable shopping vendors, learn about the fantastic work of local non-profits, and so much more! Plus, there is no entrance fee! So stop by, explore the festival, grab a bite to eat, watch a live cooking demo or listen to a talk, do some shopping, snap some pics at the photo booth for some lasting memories, and enjoy a fun and delicious day in Detroit.
If you're looking for a drink after VegFest, take a walk over to Eastern Market Brewing Co. for the VegFest Afterparty and get $1 off your first beer between 2 pm and 6 pm.
To make the most of your visit, we thought we would share some of the things you won't want to miss at VegFest as well as some of our favorite activities around Detroit to help you make the most of your veg-tastic day!
get to vegfest early for breakfast & free samples!
Vegfest begins at 10 am, just in time to grab some breakfast, and we have the perfect lineup of vendors to kickstart your day! Get energized with a coffee from Impel Java and then grab yourself something quick and nutritious like a smoothie from Urge Juice or a smoothie or superfruit bowl from Marilyn's Detroit. If you wake up with a sweet tooth, Dooped Donuts or Toi's Caribean Baking Co. has you covered with a delicious selection of creative donuts, and Cinnaholic will be serving up a variety of their famous vegan cinnamon rolls.
Be sure to grab a bite in the morning but we do recommend starting off with a light breakfast so you don't get full too quickly. Trust us, there are so many more food vendors you'll want to try!
VegFest will be spread out between sheds 5 and 6 and will be even bigger than last year! In and around shed 5 is where you'll find the majority of the food vendors but, this year, there will also be 12 food trucks serving up tasty plant-based eats. You'll see vendors like Old Shillelagh, Radical Plants, Planthropie, The Kitchen by Cooking with Que, and The Original Meat inside shed 5 and The Mush Hub, Vegano Italiano, MI Vegan, Vedged Out Food Truck, and Shimmy Shack in the food truck line. This is only a taste of all the food vendors who will be joining us. Get ready to eat because there are many many more!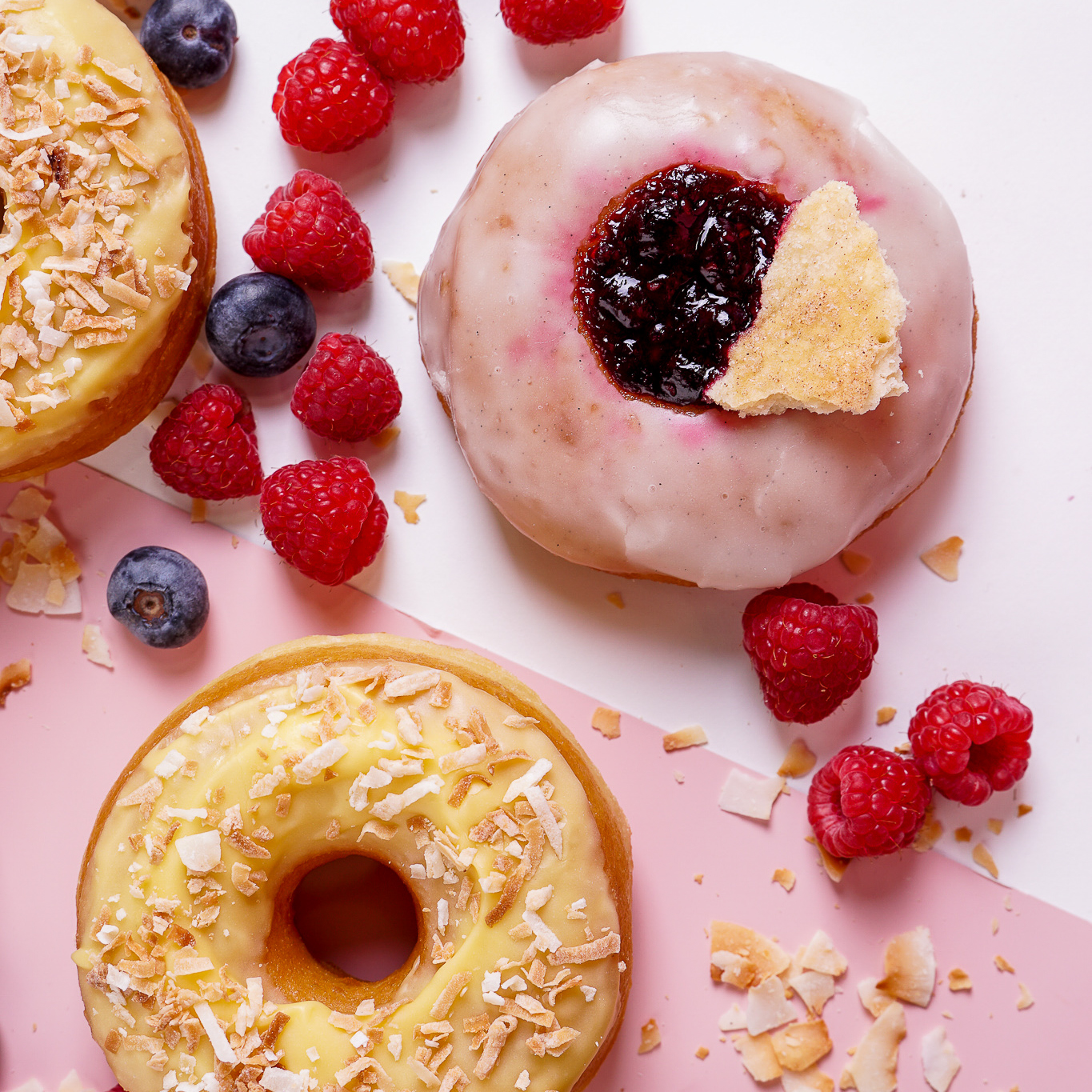 A huge perk of arriving at VegFest early is the free samples table! The samples are always gone by mid-day so the early bird will get the free snacks, drinks, sustainable body products, and home goods. This year we will be giving away even more samples than last year but they will still go fast! If you get there in time, you'll be able to choose a few samples from companies such as Beyond Meat, Forager Project, Immi Eats, Booda Organics, Hurraw, Equal Exchange, and so many more.
If you can't make it to VegFest early, don't worry because you'll still have another chance to snag a free sample later in the day. Planted Detroit will be passing out some free Belle Isle salads a couple times throughout the festival! Free food?? Yes please!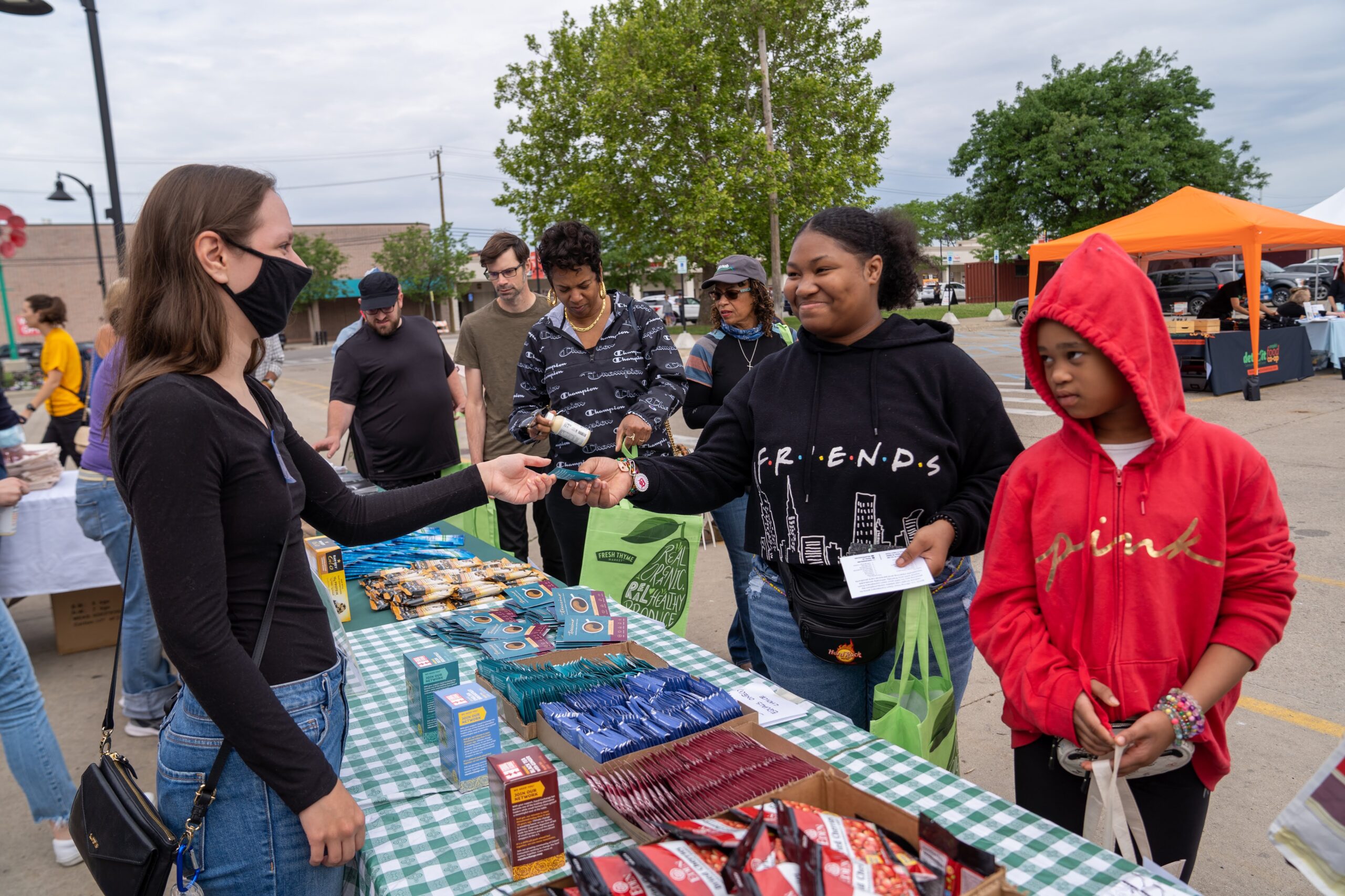 Attendees grabbing their samples at VegFest 2022
cookIng demos & speakers are back!
Last year you told us that you missed the cooking demos and speakers we used to have a VegFest. Well, we heard you, we agreed, and we brought them back!
Throughout the day we will have five unique cooking demos and two talks. Stop by the cooking demo area anytime from 10:30 am to 3:15 pm to learn a new recipe or to get inspired to make a difference. There will also be a special prize raffled off after each demo so stick around for a chance to win!
Cooking Demo & Speaking Schedule
10:30 – 11:15 — Cooking Demo by Quiana "Que" Broden (The Kitchen, by Cooking with Que)
11:15 – 11:45 — Plant-Based Outreach Strategies on National and Local Levels by Thomas Goodman (Plant Dining Partnerships)
11:45 – 12:30 — Cooking Demo by Vicki Brett-Gach (Ann Arbor Vegan Kitchen) and Michele Gallo
12:30 – 1:15 — Cooking Demo by Velonda Anderson (Sweet Potato Delights)
1:15 – 2:00 — Cooking Demo by Chef Dunny (Vegan Baddies)
2:00 – 2:30 — Utilize the Power of Social Media to Help Animals by John Oberg (Animal Advocate/Social Media Consultant/Influencer)
2:30 – 3:15 — Cooking Demo by Suzy Silvestre (Chive Kitchen)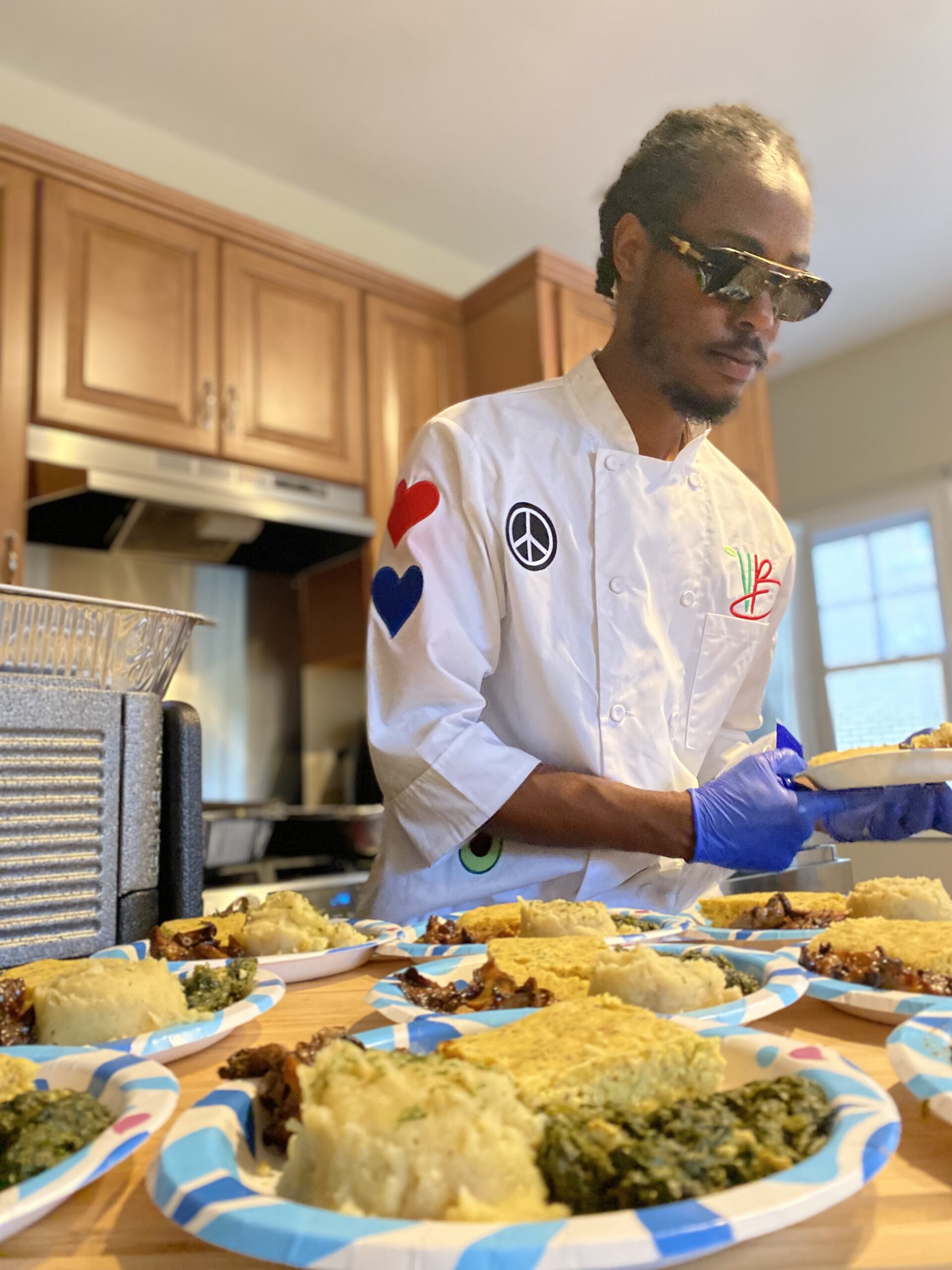 sustaInable shoppIng you'll feel good about
After you've grabbed a bite for breakfast and picked up some free samples, it's time to get your shopping on at shed 6! Here you'll find everything from clothing to art to jewelry, body products, and cookbooks. Check out the all-natural body products from Elle Naturalle, Whipped Up Cosmetics, or Green Olive Soaps, get yourself a variety of cool eco-friendly goods from The Age of Asparagus, style yourself in some new apparel from Compassion Co., or pick up a few suet cakes for your bird friends from Dinosaur Feet Suets. Again, this is only a few of the awesome sustainable shopping vendors who will be joining us. Be sure to walk up and down all of shed 6 so you don't miss something that could be your favorite purchase of the day!
While you're over at shed 6, give yourself a rest (in preparation for more exploring!) by stopping at Irene's Myomassology booth. They are giving free massages throughout the whole festival!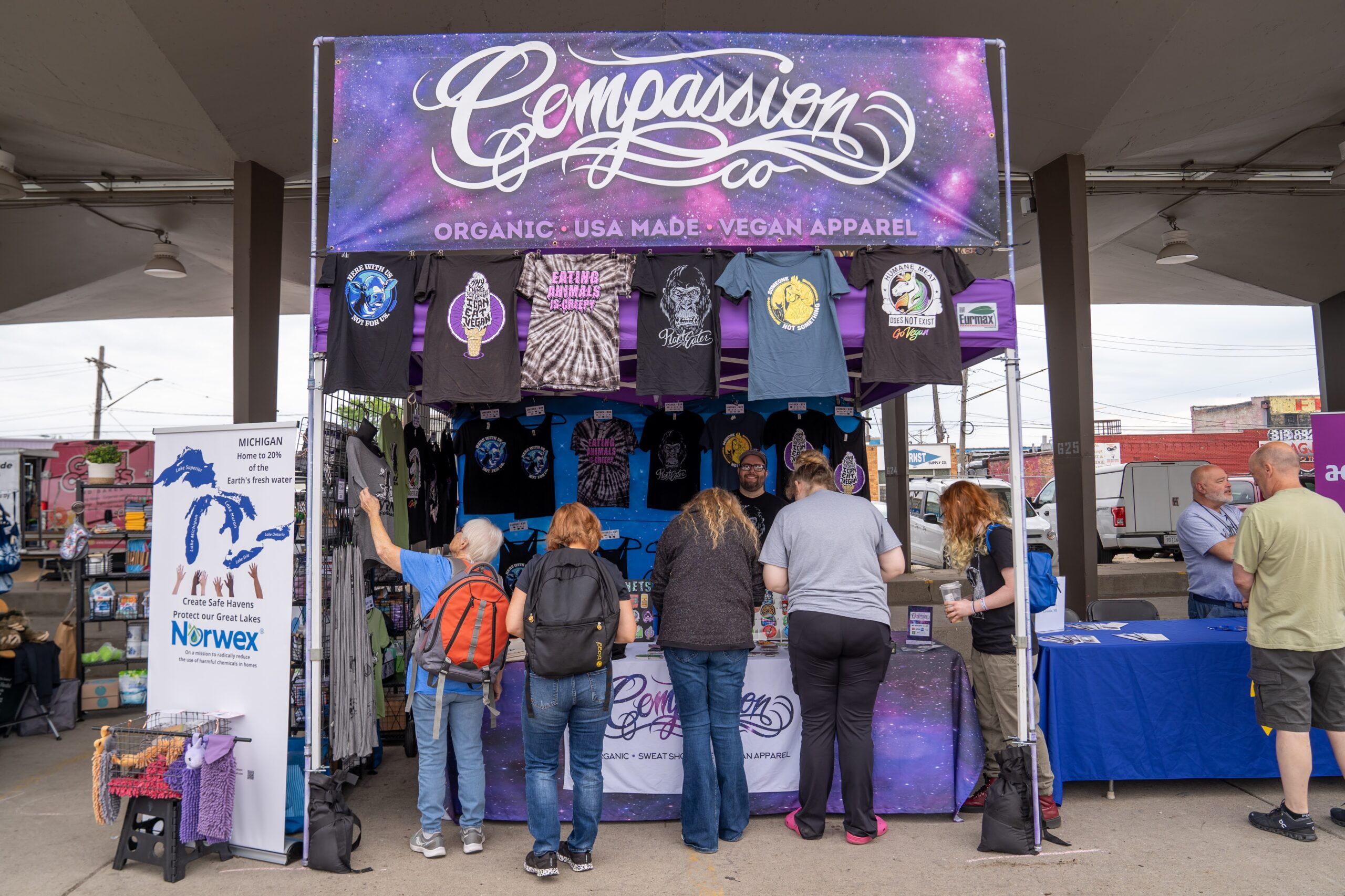 Compassion Co. at VegFest 2022
If you're not quite ready for lunch, make sure to stop by the non-profit booths to discover and support our community members who dedicate so much of their time for the environment, people, and animals we all love. A few of the non-profits you'll see at VegFest include SASHA Farm Animal Sanctuary, Barn Sanctuary, Detroit People's Food Coop, and Michiganders for a Just Farming System. Many of these non-profits could use whatever support you're able to give. Take a moment at these booths to see if their missions resonate with you. If they do, ask how you can help! There is always a variety of ways you can help a non-profits you care about, from spreading their message to volunteering your time to making a donation. As a non-profit ourself, VegMichigan is only able to accomplish all we do because of the amazing support we receive from our community.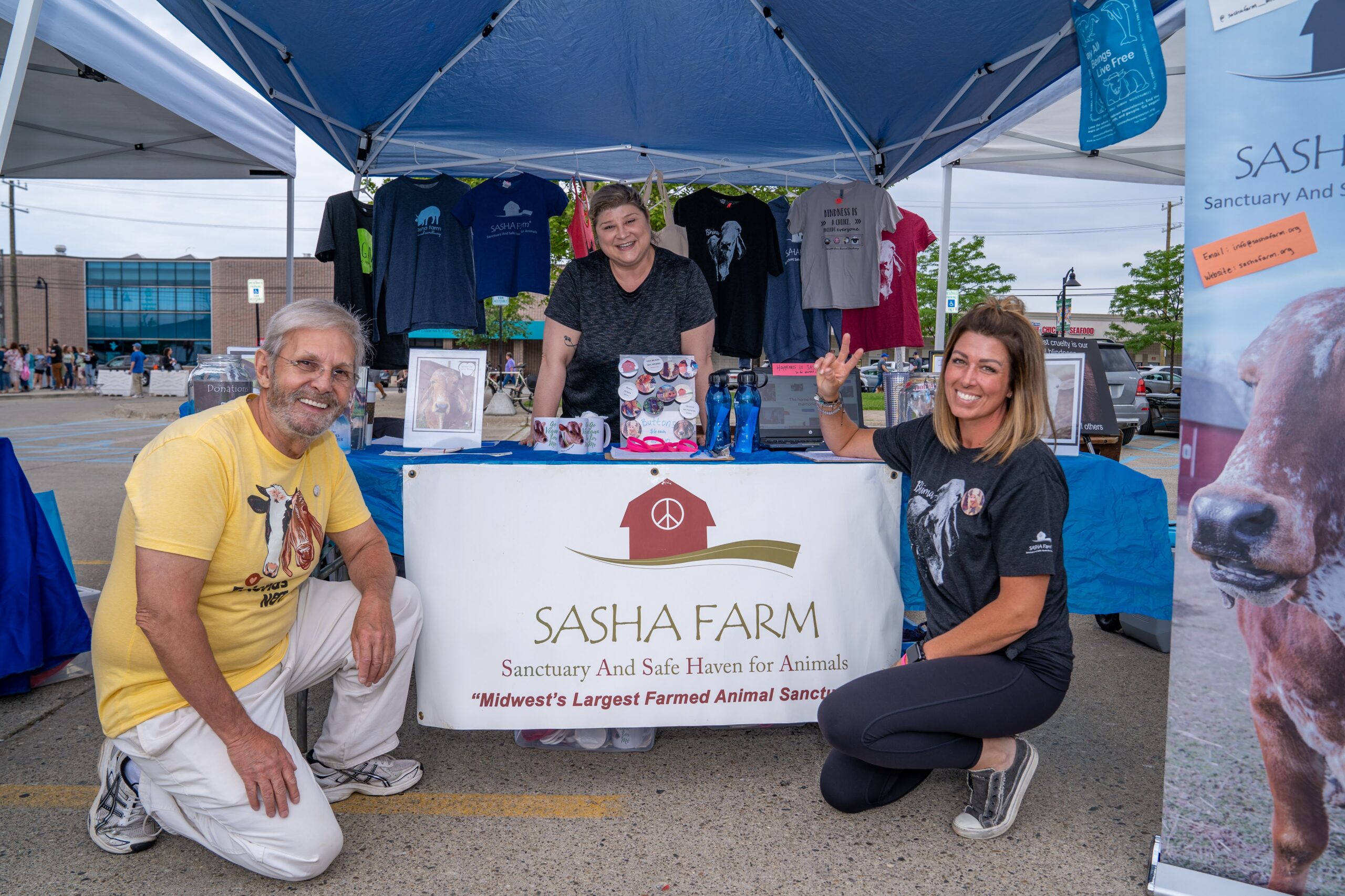 SASHA Farm at VegFest 2022
oh yay! It's tIme to eat agaIn!
After you've chilled out with a free massage, made a few sustainable purchases you feel great about (maybe a new vegan bag from
Beijo Bags, a cookbook from Ann Arbor Vegan Kitchen
, or a stunning wildlife photo from Their Lives Photography), and discovered a new non-profit you feel passionate about (Rabbit lover? Stop by Great Lakes Rabbit Sanctuary!), it is time to head back over to shed 5 or one of the food truck lines for lunch, a few snacks, another beverage, or an early dinner.
With so many food vendors to choose from, you might not know where to start. Don't worry though, we know you'll find something (or many things) you love because we've made sure there will be food to satisfy all your cravings. If you're looking for a savory meal, you can't go wrong with pizza from ItsFoodDetroit, a variety of Indian dishes from Earthen Jar or Krishna Catering, vegan rib sliders and coney dogs from Chef Dunny, truffle fries and pierogis from The Mush Hub, or cauliflower wings and pasta from Vegan Italiano. Just to name a few!
Wherever you decide to start make sure you pace yourself because we have no doubt there will be several food choices that catch your eye and get your stomach rumbling. Plus, don't forget, you'll need to save at least a little room for dessert!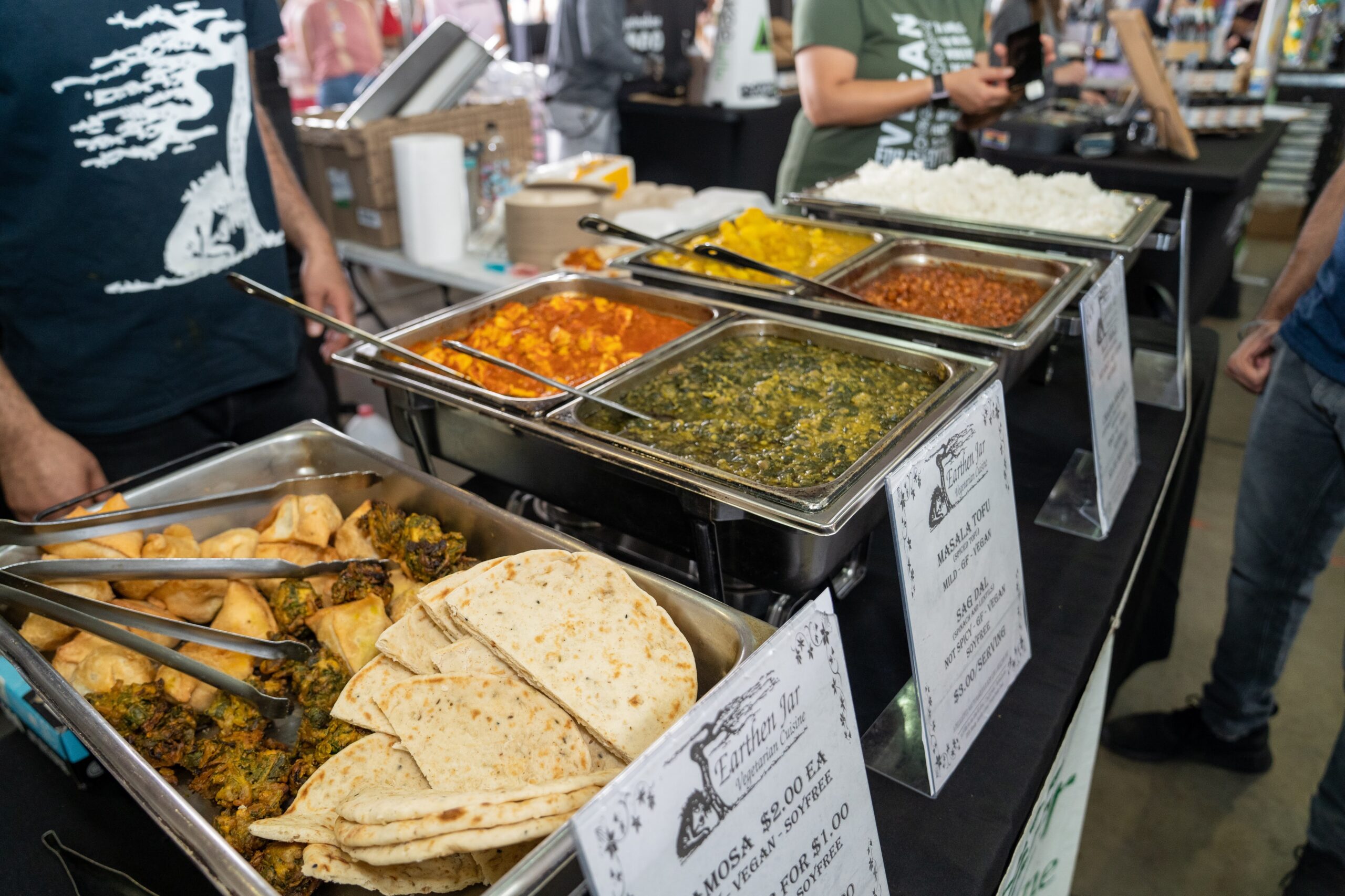 Earthen Jar at VegFest 2022
Whenever the need for a sweet treat hits you, we promise there will be no shortage of options to choose from! You'll find a
variety
of sweet selections from vendors such as Good Cakes and Bakes, Super Baked, and For the Love of Sugar, you can buy slices of melt in your mouth fudge from Rochester Fudge, mini cakes and cheesecake from Planthropie, and dairy-free ice cream from Ben and Jerry's. If you're looking for a sweet treat that's a little bit healthier, try some vegan mousse from The Healthy Moose or a popsicle made with all-natural ingredients from JB's Ice Pops.
That's
not event all the sweets vendors! You'll just have to explore VegFest for yourself to find the perfect treat to satisfy your sweet tooth.
Don't worry if you are too full to try everything you want at the festival. We highly recommend you bring a some take home containers or an insulated thermal bag so you can take things home and continue enjoying the deliciousness VegFest provides well past 4 pm.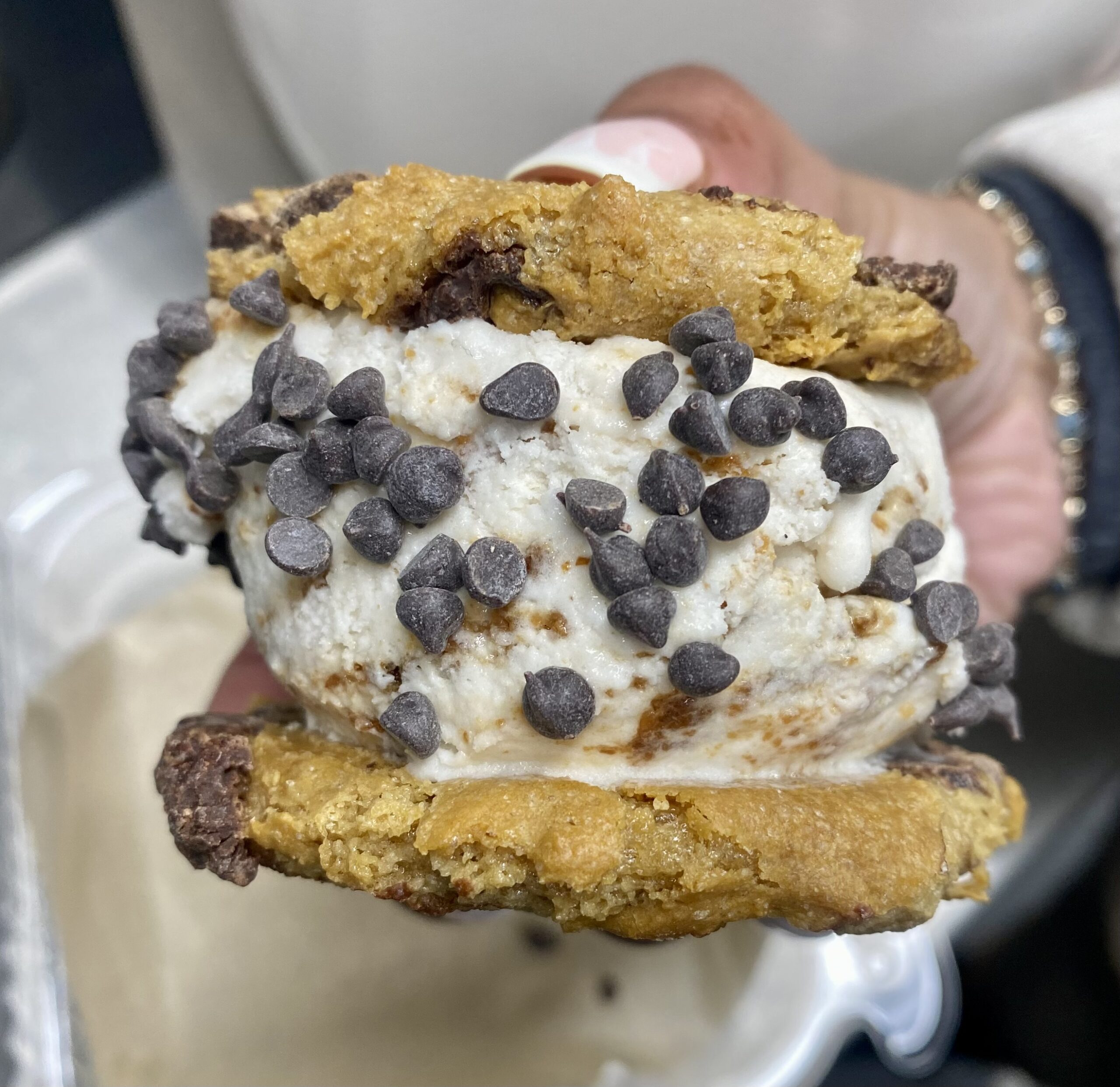 Ice Cream Sandwich from For the Love of Sugar
If you haven't already, grab some packaged foods for later
By this time, you likely will have also come across many packaged food items you are excited to try. If you haven't, now is the time to head back into Shed 5 for one more round, keeping an eye out for things you can enjoy well past VegFest. Some things to help you keep the festivities going!
Pick up some new energy bars from Why Bars or The Feel Bar for your next workout or when you need a quick and healthy bite on the go, try Detroit Jerky, Yummee Pop Popcorn, or Detroit Gourmet Nuts for the next time you're looking for a snack, or happily give in to your sweet tooth with a stop at The Very Vegan Sweet Shop. If you need to restock your pantry, consider grabbing some Little Diablo Salsa, dressings and marinades from Teta Foods, or a variety of crackers from The Reel Renee. There are even more options beyond this list so be sure to stop by those vendors selling foods to enjoy later as you explore all VegFest has to offer!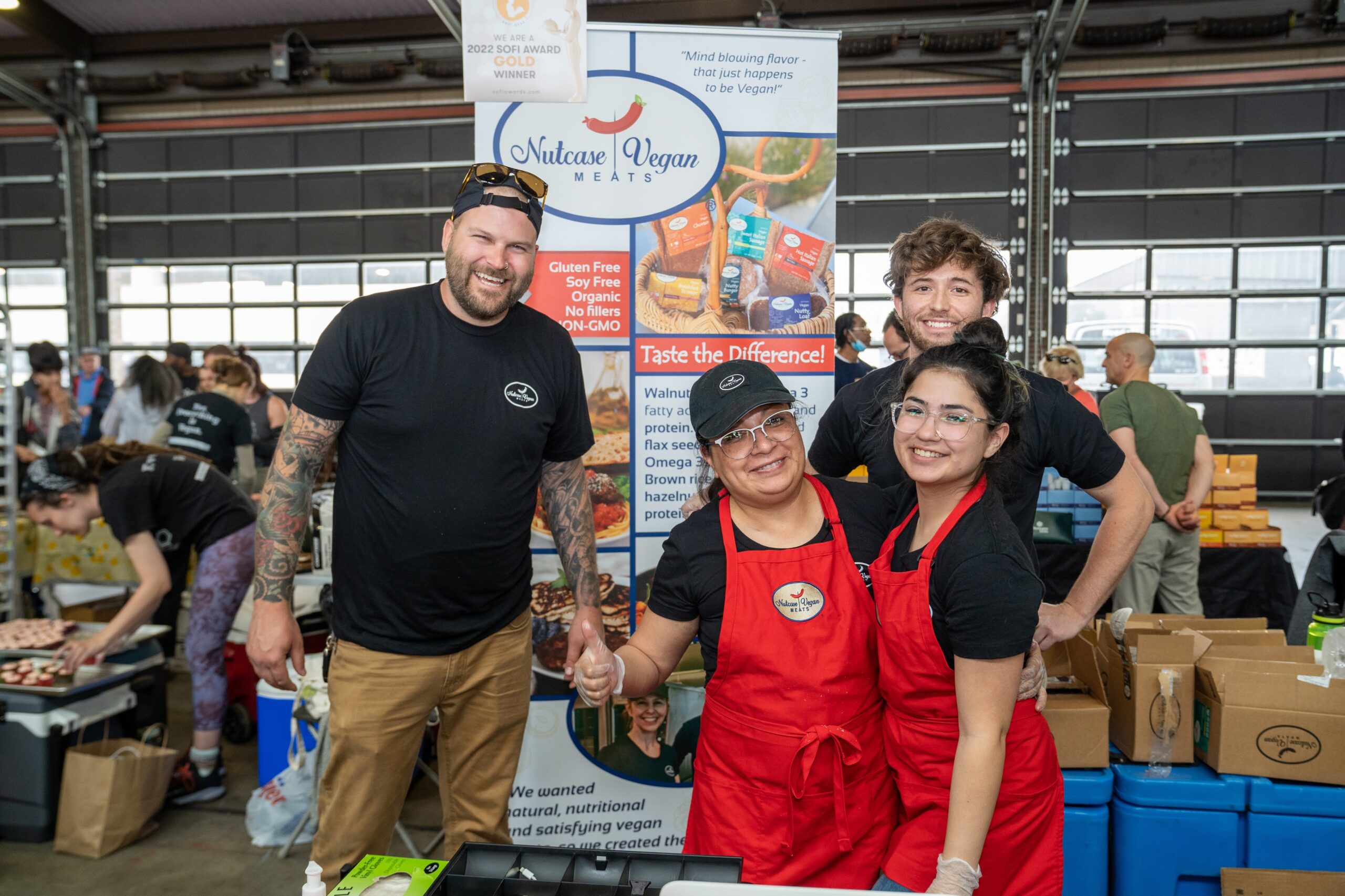 Nutcase Vegan Meats at VegFest 2022
In addItIon to vegfest, there Is so much more to do In detroIt
There is so much to do on a beautiful day in the Motor City! If you have the time before or after VegFest, make it a whole day in Detroit!
eastern market's sunday street market
VegFest will be held in Sheds 5 & 6 and right next to VegFest you can visit Eastern Market's Sunday Street Market. The street market is not your typical farmers' market but seeks to showcase the work of local artists, cooks, jewelers, musicians, and more. It is held in Sheds 2, 3, and 4. This market has such a cool vibe and such a diverse selection of items to browse. You are definitely going to want to check it out! This market is the perfect chance to discover items that are uniquely Detroit and Michigan made.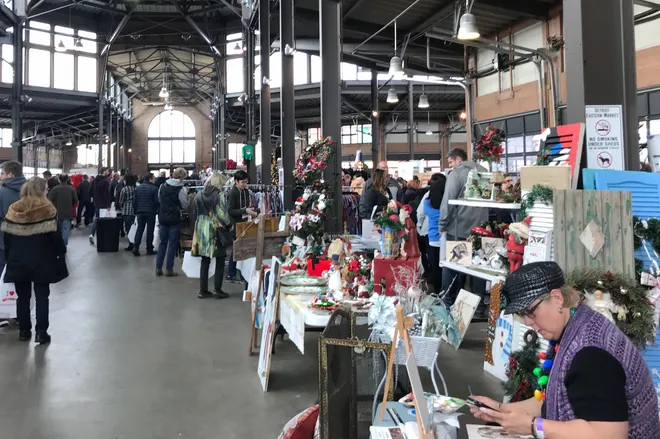 Eastern Market's Sunday Market
the detroIt rIverwalk and beautIful parks
We're lucky to have amazing parks and greenspace throughout Detroit, not to mention an international river crossing, so don't miss out on all that the Detroit Riverwalk has to offer! In 2022 it was voted
Best Riverwalk in the U.S.
for the second year in a row by USA Today readers and is easily accessible from Eastern Market via the Dequindre Cut, a two-mile urban recreational path below street level that links the market to the riverfront. You can leisurely walk the Dequindre Cut to enjoy its many murals with a self-guided art walk, or grab a bike at one of many MoGo stations, including two near Eastern Market. (Tip: There is a MoGo docking station right at the intersection of Russell St. and Wilkins St. in the heart of the market). If you're looking for a longer term bike rental for the day or even a half-day, you can walk the Dequindre Cut to Wheelhouse, where you can rent a bike right on the RiverWalk.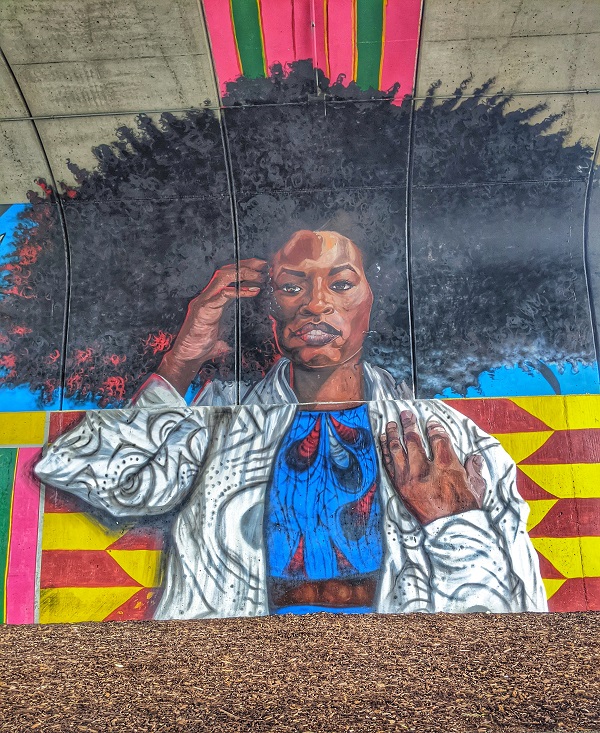 The Riverwalk is a 5.5 mile stretch along the Detroit River that runs from the Ambassador Bridge to Gabriel Richard Park. It offers many beautiful locations to enjoy the scenery. Benches facing the river are scattered throughout the riverfront, and there are numerous parks and many grassy locations along the way. We suggest heading west when you arrive at the
Riverwalk
from the Dequindre Cut to check out Milliken State Park and Harbor, where you can check out the lighthouse and read about the park's wetlands, which are designed to naturally remove pollutants from the water before being returned to the Detroit River. Any of
these
spots would be the perfect place to enjoy a bite while taking in the view. You can even bring with you a delicious meal from VegFest (another great reason to bring a to-go container or thermal bag)! We also recommend you check out
Robert C. Valade Park
, where you can grab a spot to spread out for a picnic. The park offers a beach complete with chairs and umbrellas, a children's musical garden, and playscapes for the kids.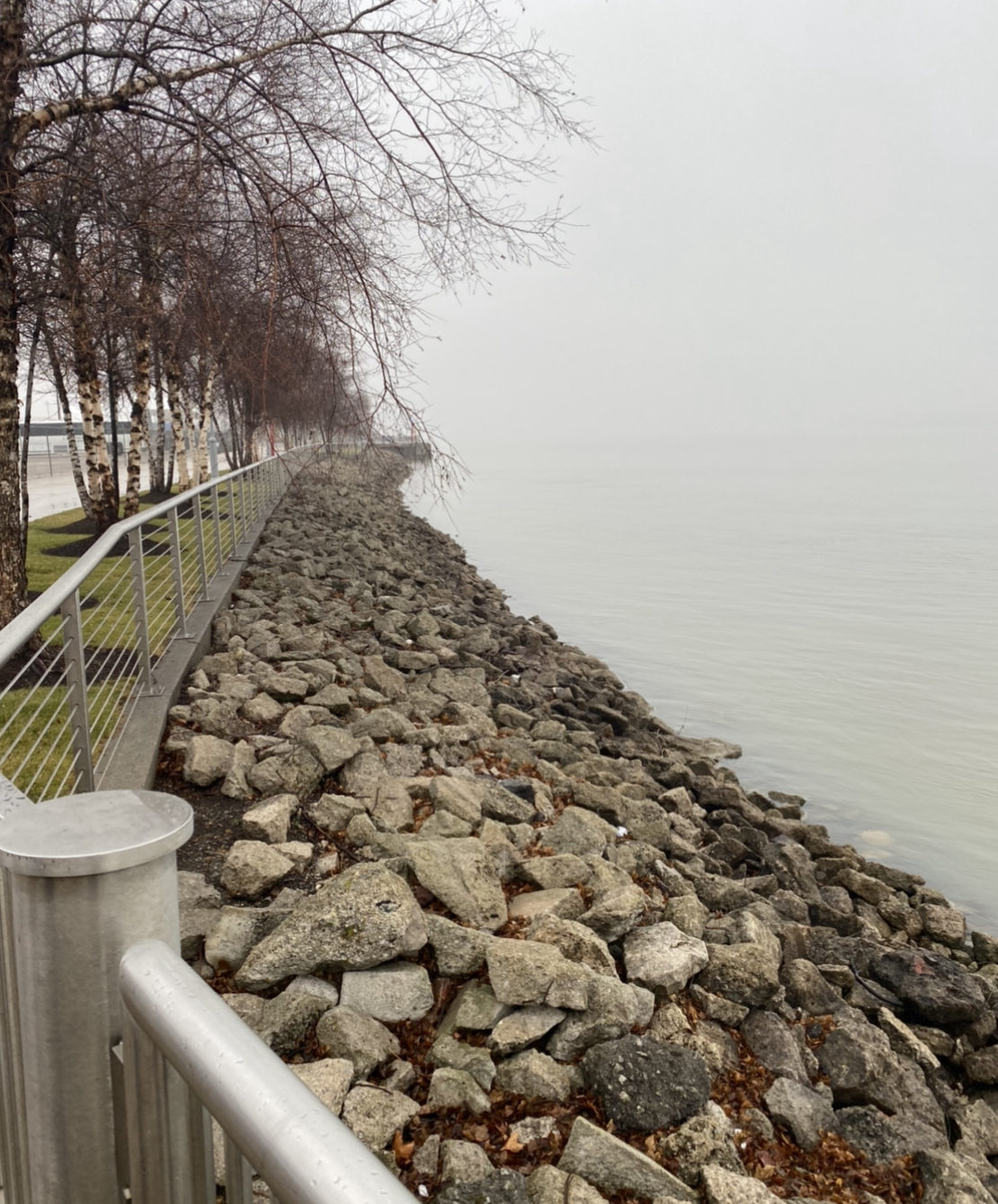 Though the Riverwalk doesn't yet connect to Belle Isle, it's worth the short trip by car for the amazing views of the city skyline and the Detroit River! Belle Isle is a beautiful 982-acre island nestled in the middle of the Detroit River. This isle is full of history and was actually designed by the famous urban landscape architect, Frederick Law Olmsted, the same architect who designed Central Park in New York City. Be sure to check out the Conservatory, the Dossin Great Lakes Museum, which is also great for kids, and take a photo in front of the beloved James Scott Memorial Fountain.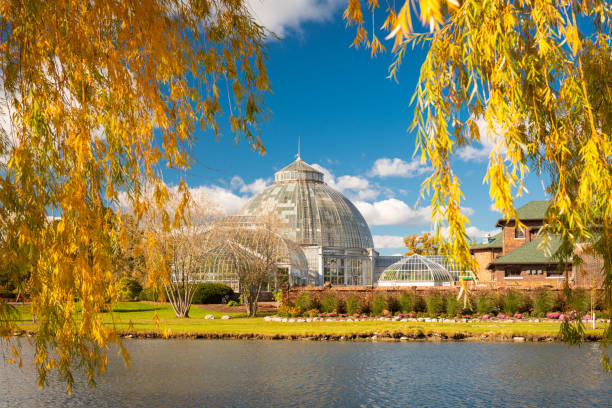 the detroIt InstItute of arts and other museums
If you like art and culture, the Detroit Institute of Arts is the place to go. First, be sure to walk through the Rivera Court at the heart of the museum. Take a pause to gaze upon the magnificent frescoes by renowned Mexican artist Diego Rivera that depict industry life in Detroit and specifically at the Ford Motor Company. Then, wandering through the D.I.A becomes a choose your own adventure story. There are so many different exhibitions to see and new cultures and periods of history to explore. When you are finally ready to rest your feet, head over to the beautiful Kresge Court to grab a coffee, wine, or light snack.
Tickets are required so if you plan to add the D.I.A. to your Detroit itinerary, be sure to make a reservation online in advance. Admission is free for Macomb, Oakland, and Wayne county residents (you do still need a reservation) and if you live elsewhere, adult tickets are $14/person. In our opinion, without a doubt worth it!
We also highly recommend a visit to the Motown Museum, the Detroit Historical Museum, The Charles H. Wright Museum of African American History, or the Michigan Science Center.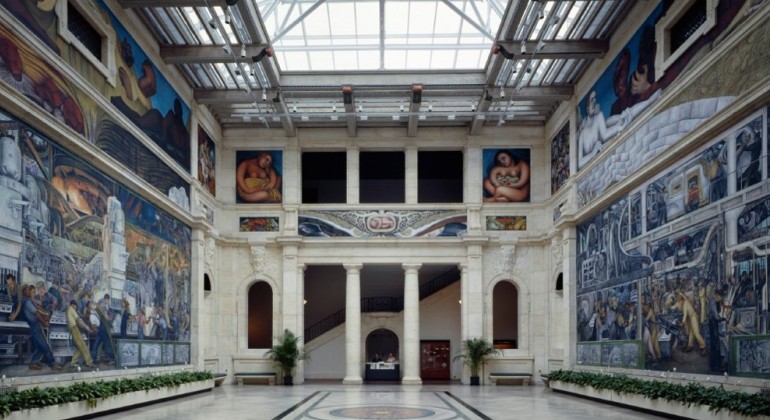 Detroit Institute of Arts – Rivera Court
other fun detroIt actIvItIes
Don't feel like driving or looking to explore downtown or midtown? The QLine runs along the Woodward corridor from the New Center/North End to Downtown, and rides are free through the end of the year. Use it as a jumping-off point to explore museums, or take your picnic to Campus Martius, Capitol Park, or Beacon Park. Check out Visit Detroit for even more ideas.