a Vegan guIde to LansIng, MIchIgan
by rebecca from veggIes abroad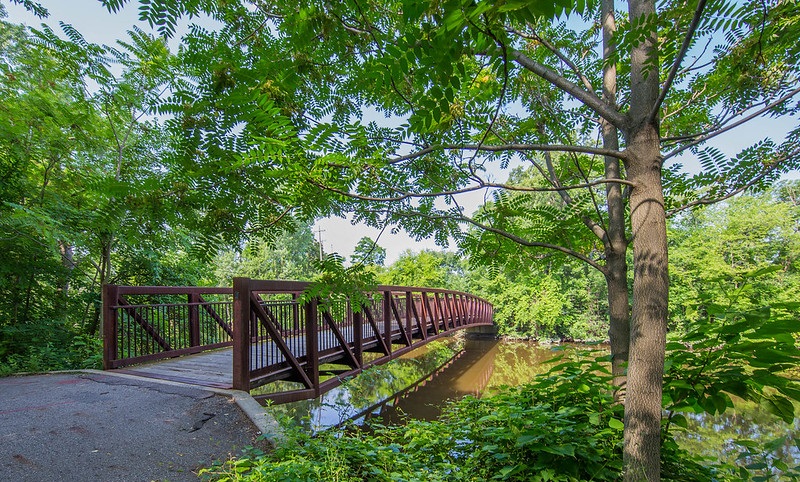 Lansing River Trail – Tony Beyers – Flickr
The Michigan State University fight song always plays in my head when I think of Michigan's capital city, Lansing. Thanks in part to its proximity to the educational behemoth, Lansing is home to an amazing diversity of cuisine and culture.  Diners will be delighted to not only find greasy American favorites, but also a variety of cuisines from Turkish to Jamaican along with a focus on farm-to-table. While it's always fun to eat your way through a city, it's better when you can also enjoy great outdoor spaces, local boutiques, and an eclectic mix of creativity. You won't get bored, but you may be thinking, what about vegan food? Well, thanks to the city's diversity, there is a good assortment of that. The next time you visit Lansing make sure you check out these 8 vegan and vegan-friendly restaurants and things to do. 
the 8 best spots for vegan food In lansIng
902 E César E. Chávez Ave, Lansing, MI 48906
A vegan drive-thru? Say no more! Get everyone in the car and head to Veg-N for a mouth-watering selection of vegan comfort food. Breakfast is served all day, which is amazing because who wants to pass up the opportunity for a breakfast Hunny Stack (Beyond sausage patty stacked with tofu egg, cheese, lettuce, tomato, onions, and house-made Hunny mustard on toasted bread)! If breakfast doesn't do it for you then take your time scanning their huge list of favorites—from Coney carrot dogs to a buffalo chick-n wrap with their house-made ranch! Whatever you choose don't pass up on a side of loaded fries—there are three delicious options, good luck deciding.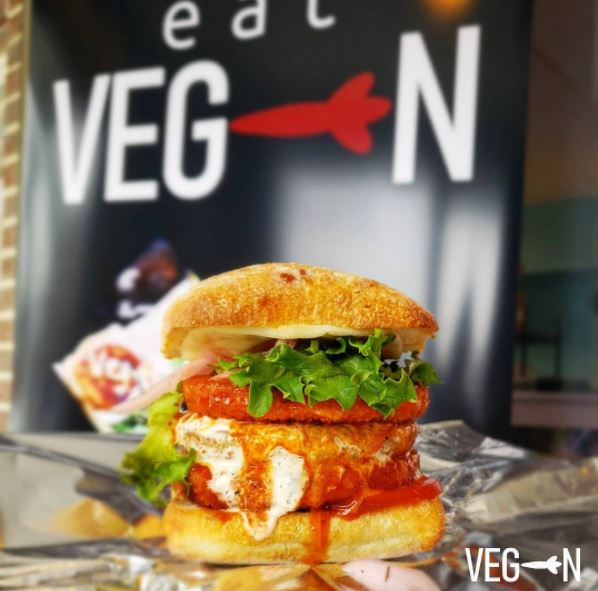 2150 N. Cedar St. Holt, MI 48842 (Can oftentimes be found here, but always check ahead!)
A new kid in vegan town! The MI vegan food truck started hitting the streets in 2020 to offer customers a selection of burgers, tacos, and wings, all inspired by Michigan hot spots like Traverse City and The Great Lakes.  There are so many delicious things to choose from and if you can't help yourself and need to order multiple items (we promise, we won't tell) you can rest easy knowing you're not being too wasteful! Aside from delicious food, sustainability is key with everything that comes out of this truck, right down to compostable packaging.
Strange Matter Coffee & Bakery
2010 E Michigan Ave #103, Lansing, MI 48912
An oat milk brown sugar cardamom latte sounds like the perfect way to kick start your day but how about a vegan baked good to go along with it? This is the ultimate vegan spot in Lansing for your caffeine and sugary-sweet treat fix! Their entire menu of scones, cookies, coffee cake, and donuts is vegan (with a couple of gluten-free options)! I've got my eye on a seasonal favorite—a pumpkin pie pop tart!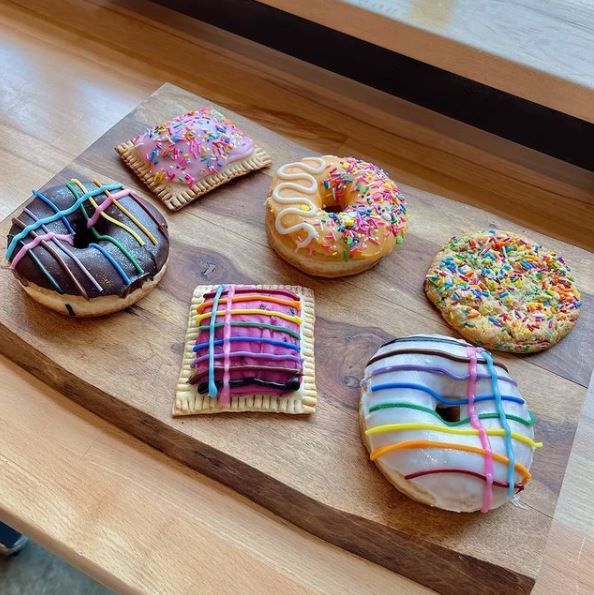 Strange Matter – Instagram
211 M. A. C. Ave, East Lansing, MI 48823
This might be the best spot for breakfast or brunch in town! I mean is there a better way to kick off the day than with a light and crispy crepe filled with your favorite things? I didn't think so! Whether you're in the mood for a sweet crepe or a savory crepe, there is a vegan option! Vegan batter, butter, cheese, and even whipped cream are available! You really can't go wrong with a cinnamon and sugar crepe or, for a healthy kick, load it up with avocado, spinach, tomato, and vegan cheese. 
1500 W Lake Lansing Rd, East Lansing, MI 48823
A perfect spot for a chic date night or just a fun night out with friends! This is a great spot to order a few things and share—that's always ideal, right!? Their menu is well marked for vegetarian options, just be sure to double-check that the sauces are vegan. Start off with an order of sweet or spicy fried tofu then from there it gets tricky. Do you want sushi or noodles? Maybe you want something from the hibachi? Decisions, decisions! I suggest grabbing an order of their signature Boogie veggie (avocado, asparagus, kampyo, radish sprouts, cucumber, tempura sweet potato, and special Maru dressing)—it's a great combo of healthy and savory! And, if you really enjoy it, check out their other locations throughout the state, including in downtown Detroit.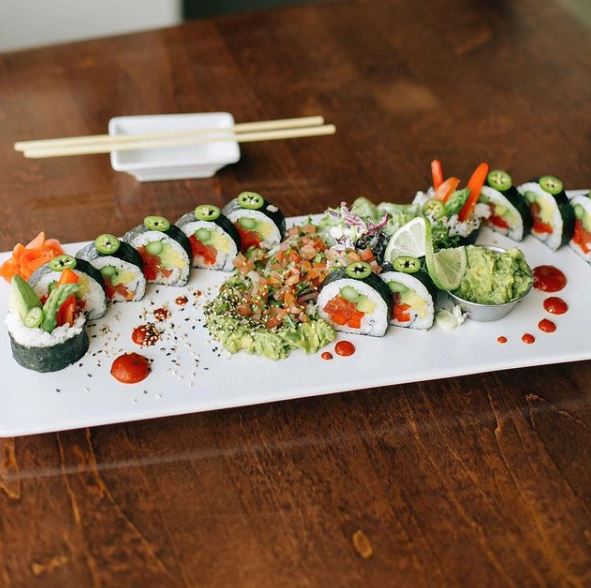 4480 Hagadorn Rd #103, Okemos, MI 48864
All the house-made dishes at The Red Haven are sourced locally and they strive to use only seasonal ingredients. There are a few fresh dishes that are vegan go-to's when stopping in here. If you're looking for something small, start off with their Carpaccio salad (beets, apple, radish, and kohlrabi served with maple sherry dressing on microgreens). Feeling a little hungrier? Don't miss their Malaysian-inspired stew (peach peppers, tomato, coconut, okra, tofu, chard, rice chips, with coriander and garlic). There is also an interesting olive tempeh fennel bean burger, but you will need to ditch the brioche bun!
940 Elmwood Rd, Lansing, MI 48917
Famous for its appearance on The Food Network's, "Diners, Drive-Ins, and Dives" and for good reason! Mediterranean is generally always a safe choice for vegans, but here it's a treat with their use of fresh local produce. They have a full vegetarian menu that features traditional vegan favorites like falafel, mujadara (sans yogurt sauce), grape leaves, and so much more. And, if you can't decide, grab their traditional veggie combo to taste a little bit of everything!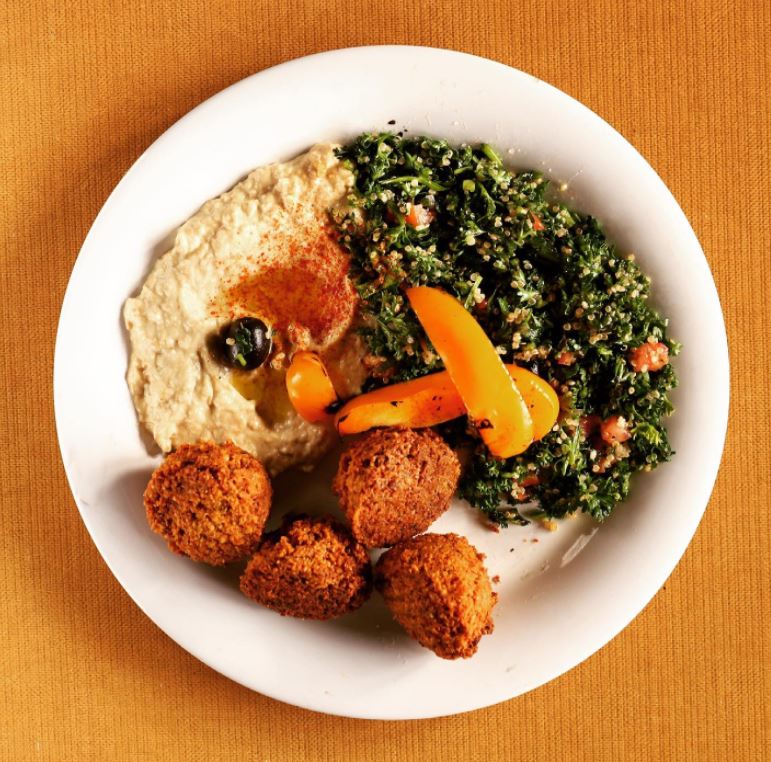 809 E Kalamazoo St, Lansing, MI 48912
Generally, a sport's bar wouldn't be the first place you'd think to go for vegan food, but in Lansing it should be! Art's has a surprising selection of vegan comfort food to fill any craving you've got; it's just going to be difficult to decide. A slice of cheesy 'za loaded with roasted garlic, broccoli, veggie patty, avocado, tomato, and vegan cheese might be too healthy. If so, add an order of saucy vegan wings. If that doesn't do it for you then check out their all-day breakfast menu with their signature Sit-In Hash (loaded with every veggie under the sun and topped with meatless chicken, ranchero salsa, cilantro, and vegan cheese)—you won't be hungry after this!
Capitol Building Greater Lansing – Instagram
a few thIngs not to mIss In lansIng
Now that we've gotten the important work of eating out of the way, you're probably wondering what's next? Lansing is a hub of activity, which is reflected in its art, history, and shops. No matter the season, there is always something fun to check out.  When you're in town, be sure to check out these 4 spots!
Wander through Old Town
The charming downtown area of Lansing, commonly called Old Town, located at E. Cesar E. Chavez Ave. and Turner Rd. in the northern part of town is a must-visit spot. The tree-lined streets have a quintessential small-town vibe and it's the best place to check out unique art galleries, small boutiques, the farmer's market, and throughout the year, you'll find a variety of festivals and outdoor activities. Also, don't miss the many art murals that have been created by local artists all throughout the area.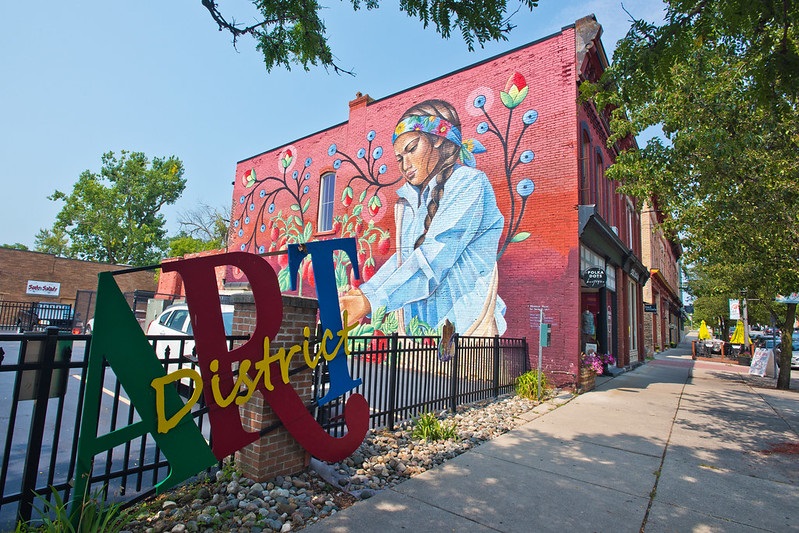 Old Town Lansing Art – fotoman91 – Flickr
Brush up on history at The Michigan History Center and the Michigan Women's Historical Center
702 W Kalamazoo St, Lansing, MI 48915 (Michigan History Center)
105 W Allegan St, Lansing, MI 48933 (Michigan Women's Historical Center)
Did you know that Rosie, the Riveter on the "We Can Do It" poster was Lansing resident, Geraldine Doyle? Or, that Lansing wasn't the initial capital of the State of Michigan? It was Detroit! You can learn more about these fun facts as well as learn about the state's Native American roots all the way to Motown at these two enlightening museums. 
Get moving on the Lansing River Trail 
If you're looking to get moving, this is the perfect place to do it! The River Trail stretches 16 miles along the Red Cedar River from Waverly Road to Old Town. Throughout the trail, you'll find plenty of great parks and public art installations. Plan to end your jaunt with some fun in Old Town!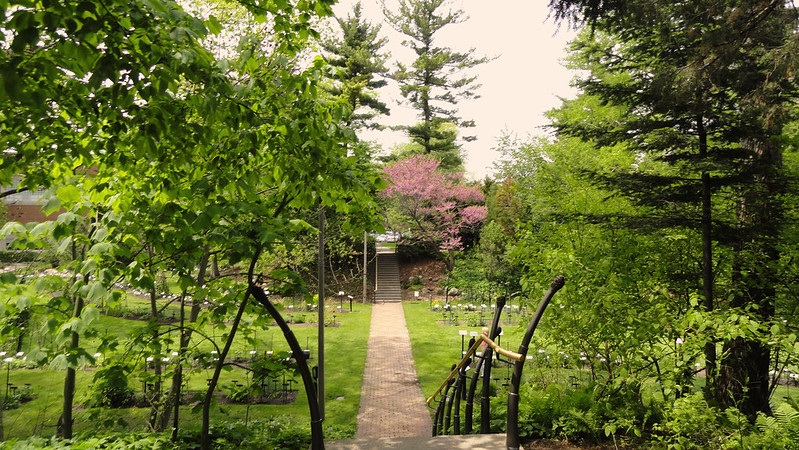 W.J. Beal Botanical Garden – Joel Dinda – Flickr
Enjoy the beautiful gardens at W.J. Beal Botanical Gardens at Michigan State University
W Circle Dr, East Lansing, MI 48824
Right on the campus of Michigan State University is one of the nation's oldest continuously operating botanical gardens. The garden is actually used by the University as an outdoor laboratory to study plant life and its benefits to the world, but the public is welcome to visit and appreciate over 5,000 different plant species. The gardens include rare and endangered Michigan plant varieties, medicinals, non-flowering species, and many more.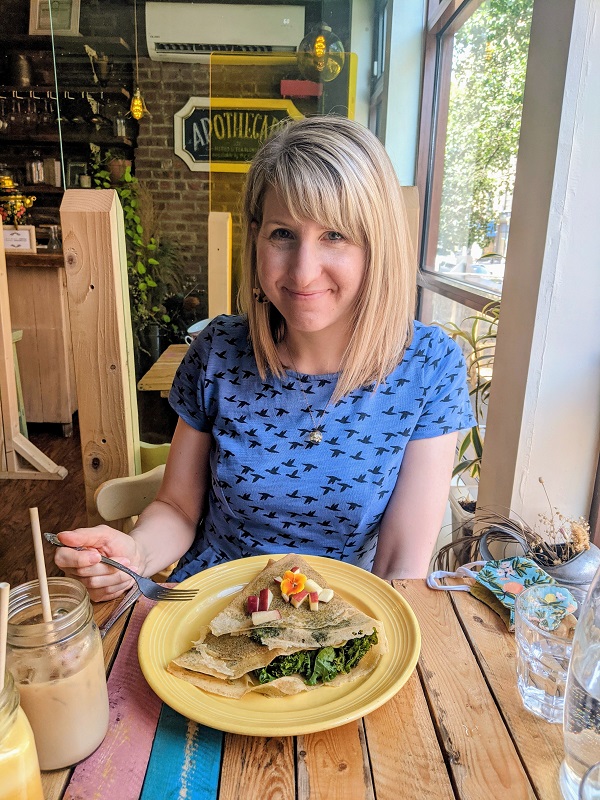 Hello! I am Rebecca Gade Sawicki, the Creator of Veggies Abroad, a vegan travel blog. My blog features vegan travel guides, tips and inspiration to explore the world. You can find my blog at https://veggiesabroad.com/ and follow my adventures on Instagram or Facebook @veggiesabroad