come to vegfest and enjoy a day In detroIt
by rebecca from veggIes abroad and VegmIchIgan staff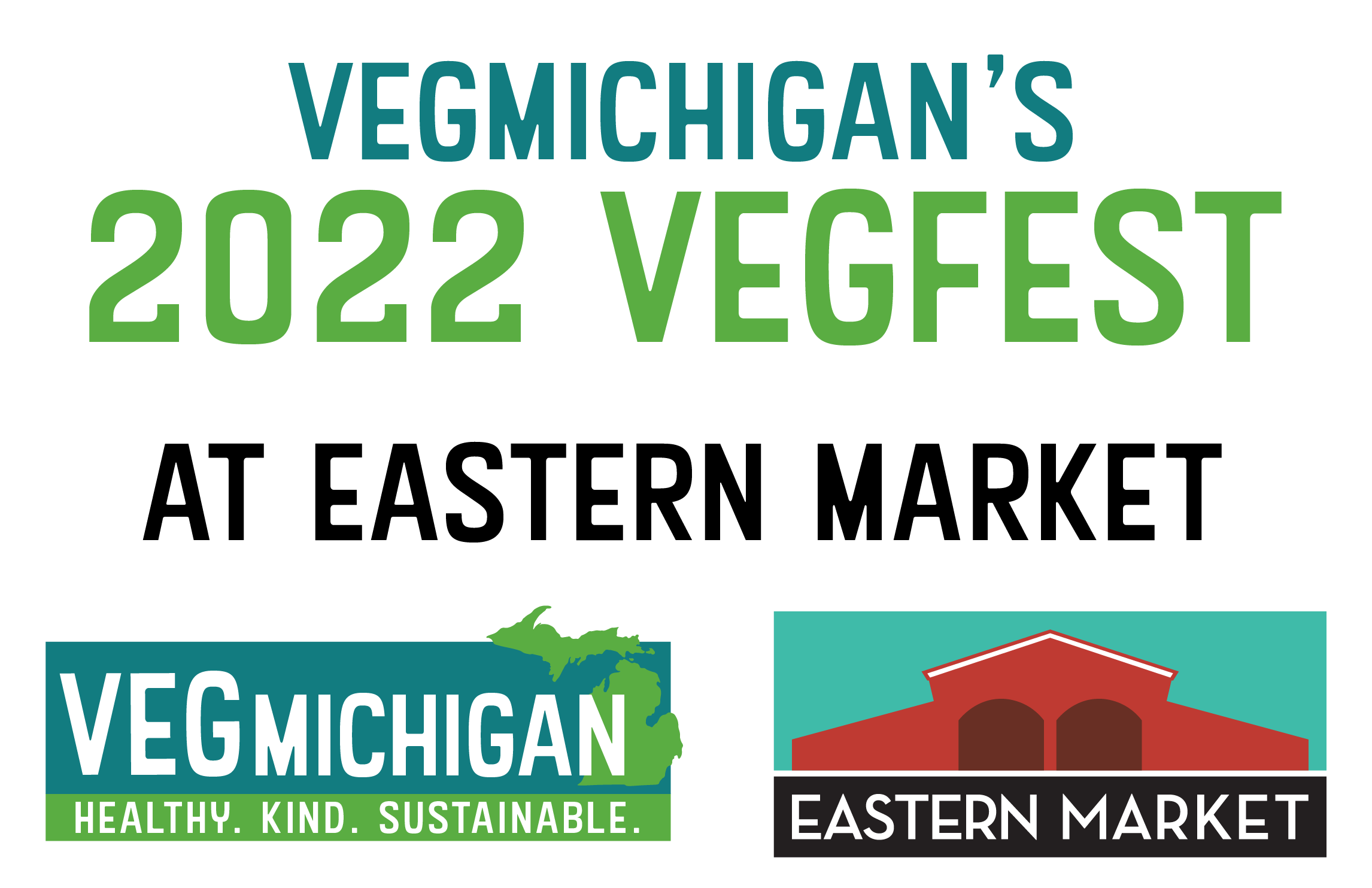 If you haven't already, get out your brightest color pen and block out Sunday, June 5, from 10 am – 4 pm for VegMichigan's Vegfest! After a lengthy two-year hiatus, Michigan's ultimate veggie-filled fest (oh, and by the way, entrance to the festival is free!) will be back in action at the historic Eastern Market (sheds 5 & 6) with close to 100 unique vendors. You'll be able to eat your way through an assortment of yummy vegan vendors, shop for cruelty-free clothing, learn about the fantastic work of local non-profits, and so much more! 
To make the most of your visit, we've created a one-day itinerary to ensure you make the most of your veggie-filled day!
Lucky for you, Vegfest opens just in time to enjoy breakfast and we have the perfect lineup of vendors to kickstart your day! For a fun and fruity start, check out the smoothie bowl options at Fruicota Café, or for something a little sinful check out the amazing donut creations at Dooped Donuts, Rolais', or Raphael's Donuts! And, if that wasn't enough UnBurger Grill will be serving an all-day breakfast menu filled with savory sandwiches and potatoes. 
If you're not really a breakfast person, and just want something light then check out the smoothie selection at Marilyn's food truck — the Road Runner (cold brew, cocoa, almond butter, protein powder, cardamon, and almond milk) is the perfect way to get things moving. 
But, don't stuff yourself too much, because you've got a full day of eating ahead!
The festival will be broken up between sheds 5 and 6 — shed 5 will include a full vegan food court (doesn't that sound fantastic!) with many Michigan-based vendors like Cooking with Que, Estella's Vegan Cuisine & Dessert, Veg-O-Rama, Water & Wheat, Squash the Beef Catering, and many many more! Several vendors will even be sampling some of their favorite eats for you to taste before making a purchase. 
Additionally, VegFest's free sample table will be full of plant-based eats, drinks, and coupons from a number of companies including well-know national brands like Miyoko's, Forager, Equal Exchange, and Origin.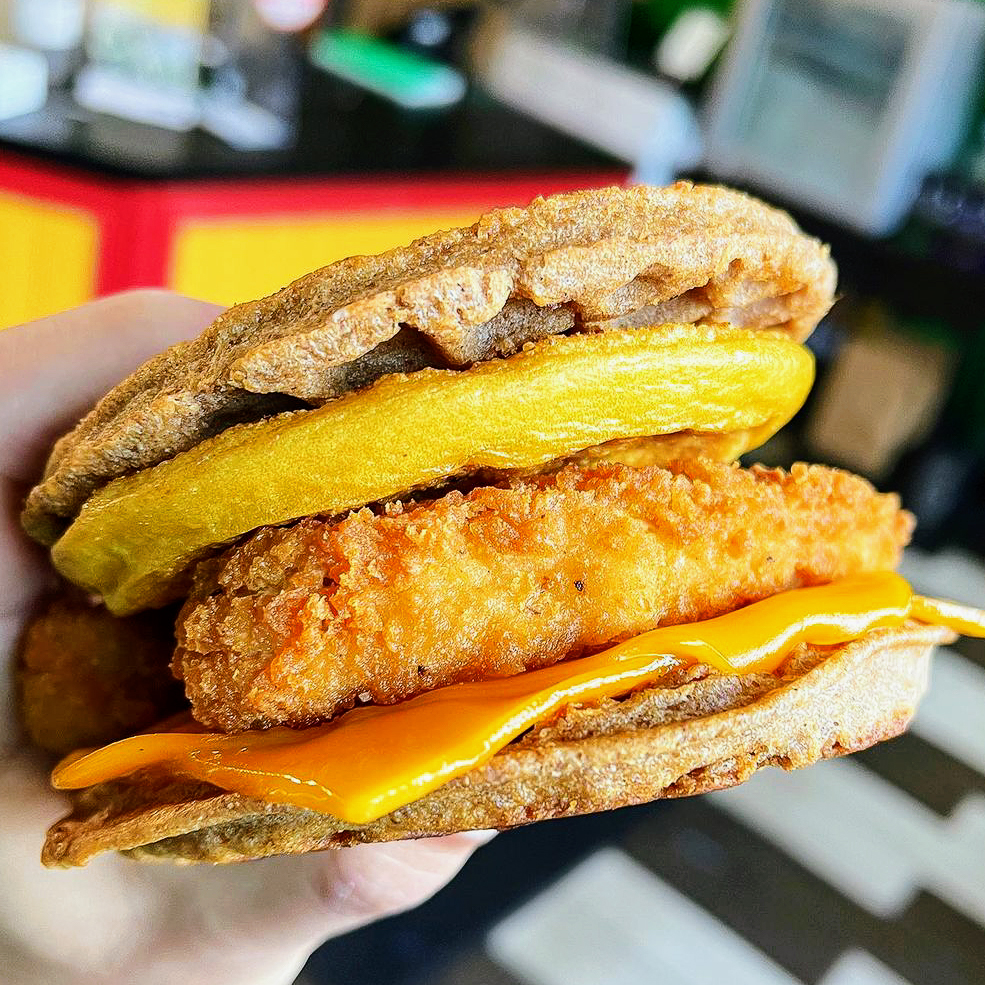 Unburger Grill's Breakfast Waffle Sandwich 
Once you've gotten through your first round of eating (you'll be back, no judgment!), head over to shed 6 and check out more than 20 shopping vendors like clothing from Herbivore Clothing, fair trade jewelry, bags, and more from Revy Fair Trade, personal care products from North Coast Organics and Rustic Maka, and much more!
While you're over there, be sure to make a stop at Irene's Myomassology's booth — they'll be giving free massages!
Afterward, don't skip over the non-profit partners who are doing fantastic work for the environment, people, and animals. Some of them could use your support in myriad ways, from spreading their message and volunteering to donating. Be sure to stop by and learn a little more about their work.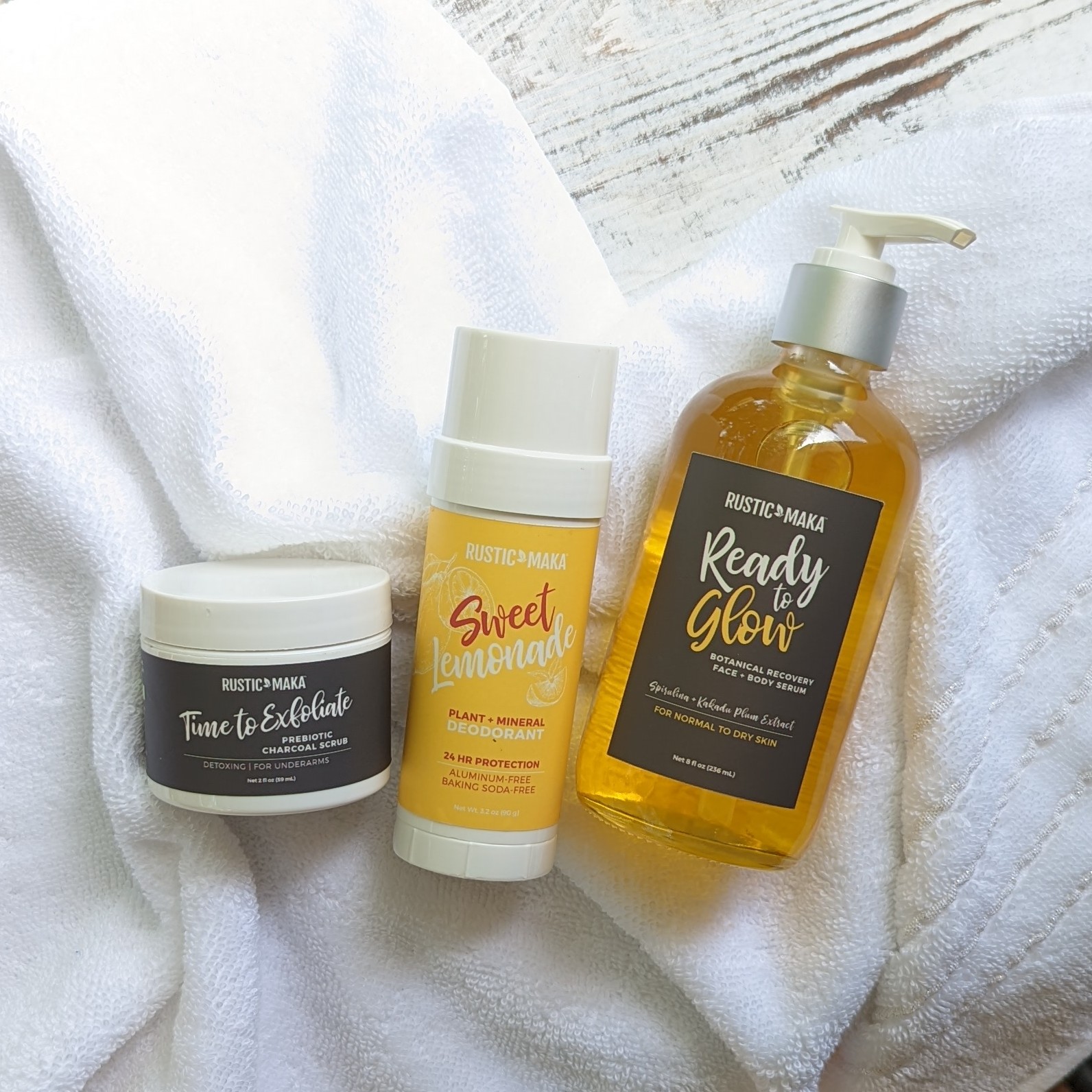 lunch tIme… snack tIme… dInner tIme… dessert!
After you've relaxed with a massage and maybe bought a new vegan bag from Beijo Bags, jewelry from Crystalline Dream, a fun tee from Compassion Co., or all of the above, it's time to get back to eating!
Your most difficult decision will be where to start! Maybe a savory carrot dog topped with queso from Radical Plants, or crispy samosas from Ann Arbor's Earthen Jar? Wherever you decide to start make sure you pace yourself because you're seriously going to want to try everything!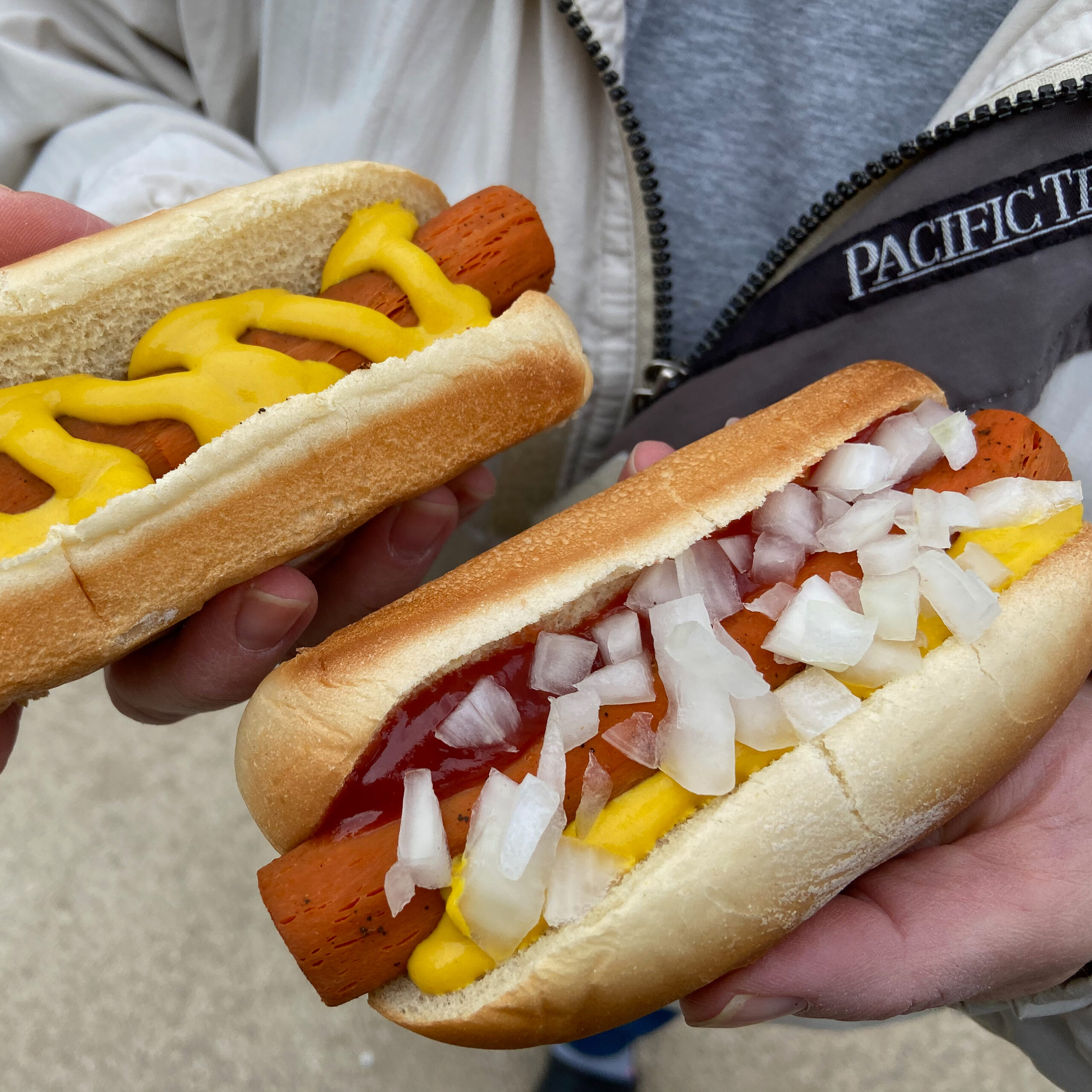 Radical Plants' Carrot Dogs
Before you end your VegFest adventure be sure to grab a sweet treat (or several!). We promise, there will be no shortage of options. You can't go wrong with a piece of melt in your mouth fudge or crispy peanut brittle from Rochester Fudge, creamy ice cream from Ice Cream Plant, Michigander Bars from SugarBuzz Vegan Bakery, delicious donuts from Dooped Donuts, or a mini cheesecake from Planthropie, and that's just the beginning!
If you can't try every vendor onsite that you want, consider taking a few things home!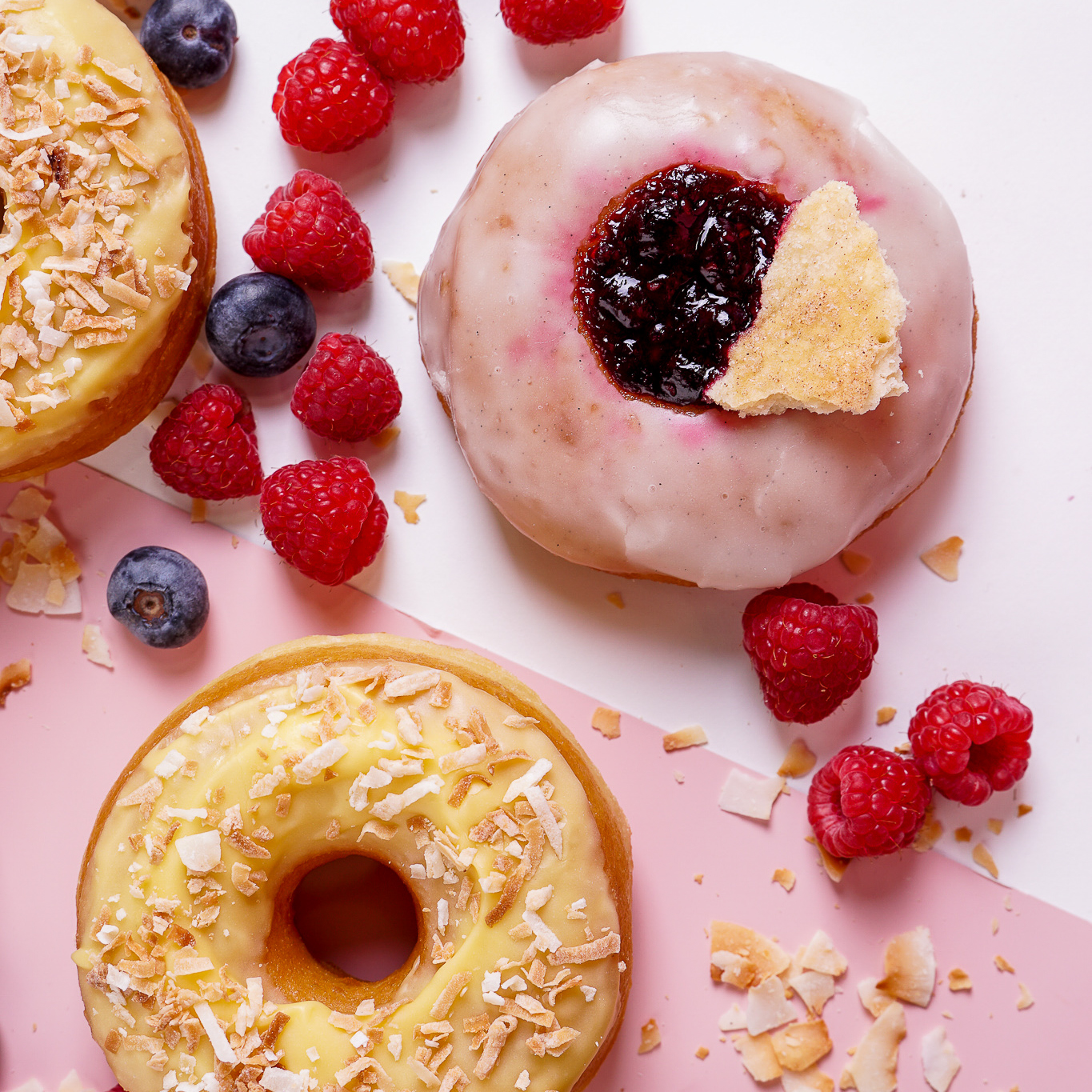 In addItIon to vegfest, there Is so much more to do In detroIt
There is so much to do on a beautiful day in the Motor City! If you have the time before or after VegFest, make it a whole day in Detroit!
eastern market's sunday street market
VegFest will be held in Sheds 5 & 6 and right next to VegFest you can visit Eastern Market's Sunday Street Market. The street market is not your typical farmers' market but seeks to showcase the work of local artists, cooks, jewelers, musicians, and more.  It is held in Sheds 2, 3, and 4. This market has such a cool vibe and such a diverse selection of items to browse, you're going to want to check it out! This market is the perfect chance to discover items that are uniquely Detroit and Michigan made.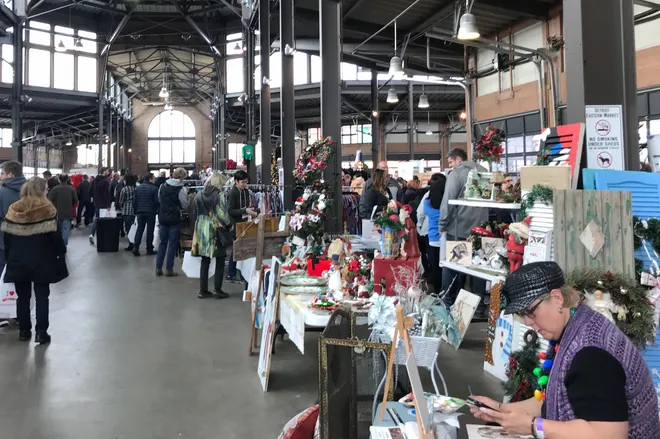 Eastern Market's Sunday Market
the detroIt rIverwalk and beautIful parks
We're lucky to have amazing parks and greenspace throughout Detroit, not to mention an international river crossing, so don't miss out on all that the Detroit Riverwalk has to offer! It was recently voted Best Riverwalk in the U.S. for the second year in a row by USA Today readers and is easily accessible from Eastern Market via the Dequindre Cut, a two-mile urban recreational path below street level that links the market to the riverfront. You can leisurely walk the Dequindre Cut to enjoy its many murals with a self-guided art walk, or grab a bike at one of many MoGo stations, including two near Eastern Market. (Tip: There is a MoGo docking station right at the intersection of Russell St. and Wilkins St. in the heart of the market). If you're looking for a longer term bike rental for the day or even a half-day, you can walk the Dequindre Cut to Wheelhouse, where you can rent a bike right on the RiverWalk. Don't miss the Freight Yard on the Dequindre Cut, an outdoor beer and wine garden made from repurposed shipping containers.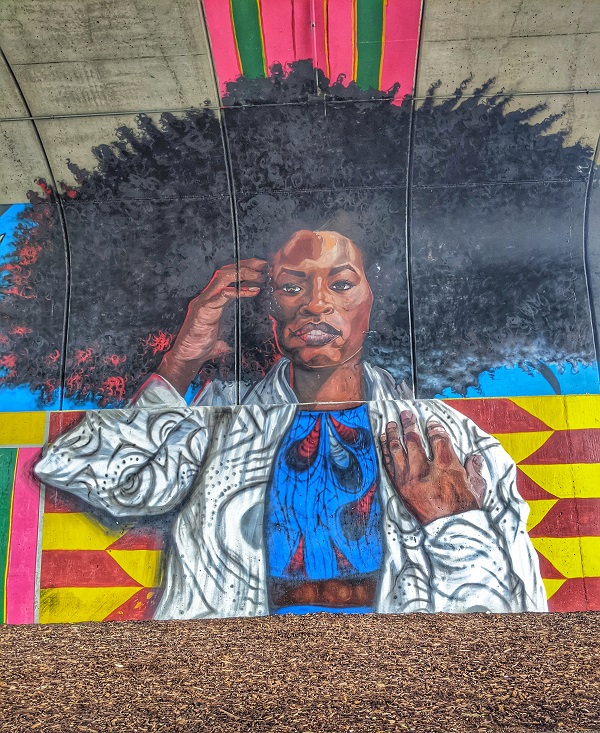 The Riverwalk is a 5.5 mile stretch along the Detroit River that runs from the Ambassador Bridge to Gabriel Richard Park. It offers many beautiful locations to enjoy the scenery and for a picnic! Benches facing the river are scattered throughout the riverfront, and there are numerous parks and many grassy locations along the way. We suggest heading west when you arrive at the Riverwalk from the Dequindre Cut to check out Milliken State Park and Harbor, where you can check out the lighthouse and read about the park's wetlands, which are designed to naturally remove pollutants from the water before being returned to the Detroit River. Now would be the perfect time for that picnic! Bring a delicious meal from VegFest and meander over to Robert C. Valade Park, where you can grab a spot to spread out. The park offers a beach complete with chairs and umbrellas, a children's musical garden, and playscapes for the kids. Or, head a little further west to Cullen Plaza to catch a Diamond Jack 1-hour riverboat tour. Four tour times are offered on Sundays, no reservations are needed.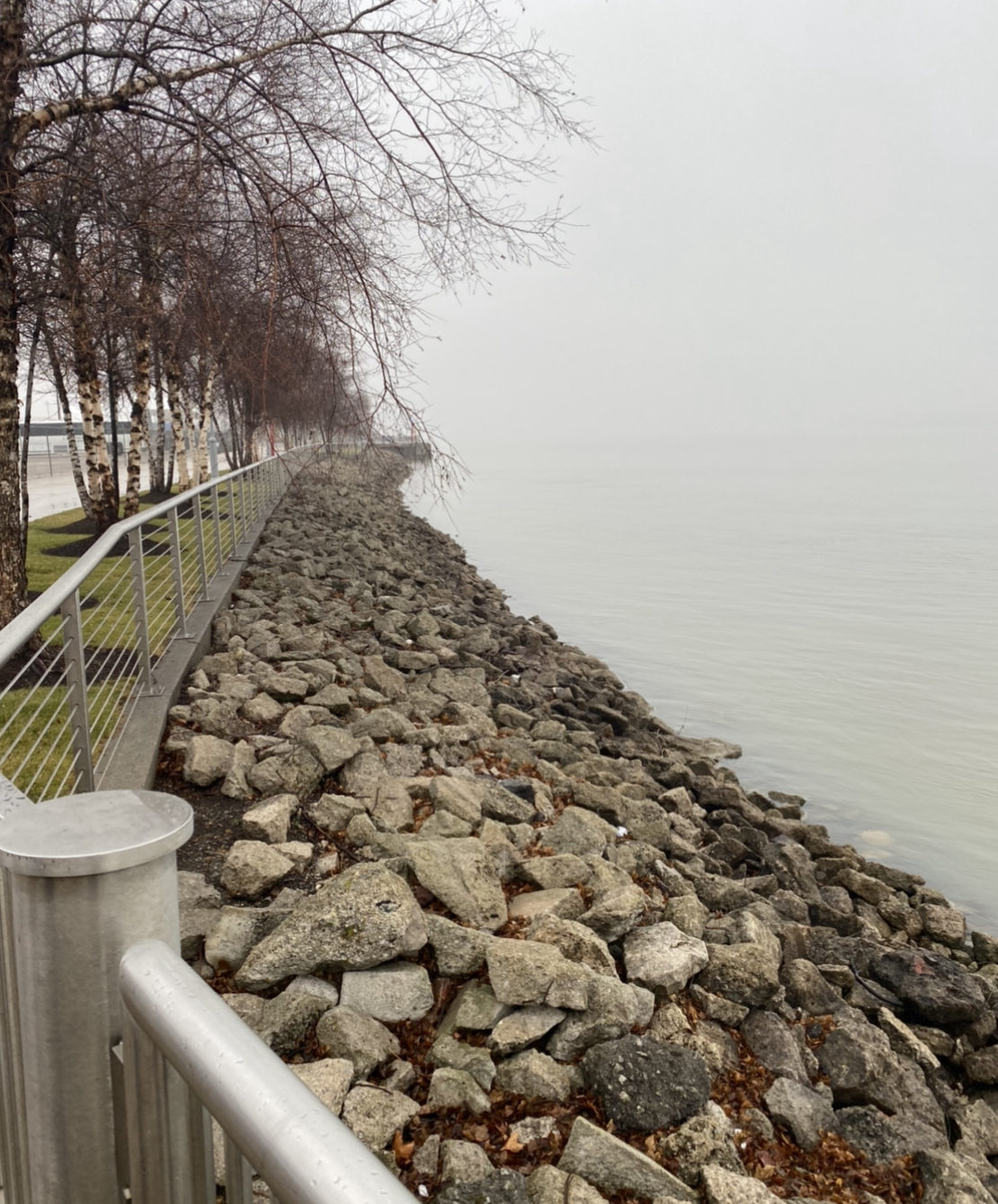 Though the Riverwalk doesn't yet connect to Belle Isle, it's worth the short trip by car for the amazing views of the city skyline and the Detroit River. Plus, it's a perfect place to picnic! Belle Isle is a beautiful 982-acre island nestled in the middle of the Detroit River. In This isle is full of history and was actually designed by the famous urban landscape architect, Frederick Law Olmsted, the same architect who designed Central Park in New York City. Be sure to check out the Conservatory, the Dossin Great Lakes Museum, which is also great for kids, and take a photo in front of the beloved James Scott Memorial Fountain.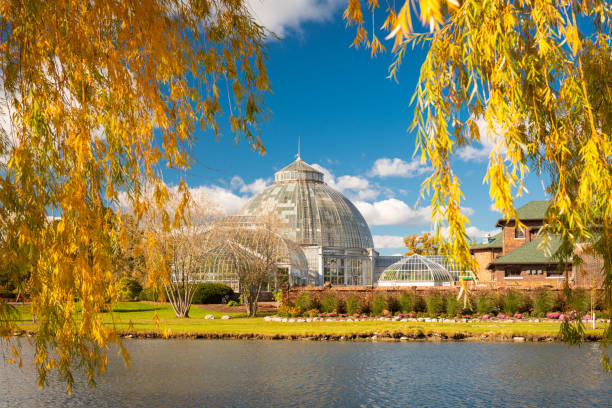 the detroIt InstItute of arts and other museums
If you like art and culture, the Detroit Institute of Arts is the place to go. First, be sure to walk through the Rivera Court at the heart of the museum. Take a pause to gaze upon the magnificent frescoes by renowned Mexican artist Diego Rivera that depict industry life in Detroit and specifically at the Ford Motor Company. Then, wandering through the D.I.A becomes a choose your own adventure story. There are so many different exhibitions to see and new cultures and periods of history to explore. When you are finally ready to rest your feet, head over to the beautiful Kresge Court to grab a coffee, wine, or light snack.
Tickets are required so if you plan to add the D.I.A. to your Detroit itinerary, be sure to make a reservation online in advance. Admission is free for Macomb, Oakland, and Wayne county residents (you do still need a reservation) and if you live elsewhere, adult tickets are $14/person. In our option, without a doubt worth it!
We also highly recommend a visit to the Motown Museum (temporarily closed but we hope it reopens soon!), or the Detroit Historical Museum.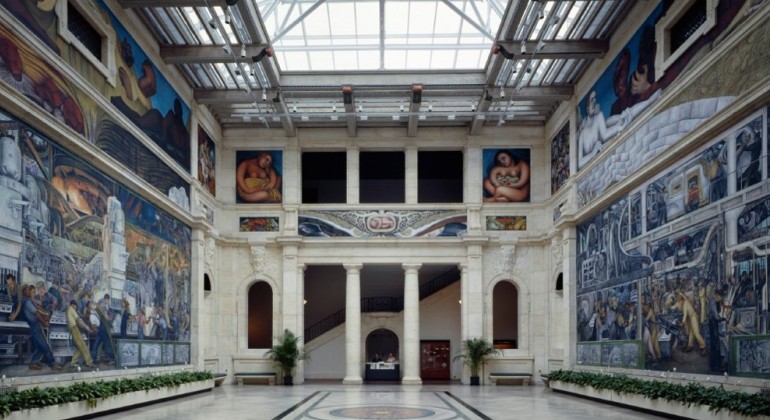 Detroit Institute of Arts – Rivera Court
other fun detroIt actIvItIes
Don't feel like driving or looking to explore downtown or midtown? The QLine runs along the Woodward corridor from the New Center/North End to Downtown, and rides are free through the end of the year. Use it as a jumping-off point to explore museums, or take your picnic to Campus Martius, Capitol Park, or Beacon Park. Check out Visit Detroit for even more ideas.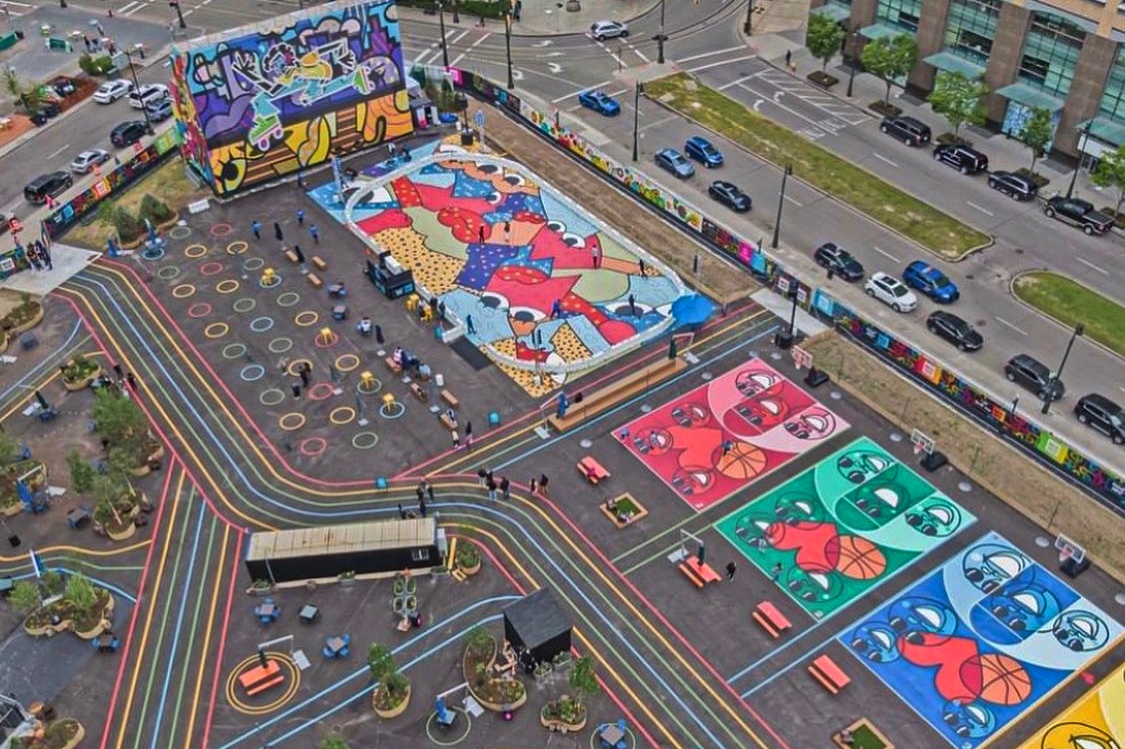 Rebecca Gade Sawicki is the Creator of Veggies Abroad, a vegan travel blog. Her blog features vegan travel guides, tips and inspiration to explore the world. You can find her blog at https://veggiesabroad.com/ and follow my adventures on Instagram or Facebook @veggiesabroad
VegMichgan staff writers include Noelle Grain, Tom Progar, and Olivia Gramprie.