farm to fork: a glImpse at sylvan table's sustaInabIlIty efforts
guest blog by the vegan Mary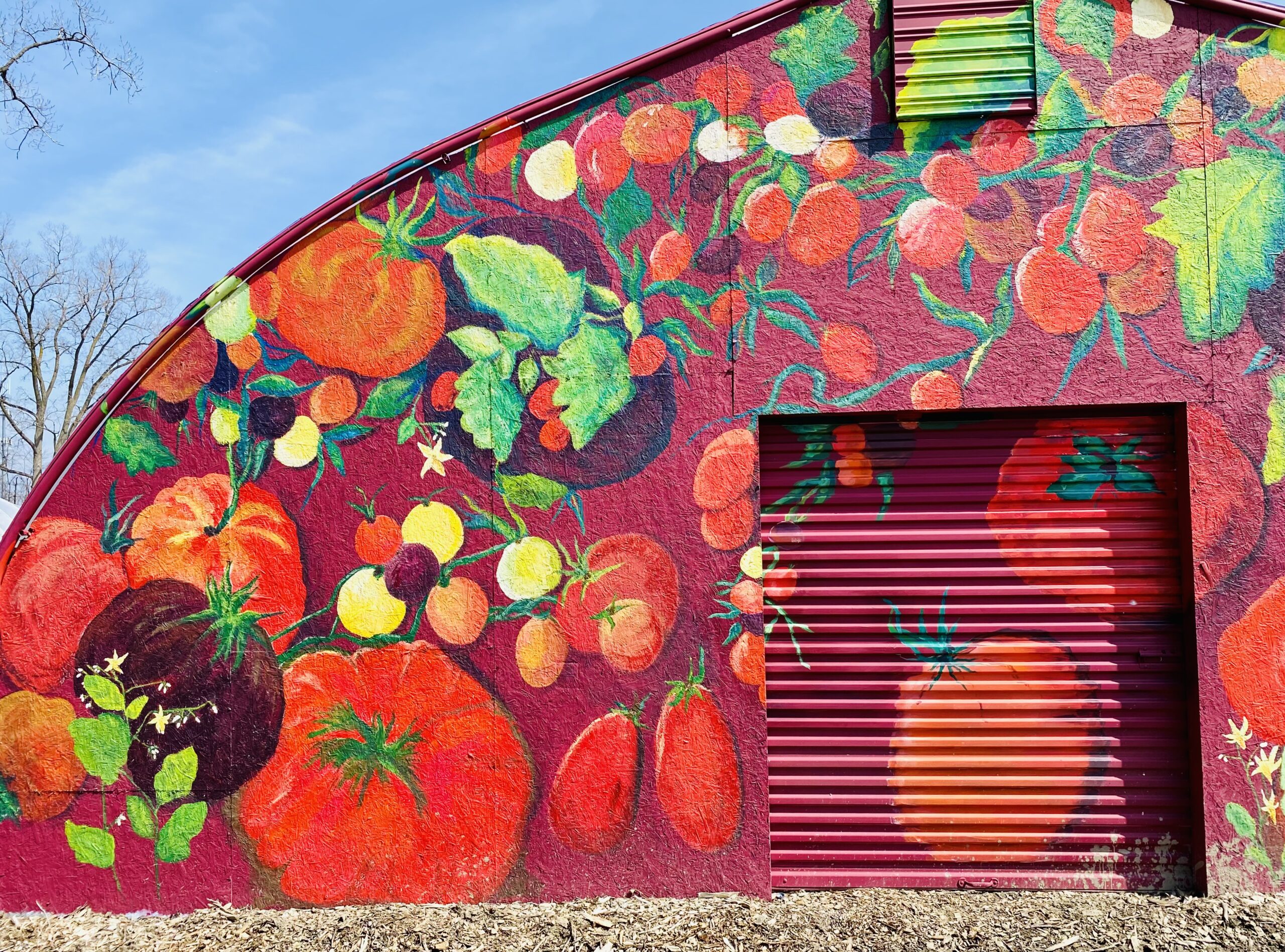 The Sustainability Series seeks to shed light on Michigan establishments that focus not only on providing authentic farm to table experiences, but those which also offer a holistic approach to sustainability throughout their restaurant practices. While not all restaurants featured in this series will be exclusively plant-based, we have chosen to feature them for their steadfast sustainability efforts and thoughtful plant-inclusive menus.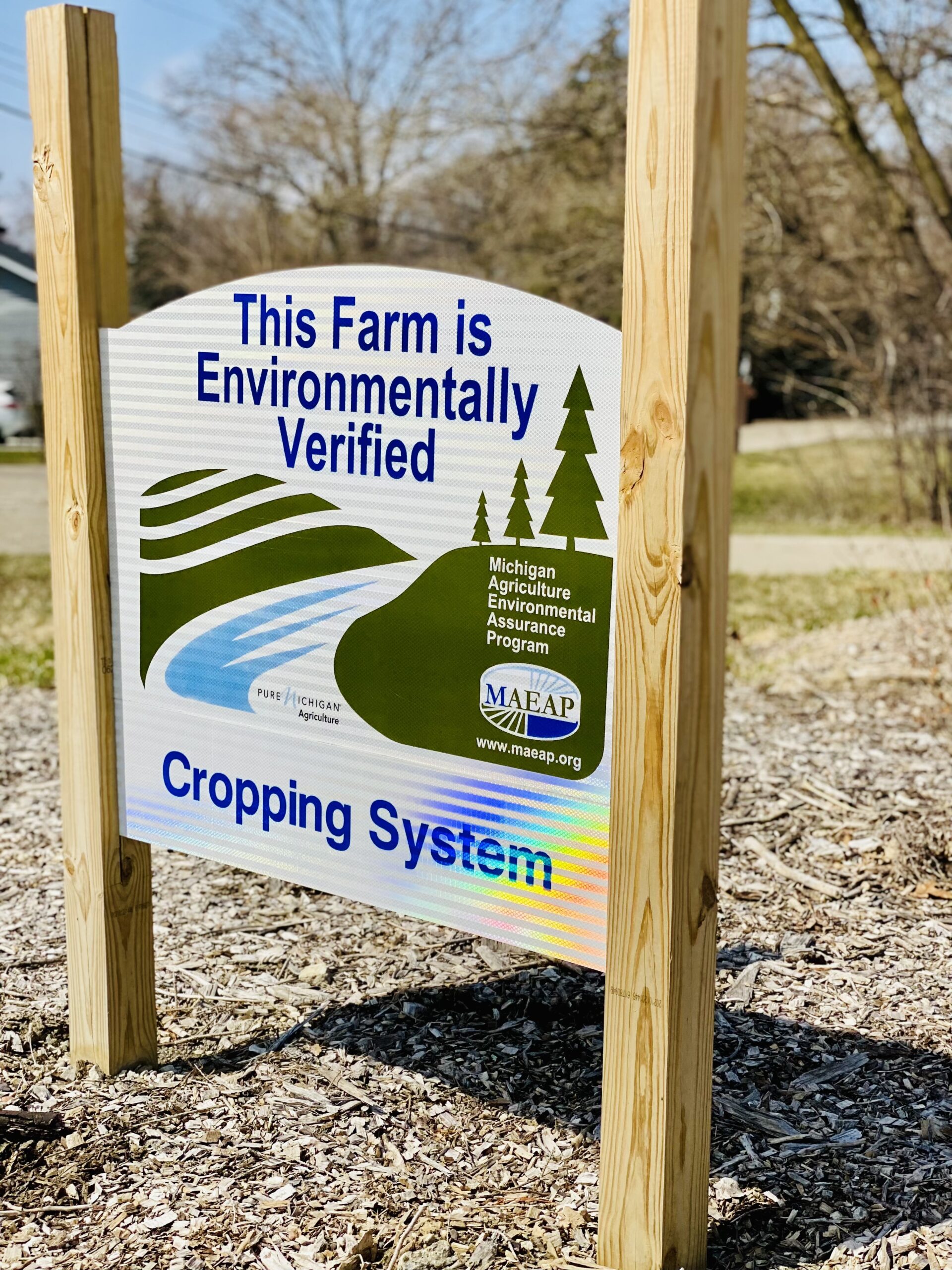 "Are those really nice boots?" Chef asked while glancing down at my navy lace-up block heel kicks.
"Well, I guess that depends on what you have in mind," I timidly replied. While they were pretty nice boots, I knew deep down I was in for whatever outdoor adventure Chef had in mind. 
The Chef was Chris Gadulka, the setting was Sylvan Table, and the adventure he had in mind was a muddy trek to one of the many on-premises, climate controlled greenhouses.  
Always hungry for a unique farm to fork dining experience, we found ourselves overwhelmingly drawn to this much talked about northern Oakland County standout. What we found was a warm, stunning establishment with a keen eye toward seasonal produce and sustainability.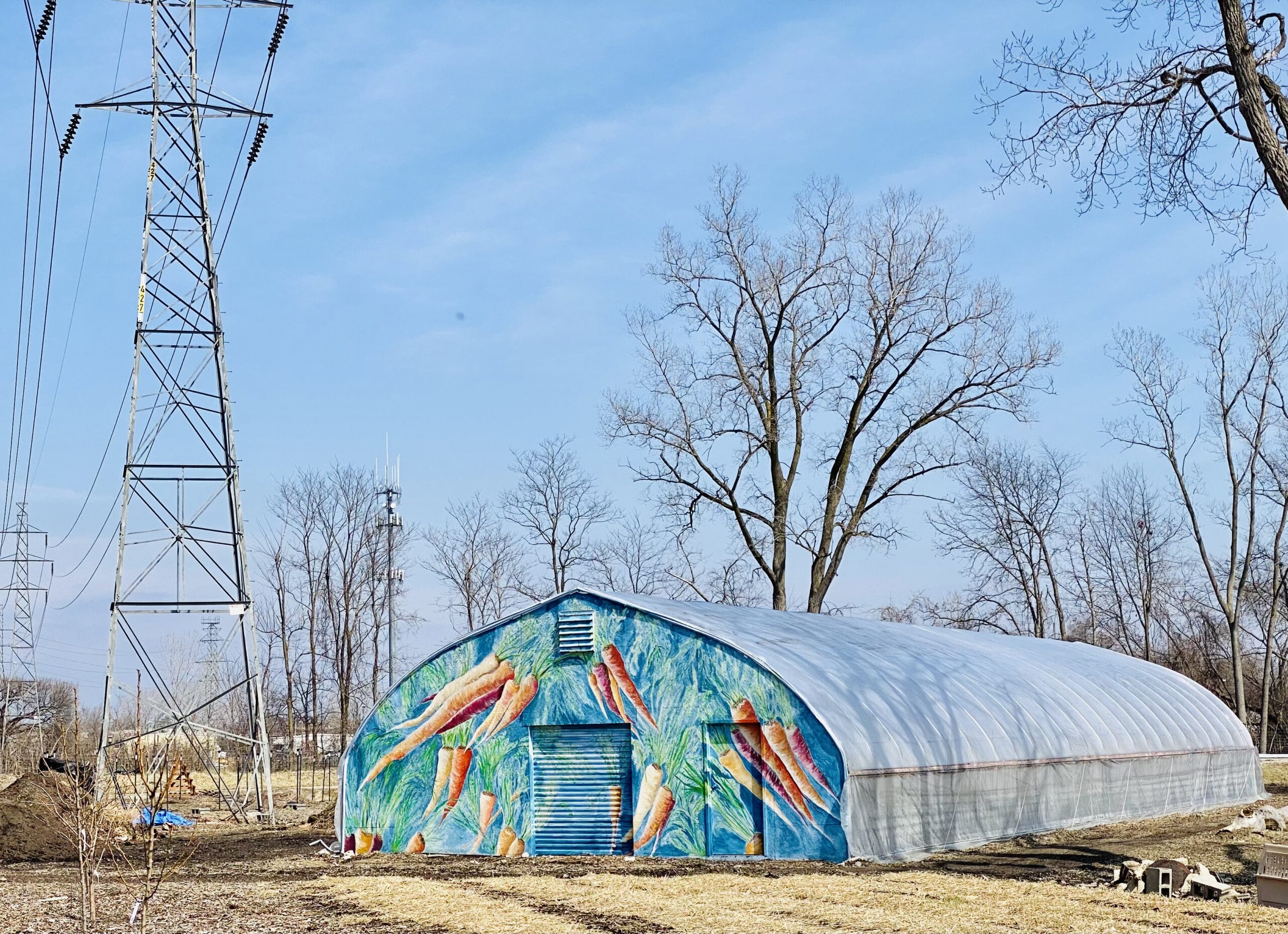 The casual passersby of neighboring Sylvan Lake or Orchard Lake Road would nary believe that tucked into a neighborhood corner lot lies a five acre farm and one of metro Detroit's finest eateries. The near year-round farm supplies much of the restaurant's produce, with supplemental stock coming from four main farms, all located within about 100 miles of Sylvan Lake. As Sylvan Table serves some 200 guests on a standard weekday and close to 450 patrons on weekend days, the need for fresh produce is sizable. 
Executive Chef Gadulka, a metro Detroit native, was all smiles during our tour of the greenhouses which were sprouting some glorious greens during our walkthrough, including spinach, spring onions, and pea shoots. These will soon give way to other seasonal Michigan favorites like tomatoes and peppers; some of which will be canned for the restaurant's year-round use. What has Chef most excited right now? Budding fig trees and hops plants, both of which will find their way into his culinary creations.
Sylvan Table's commitment to sustainability goes far beyond its locally-sourced, farm to table approach to cuisine. The farm itself, environmentally verified by Michigan Agriculture Environmental Assurance Program, focuses on responsible water use, crop and soil conservation, and overall nutrient management, under the tutelage of farmer Rick Rigutto. Extensive composting also ranks among the restaurant's priorities; with everything from table scraps to kitchen waste reused on-site for crops.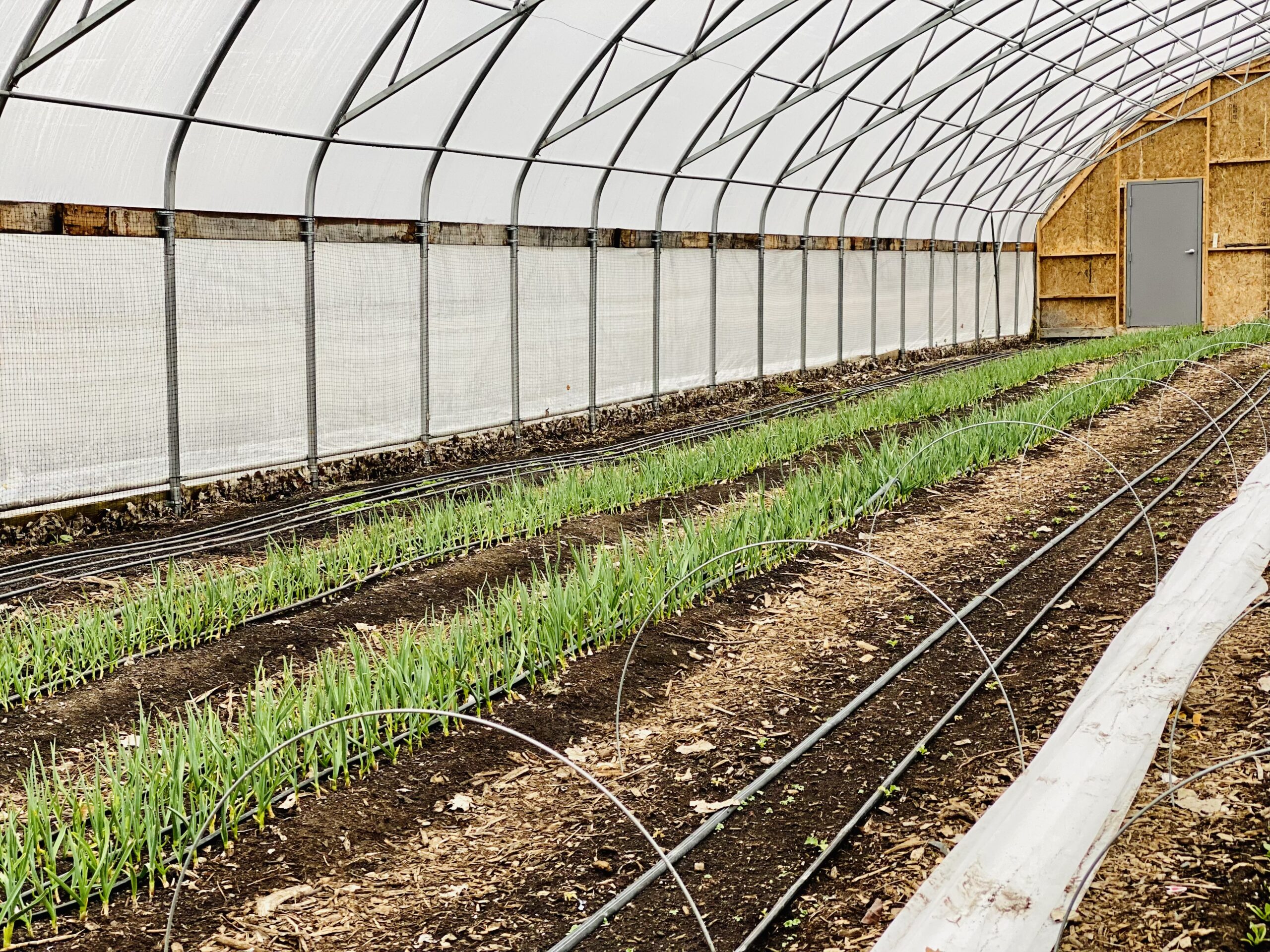 The structural masterpiece that is Sylvan Table, including ample bar seating, a two-story dining room, and patio, is rustic yet contemporary. The astounding main structure, a 300 year old barn, was reassembled in Michigan after a some 1000 mile journey from Maine. So beautiful and well-crafted is this barn that it often seems more upscale wedding venue than watering hole.
Given its proximity to lake life, you will find all manner of dress, from casual come as you are to date night chic. Regardless of attire or agenda, Sylvan Table seeks to create a welcoming atmosphere, like that of grandma's dining room table: rich with homegrown cooking, warm conversation, and adoration. The warmth and midwestern charm, seemingly emanating from each and every staff member including and especially Chef Gadulka, perhaps stems from the sheer beauty of the space and the good natured intent of its philosophy.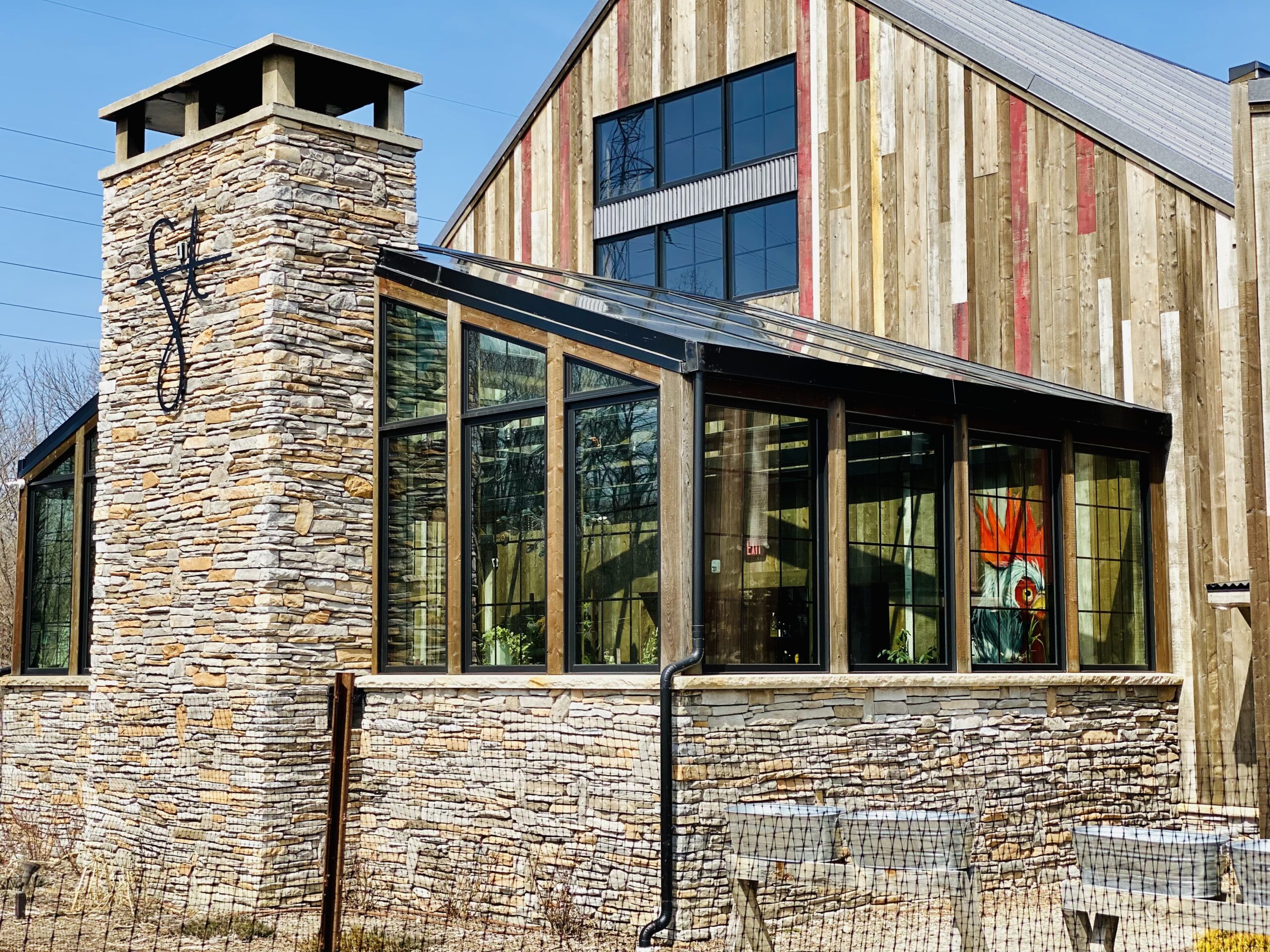 If time allows during your visit, spend a few minutes perusing the market near the entrance. This highly curated space offers a boutique feel, as well as Sylvan Table merchandise, cookbooks, jewelry, candles, gifts, and an occasional surplus of house canned goods.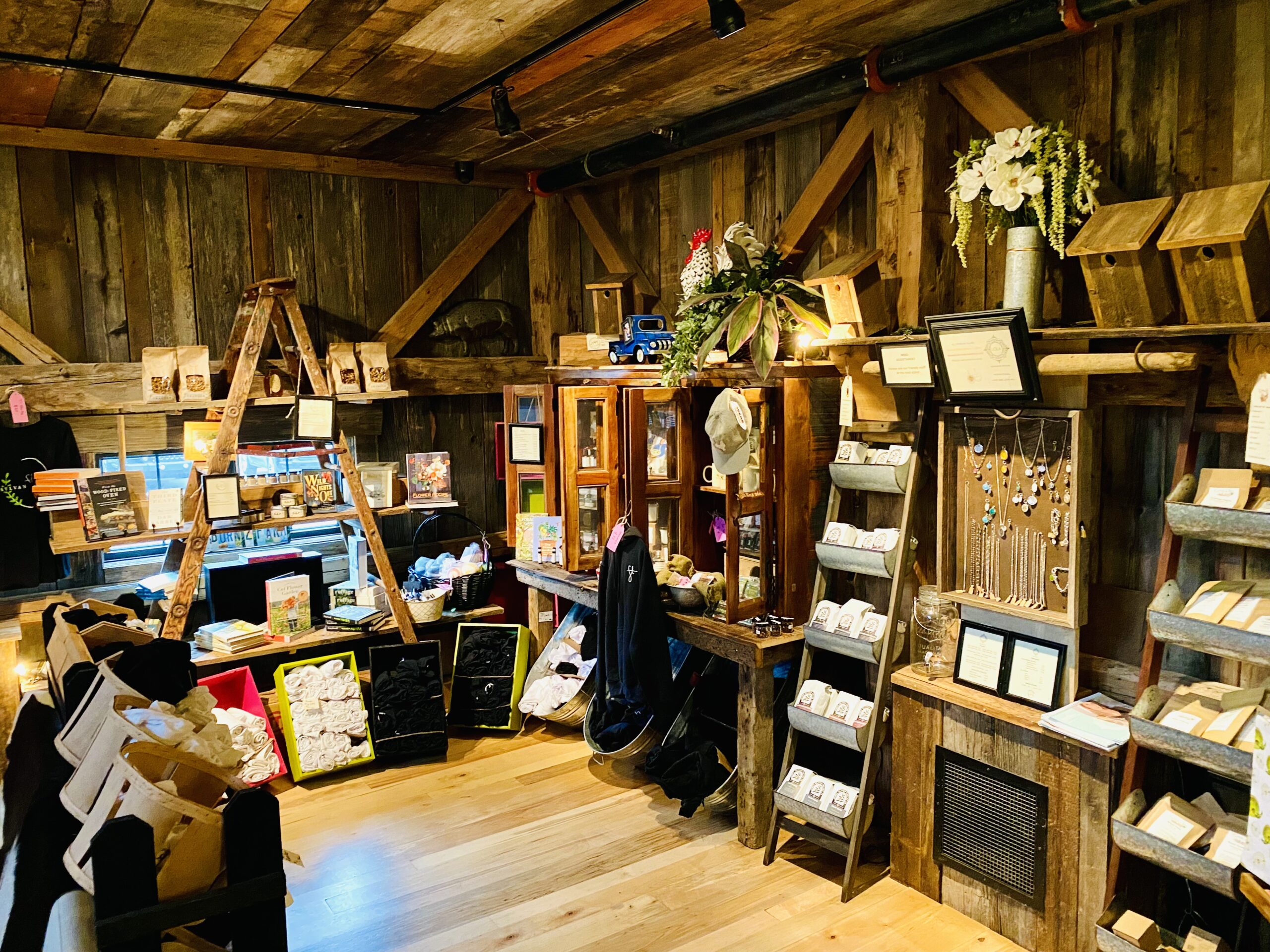 The menu at Sylvan Table, also highly curated, and known as hyper-seasonal for its strict use of in-season produce and herbs, is both dynamic and ever-changing. This also means you won't see a tomato dish in March or corn in June.
Michigan's agriculture diversity, one of the most prolific in the US, allows Sylvan Table to continually harvest and harness much of that goodness. In addition to local and in-season ingredients, the menu is also influenced by the eclectic nature of Detroit cuisine. Case in point? Sylvan's sous chef, who drew inspiration from his Brazilian wife, recently added Feijoada (black bean stew) to the menu for some early spring warmth.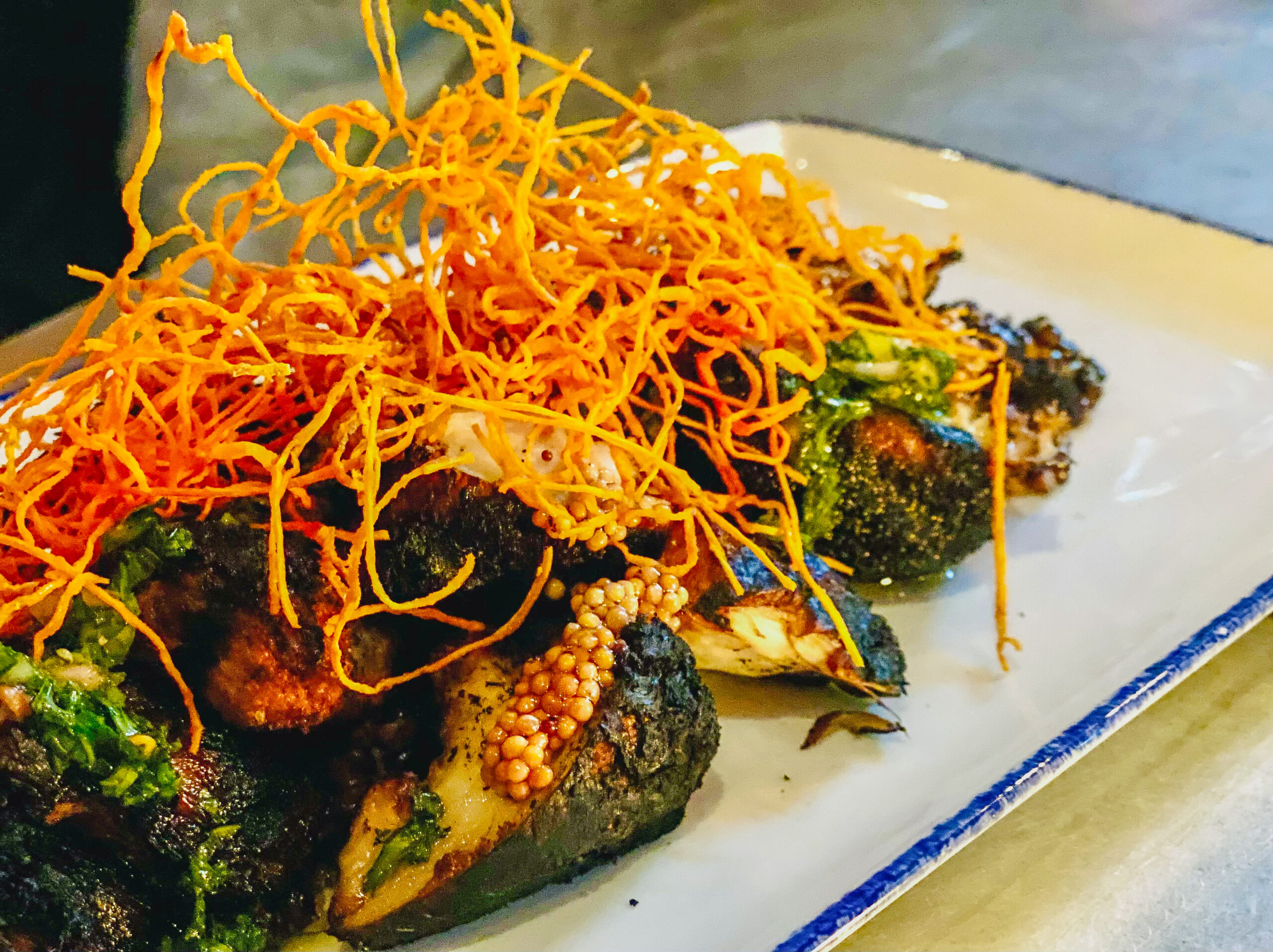 While Sylvan Table isn't known as a vegan mecca (yet), its hyper-seasonal menu always features plant-based dishes. We enjoyed an entrée of lion's mane mushrooms, grown about 30 minutes south in Berkley, served with black barley, garlic, onion, and chimichurri sauce, all of which we found both substantial and satiating. Starters and sides, many routinely featuring plants, provide ample grazing for any veg lover; a flawlessly dressed winter beet salad, adorned with colorful carrots and mint in orange vinaigrette, for instance. Lazy collard greens bursting with sweet tones and richness rarely cultivated in such a dish, for another. The seasonal nature of the menu means you shouldn't wait too long to enjoy this month's favorites; they may be rotating out before you know it.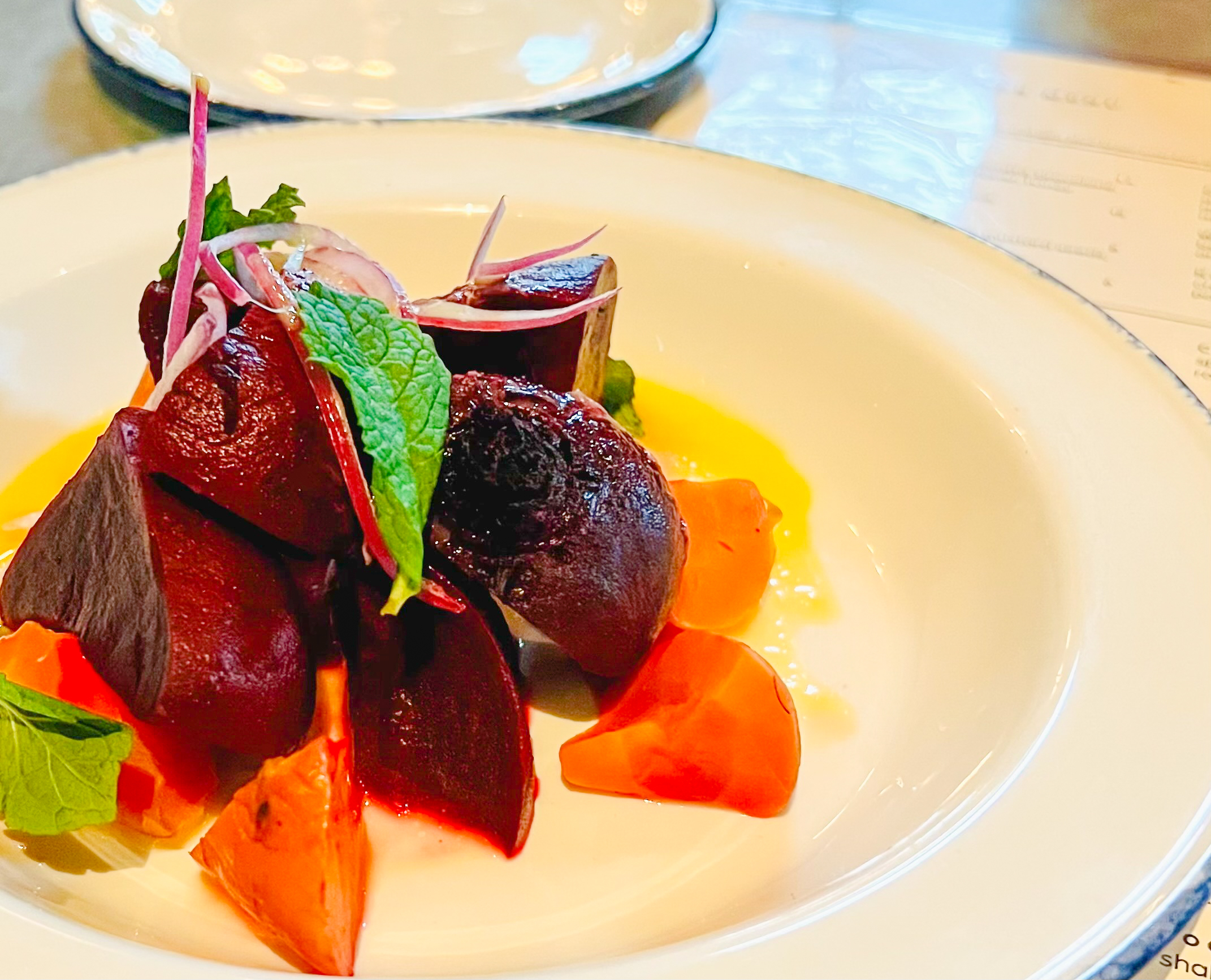 Sylvan Table proves that gourmet plant-based dining can be found in the most offbeat of places, even (and especially) a magnificently restored barn in Sylvan Lake. With its dedicated efforts toward sustainable farming and sourcing, a philosophy honoring a vegan lifestyle, we can hope that its appetite and admiration for Michigan's ample plant-based bounty will only grow.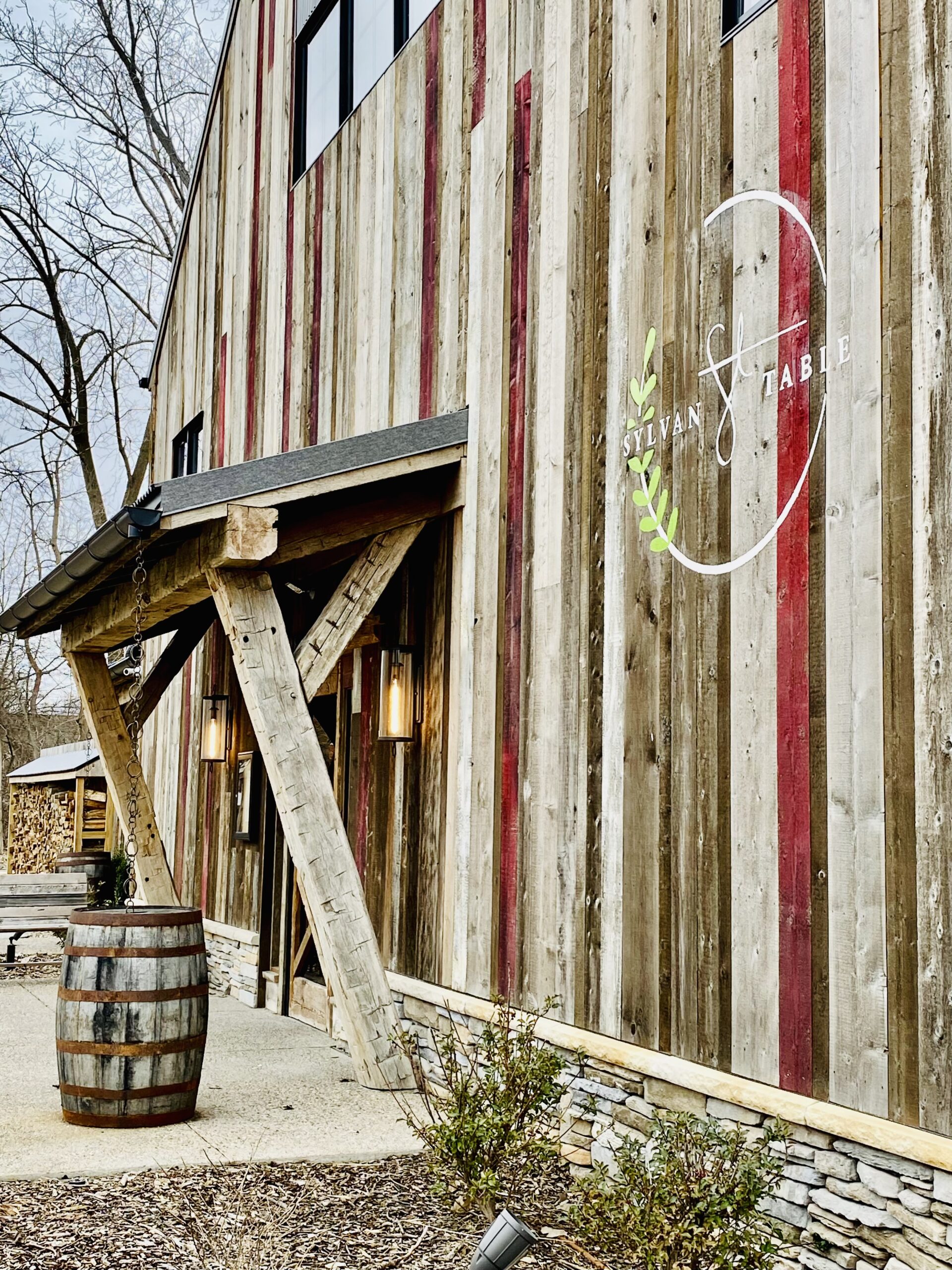 It is not uncommon for a line to form at the door before its 5 pm (weekday) opening. Reservations are recommended; bar seating is first-come, first-serve. Brunch offerings beginning at 9 am are now also available on weekends. Sylvan Table offers an extensive wine, beer, and cocktail list for both its brunch and dinner service.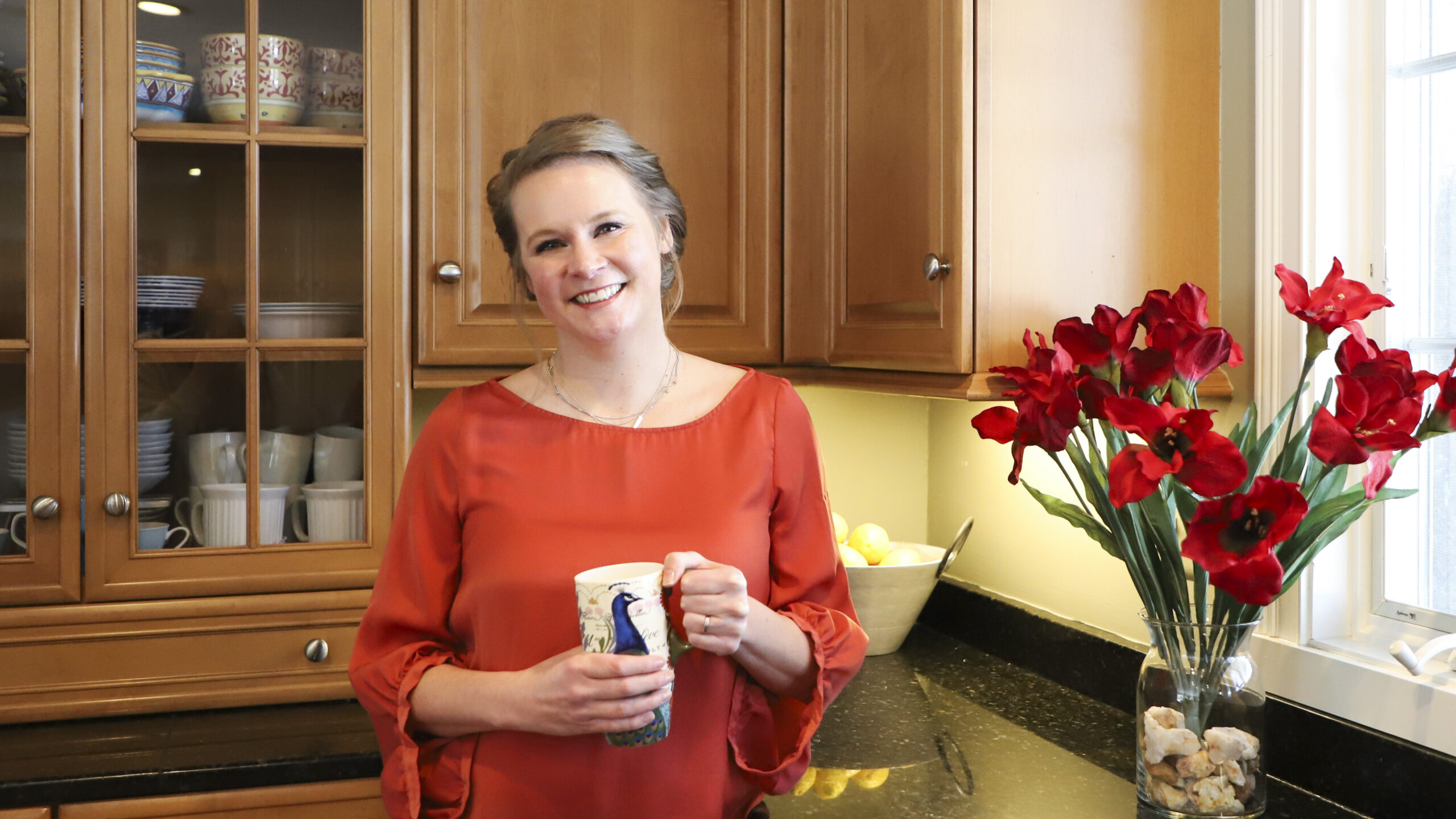 The Vegan Mary is a plant-based consultant, connoisseur, and writer, based in Oakland County. Mary holds a certificate of Plant-Based Nutrition from Cornell University, as well as a Master's degree in Business. Her continuing education includes multiple food and nutrition courses at Harvard and Stanford Universities. She spent the last two decades as a marketing executive before turning her sites and her experiences to vegan consultancy. TVM services clients across the US. When she's not cooking (or eating!), her passions include physical fitness, reading, and traveling. Find her on Instagram @the.veganmary and on Facebook @therealveganmary.