plant-based shoppIng at fresh thyme
guest blog by the vegan Mary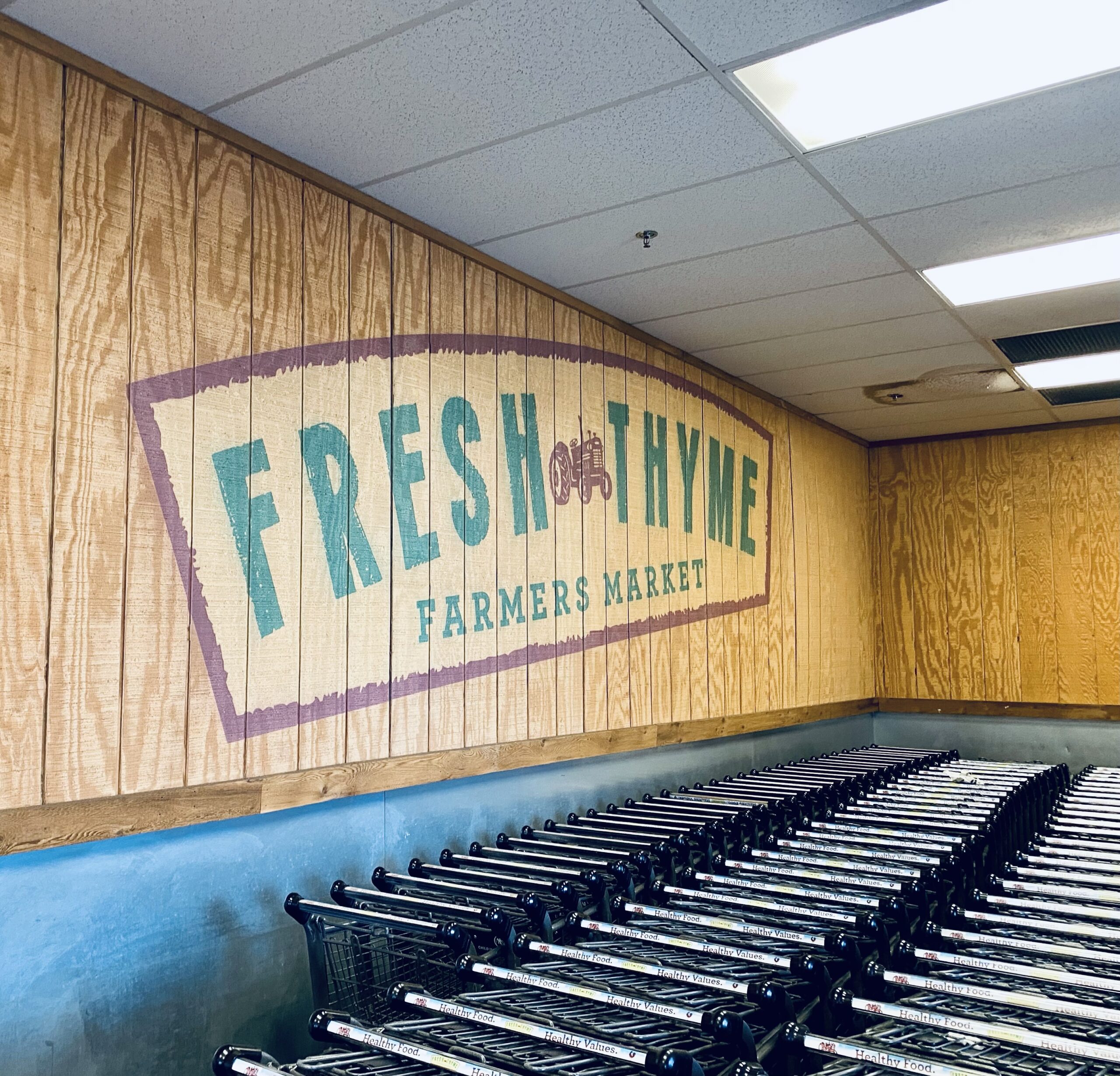 Looking for a grocer that brings together the best of your (potentially seasonal) farmer's market with the ease and convenience of a local grocery? Fresh Thyme Market (recently rebranded from Fresh Thyme Farmer's Market) might be just the ticket. 
An initial trek into Fresh Thyme is a joy for a grocery geek like yours truly. Not only are the storefronts open, bright, and clean, they house vegan eats galore. Think Trader Joe's meets Plum Market! Or perhaps one very organized farmers market, exuding abundance and freshness. And with value pricing as part of this midwestern grocer's core tenants, your pocket book (er, Apple Pay) will thank you!
Unlike a traditional farmers market, this grocer couples the convenience of technology and the advantages of a customer loyalty program all at your fingertips. Simply download the MyThyme rewards program (app available for android and iOS) for info on the latest deals, rewards on purchases, and even a shopping list feature. Redeem all those coupons and freebies instantly on your app. Easy peasy savings.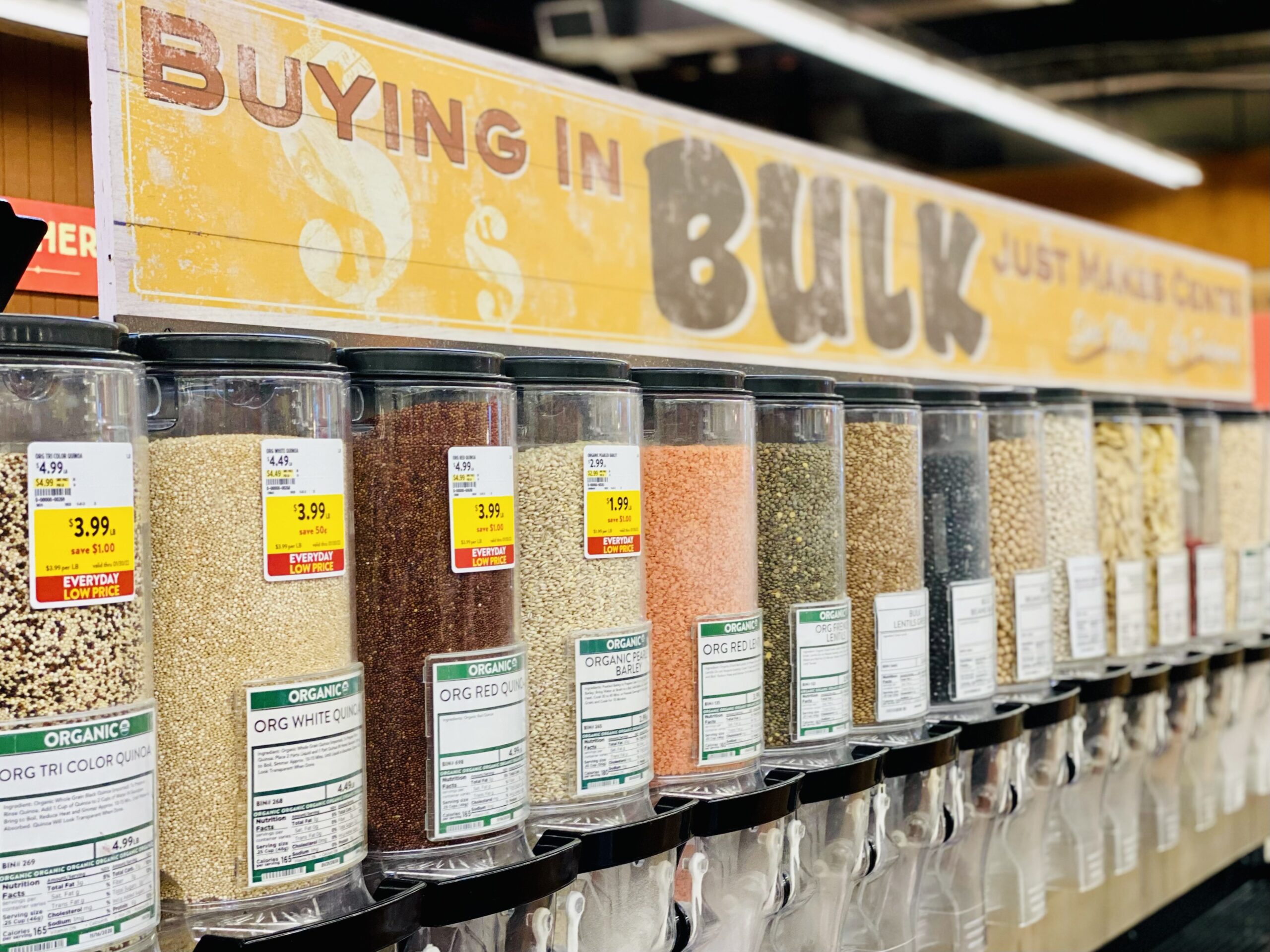 Looking to stock up on staples? Or simply support more sustainable product offerings? Fresh Thyme's bulk section to the rescue! With hundreds (yes, hundreds) of tasty items available in bulk, you can shop to your heart's content and feel fabulous about it. What pray tell are some of these vegan eats? Let me tell you, if you can name it, it's likely available for your enjoyment. We spied nuts, seeds, coffees, flours, dried fruits, beans, grains galore, and even nut butters! If you can spare the time, we recommend spending it checking out all of the gloriously vegan bulk offerings.
After you tear yourself away from the bulk section, I next recommend hitting the bakery for an amazing array of vegan carbs. You'll have your choice of buns, rolls, breads, and wraps in all of your favorite brands: Canyon Bakehouse (bonus, also GF!), Dave's Killer, Angelic Bakehouse, Pretzilla, Siete, and even Fresh Thyme's own brand (which offers all of the comfort at a lesser price). Our absolute favorite find? A seemingly extra long fresh double crust French baguette, large enough to serve bruschetta for a crowd (we served a party of 8!) for only $1.99.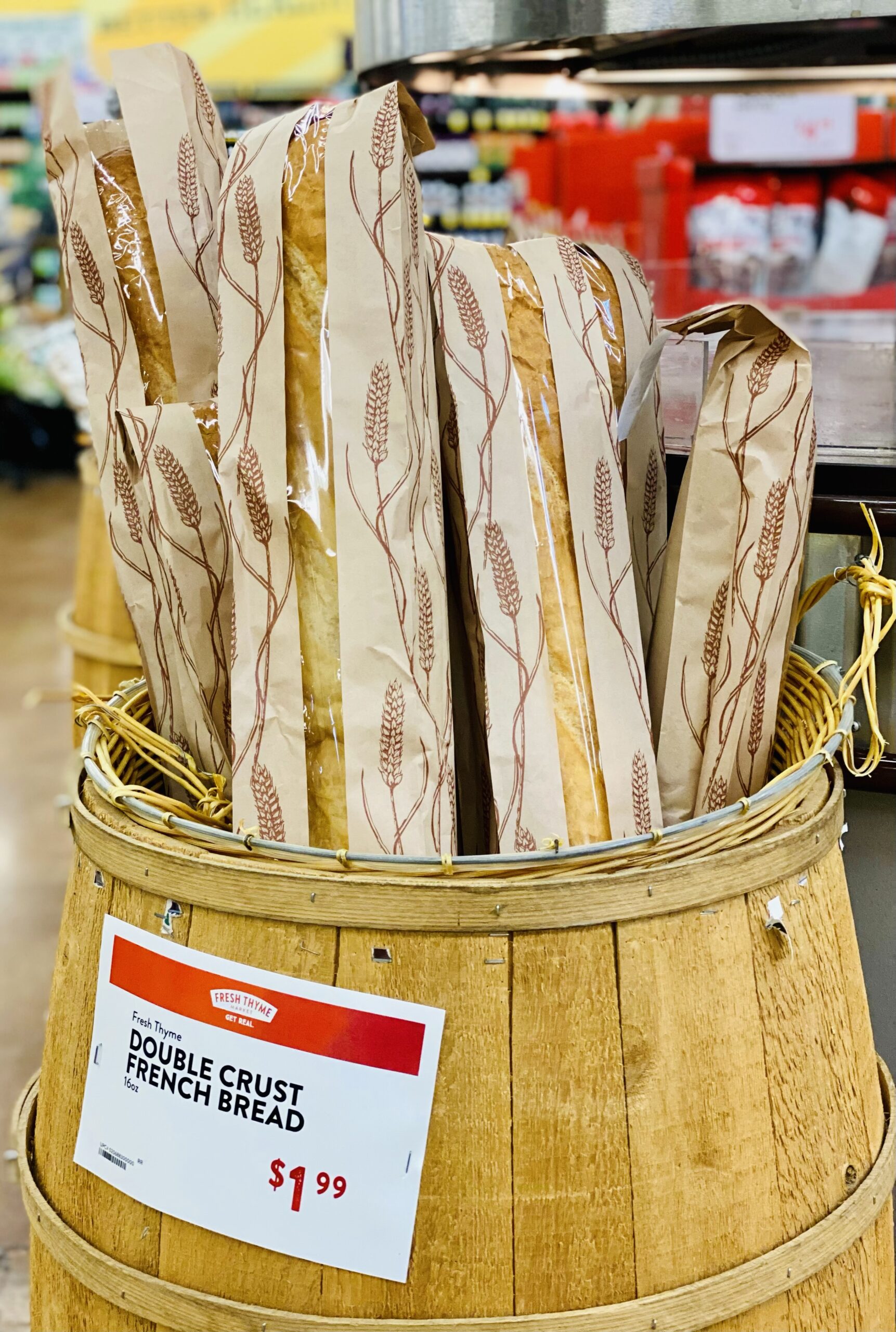 My fellow vegans will likely agree, perusing produce at a farmers market (or any fine market) is tantamount to heaven. Oh the colors, the aromas, the freshness! Fresh Thyme, true to its farmers market roots, does not disappoint. Our first glance: cabbage, carrots, radishes, apples, and tomatoes as far as the eye can see. Look even closer and you will see that this farmers market features an even deeper array of mind-bogglingly fresh produce (thanks in part to its mist irrigation system, which seems a cut above other markets'). Parsnips, jicama, taro root, turmeric root, yucca root, kohlrabi, sunflower chokes, are just some of the not-so-run-of-the-mill produce we spotted and savored.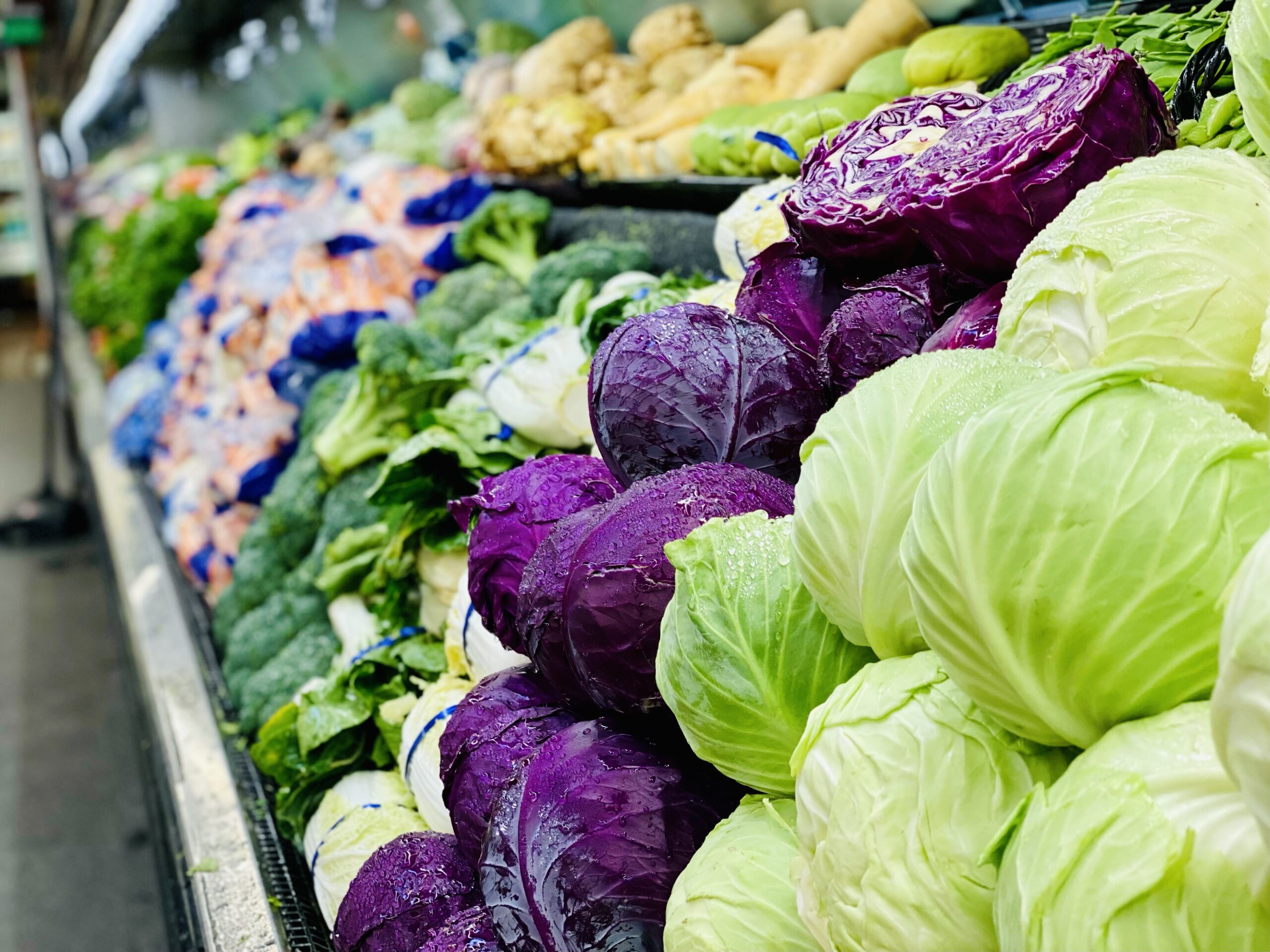 Suitably nestled next to all of this pleasing produce are plant-based chilled salad dressings, including the widest assortment of Mother Raw organic dressings we've ever seen (say hello to lemon tahini and California fig!) We lucked into a sale too, bringing these all-natural marinades down to a cool $3.99 each.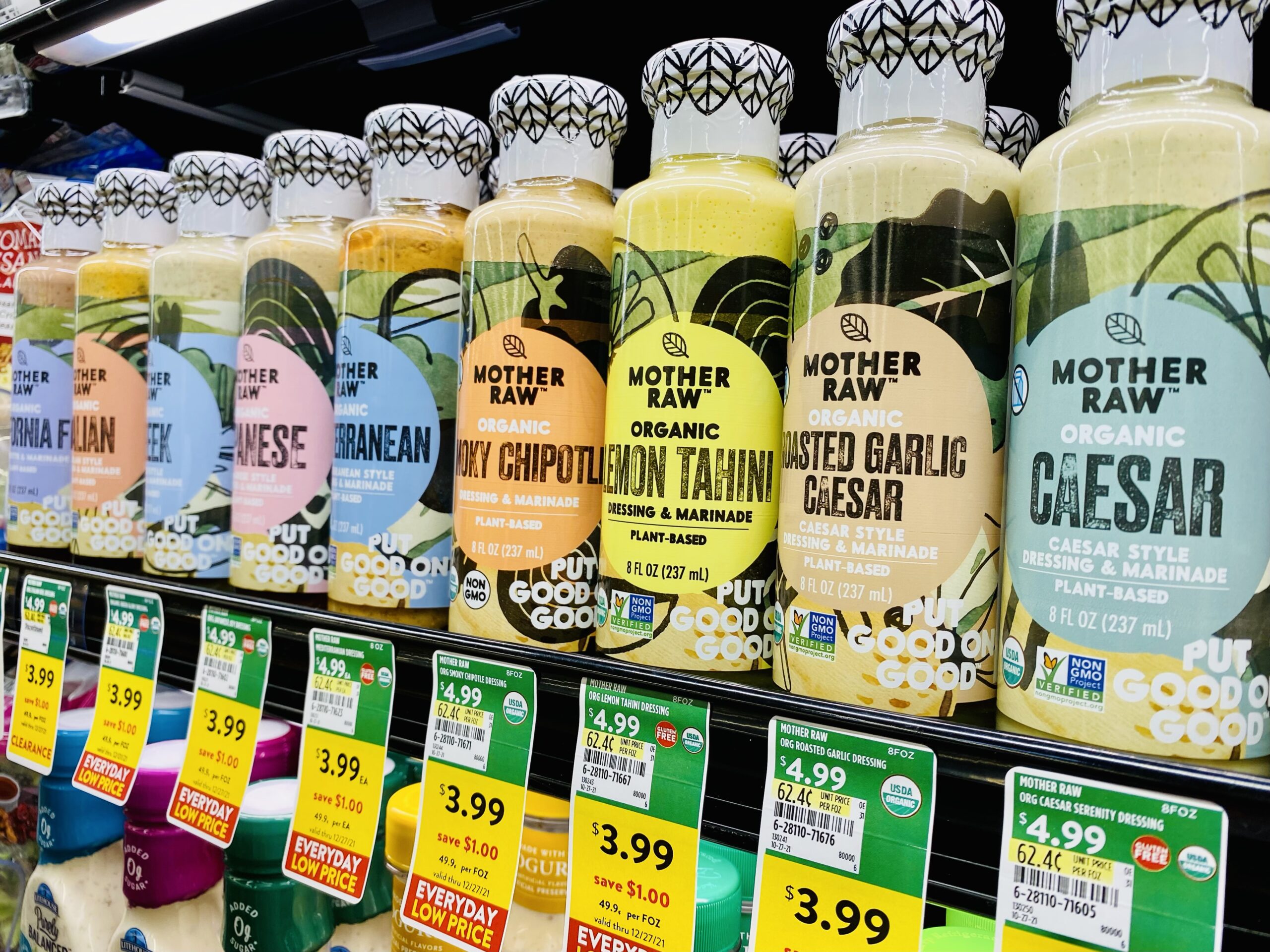 Refrigerated plant-based options (labeled as such so they are easy to spot) also abound. Mainstays like Chao and Daiya cheeses, as well as newer products Kite Hill Greek style yogurt, for instance, and Forager queso fresco made their way into our cart. We used the last of our willpower to skip the Sweet Loren's single serving cookie dough (designed specifically to eat raw!) available in delectable flavors like birthday cake, double chocolate, and chocolate chunk. Next time sweet tooth, next time!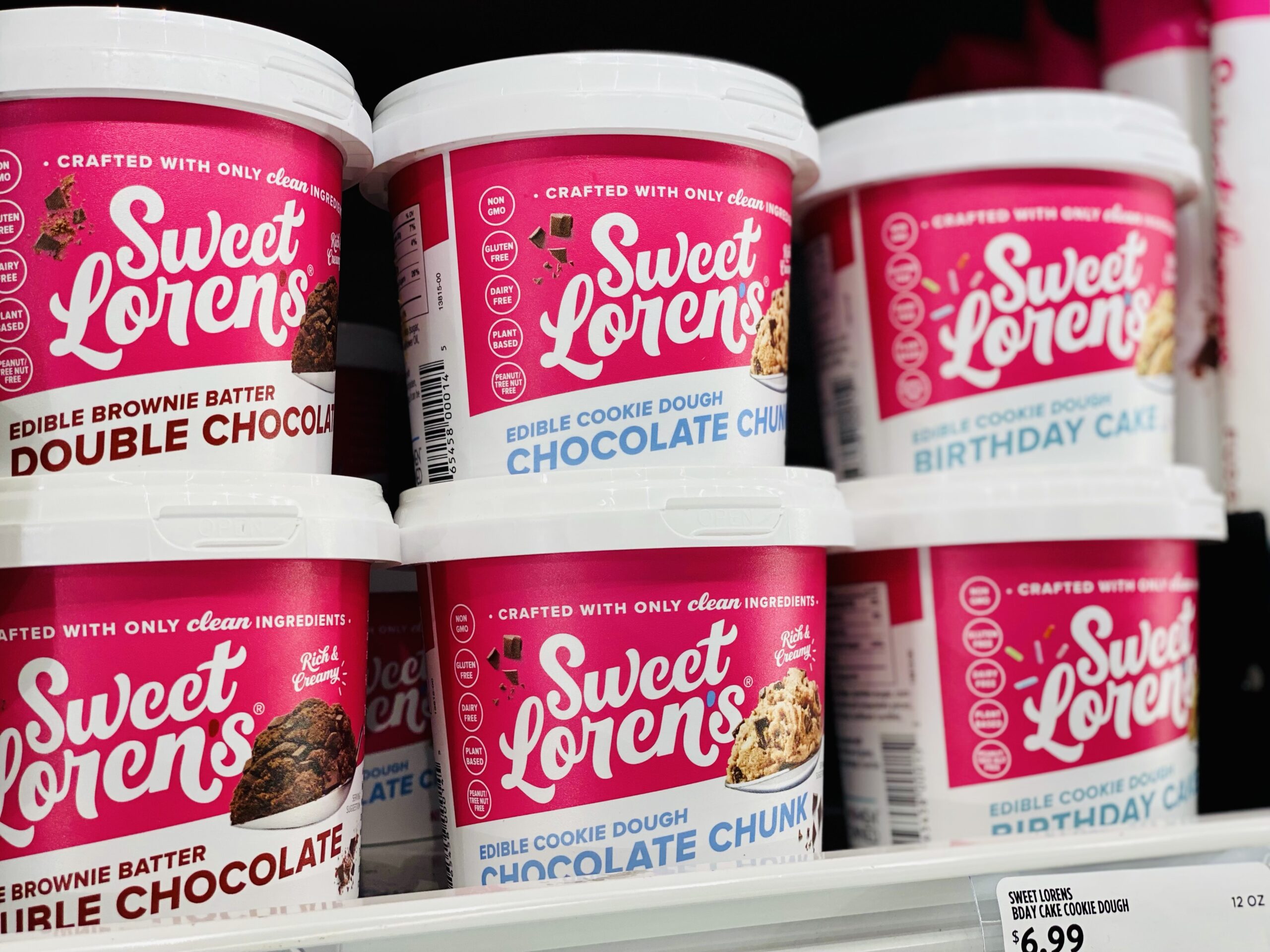 The refrigerated coolers are also home to our happy place: the spreads, dips, and sauce section! We are always on the lookout for party dips to accommodate discerning palates and preferences. Enter Plant Perks! This cheese spread unbelievably is dairy free, soy free, gluten free, non GMO, certified organic and kosher. Our current flavorite (yes, we are still on a mission to make this word a thing!) is garlic and herb, but this (fair trade) cashew based spreadable goodness is also available in smoked gouda and dill havarti. And don't think this spread is just for crackers! We've slathered on sammies and galettes, added to casseroles and polenta; you are only limited by your imagination and your appetite! The masterminds at Plant Perks also produce plant-based dips too. Be on the lookout for buffalo blue and French onion dips, also in the refrigerator section.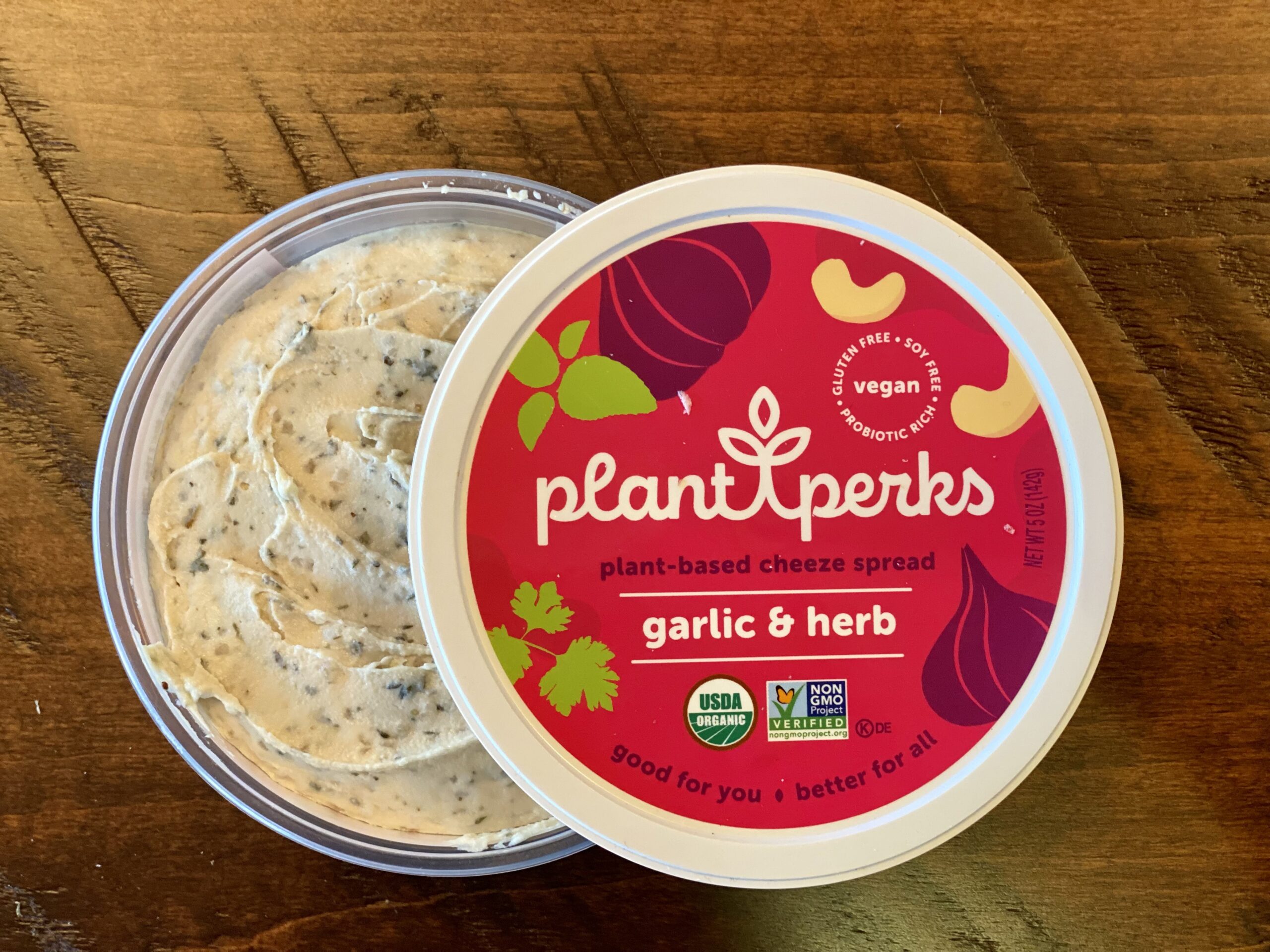 We are a bit dip obsessed, so we also picked up Honest Stand's mild nacho plant-based dip. We opted for the mild version since not everyone in the fam likes to break out in a sweat while snacking. After a few spins in the microwave, this cheese makes for a dreamy dip and we aren't just talking for tortilla chips. Pair with fresh veg, seedy crackers, or plantain chips for a little variety.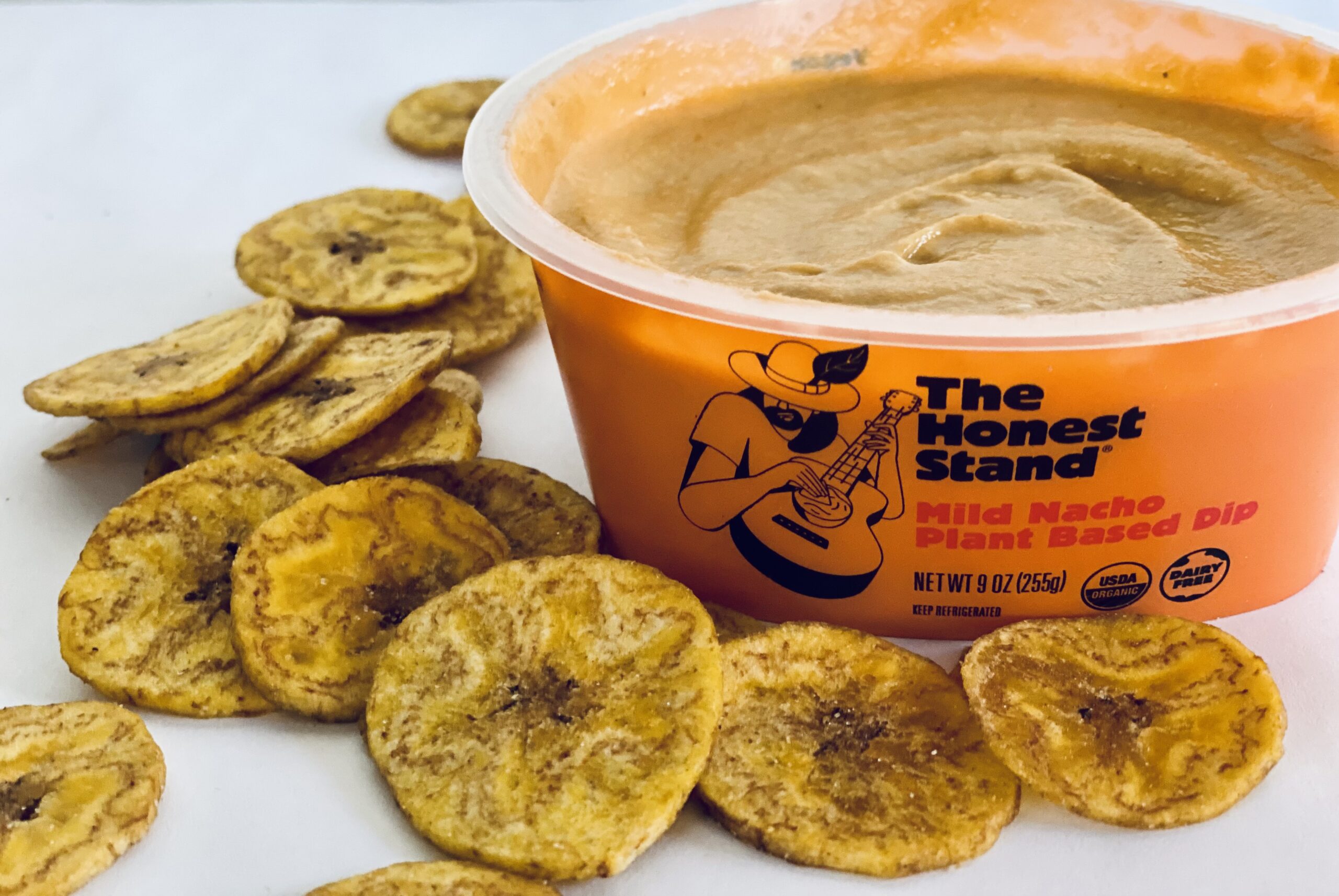 One can't live on sauce alone (trust us, we have tried), so we responsibly also picked up some Hodo tofu. While these 8 oz packages will run you a bit more than a traditional (plain) tofu block, these gluten free tofu bites come pre-marinated in flavorful spices like BBQ, harissa, and Moroccan. If you are in a hurry or just craving some spicy bites, these are worth adding to your next grocery list.
We found even more treasure as we moved through the refrigerated section. Fancy a cold glass of chocolate milk that tastes like happiness? Run, do not walk to Fresh Thyme for its almond based chocolate milk. This divinely thick drink is a real treat and promises to bring back the joy of childhood in every gulp. Alternatively, try adding a little to your coffee (with just a dollop of your regular creamer) for an easy mocha pick me up. Any way you prefer to enjoy, it's a must buy at $2.99.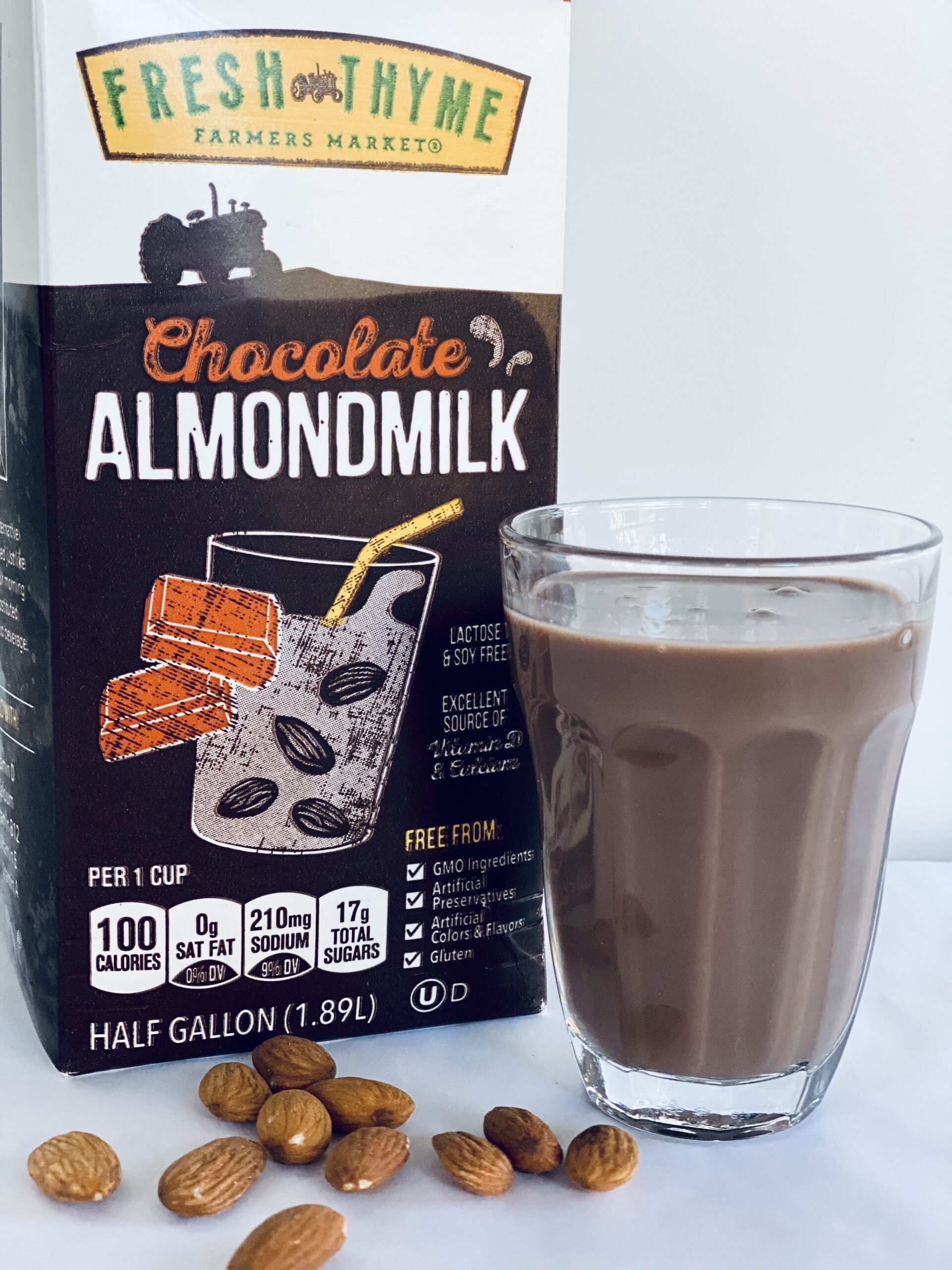 The folks at Follow Your Heart have been cranking out vegan fare for over five decades, including the legendary Veganaise and assorted vegan cheeses. So when we spotted Follow Your Heart branded Rocket Cakes (also in the refrigerated section) it was a no brainer. Who could pass up gluten free squeezable pancake batter full of ancient grains? While this product launched last year exclusively at Fresh Thyme, sadly Covid (and our functional not so much exploratory shopping methods) kept us from finding until now. Well friends, this was worth the wait. And it's virtually fool-proof: simply open, squeeze, cook, and then devour. No muss, no fuss. We made our cakes mini size because of our firm belief that mini versions always taste a little sweeter, but these rocket cakes make wonderfully satisfying regulation size pancakes as well!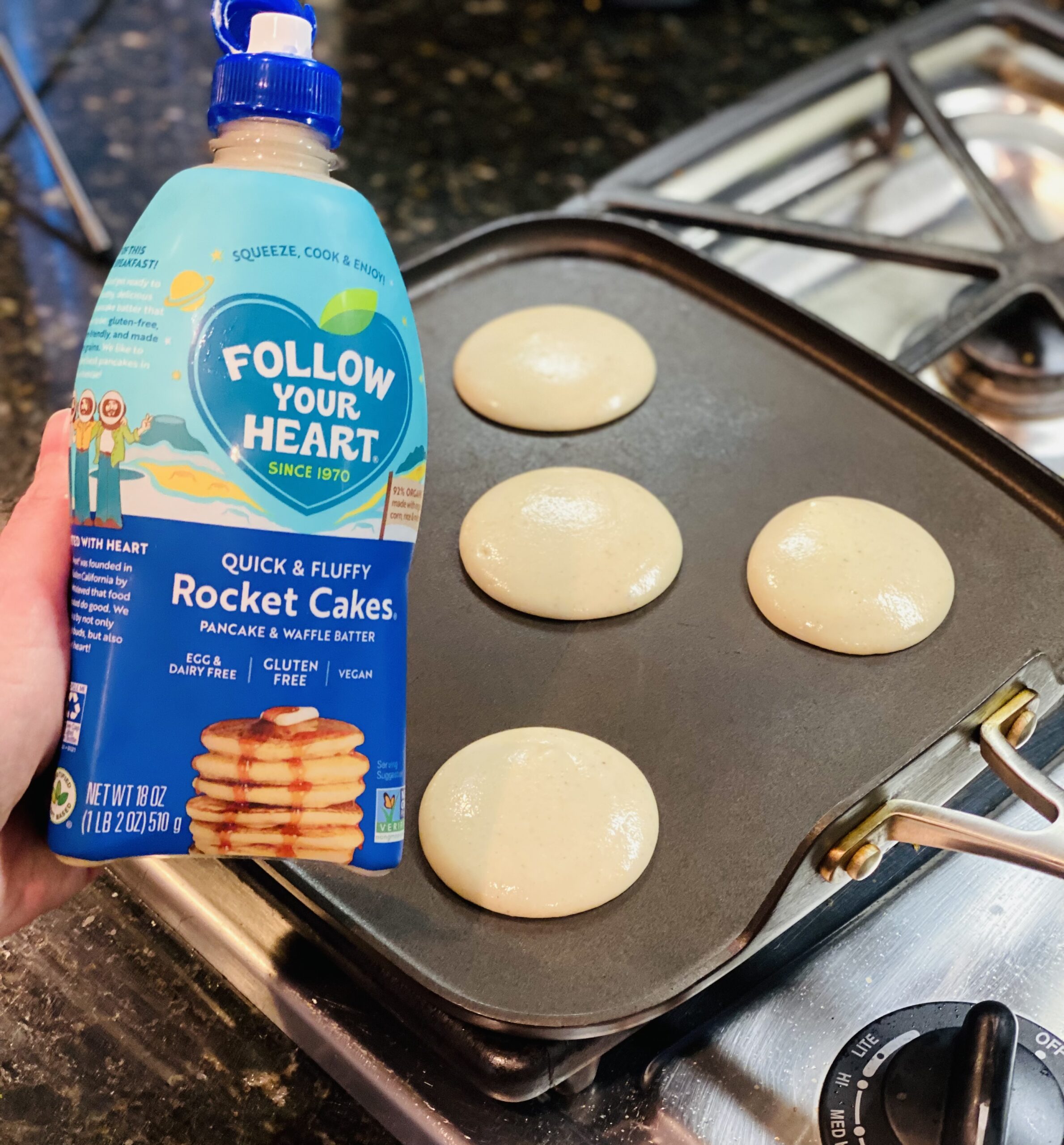 After spending what some might consider an inordinate amount of time in the refrigerator section, we migrated to the pantry aisles. We had a virtual field day inspecting shelf after glorious shelf. Our fun finds, each seemingly capable of catapulting meal time into one more tasty than the last, were as varied as they were inspiring. We dreamt of pairing al dente plant-based red lentil and sweet potato pasta with one of the dozens of plant-based pasta sauces for one mean Meatless Monday and spicing up Taco Tuesday with Urban Accents plant-based street taco mix (veggie protein that equates to 1 lb. of meat) paired with Siete's hot sauce. So many appetizing options, so few days in the week!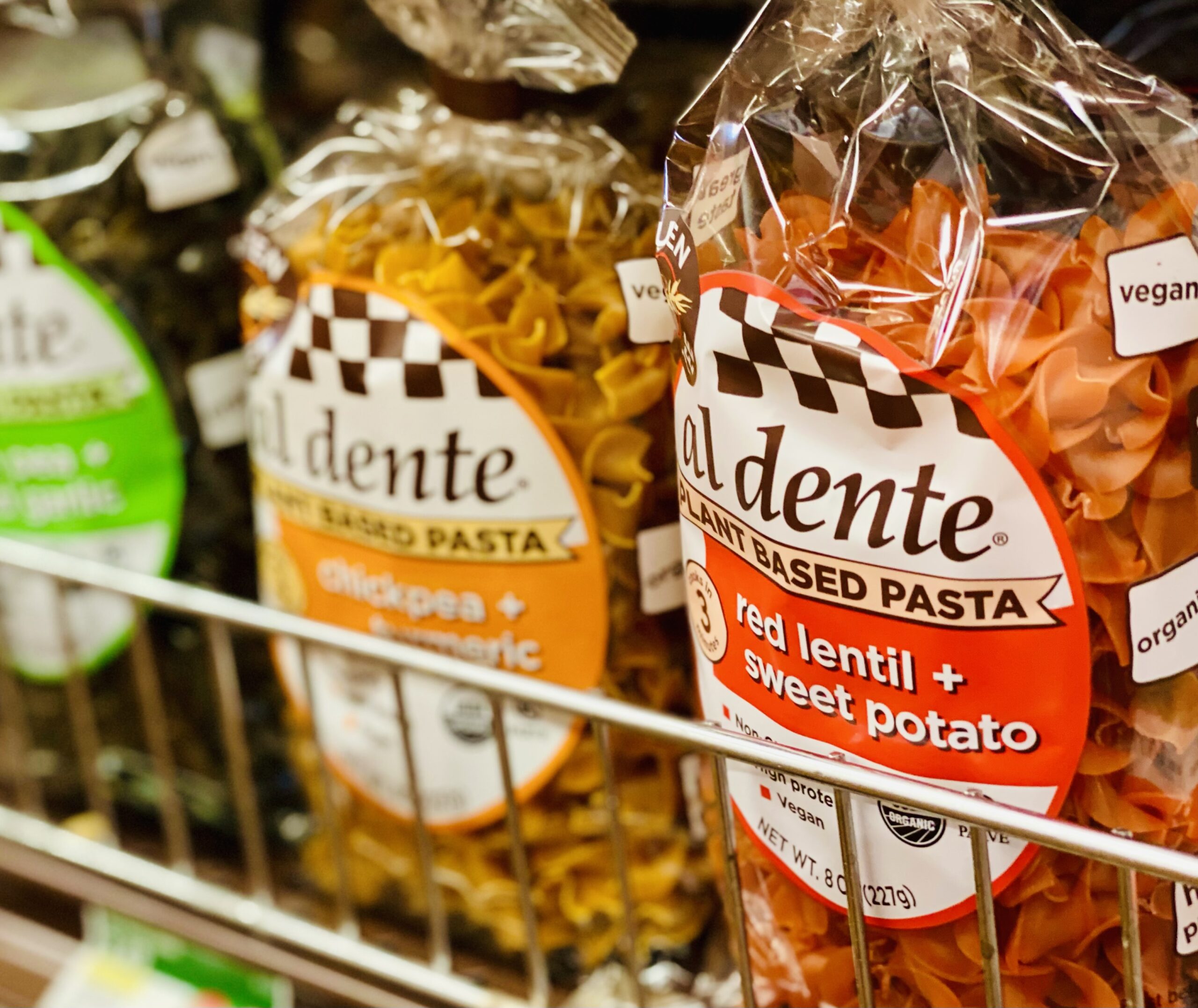 Thinking of weekly menus, we love finding options we could eat every day of the week. Fresh Thyme branded organic dressings, a real steal at $3.49 fit the bill. While not every flavor is vegan, we jazzed up our green salads all week with its creamy balsamic. Every bit as rich, tangy, and tasty as other name brand dressings. (Fresh Thyme carries those too, with plenty of plant-based choices from Bragg's to Fody.)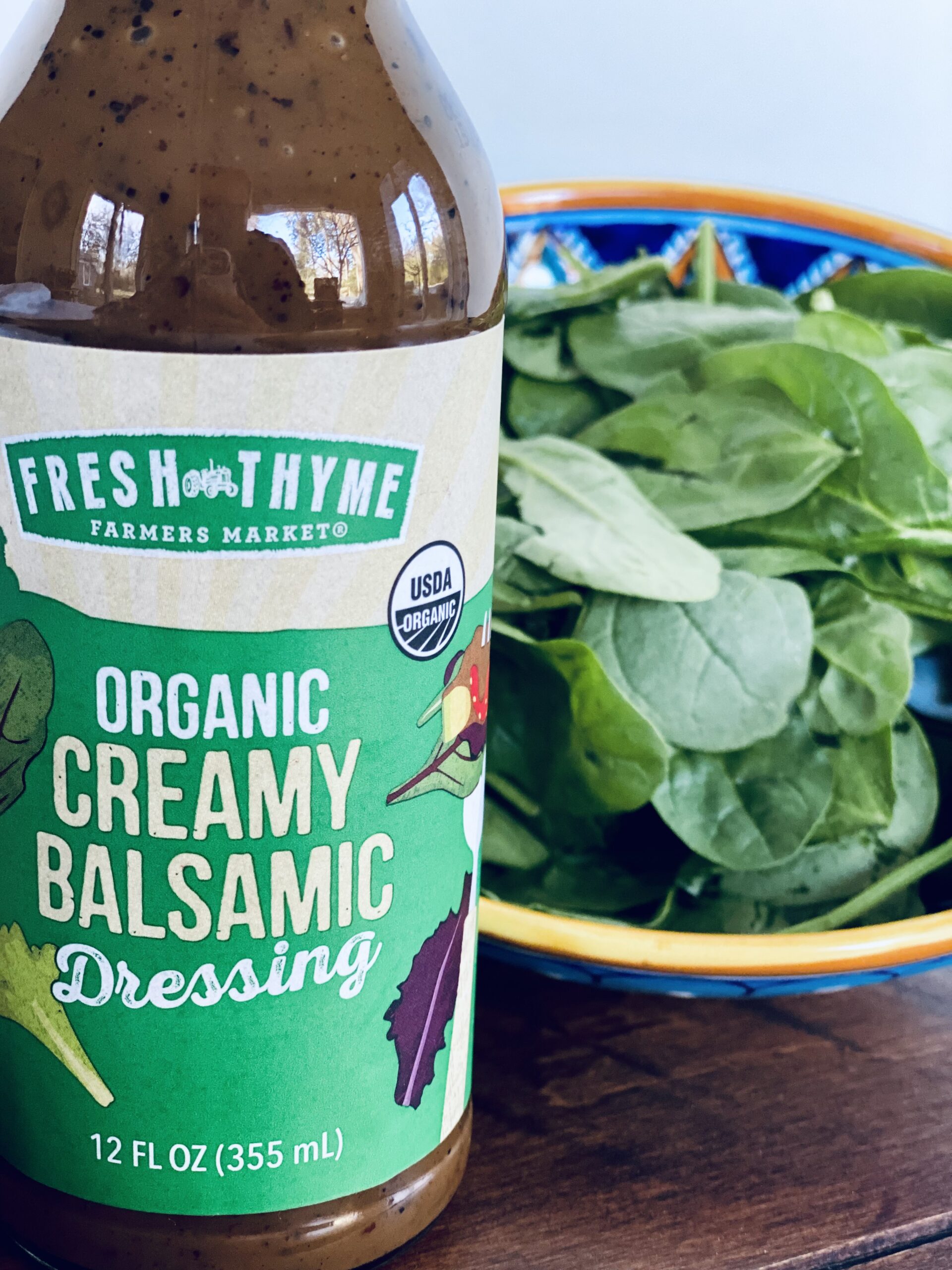 From these traditional green salads to the less common ingredients, Fresh Thyme has you covered. Anyone else fondly remember jello salad at the holidays? Perhaps with a bit of nostalgia, we found Jel vegan gelatin dessert in several tempting flavors! At around $2, we are making jello pretzel salad, jigglers, and maybe a nice fluff STAT.  After that? European Gourmet Bakery organics pudding (available in vanilla and chocolate)! Trust us when we say if you haven't enjoyed a nice pudding in years (and admittedly we hadn't) this is a must try.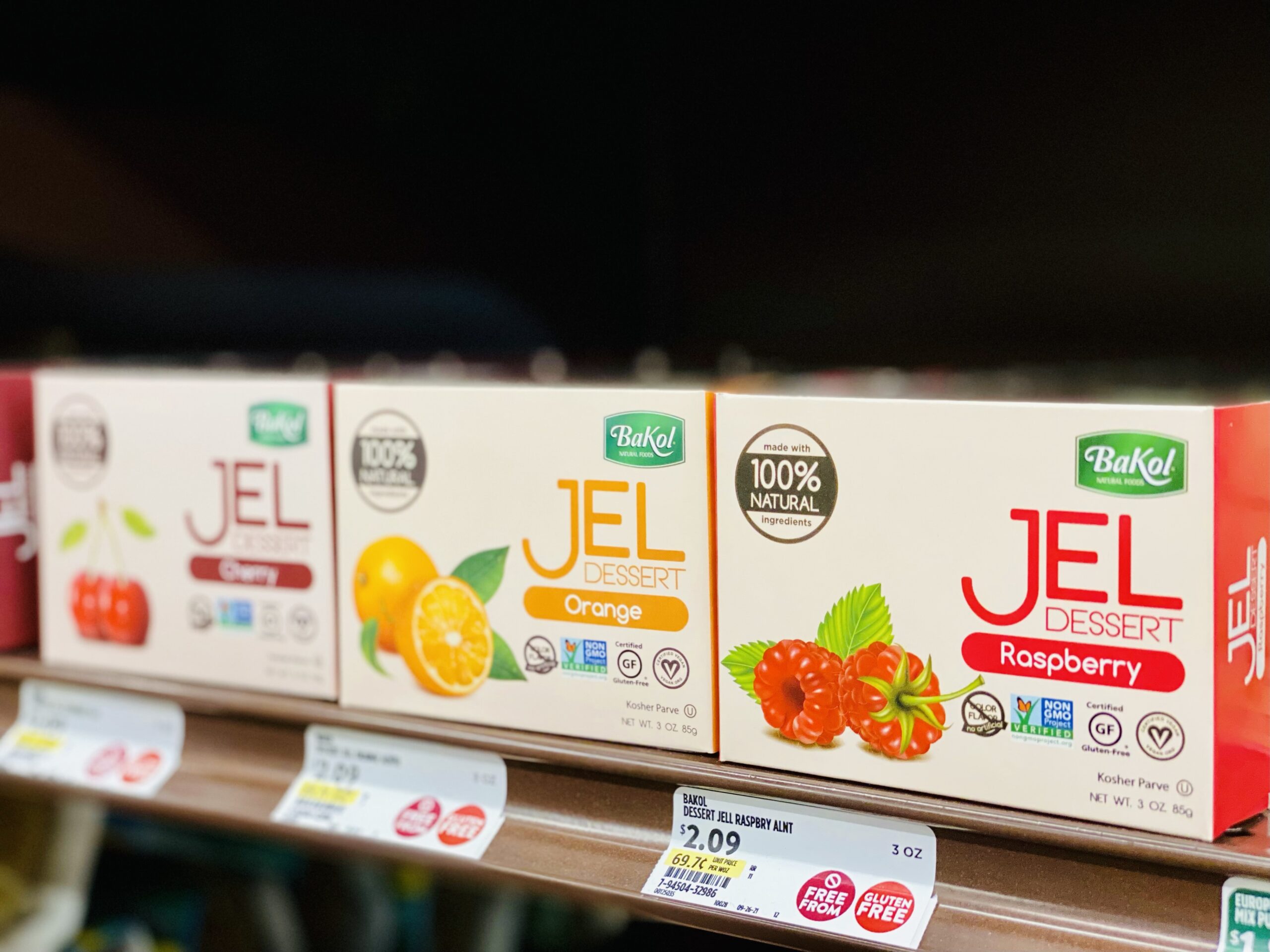 If you're craving even more chocolate, we have just the thing for you: Hershey's Simply 5 chocolate syrup, which we were fortunate to find near the end of our shopping trip. This tough to find 5-ingredient treat is almost indistinguishable from the original version, but without the pesky high fructose corn syrup. We're all about the traditional applications of this syrupy splurge, like drizzling on fruit and ice cream, but our newly discovered and now all-time favorite way to enjoy? A spoonful of Simply 5 + ½ ounce of peppermint schnapps. Deposit directly into mouth. Swish. Swallow. Viola! Vegan peppermint patty dessert!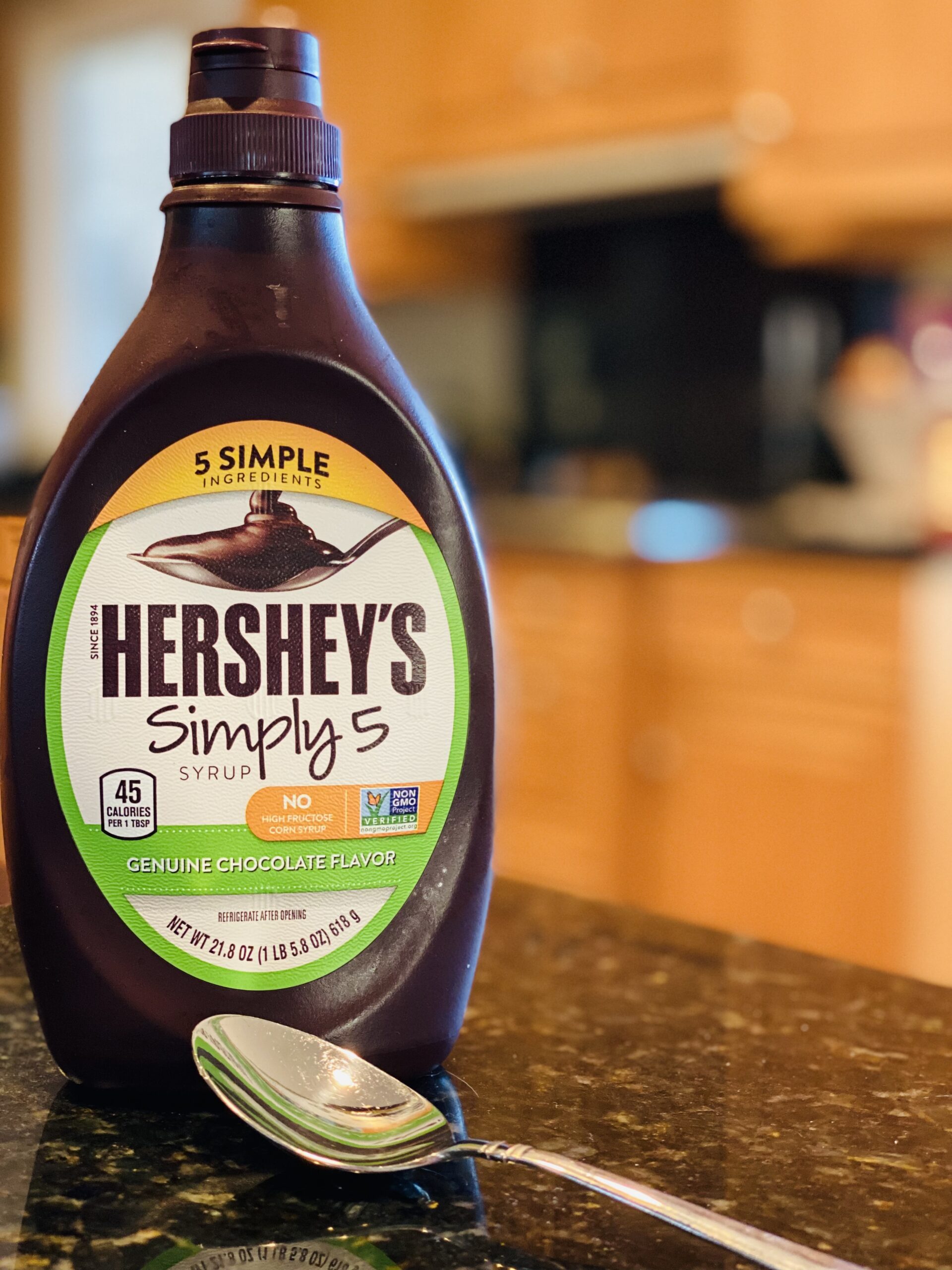 We'd love to end on this sweet note, but would be remiss if we didn't give Fresh Thyme a nod for its impressive wall of performance and snack bars! With labels to help navigate the seemingly endless choices of health conscious bars, scads of which are deliciously plant-based: Gomacro, That's It, NuGo, Lara, Bobo's, Kind, Clif, and Luna to name a handful. Whether you are health conscious or just plain busy, these can be a real life saver for plant-based foodies on the go!
No matter if you are looking for bulk items, splurges, or staples, spend some time at Fresh Thyme (we recommend at least an hour!) You will certainly be delighted with the vast plant-based options that lie around each corner.
No Fresh Thyme in your neighborhood? Or just keen to learn the inside scoop on other hot vegan finds at Michigan grocers? Check out The Vegan Mary's complete grocer series here and follow The Vegan Mary on Instagram @the.veganmary and Facebook @TheRealVeganMary.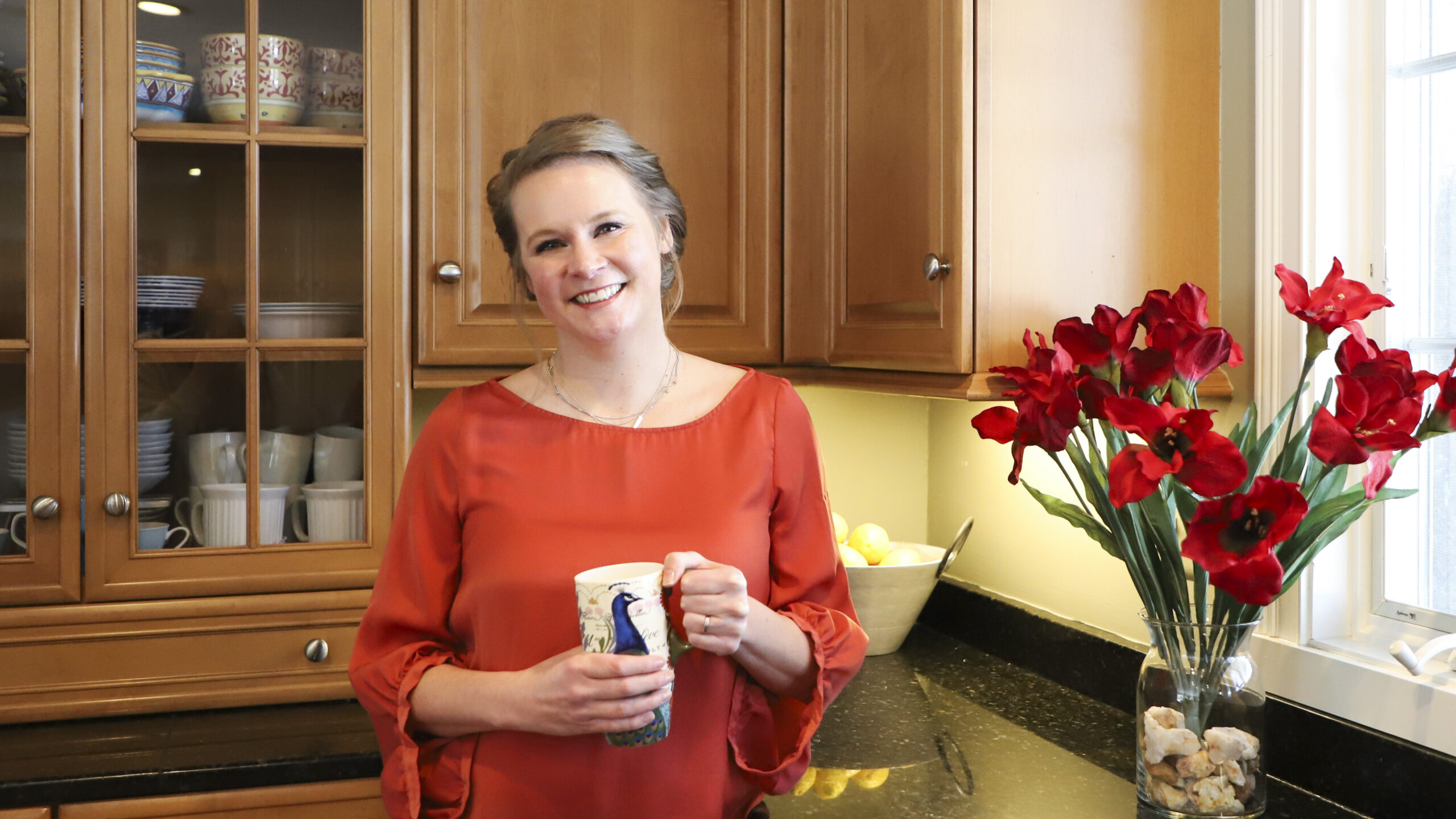 The Vegan Mary is a plant-based consultant, connoisseur, and writer, based in Oakland County. Mary holds a certificate of Plant-Based Nutrition from Cornell University, as well as a Master's degree in Business. Her continuing education includes multiple food and nutrition courses at Harvard and Stanford Universities. She spent the last two decades as a marketing executive before turning her sites and her experiences to vegan consultancy. TVM services clients across the US. When she's not cooking (or eating!), her passions include physical fitness, reading, and traveling. Find her on Instagram @the.veganmary and on Facebook @therealveganmary.