pumpkIn apple dessert pIzza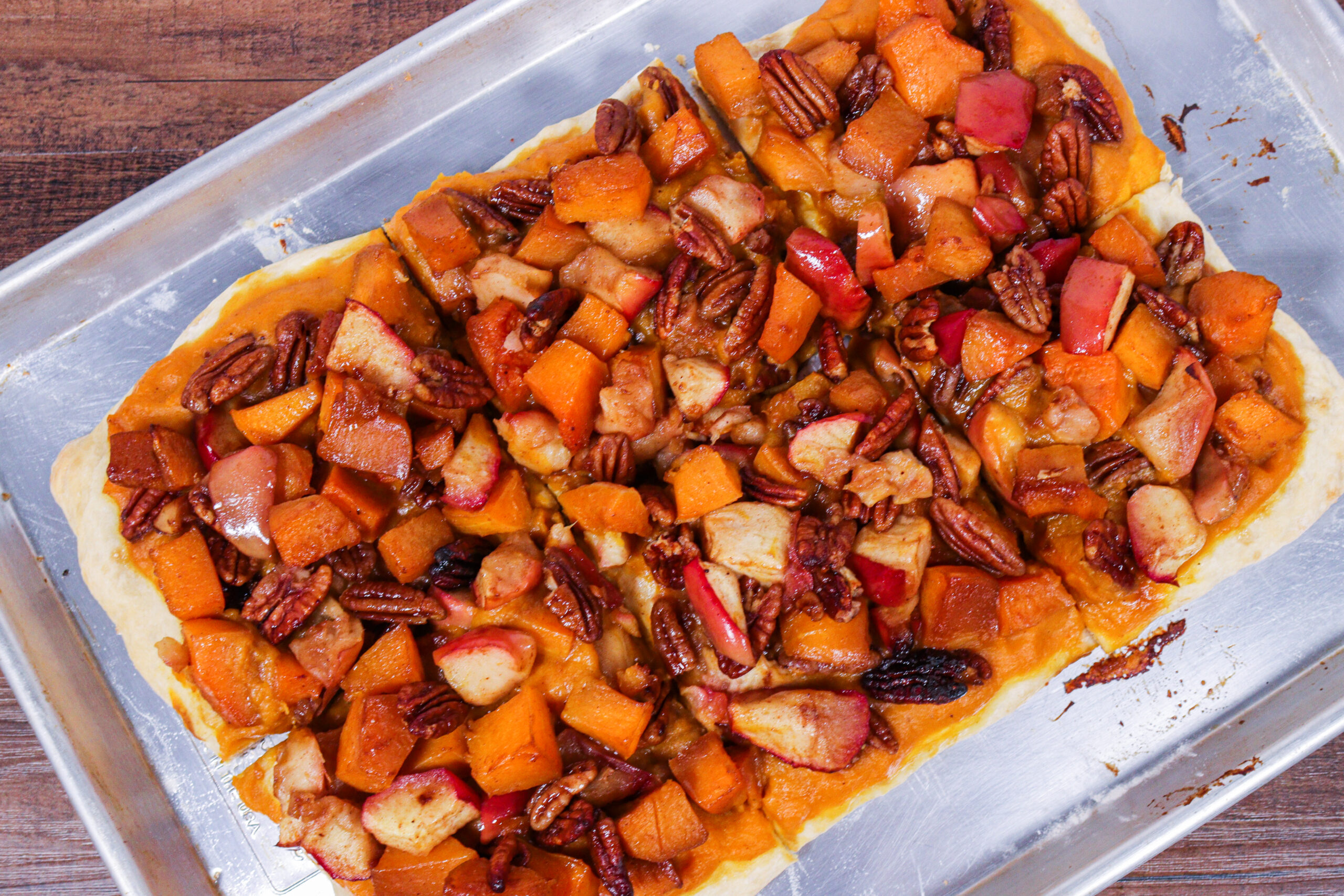 Here is a new and delicious way to enjoy some of the best flavors fall has to offer. The butternut squash, baked apples, and pumpkin will keep you cozy from the inside out. 
This recipe is super simple to make, as it requires only one bowl and two baking trays, and there are only two ingredients you need to prep. Plus, it gives you an excuse to warm yourself by the oven as the days get colder and colder.
And, even though this is called a dessert pizza, it is really still pretty healthy. Only a small amount of sugar is used and you're giving your body all the beneficial nutrients of butternut squash, apples, pecans, and pumpkin.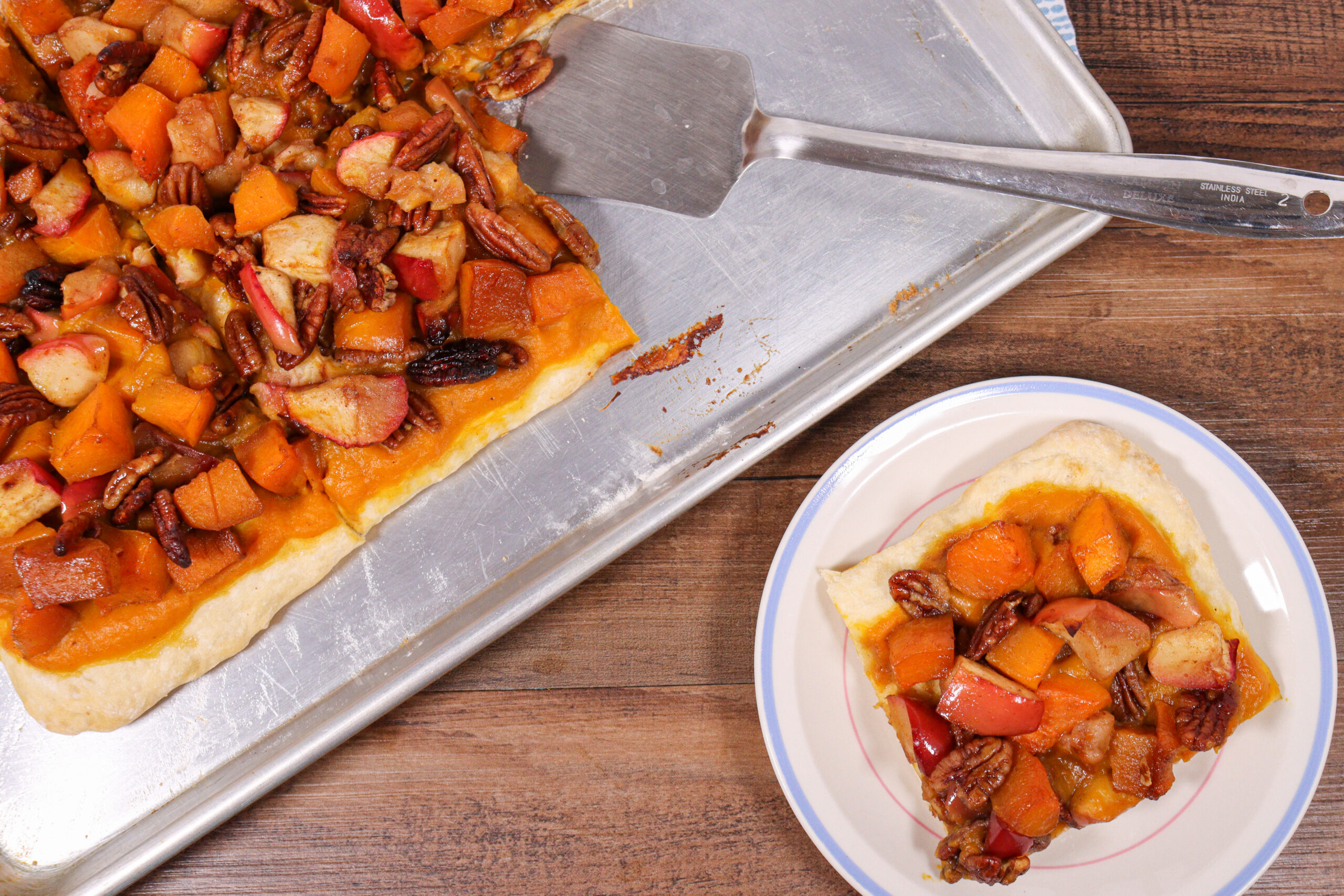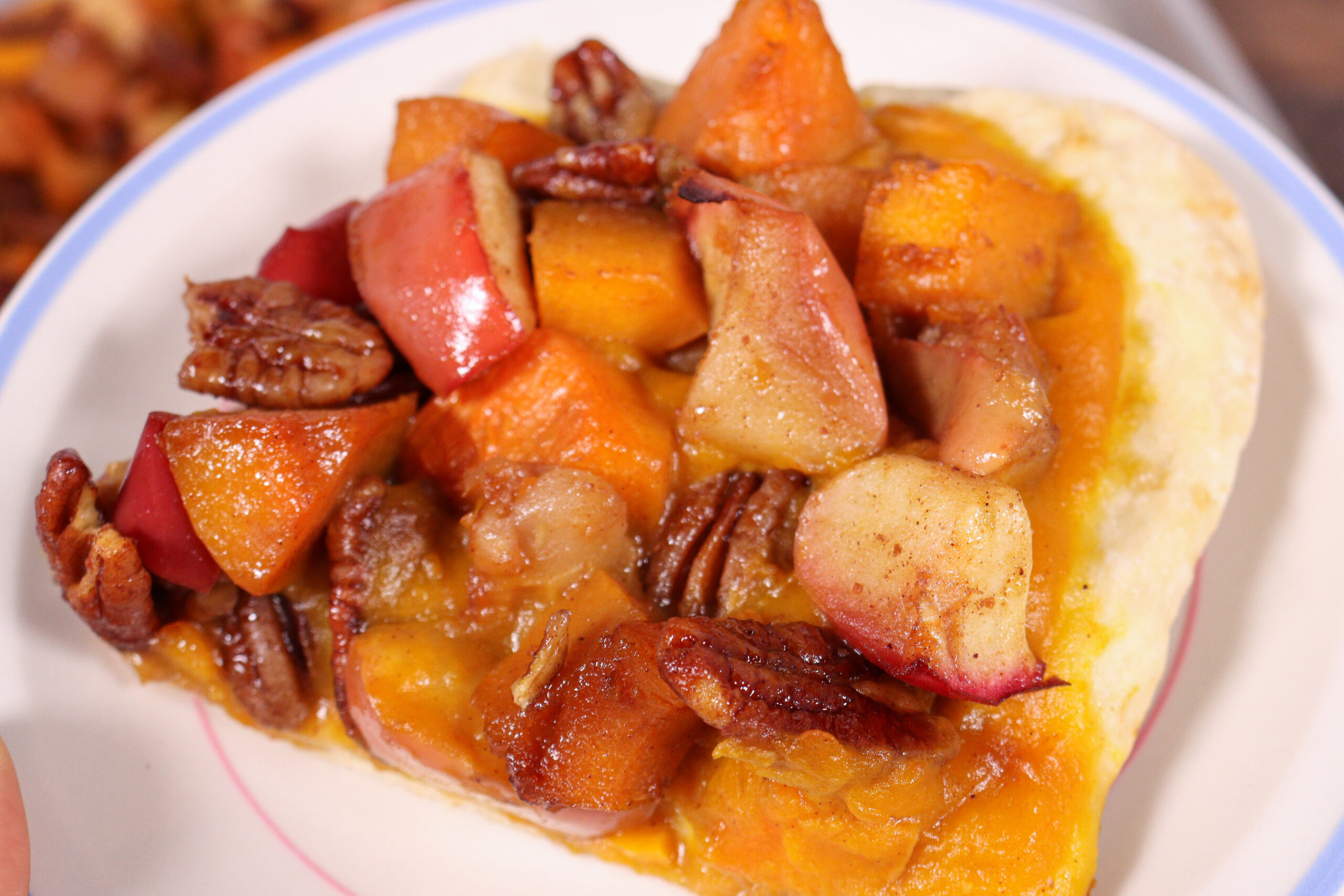 baked butternut, apples, & pecans
1 butternut squash, cubed (about 2 1/2 cups)

2 medium to large baking apples, cubed (an equal amount to the butternut)
1/2 cup whole pecans
2 Tb olive oil (or melted coconut oil)
2 Tb maple syrup (or another liquid sweetener of your choice)
1 Tb cinnamon
1 tsp nutmeg
1 Tb pumpkin pie spice
1/8 cup brown sugar
1 can pumpkin puree
2 Tb maple syrup
1 Tb cinnamon
1/2 tsp nutmeg
1 Tb pumpkin pie spice
1 bag of pre-made pizza dough (or make your own)
olive oil to drizzle (about 1 Tb)
brown sugar to sprinkle (about 2 Tb)
Pre-heat the oven to 400.
Cube the butternut squash* and apples and place in a large bowl.
To the same bowl, add the rest of the ingredients for the baked butternut,  apples, and pecans. Mix together with hands or a spoon.
Evenly spread out the mixture onto a large baking sheet.
Bake at 400 for about 15 minutes or until about 90% cooked.

 

Spread out your pizza dough* onto an oiled and floured baking sheet. Spread out to the edges as much as possible.
Drizzle a bit more oil on top and brush over top of dough. Sprinkle about 2 Tb brown sugar over the oil.
Bake in the same 400 degree oven for about 10 minutes or until a slight crust has formed.
Add everything from the Pumpkin Sauce list to the same bowl the butternut and apples were in. Whisk or sir together until fully combined.

Spread the sauce out over the pizza dough after the dough forms a slight crust.

Top the sauce dough with the baked butternut, apple, and pecan mixture.
Place pizza back into the same 400 degree oven for about 10-15 minutes or until everything is fully cooked (the crust has become firmer and slightly browned and the squash and apples are completely soft).
Cut and enjoy!
*when you first preheat your oven, pop the whole butternut squash in there for about 5-10 minutes to allow it to soften ever so slightly. This will help tremendously when trying to cut into it and peel it.
*make sure to take your pizza dough out of the fridge at least 15 minutes before you want to work with it. This will make it much more malleable. 
check out the recIpe vIdeo
As always, let us know if you make this for yourself and what you think.
Happy cooking!