the best places for fall colors In MIchIgan
guest blog by rebecca from VEGGIES abroad
Porcupine Mountains – John Gremmer – Flickr
Crisp mornings with the crunch of colorful leaves beneath your feet signal the final curtain on summer's warm glory and the start of a seasonal slumber. The bright green leaves that have shaded us through the summer heat, fade to reveal a rainbow of brilliant reds, oranges, yellows, and purples. Michigan is one of the lucky states where you're able to enjoy the kaleidoscope of color, bundled up with a warm cup of cider. But, where should you go to see this vibrant display? Just about anywhere in the state you're bound to find beauty, but this guide will help you find some of the best places for fall colors in Michigan.
While you are out enjoying the fall colors, be sure to check out our vegan travel guides for the best places to eat throughout Michigan.  
The first stop on our fall color tour will be in Northern Michigan and the Upper Peninsula.
The upper penInsula and northern mIchIgan
If you're planning a trip up north, mark your calendar for late September to the very beginning of October. This area of the state experiences cooler temperatures before the rest of the state and that, coupled with shorter days, causes the leaves to pop with color much earlier. 
The Porcupine Mountains Wilderness State Park
33303 Headquarters Road, Ontonagon, MI 49953
If you're heading to the UP, this is one spot you shouldn't miss! It is Michigan's largest state park and is home to more than 90 miles of hiking trails, a majestic swath of forest, and miles and miles of Lake Superior shoreline. All perfect ingredients for the ultimate spot to see beautiful fall colors. Within the park, you will also find the Lake of Clouds, which is one of the top spots to enjoy epic vistas. In the fall, the blue lake is surrounded by a forest of vibrant trees decked out in orange, yellow, and red. 
1505 Sand Point Road Munising, MI 49862
The rugged shoreline is lined in a thick blanket of emerald green in the spring and summer which changes to a vibrant kaleidoscope in the fall that contrasts beautifully with the turquoise water. For an Instagram-worthy view of the sandstone cliffs and fiery trees take a short walk from the Visitor's Center parking lot down to the popular Miners Castle Overlook. This spot offers 3 different viewing decks with beautiful views of Lake Superior. For a longer jaunt (1.2 miles roundtrip) through the forest of trees to a beautiful waterfall, check out the Miner's Falls trail. 
41382 West M-123, Paradise, MI 49768
Thousands of acres of untouched wilderness surround an impressive waterfall (actually, two waterfalls!) and makes Michigan's second-largest state park a beautiful place to enjoy the fall colors. If you're looking for a quick stop for a beautiful view just head down the 94 steps to the park's main viewing platform. If you'd like to spend a little more time enjoying the scenery, check out one of the many hiking trails that range in difficulty and length with the shortest clocking in at 1.5 miles to over 10 miles.
Six miles north of downtown Marquette on CR 550
Just outside of downtown Marquette you will find multiple trail options that lead to a sea of gorgeous trees aflame with color that pair with stunning views of Lake Superior, Presque Isle Park, and Marquette. The hike through the bright trees is stunning. At the end of the short hike you will find multiple viewing decks, which are about 1,000 feet above sea level. The perfect vantage point to enjoy the crisp fall air and colors. 
Inspiration Point, Arcadia Overlook
M-22, Arcadia, MI 49613
The highest point on the shores of Lake Michigan is an optimal spot to pull over for amazing color and lake views. It's an easy hike up 210 stairs to the top of the viewing deck at Inspiration Point. Visitors are on top of the world and rewarded with breathtaking views. On a clear day, you can see miles of turquoise blue waters and a forest that appears to go on forever awash in color. 
Along M-119 from Harbor Springs to Cross Village, approximately 20 miles
A northern Michigan road trip isn't complete without a drive through the iconic Tunnel of Trees. It is easy to see why this stretch of highway from Harbor Springs to Cross Village has been considered one of the most scenic roads in the US. Along the historic highway, drivers are delighted with a thick canopy of tree cover that is brilliantly colored in the fall. Make sure you take your time because you also don't want to miss the spectacular views of Lake Michigan when the trees open up!
12500 Crystal Mountain Dr. Thompsonville, Michigan 49683
Soar high above the colorful treetops in a chairlift at Crystal Mountain. I can't think of a better way to enjoy Mother Nature's breath-taking beauty! This family-fun activity allows viewers to get a birds-eye view of Crystal Mountain's 1500-acre forest, plus views of neighboring counties. Chairlift rides are generally offered on Fridays, Saturdays, and Sundays in October.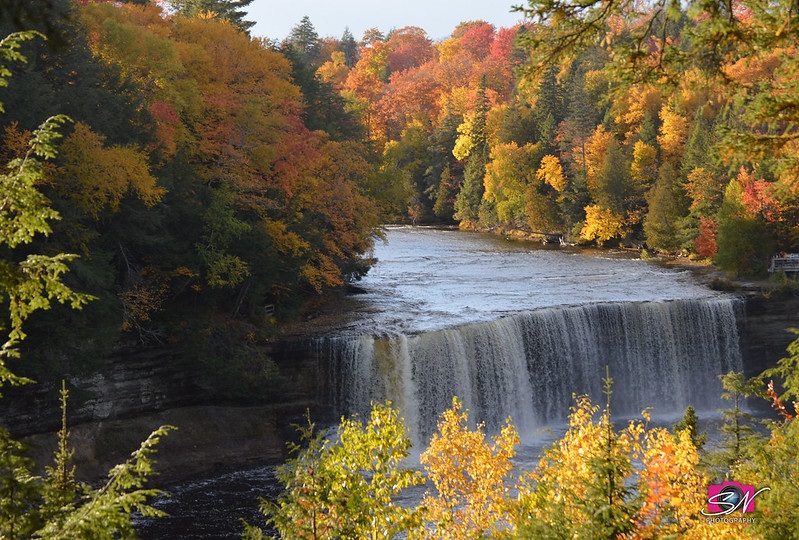 Tahquamenon Falls – Sara McKay – Flickr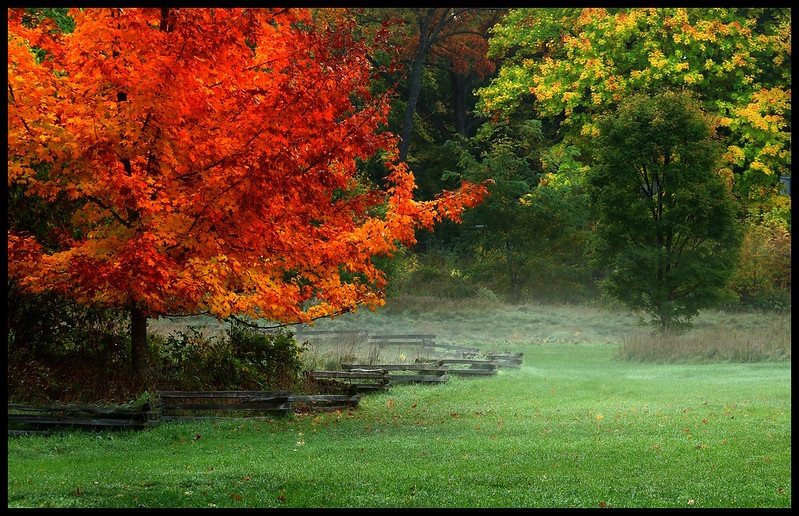 Nichols Arboretum – Rantes – Flickr
In the lower part of Michigan, colors generally begin to peak around mid-October depending on the weather. 
1610 Washington Hts. Ann Arbor, MI 48104
Right in the heart of downtown Ann Arbor is one of the best places in Southeast Michigan to enjoy the seasons, especially fall! The Arb is home to a wide variety of trees from Maples and Oaks to a Chinese Fringtree, which is one of the oldest in the state. Visitors can enjoy the fall foliage while hiking through one of their many trails or grab lunch and have a picnic under a bountiful Oak.
13988 Range Line Rd, Niles, MI 49120
From spring-time daffodils to aconites in the winter, there is always something to enjoy year-round at Fernwood. The nature preserve is made up of 105 acres and contains a Japanese garden, special collections of ferns, miles of hiking trails, and many other special collections and gardens. The acres of trees illuminate walking paths around the gardens and the peaceful St. Joseph River during the fall.
4570 Huron River Pkwy, Milford, MI 48380
A quiet and relaxing place to get away from it all and it's also a perfect place to enjoy brilliant fall colors thanks to the park's many acres of wooded trails. Visitors can peep the fall leaves on the paved 8.5-mile trail around Milford's Kent Lake or head into the woods to be surrounded by a canopy of color on 7 miles of wooded trails. 
4480 Orion Road, Rochester, MI 48306
What was once a railroad line is now a nearly 9-mile trail from Rochester to the Village of Lake Orion. Along the route, visitors are delighted with open fields, marshlands, and densely wooded forests that come alive with color in the fall. Even if you don't want to wander the entire trail, it's a lovely place to enjoy a little nature and then grab lunch in downtown Rochester. 
The Depot-to-Depot Fall Color Tour
Whitehall to Muskegon 
Take a self-guided tour through some of the most scenic parts of West Michigan starting in White River Light Station in Whitehall to the Muskegon South Pierhead Light. This mapped-out route takes visitors through the beauty of the dunes, woods, and Lake Michigan. It ensures that you don't miss any of the top spots in the area for vibrant fall foliage. The tour is available in October. 
100 Fitzgerald Park Dr, Grand Ledge, MI 48837

This park is best known for its giant 300-million-year-old sandstone ledges that rise 60 feet above the Grand River for nearly 5 miles! Aside from the uniqueness of the ledges, the park is also a perfect place to enjoy a stroll along the wooded trails that hug the Grand River. In the fall enjoy the fiery display of color along the river or through the canopy of tree-lined trails.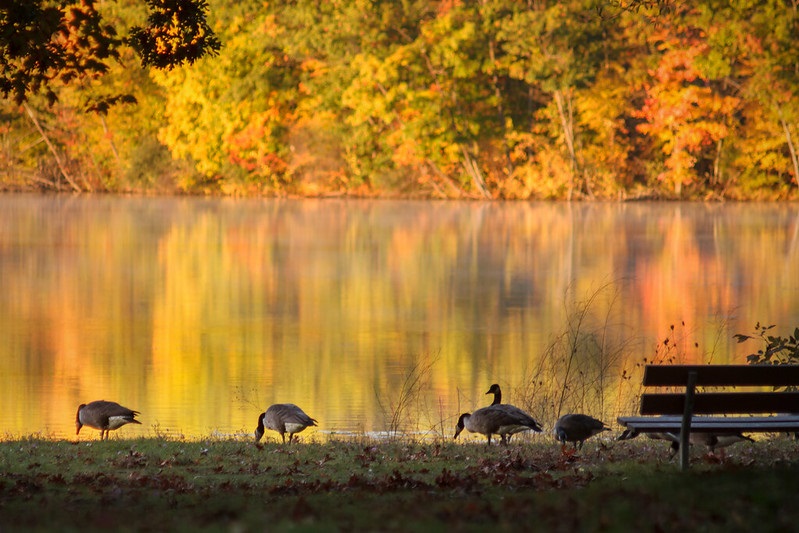 Kensington Metro Park – Tom – Flickr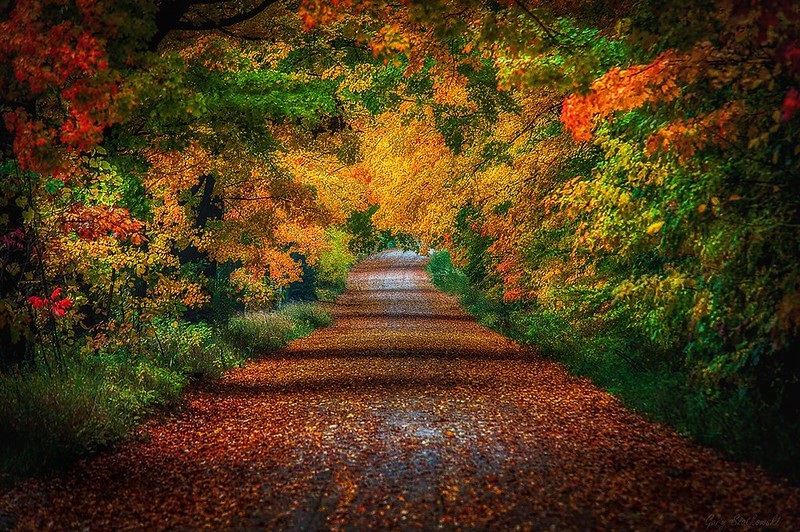 Depot to Depot Fall Tour – Gary Szatkowski – Flickr
No matter where your fall leaf-peeping adventures take you, be sure to check out our vegan travel guides for the best veg places to eat throughout Michigan! You never know when the craving for a giant burger or a sweet treat might strike—you'll want to be prepared! And, if you plan to do any wine tasting while in Northern Michigan, be sure to check out this vegan wine guide to plan a perfect wine tasting tour.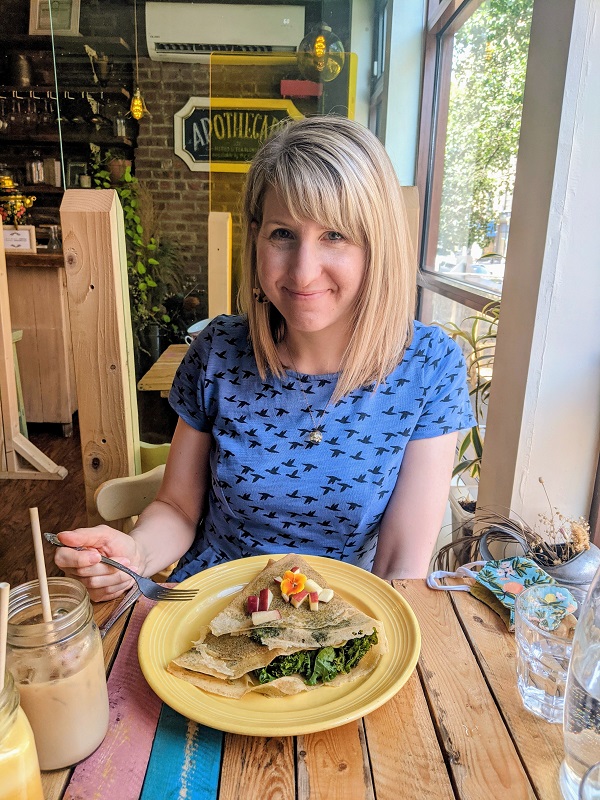 Rebecca Gade Sawicki is the creator of the vegan travel blog Veggies Abroad, which was born from her love of travel, and the question she gets asked after every trip, "What in the world did you eat?" Her blog features vegan travel guides, practical travel tips, resources, and vegan lifestyle content. Follow her adventures on Instagram or Facebook @veggiesabroad