vegan getaway to west mIchIgan
guest blog by veggIes abroad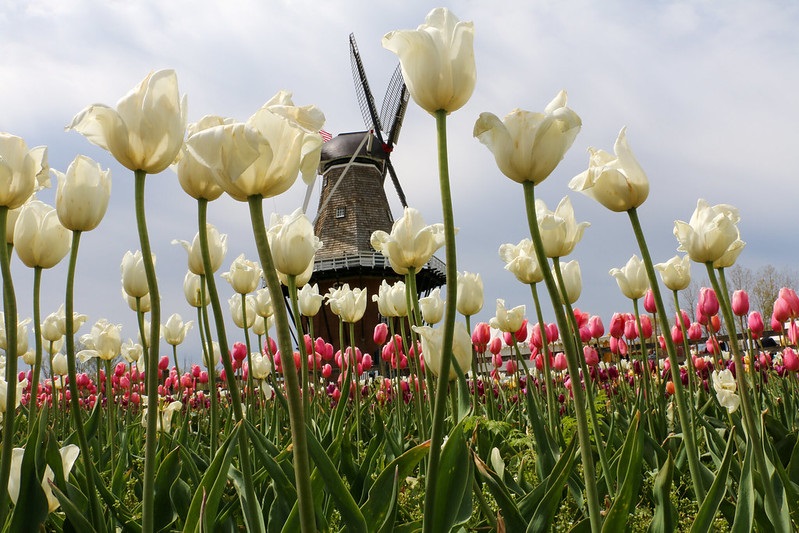 Tulip Time Holland – caleb269 Flickr
I am sad to say that as a lifelong Michigander, I didn't make too many visits to West Michigan until I was an adult. As a kid, West Michigan was always overshadowed by its popular sibling, Northern Michigan and that is truly unfortunate. The west side of the state is full of enchanting small towns lined with charming shops and fresh produce stands with a lovely feeling in the air to slow down and enjoy the views of Lake Michigan. Over the last few years, it has also become increasingly easier for vegans to not only enjoy West Michigan's beautiful environment but also, the food.  If you're thinking about a day trip or long weekend, you're in luck! This is the perfect vegan guide to help you plan your West Michigan getaway. Our first stop will be to Grand Rapids.
Grand Rapids was once known as the furniture capital of the U.S. but more recently has been highlighted for its sustainability efforts, Fast Company Magazine even named it "America's Greenest City." The city has made strides to include hybrid buses in its fleet, including one with a green roof and at least five of the city's restaurants are certified B Corps. There are many great options for vegan food in the city, including:
1220 Fulton St W, Grand Rapids, MI 49504
This neighborhood bakery and coffee bar is 100% vegan, gluten free and soy free. Aside from all their delicious cakes, bars, donuts, breads and cookies, they also have smoothies, sandwiches, soups and toasts.
12 Oakes St SW, Grand Rapids, MI 49503
This fresh juice shop features raw juices, salads, sandwiches and snacks. Even better, all their juice ingredients are sourced from local Michigan farms.
969 Cherry St SE, Grand Rapids, MI 49506
A great breakfast or brunch spot with multiple vegan options, including spicy breakfast tacos, sweet potato hash and pancakes (which are also gluten free).
1017 Wealthy St SE, Grand Rapids, MI 49506
If you're looking for vegan comfort food, come here. They have an awesome selection of vegan sandwiches like a vegan Philly cheesesteak or vegan pulled pork to vegan burgers and six vegan pizza options.  These also aren't your ordinary vegan cheese pizzas, check out their vegan surprise which is seitan peperoni, tempeh bacon, seasoned tofu, pineapple and veggies or The Tempest which has an alfredo base! 
1015 Wealthy St SE, Grand Rapids, MI 49506
Known for hipster comfort food and being veggie friendly. The menu is well marked and there are many options from the peanutty Thai Town with tofu to their Omega Mu, vegan sloppy joe. Certain vegetarian items could also be made vegan.
Robinette's Apple Haus & Winery
3142 4 Mile Rd NE, Grand Rapids, MI 49525
Just outside of downtown Grand Rapids, you will want to make sure to stop here to grab a bottle of cider or wine, almost all their wines are vegan, just ask to be sure which, and donuts. They have a regular assortment of vegan and gluten free donuts. 
While you're hanging out in Grand Rapids there are a few other places to add to your list to check out; The Downtown Market, which is a year round hub of local food, the 158 acre botanical garden at Frederik Meijer Gardens & Sculpture Park and then finish your visit by treating yourself to a cruelty free facial or vegan manicure at Apsara Spa.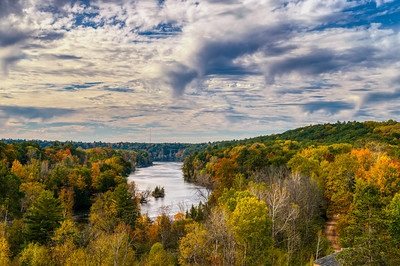 Muskegon in the Fall – tquist24 Flickr
Next, let's head 40 minutes north to West Michigan's largest beach shoreline, Muskegon, to enjoy over 20 miles of Lake Michigan and explore over 60 miles of beautiful nature trails. While you're exploring Muskegon, make sure to check out these great vegan friendly restaurants:
333 W Western Ave., Muskegon, MI 49440
No better place to start your day than here with a green juice and yoga! This combo yoga studio and juice bar features classes to center your mind and body as well as awesome juices, smoothies, salads and more to fuel your day.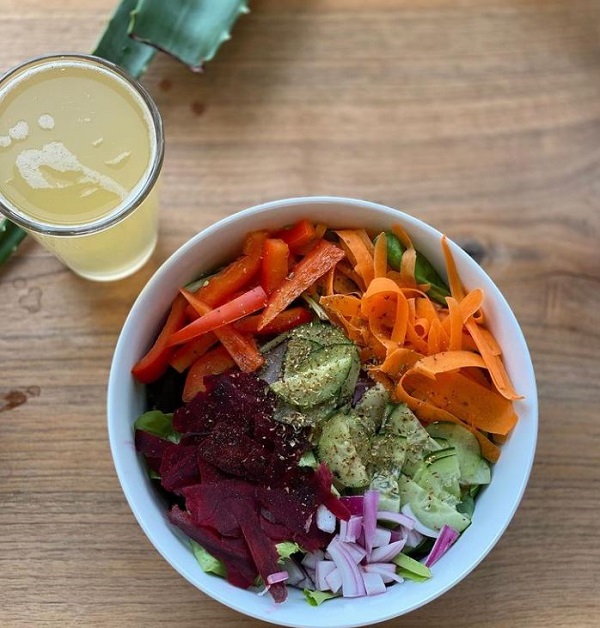 Rootdown Yoga Juice Muskegon
470 W Western Ave. suite A, Muskegon, MI 49440
Unlike many Mexican restaurants with one token vegan item, Rad Dad's goes above and beyond with multiple vegan tacos, appetizers and salads. And we're not talking any basic taco, check out their "Secret Love," fried cauliflower covered in buffalo sauce with cucumber celery dressing and scallions and that's just the start of their creative plates. 
1519 E River Rd., Muskegon, MI 49445
This is more than a health food store, it also has a full deli serving smoothies, wraps, salads and sandwiches. A great place to pick up a few grocery items and something to eat!
242 W Western Ave., Muskegon, MI 49440
This gluten free bakery is currently operating out of Kitchen 242 in downtown Muskegon. Vegan options are available, and they take special orders.
794 Pine St., Muskegon, MI 49442 (There is also a location in Grand Haven)
A café that is more than just a good cup of joe. The owners are dedicated to empowering the coffee farmers who grow their coffee through micro loans and other projects in Honduras. Aside from sustainable coffee, the café offers homemade syrups, vegan milk options and a couple vegan breakfast options.
Your Muskegon adventure isn't complete without a trip to Pere Marquette Park, which has over 2.5 miles of public beach on Lake Michigan. If a relaxing beach day isn't your thing, consider grabbing a bike or going for a walk on the Lake Shore trail which is 12 miles of winding trails and beautiful views of Muskegon Lake. If you happen to bring your four-legged, furry companion with you, make sure to take them to the Norman F. Kruse Dog Beach. Along the northern part of the park there is a special area of nature for Fido to enjoy.
Now, let's head 20 – 30 minutes south to the sleepy towns of Grand Haven and Holland. Grand Haven is an adorable little town lined with fun shops, sandy beaches and a relaxing boardwalk along the Harbor to Grand Haven State Park. A little further south, Holland still holds onto its Dutch roots, which can be beautifully seen in May with its tulip time festival and by visiting the 251-year-old windmill De Zwaan located in Windmill Island Gardens. Whenever you decide to go, make sure you add these vegan friendly restaurants to your list: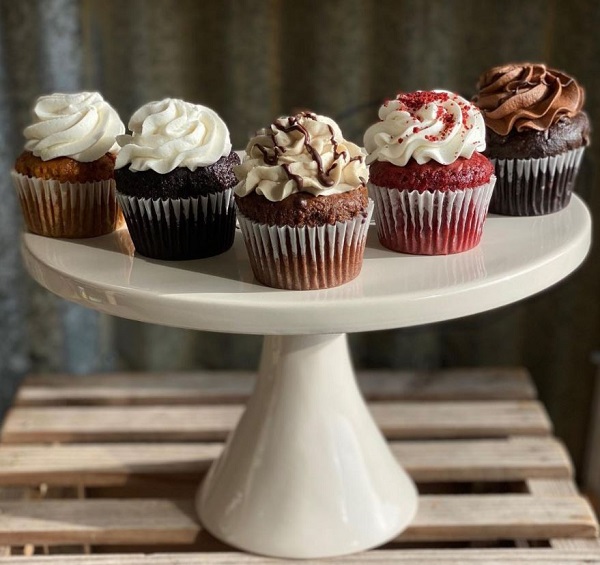 Bodhi Tree Juice Co. Grand Haven
1115 Washington Ave, Grand Haven, MI 49417
Everything is vegan and gluten free! This wonderful café is a great stop for breakfast or lunch with its extensive menu of smoothies, smoothie bowls, toasts, salads, power bowls and sweet treats!
216 Washington Ave, Grand Haven, MI 49417
A great place for vegans and those who are gluten free. Aside from their Farmer's Daughter pizza, there is a great selection of quinoa power bowls, vegan wraps and smoothies. 
816 Lincoln Ave, Holland, MI 49423
This little Mexican café packs in an assortment of vegan delights! There is a small vegan menu that features tamales (gluten free), tostada, bean burrito and a rice bowl. The vegan tamales are homemade with carrots, potatoes, squash, zucchini, beets and a special sauce. 
501 W 17th St, Holland, MI 49423
This sweet little café offers more than coffee. They have multiple bagelwich, wrap and burger options that are vegan along with custom salads and soups.
61 9th St, Holland, MI 49423
Hip coffee house focused on zero waste, fair trade and sustainable practices. They offer vegan milk options as well as vegan and gluten free snacks.
If you're headed to West Michigan for the weekend, then you need somewhere to stay. An AirBnB is always a good choice, but even better is a stay at the Walk on the Beach Retreat in South Haven which is 100% vegan and gluten free. The owner, Jill Keb is a certified food educator and offers vegan cooking retreats or the option to just book a room but still enjoy her delicious vegan food and access to the beautiful sandy beach. The summer is a popular time for the retreat, it is best to book in advance and minimum stays are required. To book contact jill@vegangal.com.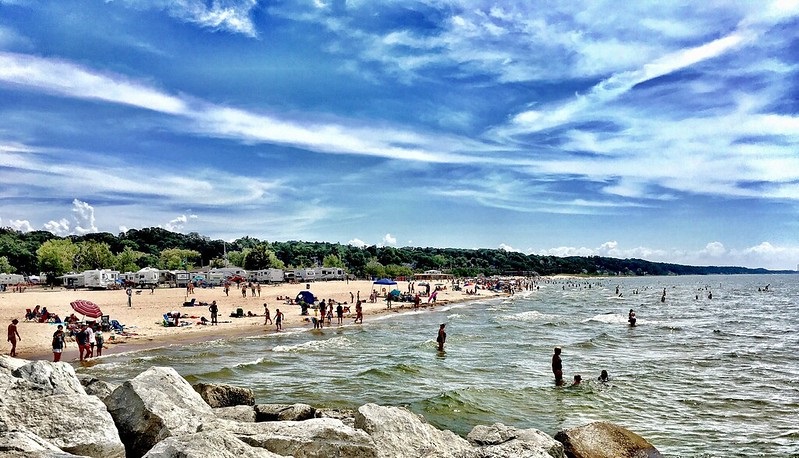 Grand Haven State Park – Dennis Sparks Flickr
No matter when you decide to head to West Michigan, there is plenty to eat and enjoy.  One tip, after the cold winter, the sleepy towns come alive with the hustle and bustle of tourists looking for rest and relaxation. If you're planning a visit in the summer, it is best to book rooms and activities in advance to ensure you don't miss out. Whenever you decide to visit, I hope this guide helps you plan your adventure.
Hello! I am Rebecca Gade Sawicki, the Creator of Veggies Abroad, a vegan travel blog. My blog features vegan travel guides, tips and inspiration to explore the world. You can find my blog at https://veggiesabroad.com/ and follow my adventures on Instagram or Facebook @veggiesabroad