WHEre to buy mIchIgan-made vegan gIfts thIs holIday season
by rebecca from veggIes abroad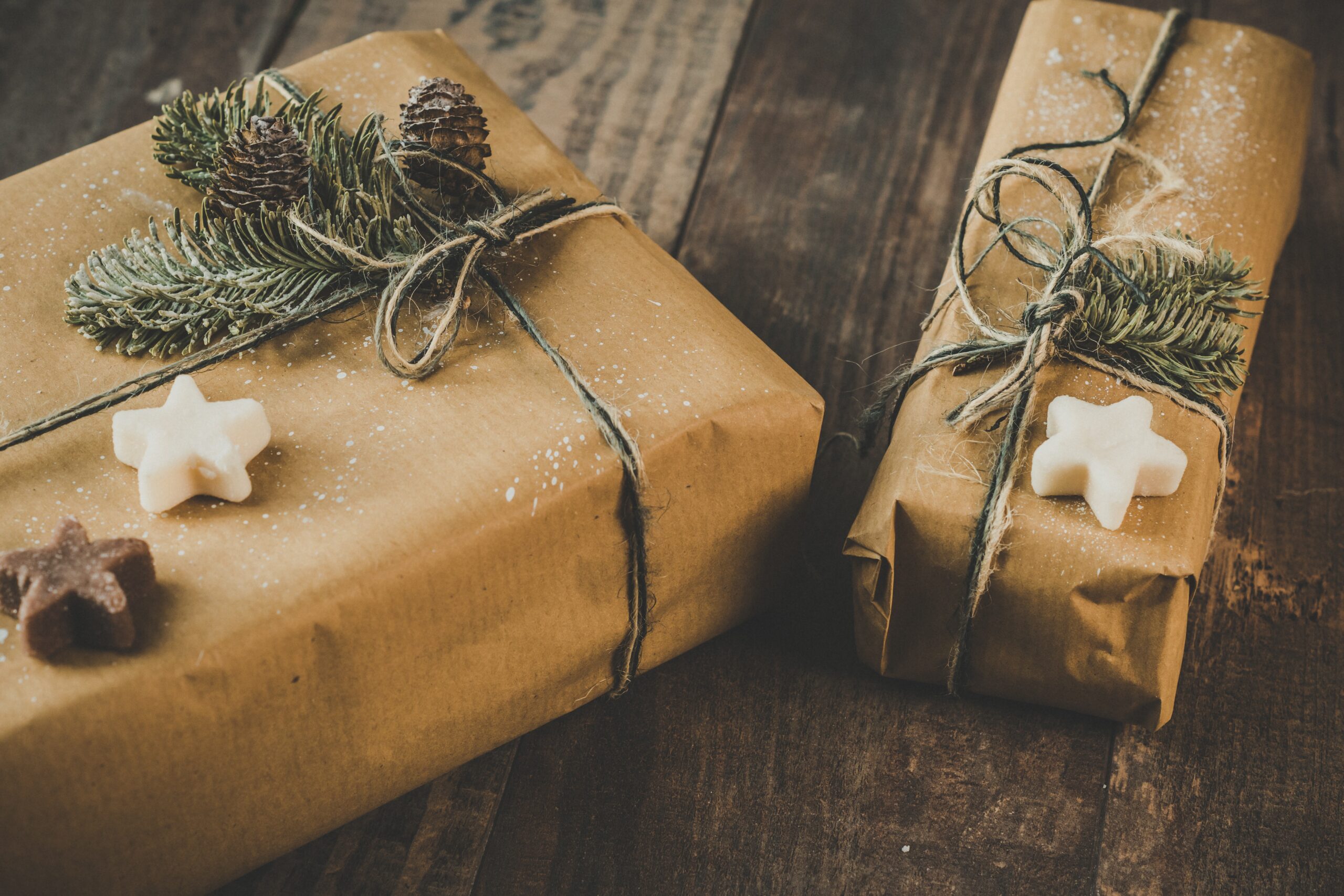 'Tis the season to get shopping! If you're like me, you probably haven't even made a list, let alone started shopping. Over the years, I have really made a conscious effort to buy less stuff.  I mean, most of us have a lot of stuff, so how much more stuff do we really need? So, when I finally get moving on holiday shopping, I try to support local businesses and spread my vegan-ness as much as I can (in the hope that it's infectious!). If you're in the market for Michigan-made gifts that are vegan, then you have come to the right place! Check out this lineup of 7 perfect vegan gifts made right here in the Mitten that everyone on your list will love (if they don't, you can give it to me!).
mIchIgan-made vegan gIfts to add to your holIday lIst
#1 Fruity Sips of Michigan Produced Vegan Wine 
Some of the best wines in the US come from Michigan! It may come as a surprise to some, but Northern Michigan has graced many top 10 wine region lists for its wine-making prowess, but not all wine is created equal. In the traditional wine-making process many are filtered with common animal products like egg whites, gelatin, casein, and fish bladder (usually referred to as isinglass). Lucky for us there are many Michigan wineries that use vegan-friendly filtration! 
For a full lineup of wineries, check out this Northern Michigan Vegan Wine Guide, but one of my favorites is Green Bird Organic Cellars. Not headed to the area, no worries! Many of the wineries ship their wines (including Green Bird) or sell in stores throughout the state. And, if you want to give a really special wine gift, consider signing your gift receiver up for a wine of the month club!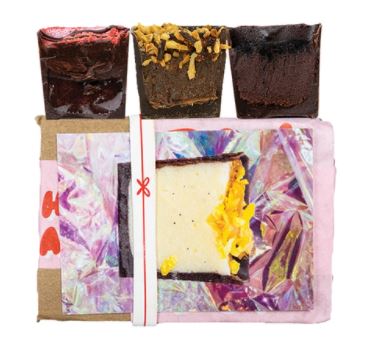 Bon Bon Bon Vegan Chocolates 
#2 Give 'em Something Sweet! 
You can never go wrong with chocolate, right? I mean if the person on your list doesn't love sweet, luscious chocolate, they should really get their taste buds checked! Now, I am not thinking of a basic chocolate bar, you need to amp this gift up with something just a little special. Head on over to Bon Bon Bon in Midtown Detroit and grab their vegan Cutie Bon Trio. The box contains one of each of their vegan specialties—Pudge Brownie (dark chocolate sorghum walnut gianduja with a cutie frownie face), Strawberry and Balsamic (dark chocolate shell filled with strawberry confiture, balsamic reduction, and olive oil ganache), and The Rustler (ranger cookie ganache, toasted coconut, dark chocolate drizzle, in a chocolate shell).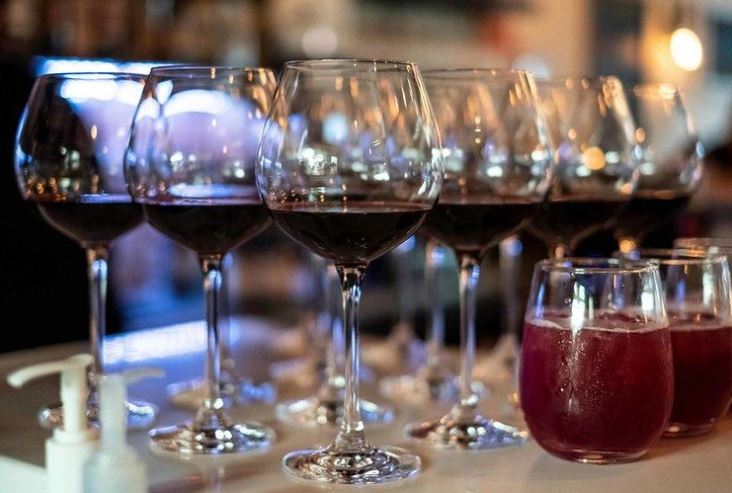 Chive Kitchen Wine Tasting Event
#3 Give the Gift that Always Fits—Restaurant Gift Cards
Some may say this is a cop-out gift, but I say heck no! I mean we all need to eat right? And, what's better than a delicious vegan dinner? Nothing! (Well, maybe the lotto, but…). Grab a gift card to the person's favorite spot or figure out somewhere that they have never tried for a special surprise like the new Freya in downtown Detroit that has a multi-course vegan tasting menu. Also, check out special vegan events at hot spots like Chive Kitchen which regularly hosts wine and specialty themed dinners, and Hazel Park's Frame.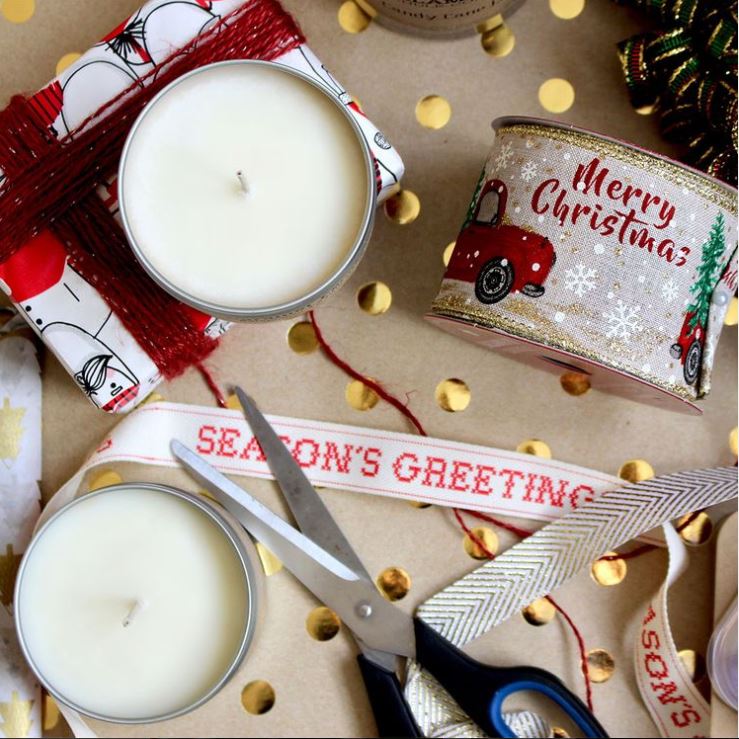 #4 Comforting Scents of Amber, Balsam, & More!
The warm glow and soft seasonal scents of candles are the perfect way to relax and liven up an atmosphere. Whether you're looking for calming lavender and sandalwood or seasonal favorites reminiscent of crisp winter air and pine, there are plenty of vegan and Michigan-made options! Check out Kalamazoo Candle Co., their sustainably produced soy-based candles are made without added dyes or toxins. Their candles can be purchased online and are also available at Whole Foods. 
Another great option is JMK Soy Candles which are made in small batches in Wyandotte. They are known for witty scents inspired by binge-worthy tv, like The Office and Schitt's Creek, as well as Celestial Scents, and more. Their candles can be purchased online and at City Bird in Midtown Detroit, as well as other boutique shops throughout the area.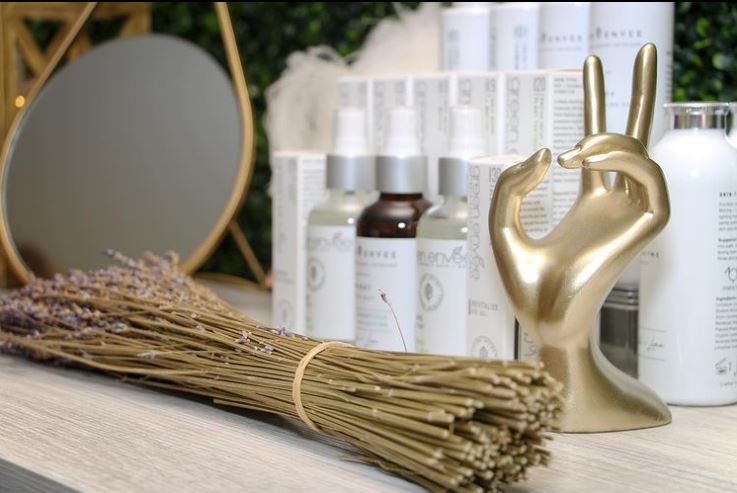 #5 Give the Gift of Beauty and Relaxation
Give the ultimate treat yo'self package—a gift certificate to Eden Esthetics, Detroit's only plant-based day-spa, and Rouge Makeup and Nail Studio in Ferndale. Eden Esthetics offers a range of relaxing and revitalizing services like the un-chemical apple peel with a blend of potent plant peptides to their signature Eve facial for a deep cleanse and exfoliation. 
Bundle that with a stopover at Ferndale's Rouge Makeup and Nail Studio for the only vegan and cruelty-free mani and pedi in town! There are multiple nail packages from just the basics to epic works of toe art! This is the perfect idea for someone who could use a little pampering.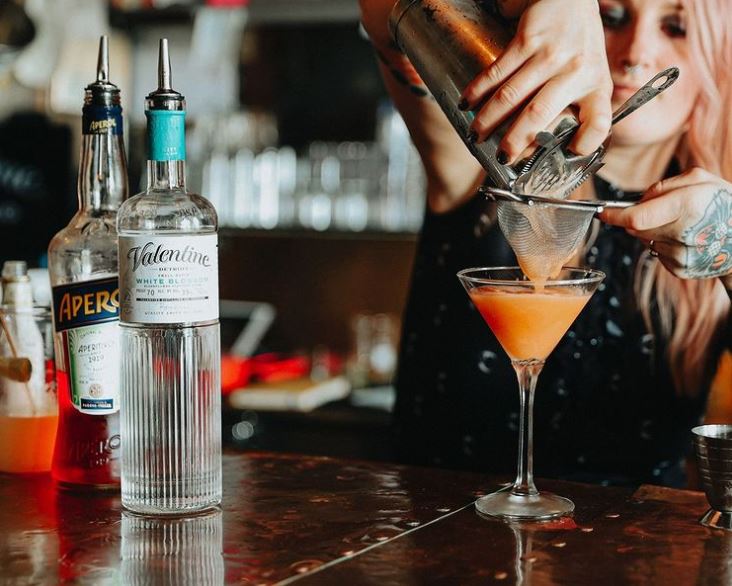 #6 Get in the Spirit with Spirits!
Does that special someone enjoy the art of making and shaking? Then get them into the spirit of the season with a basket of handcrafted, award-winning, vegan vodka and gin from Valentine Vodka! The spirits are produced in small batches right in Ferndale (if you're unsure of which spirit to buy, then head to their tasting room to test them out!).
The package wouldn't be complete without the book  "Free the Tipple," a recipe book of kickass cocktails inspired by iconic women in history. The book covers a range of amazing women from Virginia Woolf to Serena Williams.  The book also provides a short biography of the woman and a recipe that reflects her personality and what she enjoyed drinking! The book can be purchased at City Bird in Midtown.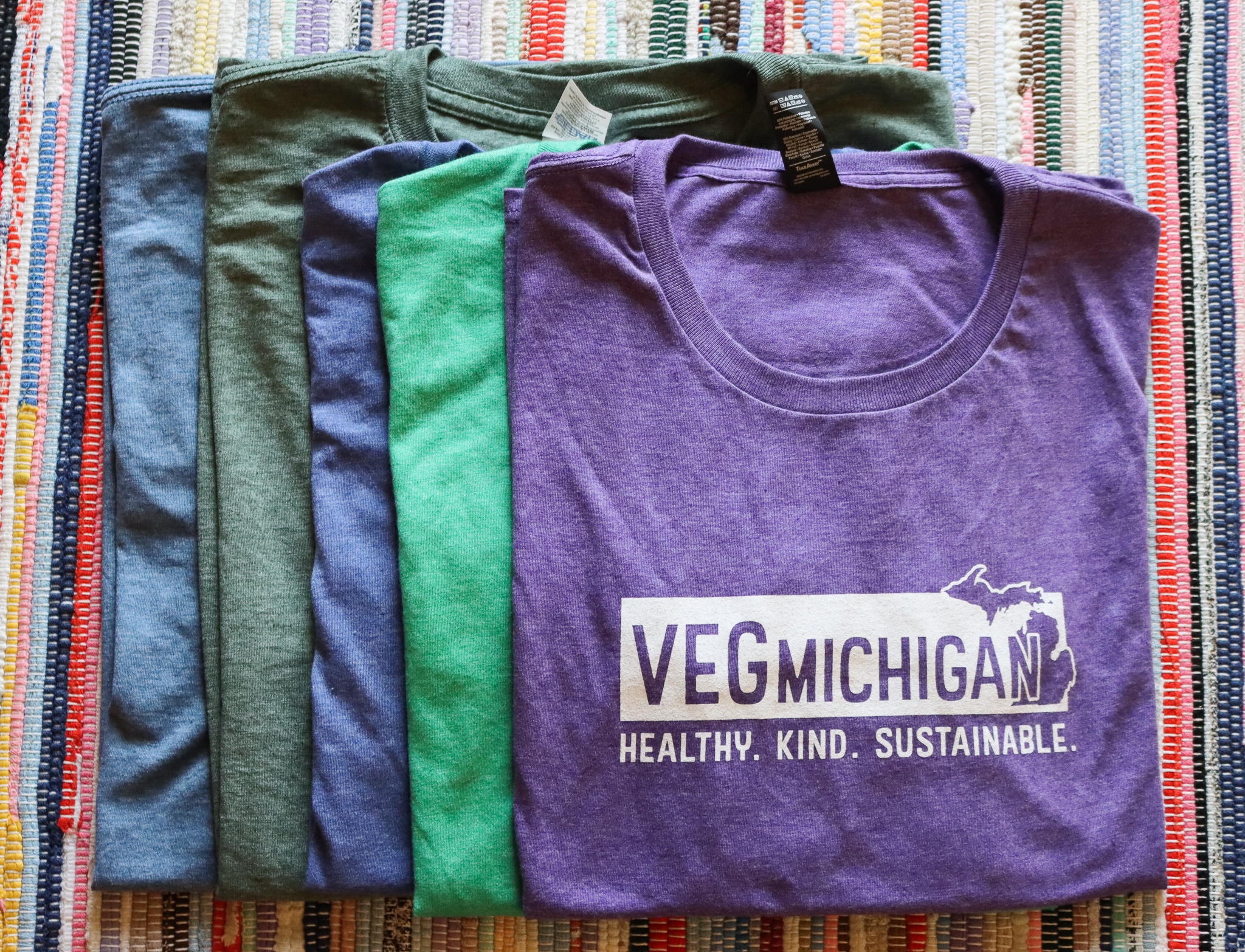 #7 Show Your Veggie Pride
Did you know that VegMichigan has an online shop? Currently, it's stocked with cute tees and an insulated bag perfect for hauling around all your vegan snacks. It's the perfect way to show your vegan pride and support the advocacy efforts of VegMichigan!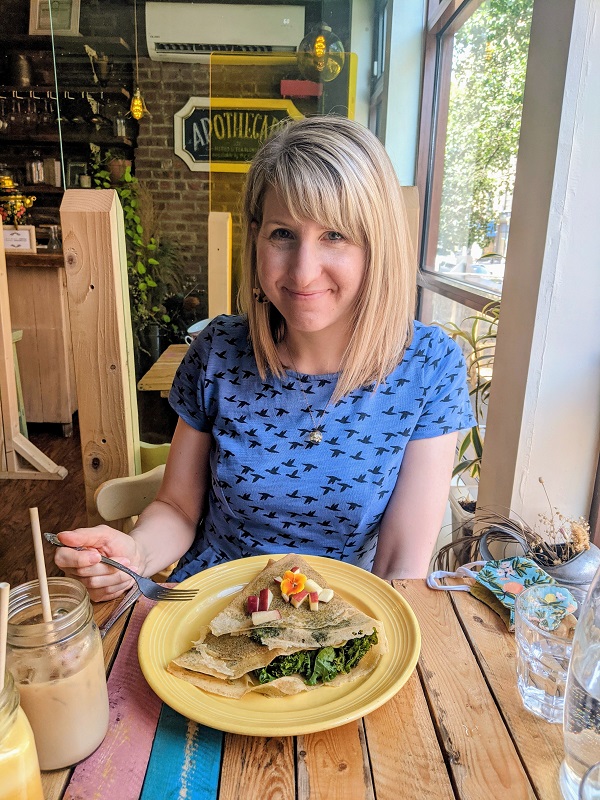 Hello! I am Rebecca Gade Sawicki, the Creator of Veggies Abroad, a vegan travel blog. My blog features vegan travel guides, tips and inspiration to explore the world. You can find my blog at https://veggiesabroad.com/ and follow my adventures on Instagram or Facebook @veggiesabroad