the best of vegan at trader joe's
guest blog by the vegan Mary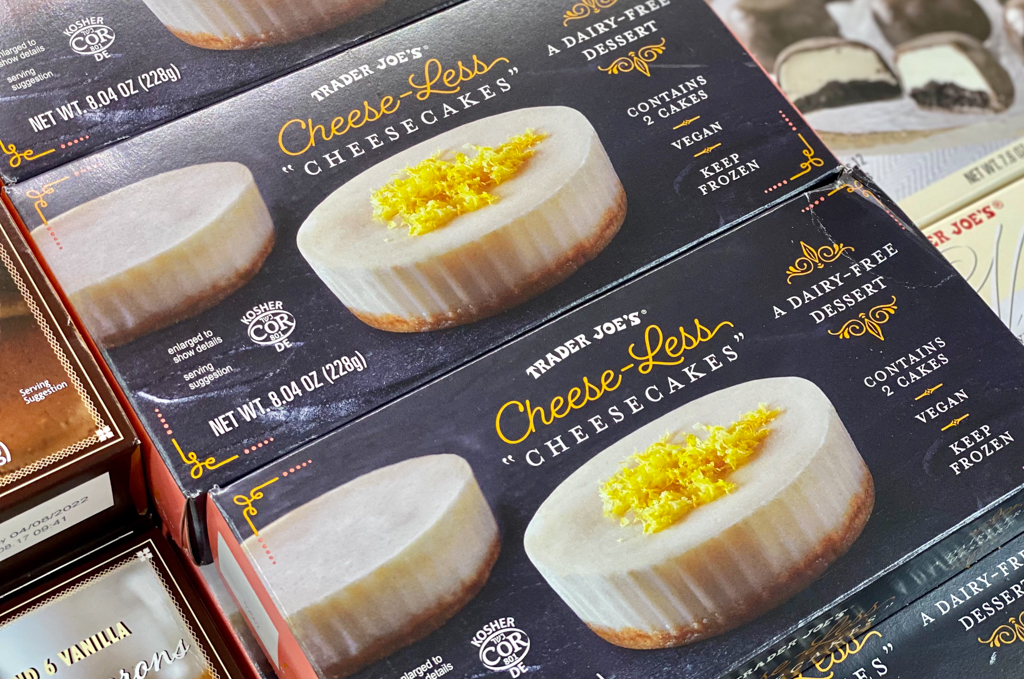 Would you be surprised if I told you that this national market, known best for its Mandarin Orange Chicken frozen entrée, is actually a mecca of vegan delights? Indeed, if you've never ventured into one of Michigan's eight locations, it may be time to pencil it in.
As the name suggests, Trader Joe's has built a reputation for traveling the world to source unique eats and grocery items. The open, airy storefronts convey simplicity and warmth, much like an indoor farmers market. The hand-drawn signage (all thanks to in-store artists), inviting endcaps, and helpful employees make every trip to Trader Joe's a treat. What's more? Its rotating seasonal stock ensures that two trips are rarely the same. I often joke with my husband that each trip is a veritable treasure hunt and that is why I can often spend an hour (or more!) wandering for new vegan finds.
The chain carries vegan and non-vegan staples and specialty items alike, none of which have artificial flavors, artificial preservatives, synthetic colors, MSG, genetically modified ingredients, or partially hydrogenated oils (artificial transfats). But perhaps its real specialty is carrying items that you didn't even know you need in your life! Like Peruvian corn chips, for instance. (Yes, those exist and yes, they are delicious.) This dichotomy of necessities and novelties makes Trader Joe's truly special and serves as the impetus for the following assessment. Featured below are some of our favorite vegan finds this month, falling into one of two categories: Everyday Ease and Party Central.
Dinner time has never been easier. Lunch and breakfast for that matter, too. While Trader Joe's is often distinguished for its quirky finds and fun atmosphere, loyal customers know them for the bedrock grocery experience it also provides. Our favorite staples?
Ready to eat meals featured in the refrigerated aisles.
Need a meal on run? Grab and go wraps like Spicy Lentil, Rainbow (with sweet potato) and Classic Veggie Hummus are all freshly made and perfect for a quick and easy bite. The flavorful and nutrient-rich Lentil Soup with Ancient Grains and Harvest Chili is also great tastes-like-home-cooking go-to's. And we would be remiss to leave out our favorite refrigerated eat, the Vegan Mac. It's the best we have found (and boy have we tried a lot)! It is a creamy, dreamy pasta featuring a butternut squash and coconut milk sauce that is as quick as it is delicious.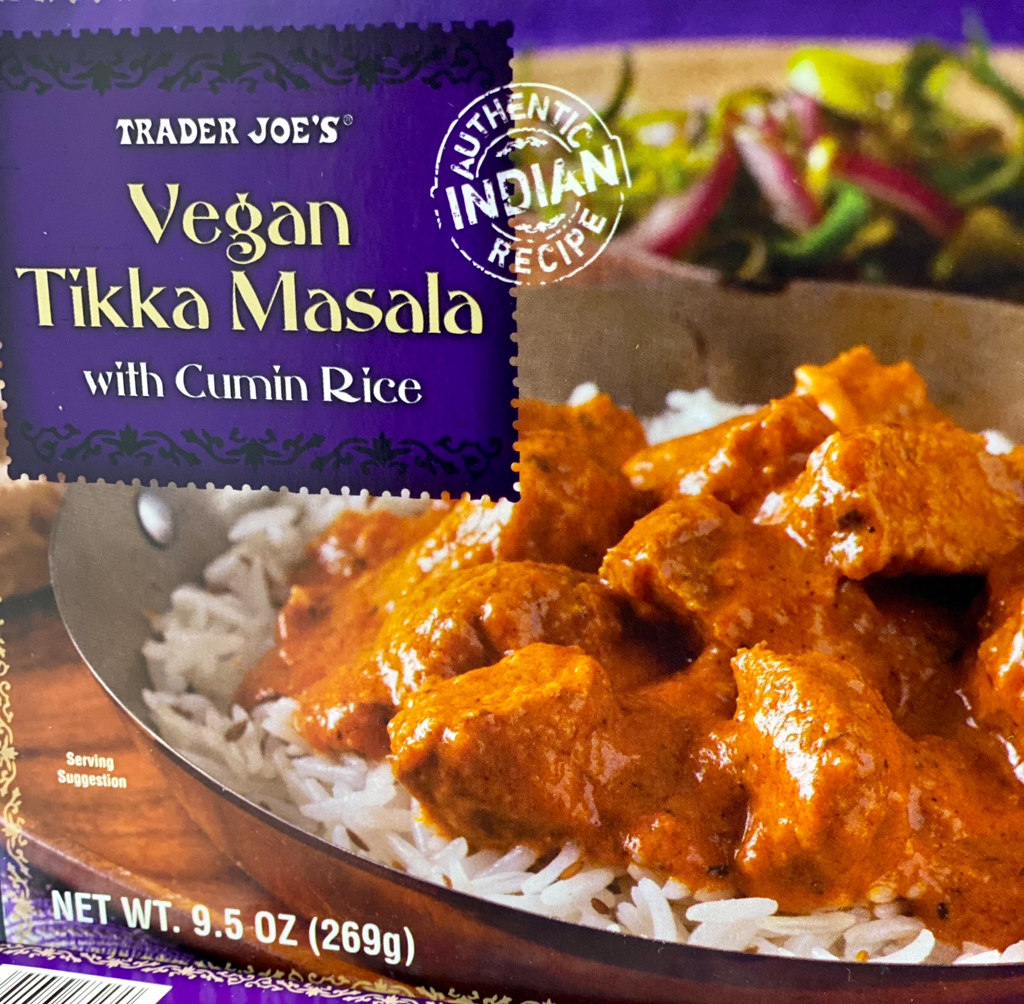 Trader Joe's is known for its eclectic and authentic world cuisine and this includes several frozen vegan eats worth trying. Mildly Spiced Organic Vegetable Burritos, chock full of black beans and corn, make a perfect, easy lunch for two. The ready to microwave Vegan Tikka Masala with Cumin Rice offers another flavorful meal, complete with vegan meat cubes for a protein boost. Looking for something for the whole fam? Try the Cauliflower Gnocchi (from Italy) paired with Trader Joe's Kale, Cashew, and Basil pesto for a real crowd-pleaser.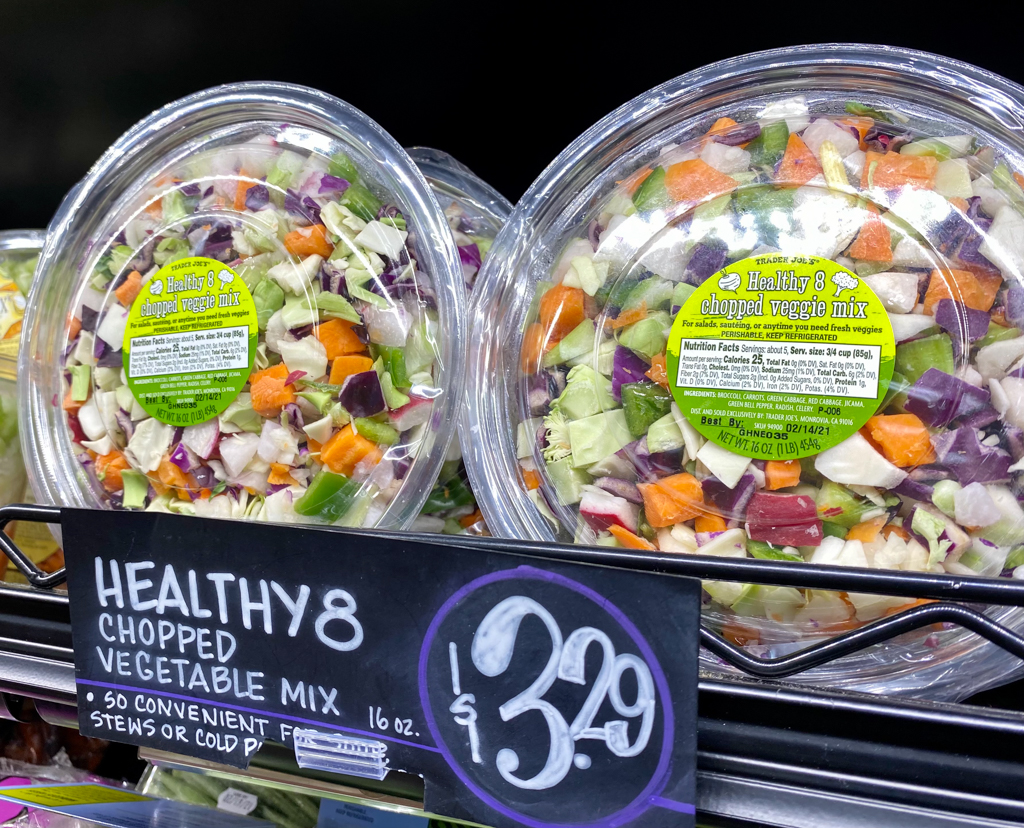 Greens have never been so easy to find… and enjoy! There is a veritable wall of greens, salad kits, and fixings, making it a pleasure to enjoy unique salads all week long. We love the Healthy 8 Chopped Veggie Mix, full of our favorite freshly diced veggies, perfect solo, or tossed with massaged kale. We are also a fan of the Broccoli and Kale Slaw Kit, sans the dressing (which contains eggs); we sub in Trader Joe's Spicy Cashew Butter or Green Goddess dressing. Meal prep is a breeze with the Miso Vegetables and Brown Rice Sauté Kit, easily paired with tofu for a complete Asian-inspired meal in minutes.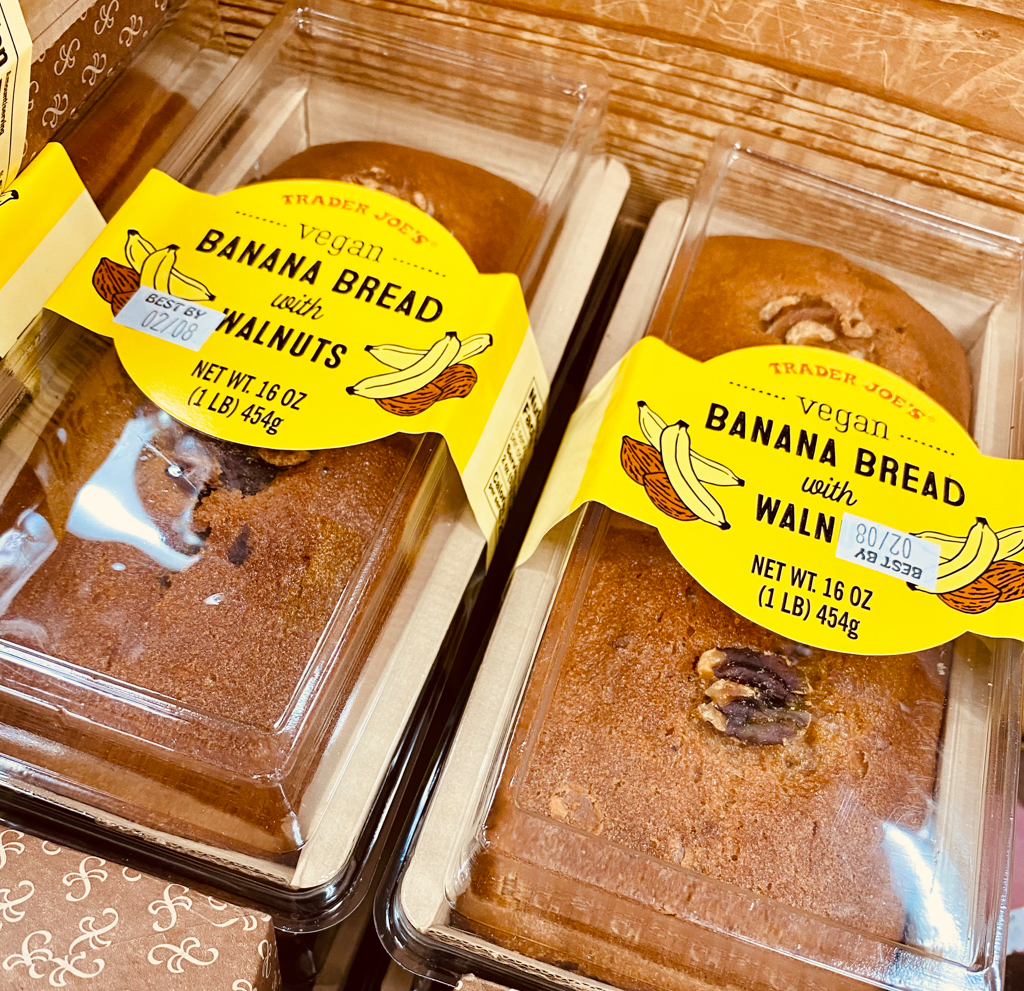 Trader Joe's, on a roll! With a host of vegan bread offerings, you can be sure to find freshly baked artisan-style carbs. Everything Ciabatta Rolls are a must-try. The assortment of Sprouted Wheat Breads (sourdough and 7-grain are our faves) will have you craving sammies for days. And no trip would be complete without adding Vegan Banana Bread to your cart. This is a cult fav among vegans and non-vegans alike.
Seasonal favorites and grocery mainstays abound. For the last few decades, Trader Joe's has been selling bananas for $.19 each. And if that's doesn't get you excited, just peruse its fully prepped or more unique offerings like sweet potato ribbons and jicama sticks. All of which can jumpstart your culinary creativity and make you a star in your own kitchen.
nuts, seeds, and drIed fruIt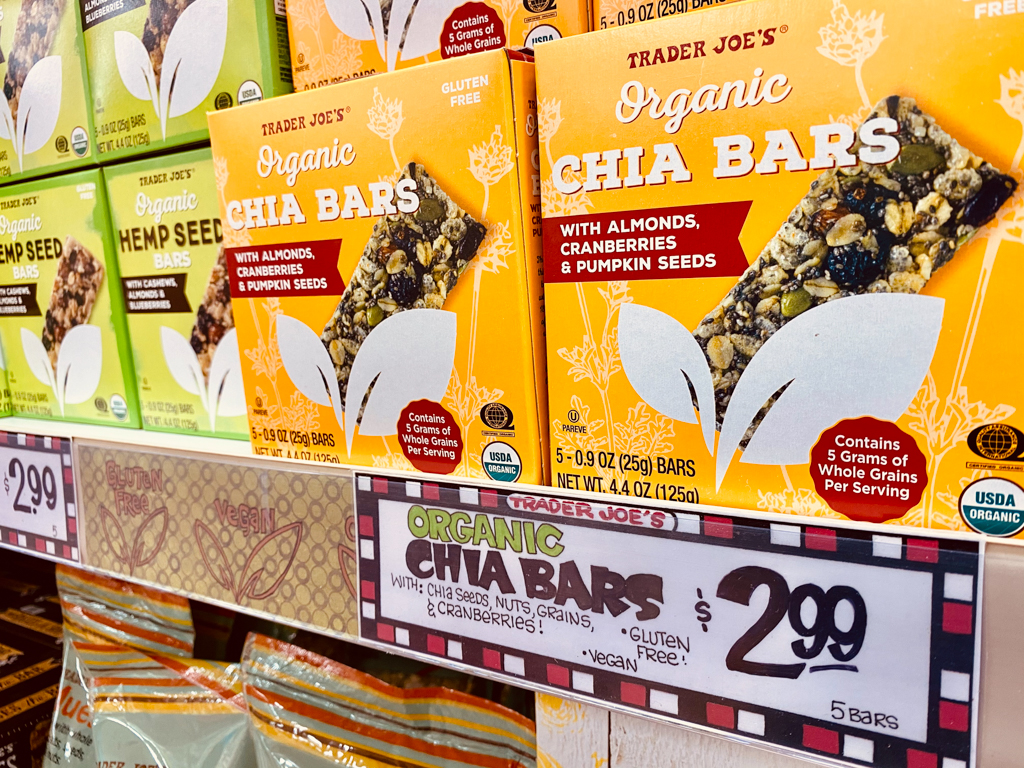 Offerings as far as the eye can see, including what I firmly believe is the world's most addictive trail mix – Omega blend. No really. Come for some walnuts and leave with dried Bing cherries and garlic & onion pistachios. That's how tempting the offerings are. And right next door is a vast assortment of exciting granola bar options. Rarely do we use exciting as a descriptor for these chewy snacks, but trust us. The Chia Bars (with almonds, cranberries, and pumpkin seeds) are as healthy as they are delicious.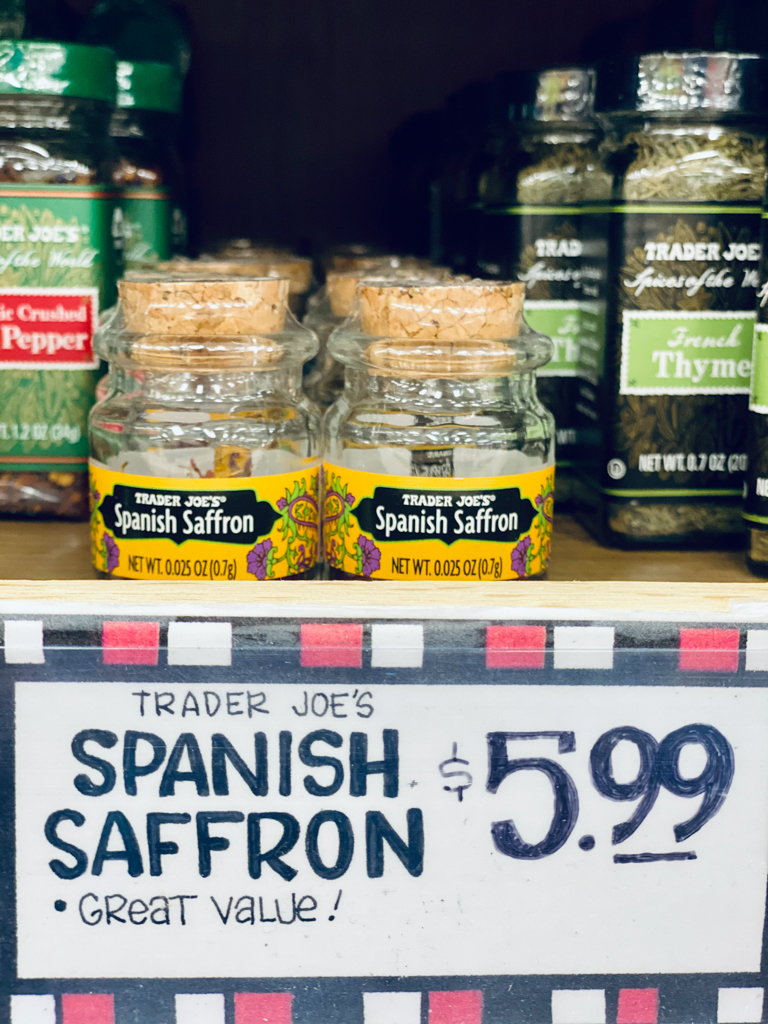 Even if you have never crossed a Trader Joe's door, there's a good chance you have heard about its Everything But the Bagel Sesame seasoning blend. This jack of all trades classic can amp up the flavor profile of everything from (yes) bagels, to hummus, to tofu scrambles, or avocado toast. Lesser known, but equally thrilling for foodies is the very affordable Saffron carried year-round. For around $6 you can pick up a .7g jar of this specialty spice, the perfect amount for batches of saffron rice or one giant paella! Other unique finds include Furikake, a Japanese multi-purpose seasoning. We've sprinkled it on rice and in miso soup for a seaweed-forward vibe. (Just know, this taste might not be for everyone!)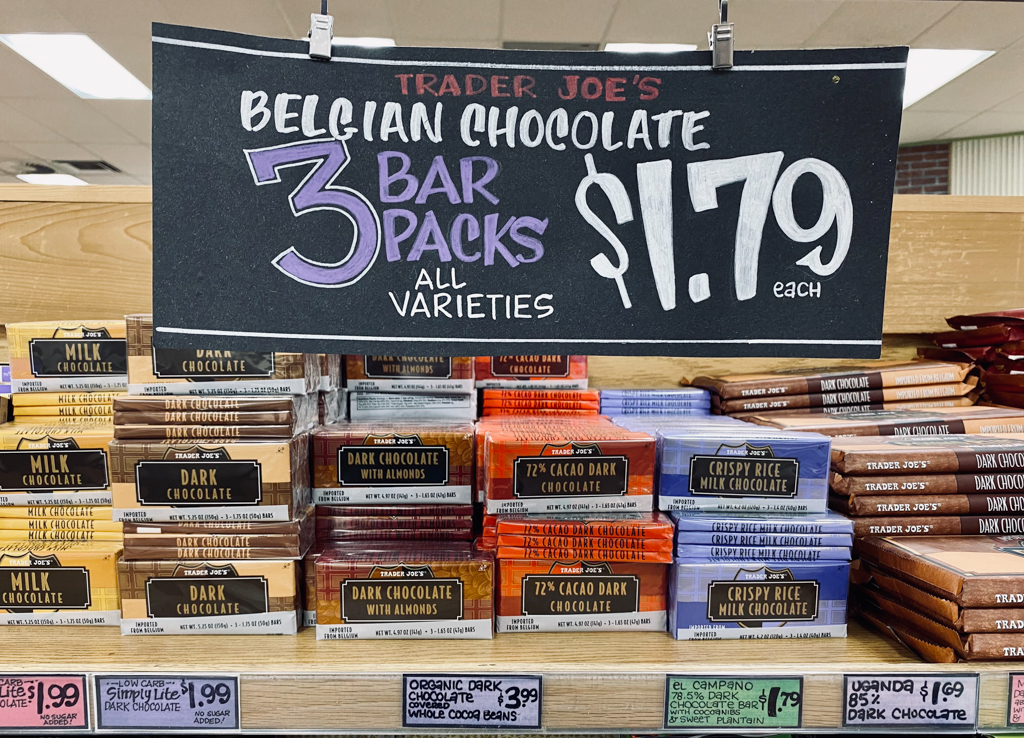 What can I say, one vegan's party food is another's staple. It's a rare trip to our local Trader Joe's when we don't pick up a few delightfully vegan chocolates. Our all-time faves? The dark chocolate bars from Belgium and the Dark Chocolate Sunflower Seed Butter cups from heaven.
You are one stop away from throwing the best party of your life. We really don't need a reason for throwing a party or for hitting up Trader Joe's, but it sure is nice when we can tag team these efforts.
Neary has there been a review of Trader Joe's without mention of this iconic product. This colloquial nickname for Charles Shaw wine will actually run you closer to three bucks, but it's still the best value you are going to find anywhere. It offers a range of vegan-friendly varietals including Cabernet Sauvignon, Merlot, and Shiraz. (Note: Charles Shaw wine whites are reportedly not vegan-friendly.) Charles Shaw has also expanded to offer a line of organic wines, still cheap and pretty tasty.
Looking for crowd-pleasing party apps? Just swing by the deli aisle and pick up any one of the killer dips. Hummus (including fun flavors like eggplant and cilantro jalapeno), garlic spread, and black bean dip are always invited to our parties. Pair with pita, veg, or any one of Trader Joe's many vegan chips or crisps.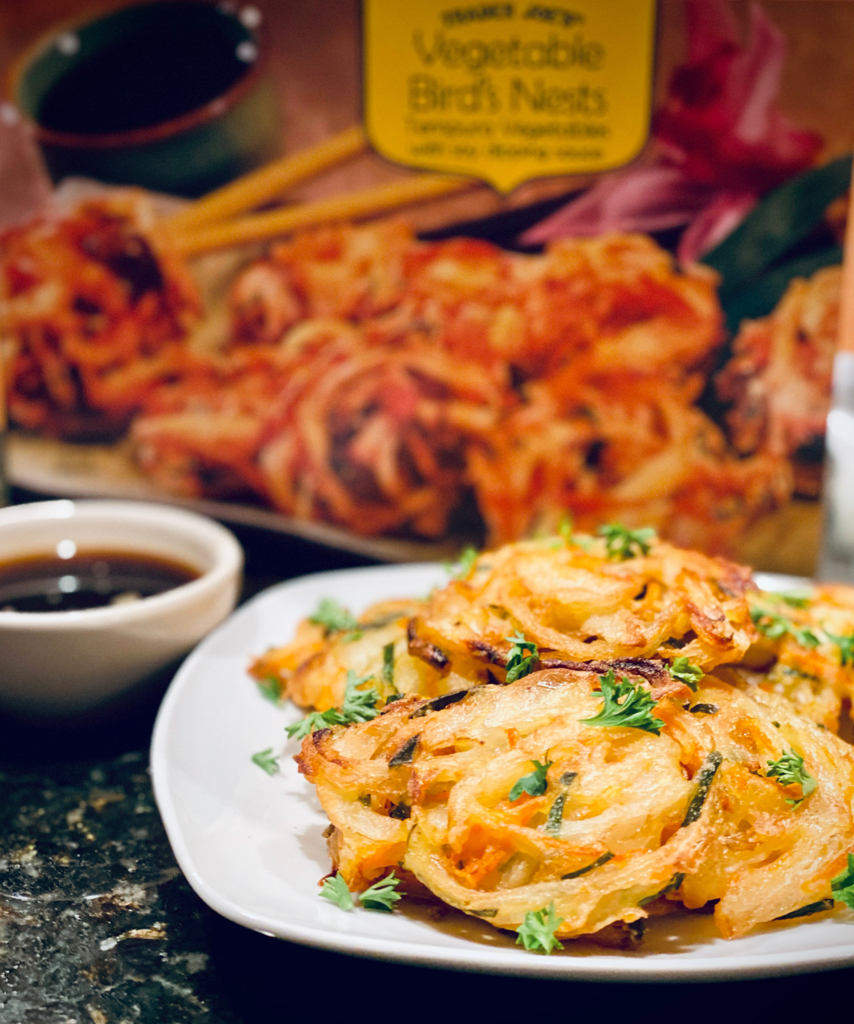 Vegetable Bird's Nests and Fully-cooked Falafel (both found in the frozen aisle) are a sure-fire way to keep your party guests in the kitchen. We love to serve with Gyoza Asian dipping sauce and any of the aforementioned hummus.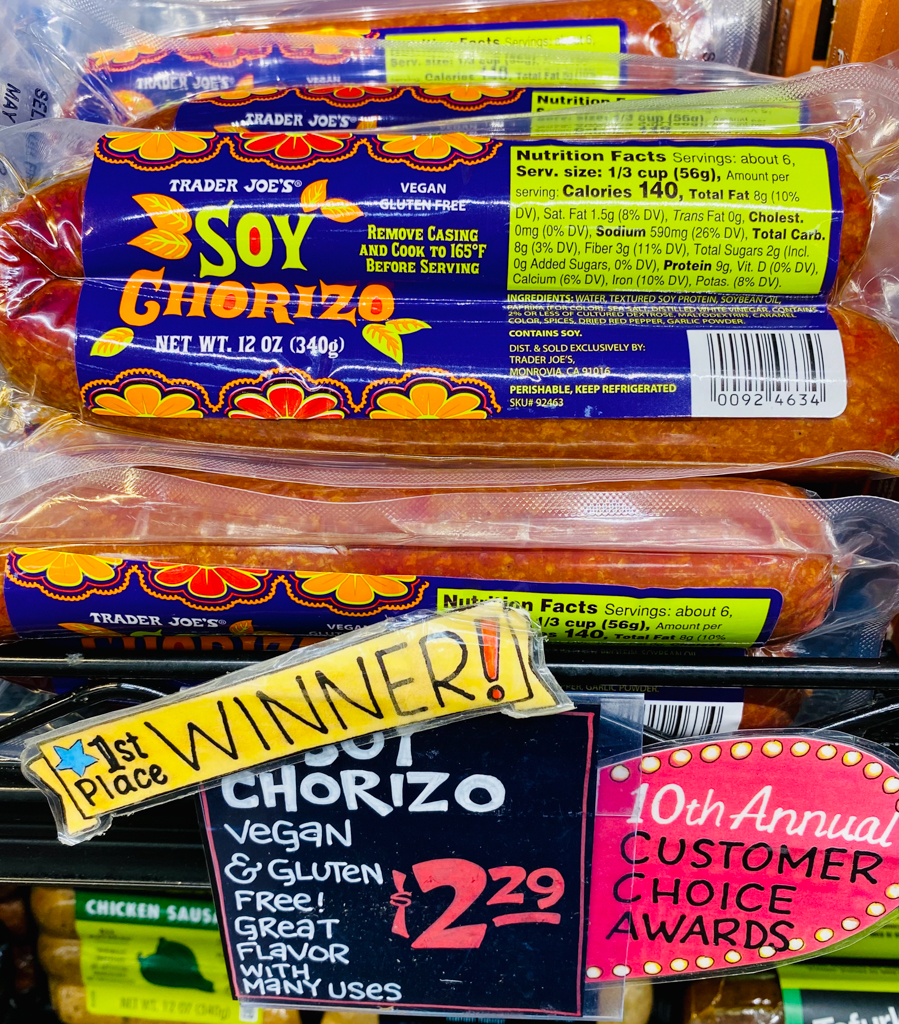 This spicey (and gluten-free) textured soy protein might be a splurge for the waistline, but not the wallet. It's only $2.29, but fair warning, it packs quite a bit of sodium. Still, we've added this to countless party foods from quesadillas to queso. Pro tip? For a quick and flavorful dip, consider adding soy chorizo to Trader Joe's Cashew Fiesta Dip.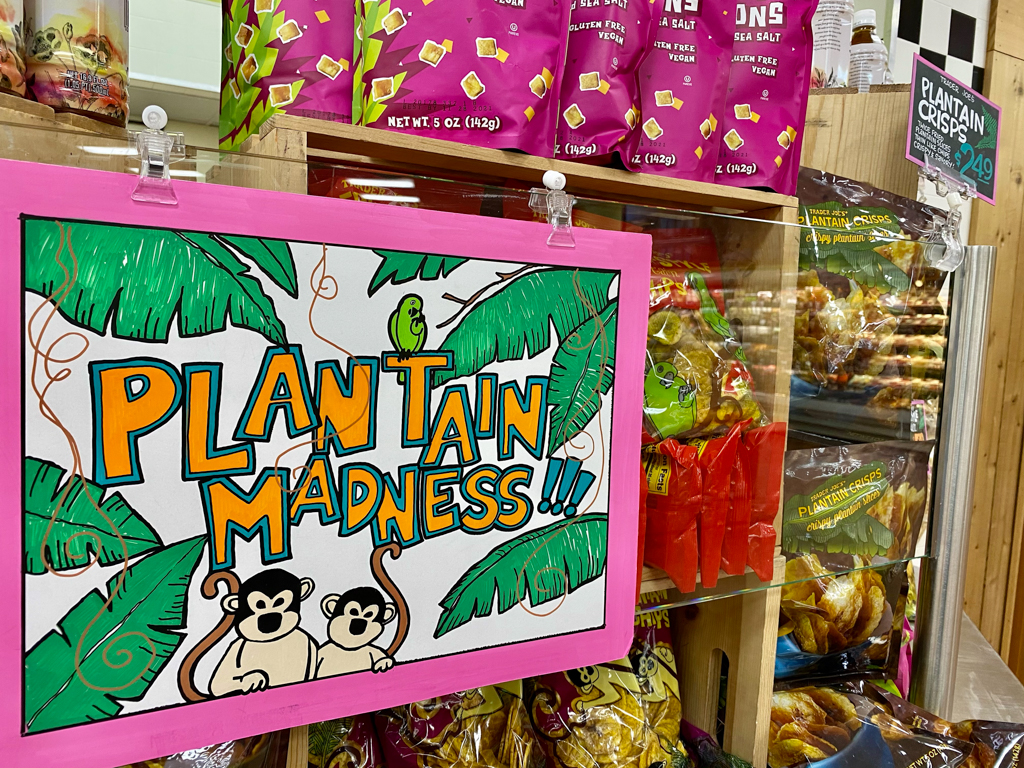 These Peruvian delights might be the most addictive item on our list! They are picked when they are just ripe enough to be slightly sweet, so each bite is a wonderful combination of sweet and salty. We've just picked up the Jerk-Style variety, part of Trader Joe's Plantain Madness, for a fun twist on these tempting treats. With their initial kick and same crispy texture, these might be even more addicting than the originals.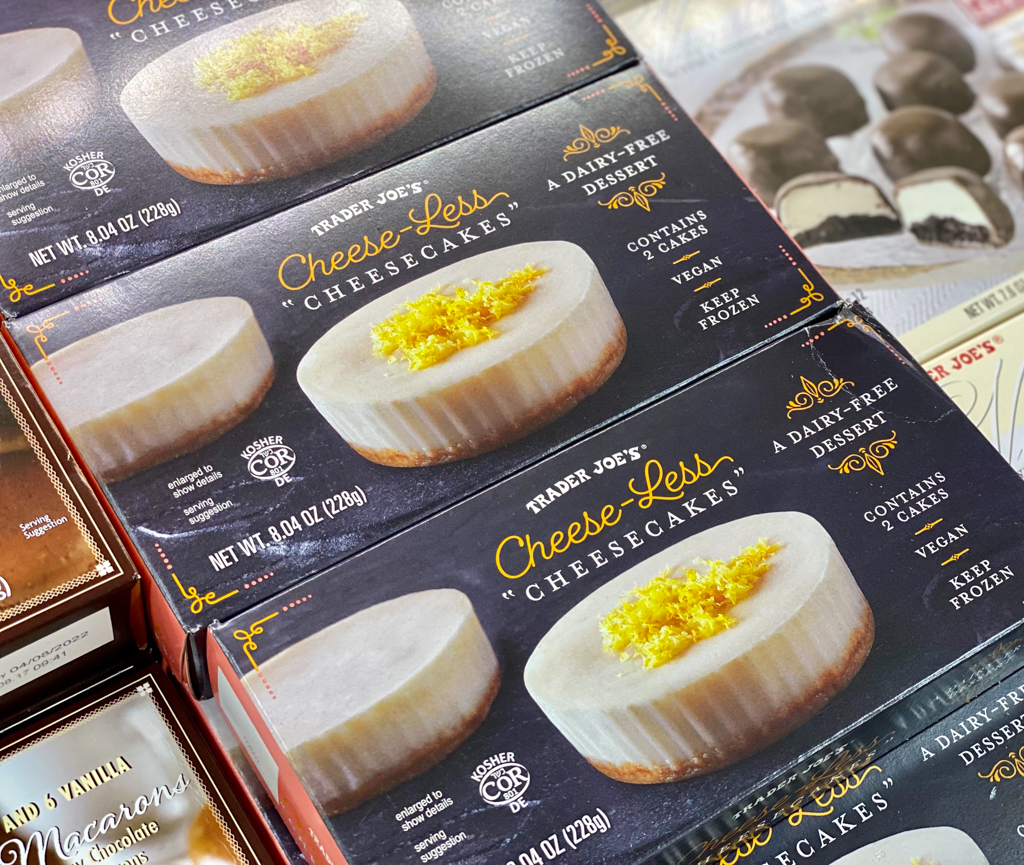 Dethaw and serve. Doesn't get much easier than that! Cheese-less Cheesecakes are cute and customizable, just add toppings of your choice to jazz up the party. We love topping with fresh fruit and cutting into quarters for bite-size fun.
TJ's carries a host of seasonal vegan goodies that will have you looking forward to the holidays like a 5-year-old. Pecan Pie Filling in a Jar, Cranberry Orange Relish, and Amarena Cherries (in syrup) are some of these finds. When you see these beauties, be sure to stock up!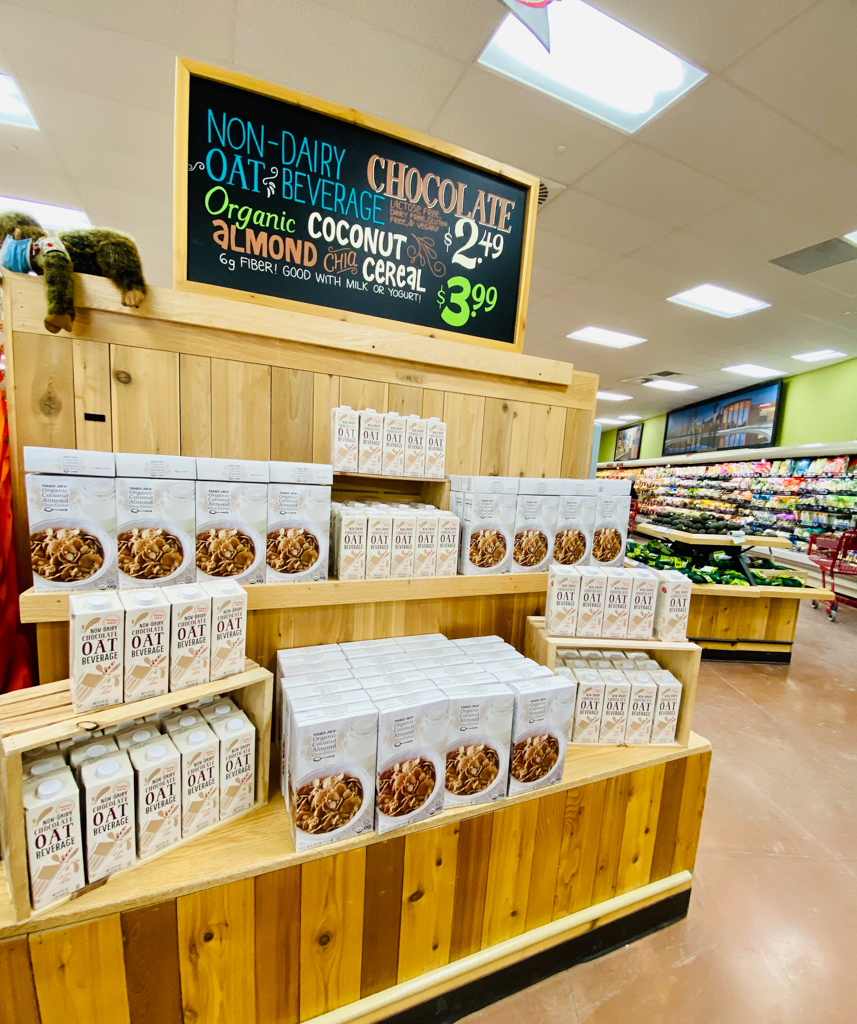 If Trader Joe's quality products, affordable prices, warm staff, and inviting stores aren't compelling enough, know this – you can sample anything in the store (in non-pandemic times). Not sure about that Omega mix? They will open it up right there and let you try it! Not sure if that spicy hummus is too much for your taste buds? No problem, sample away. Yet another reason to look forward to a post-Covid time!
Trader Joe's Michigan locations include Ann Arbor, Grosse Pointe, Kenwood, Rochester Hills, Bloomfield Hills, Kalamazoo, Northville, and Royal Oak. If you are anywhere near these, it's worth the trip. Adventure awaits!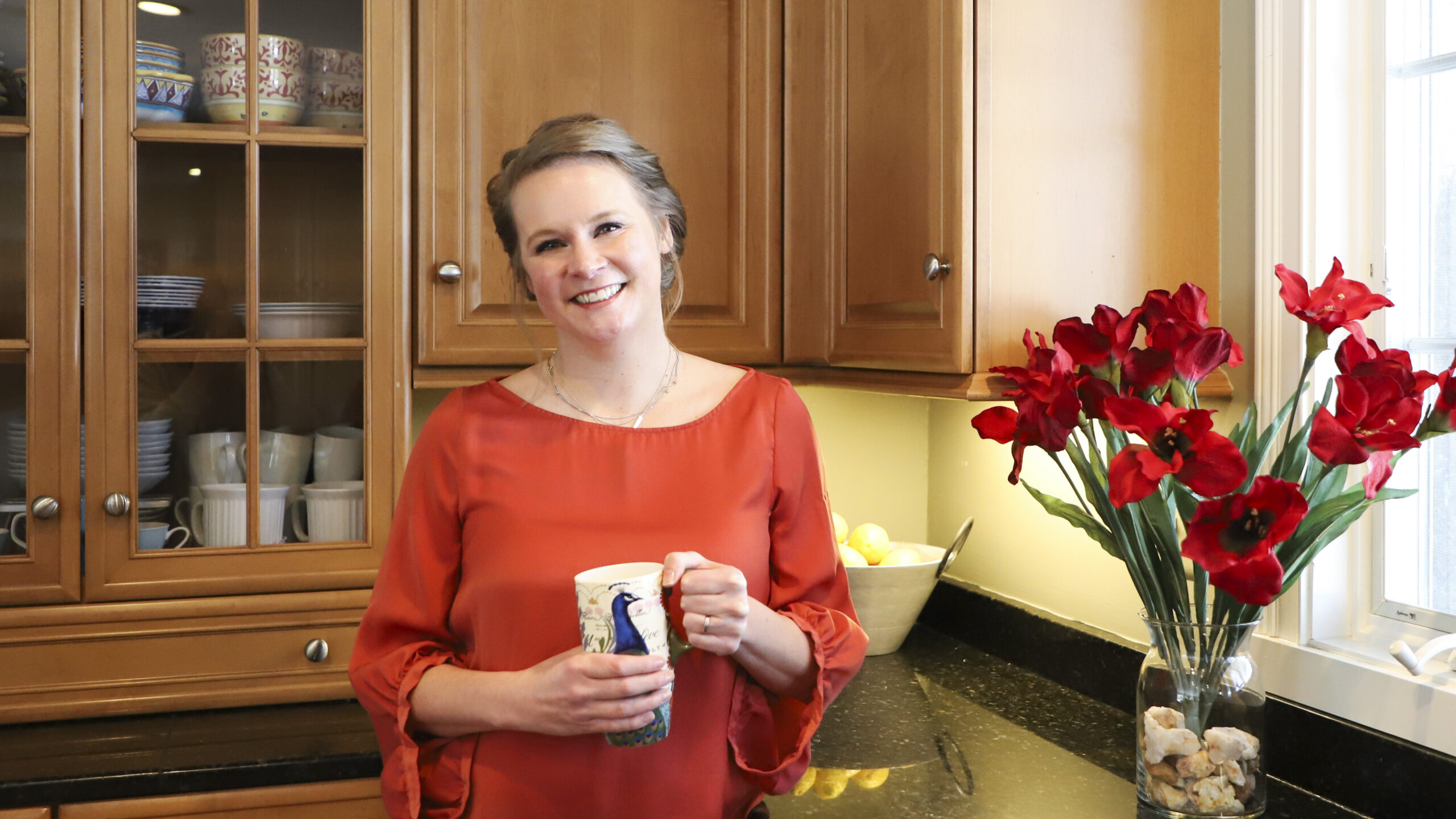 The Vegan Mary is a plant-based consultant, connoisseur, and writer, based in Oakland County. Mary holds a certificate of Plant-Based Nutrition from Cornell University, as well as a Master's degree in Business. Her continuing education includes multiple food and nutrition courses at Harvard and Stanford Universities. She spent the last two decades as a marketing executive before turning her sites and her experiences to vegan consultancy. TVM services clients across the US. When she's not cooking (or eating!), her passions include physical fitness, reading, and traveling. Find her on Instagram @the.veganmary and on Facebook @therealveganmary.