The best plant-based foods at target
guest blog by the vegan Mary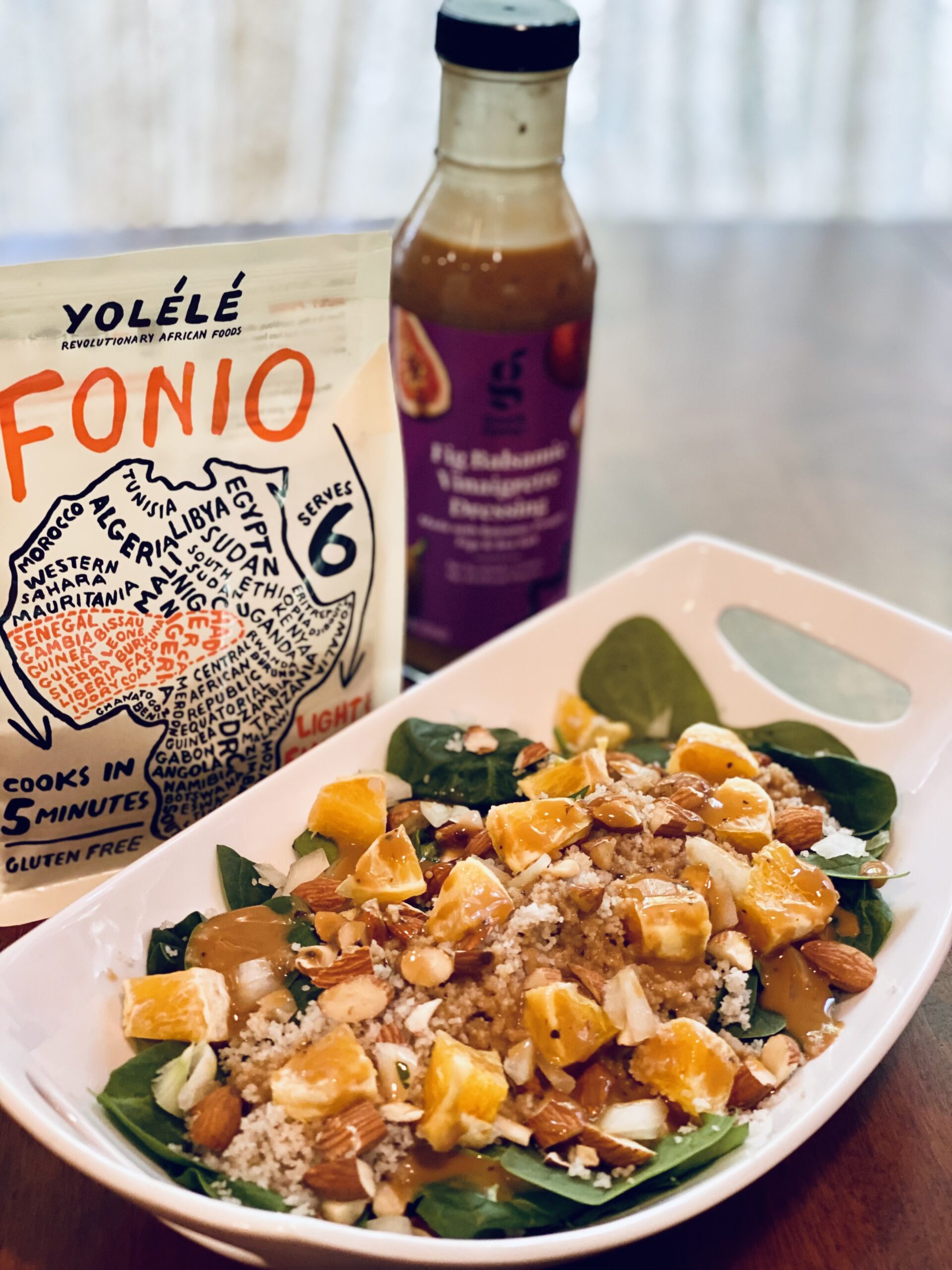 Target is a beacon for many a shopper. In fact, there are scads of memes and reels about heading in for a single item and coming out with a cartload.  But Target for vegan food?!  Admittedly, this has never been top of mind when we are heading out for groceries. We've always affectionately known Targeé for its affordable fashion and for being the home of the (often costly) aforementioned "never thought we needed that until we saw it at Target" shopping experience. But in our endless quest for the best vegan eats around, not to mention the thoroughness of our grocer series, we headed to our local Target to check out what lies beyond the blouses, blenders, and baby gifts.                                                                                                                     
(Special kudos to anyone who can name the 1990s big screen John Hughes gem that features Target as the backdrop for an overnight caper done wrong; featuring one would-be loser who envisions "Jimget" when reporting for his overnight shift.)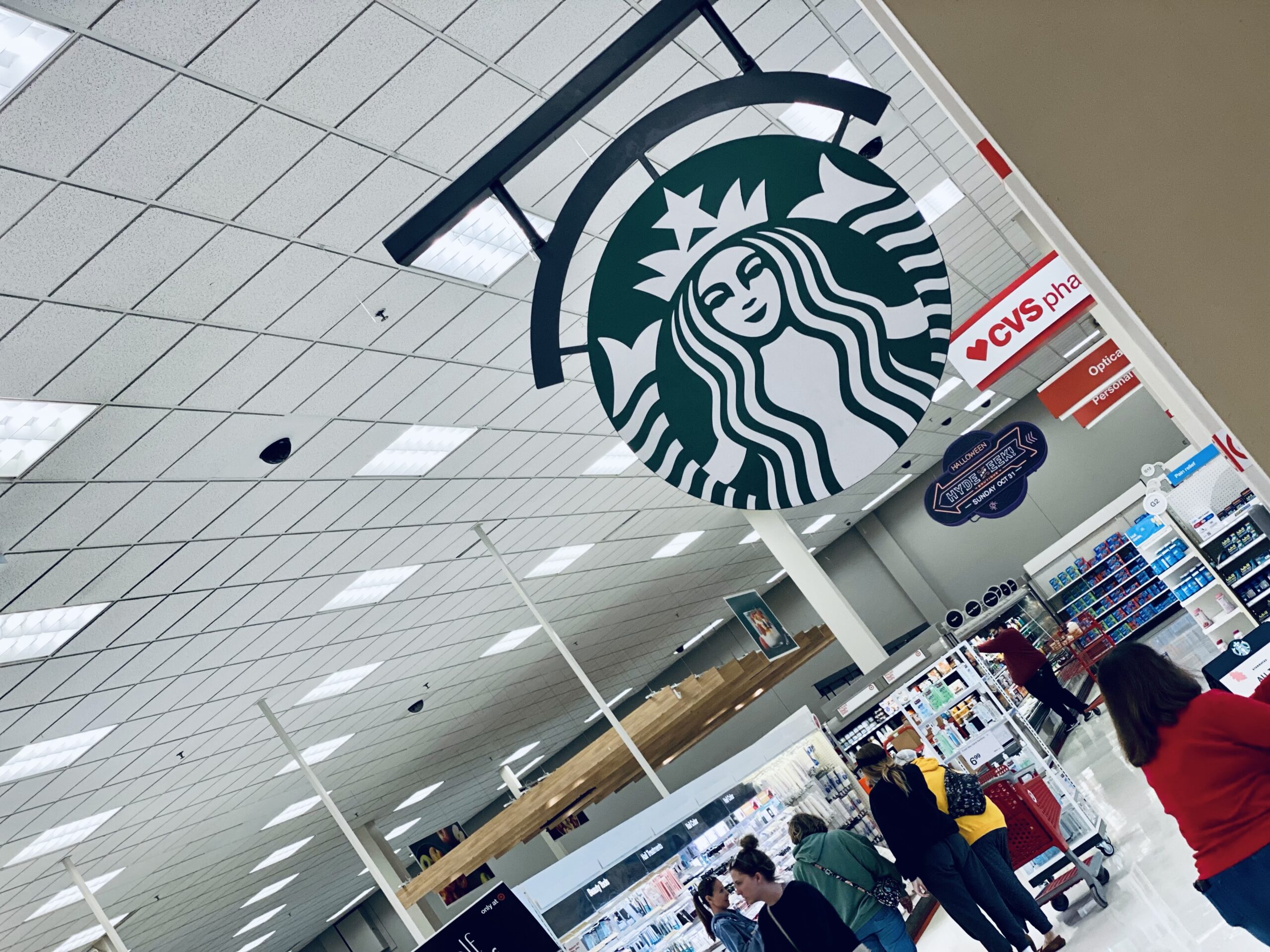 Our first stop in Target is…Starbucks! As anyone who's entered the store in the past few years can attest, Starbucks coffee shops adorn the entrance of most Target stores. A little known fun fact: Starbucks Rewards members can get free refills during their Target shopping excursions! The catch? You can't leave the store and you can only get certain freebies: coffee, iced coffee, and iced teas. If you aren't a Rewards member, it will run you .50¢. (Same refill policy goes for Starbucks stand-alone shops too.) Now, a not-so-fun fact: While many Target stores also feature Pizza Hut Expresses, sadly they don't currently feature any plant-based eats. That said, if you still need to energize your shopping spree sans coffee, you can pick up a soft pretzel (no butter) and an Icee at the good ol' Target food court. We do love our coffee though so, with our almond milk latte firmly in hand, we hit the grocery aisles of Target.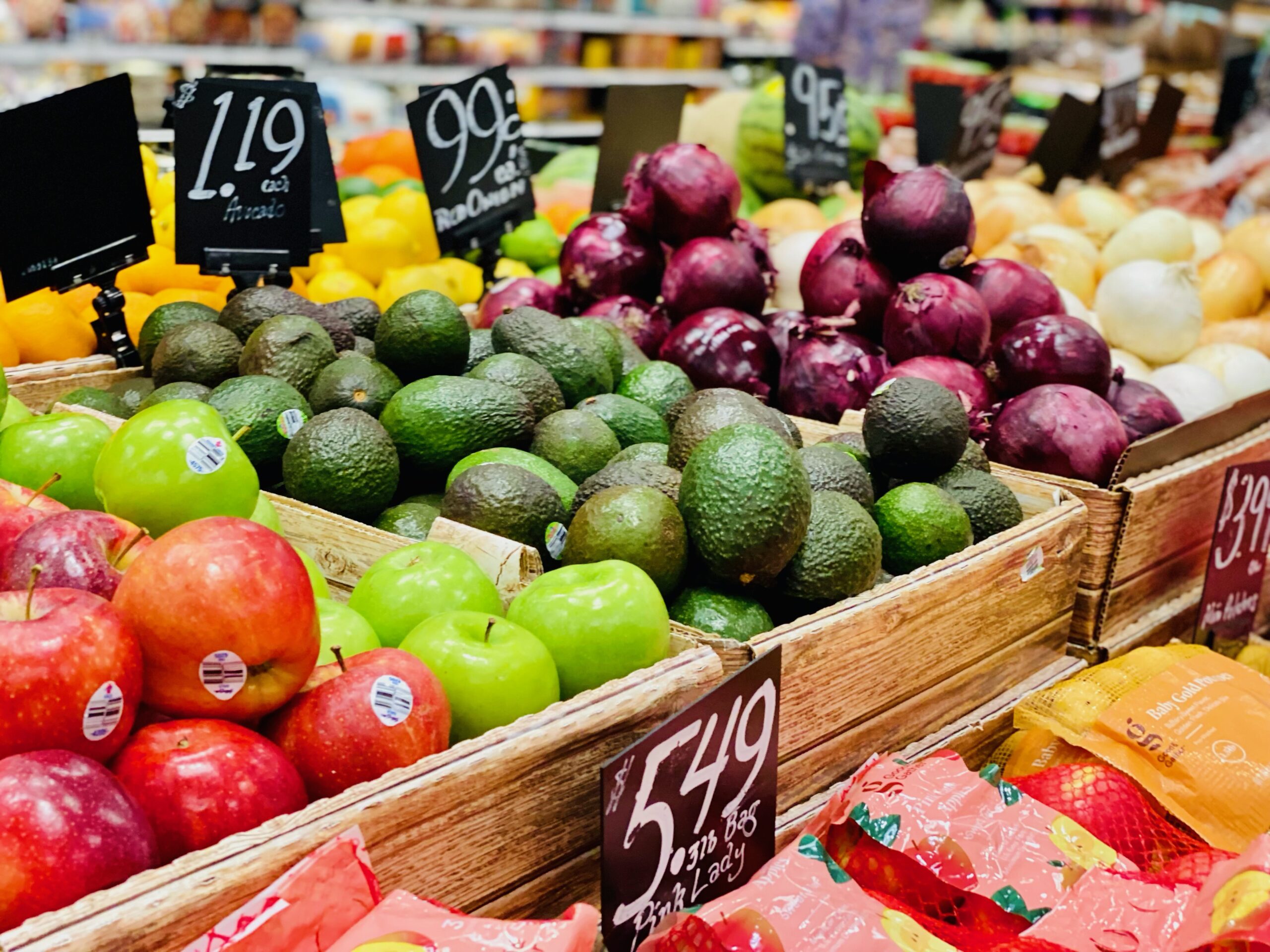 Our methodical trek through the grocery aisles started in produce. Target has the basics covered for sure, making it a viable grocery stop for standard items like apples, bananas, bell peppers, onions, carrots, and greens.  We even spotted a few seasonal items like pomegranates and apple pears. But shoppers beware: if you are on the hunt for any "specialty" produce, let's say serrano peppers or shiitake mushrooms, you likely aren't going to find them at Target.   

Many of the available fresh fruits and veg are labeled Good & Gather, which Target aficionados know as the stores' flagship food label brand. Old-time Target shoppers might remember the Simply Balanced and Archer Farms brands, which Good & Gather has supplanted. Good & Gather products tout no artificial flavors, synthetic colors, artificial sweeteners, or high-fructose corn syrup; much like Kroger's Simple Truth brand and Meijer's True Goodness. While not all Good & Gather products are vegan (or even vegetarian), we found a few in the refrigerated aisles worth talking about.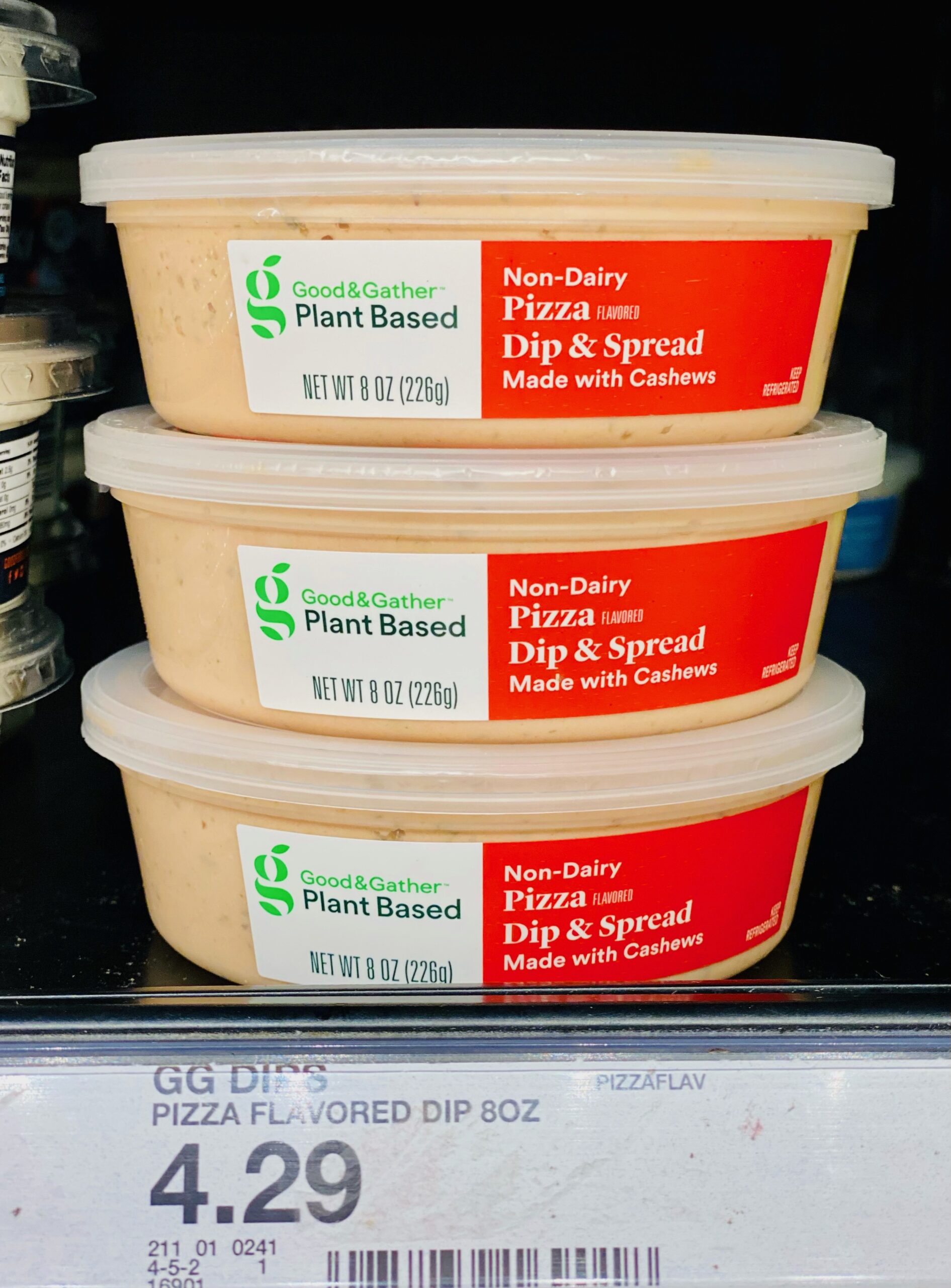 Chief among these refrigerator finds? Dressings and dips! Good & Gather plant based pizza flavored dip and Caesar dressing seemed like no brainers! We enjoyed each of these creamy blends with gusto; the pizza dip paired with chips for a light splurge and the Caesar dressing atop greens for a savory lunch. While we are (regrettably) new to the world of pizza flavored dip, we found this oregano-forward dip simply delightful. The next time we buy (we may be late to the pizza dip game, but we are now hooked), we plan to couple with soft pretzels (drool). Also atop the list for our next Target run? The sister flavor to the Caesar dressing we loved so much: plant-based green goddess.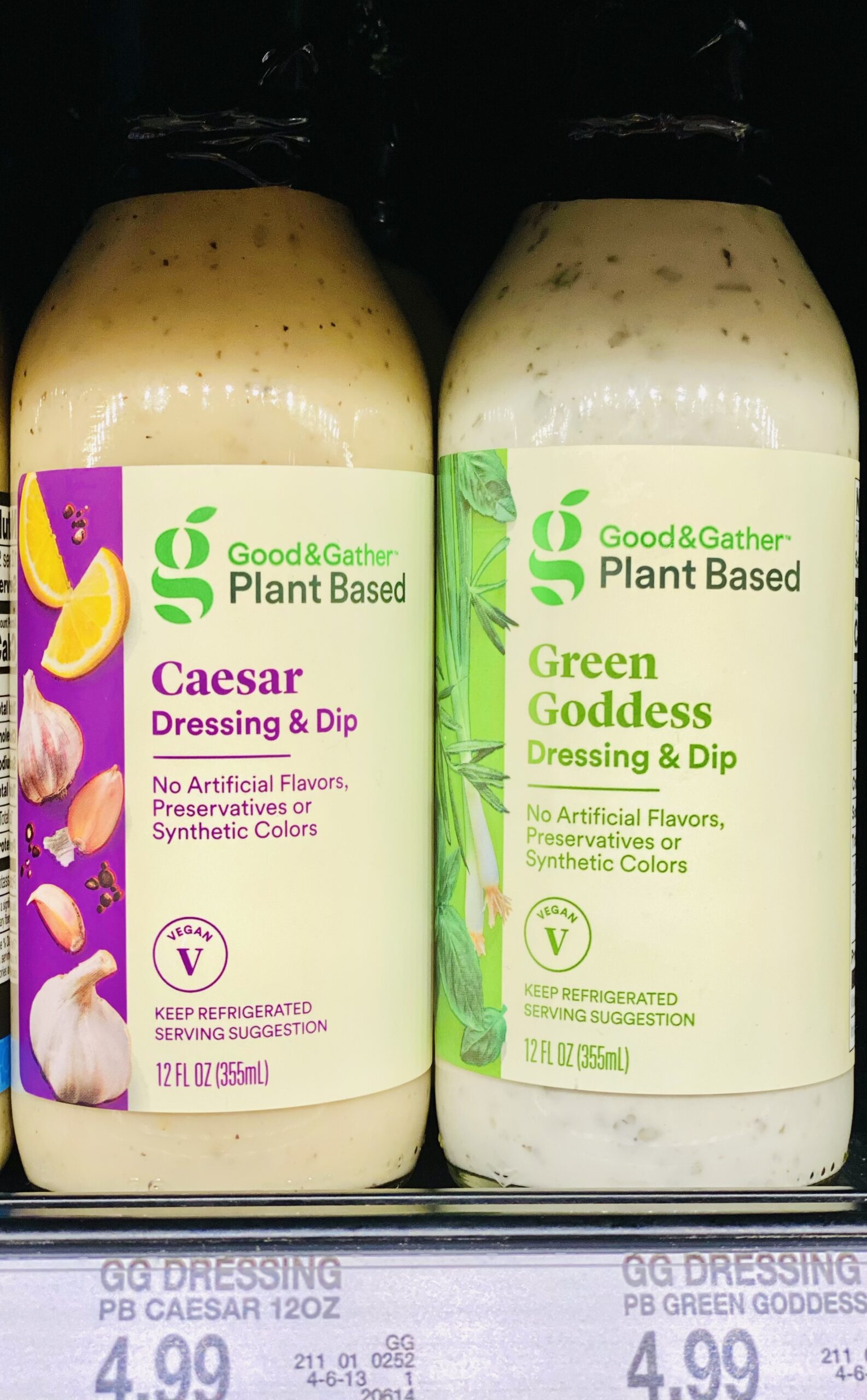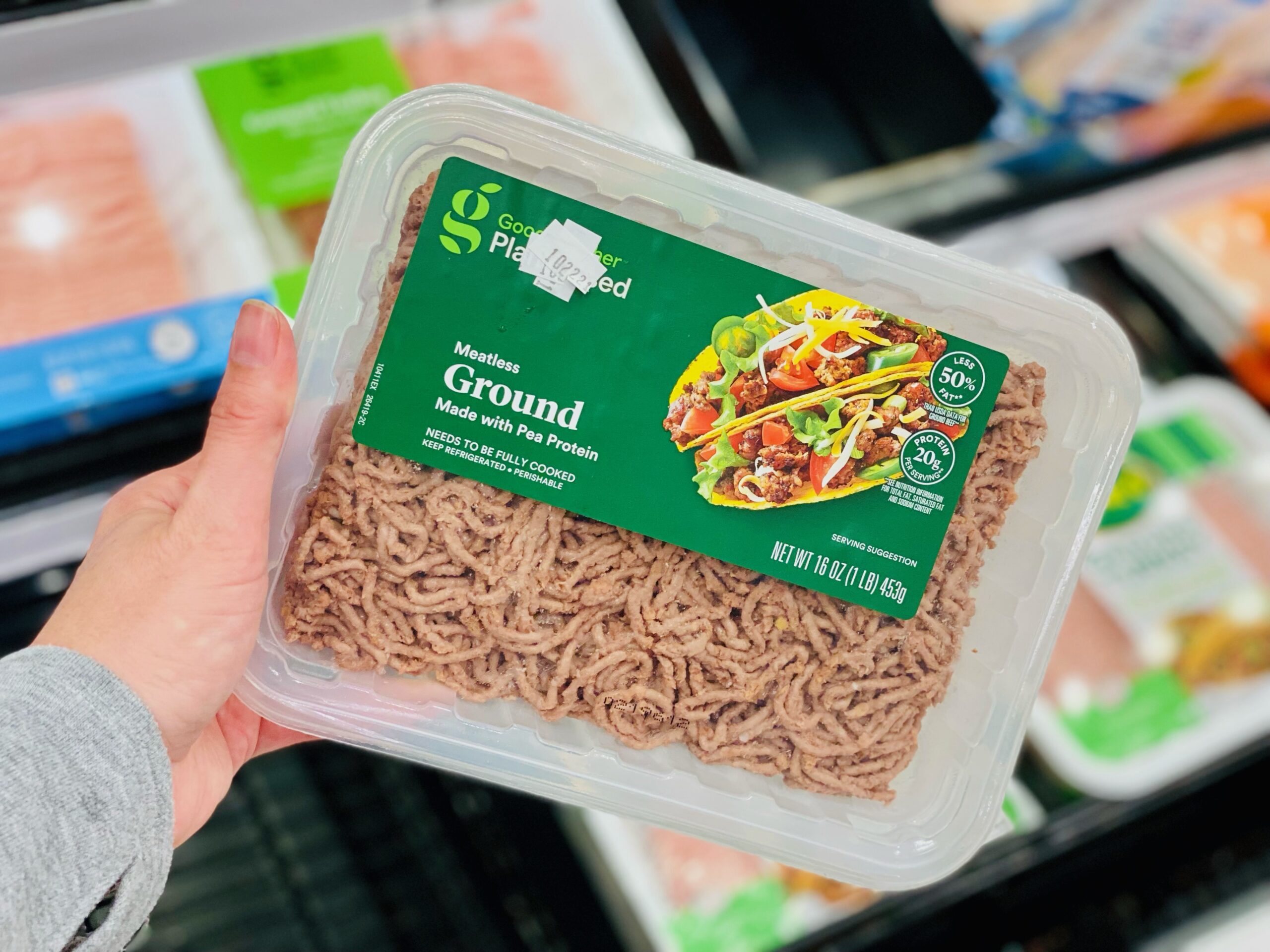 The Good & Gather plant based goodness doesn't stop there. We browned its meatless ground (made from pea protein) for taco Tuesday and were not disappointed. The meat had an appealing texture, aroma, and overall flavor. (And at $5.99 for 16 oz, it's a bit more affordable than name brands like Beyond and Impossible). Trust us when we say that this makes eating your peas even more enjoyable!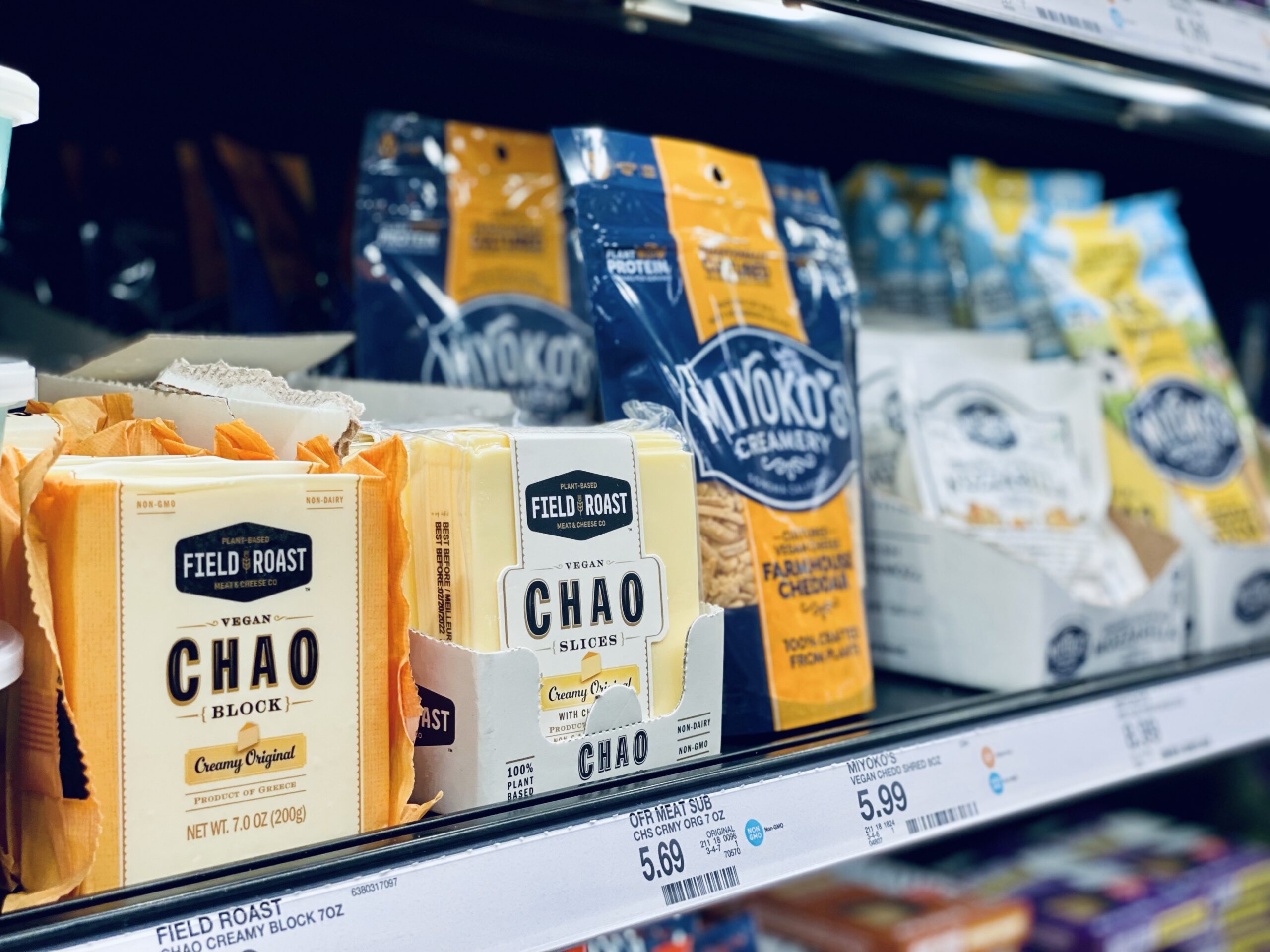 While we were keen to explore all of the Good & Gather vegan eats we could get our hands on, we'd be remiss if we didn't share the plethora of brand name refrigerated vegan items we came across as well.  Dairy-free Oui (our fav), So Delicious, and Silk yogurts abound, in classic 5 oz containers, as well as in 4-packs and 24 oz mega containers. Target also features top vegan cheesemakers like Chao and Miyoko's (including its new cheddar sticks!), Good Foods spicy queso blanco dip, Tofurky deli slices, Field Roast sausages, Beyond meatless ground, Cleveland Kitchen fermented plant based marinades, and ReddiWhip non-dairy topping. While not all staples per se, this Target customer appreciated shopping the brand leaders in these pretty relevant categories.   
Another headliner from our cruise down the refrigerator aisle? Non-dairy creamers as far as the eye could see! From plain janes to festive favorites, Target shelves were stacked with options: Starbucks, Oatly, Califia Farms, Nut Pods, Silk, Coffee Mate's Natural Bliss, and even Good & Gather branded options. We aren't sure why Target is so deep in plant based coffee creamer products, but we aren't one to question awesomeness when it comes in charming flavors like maple brown sugar, caramel vanilla, and pumpkin spice. Coffee, anyone?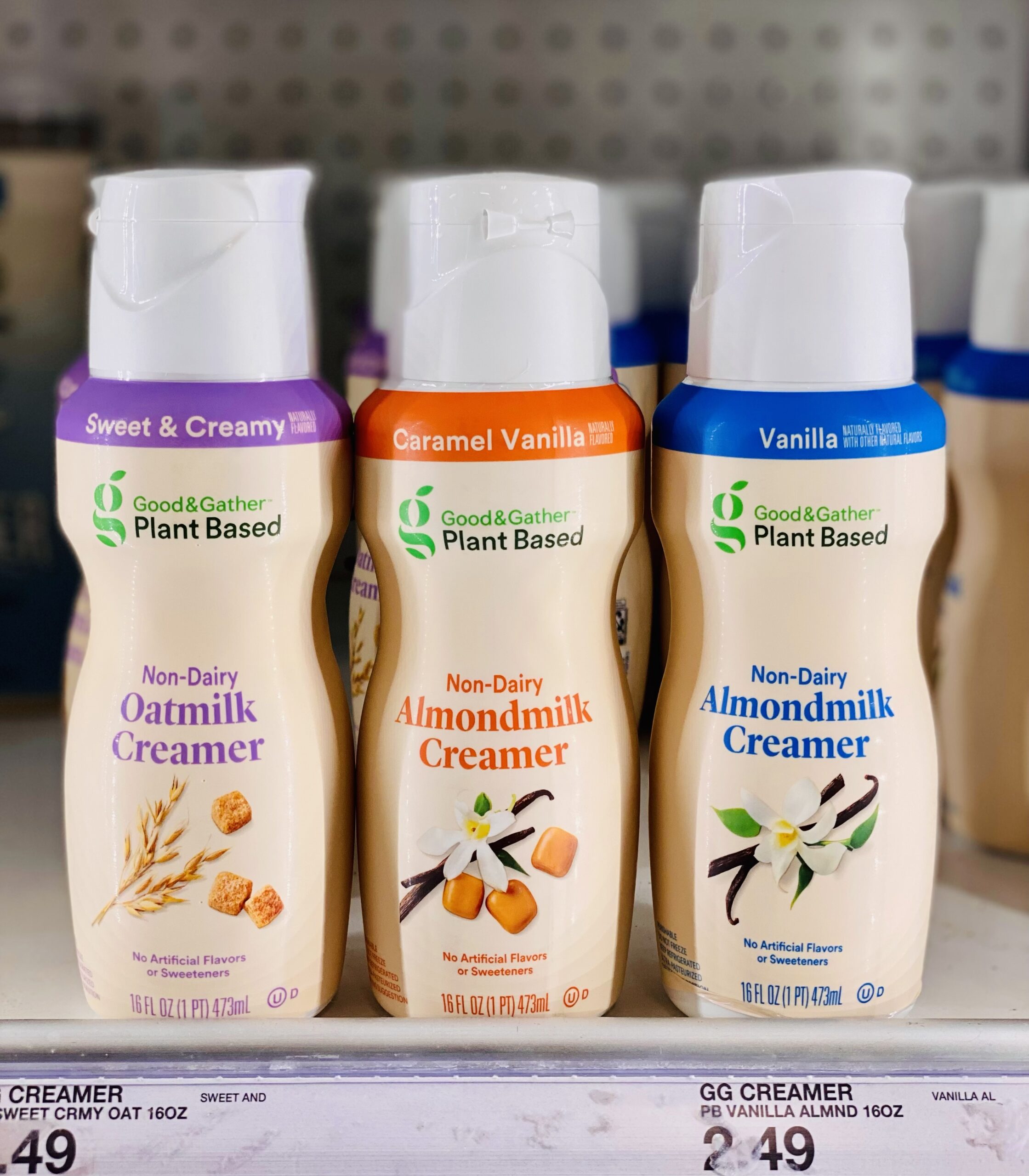 After hitting the veritable jackpot in the non-dairy creamer section, we meandered into frozen eats and were just as delighted to find options *galore*. Between the ready-to-heat meals, frozen snacks, and patties, we were looking at an entire freezer chock full of plant based eats. (While we loved that this cooler was label "plant based" we caution shoppers to read labels closely. Fat Rabbit brand, for instance, is labeled "plant based" but also contains dairy.) We found many of our favorites like MorningStar, Sweet Earth and Gardein, as well as some intriguing newer retail brands like Purple Carrot and The Tattooed Chef. Although mesmerized by the outright wall of Sweet Earth ready-to-heat and eat meals, we decided instead to branch out and taste test some of the newer (and Target specific) offerings.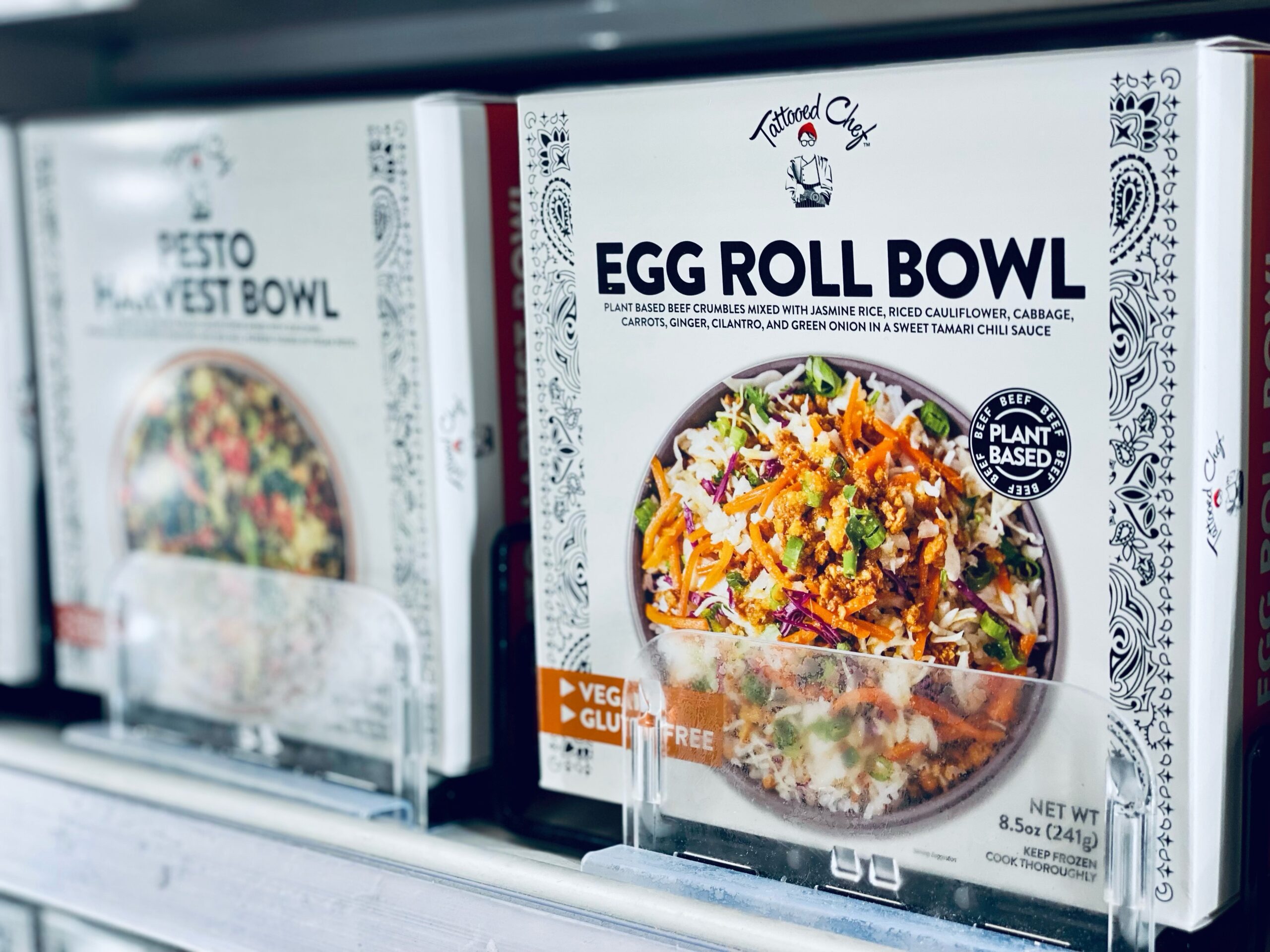 We started with Good & Gather plant based meatless chick'n tenders. While not what we would consider a healthy staple (packed with sodium), these tenders were just as tasty as their name brand counterparts, but cheaper (9 oz for $3.29).  

Wunder Nuggets by Crafty Counter made for an equally tasty (and gluten free) snack but with more nutritional value (hello, dietary fiber!) thanks to navy beans, chickpeas, flaxseeds, beets and cauliflower. We were feeling frisky, so we opted for the harissa spiced version. Yummy! Think falafel vibes but with more flavor and dare we say, many more dipping sauce options. (While the nuggets didn't come with dipping sauce, we snacked on them with a sweet and sour, BBQ, and even ranch… talk about versatility!)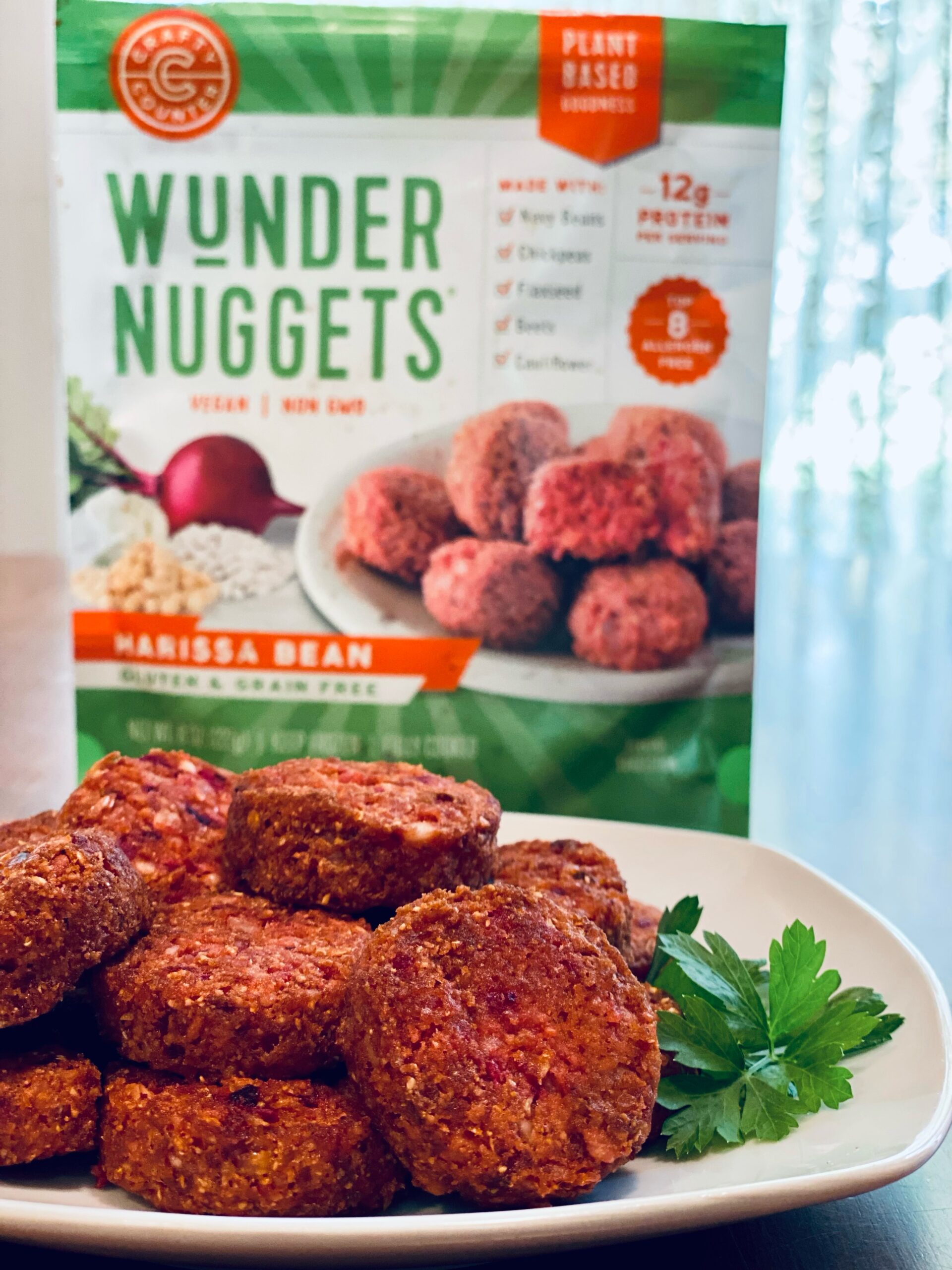 Next up: Wholly Veggie! buffalo cauliflower wings. We've tried more than our fair share of vegan buffalo wings, most hitting well below the mark. These however, we found crispy, spicy, and a little too easy to polish off; with just enough sauce to make the flavor pop, but not too much to make you sweat. We paired with vegan ranch out of habit, but these beauts don't really require any additional sauce. 
The frozen delights didn't end there. We found our way to the non-dairy frozen treats and hovered for a while. So very many choices! Pints of vegan frozen treasures from So Delicious, Nada Moo, Ben & Jerry's, Oatly, and Halo Top, not to mention Target's own Favorite Day brand. With our cart bursting with treats (yes it looked like we were throwing some sort of vegan birthday party), we peeled ourselves away but not before spying My Mochi desserts, Magnum and So Delicious dipped bars, and Daiya cheesecake.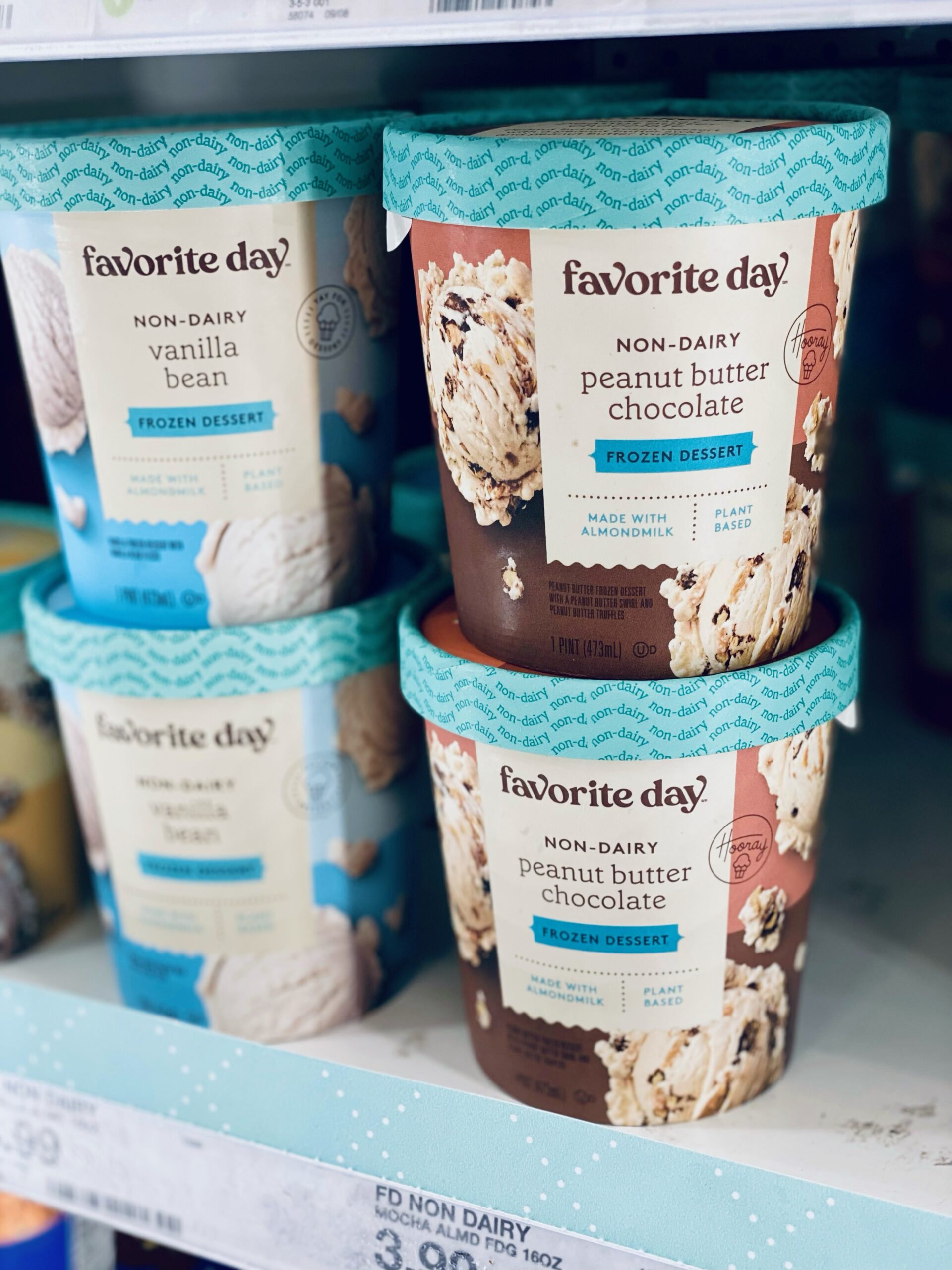 Ok, ok, I know what you are thinking! One can't live on non-dairy creamer and cauliflower wings alone (although that sure sounds lovely to us). So with our carts full of the fun-yet-splurgy items, we made our way to the depths of the pantry aisles in search of nutrients, staples, and convenience products we could masquerade as laborsome dinners. We eyeballed hundreds of items and distilled them down to our favorite vegan finds, some Good & Gather branded, some name branded, but all delicious!
Good & Gather cooking sauces. While these sauces are actually earmarked for slow cooking meats, we've tossed them in a slow cooker with plant based basics (think tofu, jackfruit, beans, or fresh veg) with great success. Lots of flavor with minimal effort; win! Just be mindful that not all flavors are vegan (caritas, carne asada, and sweet sesame were the vegan sauces we spotted.) In that same aisle? Good & Gather dressings, all vegan and all with a global flare! General Tso's, Mongolian garlic, and Korean gochujang BBQ 12 oz bottles were priced at only $2.99, making them as affordable as they are adventurous.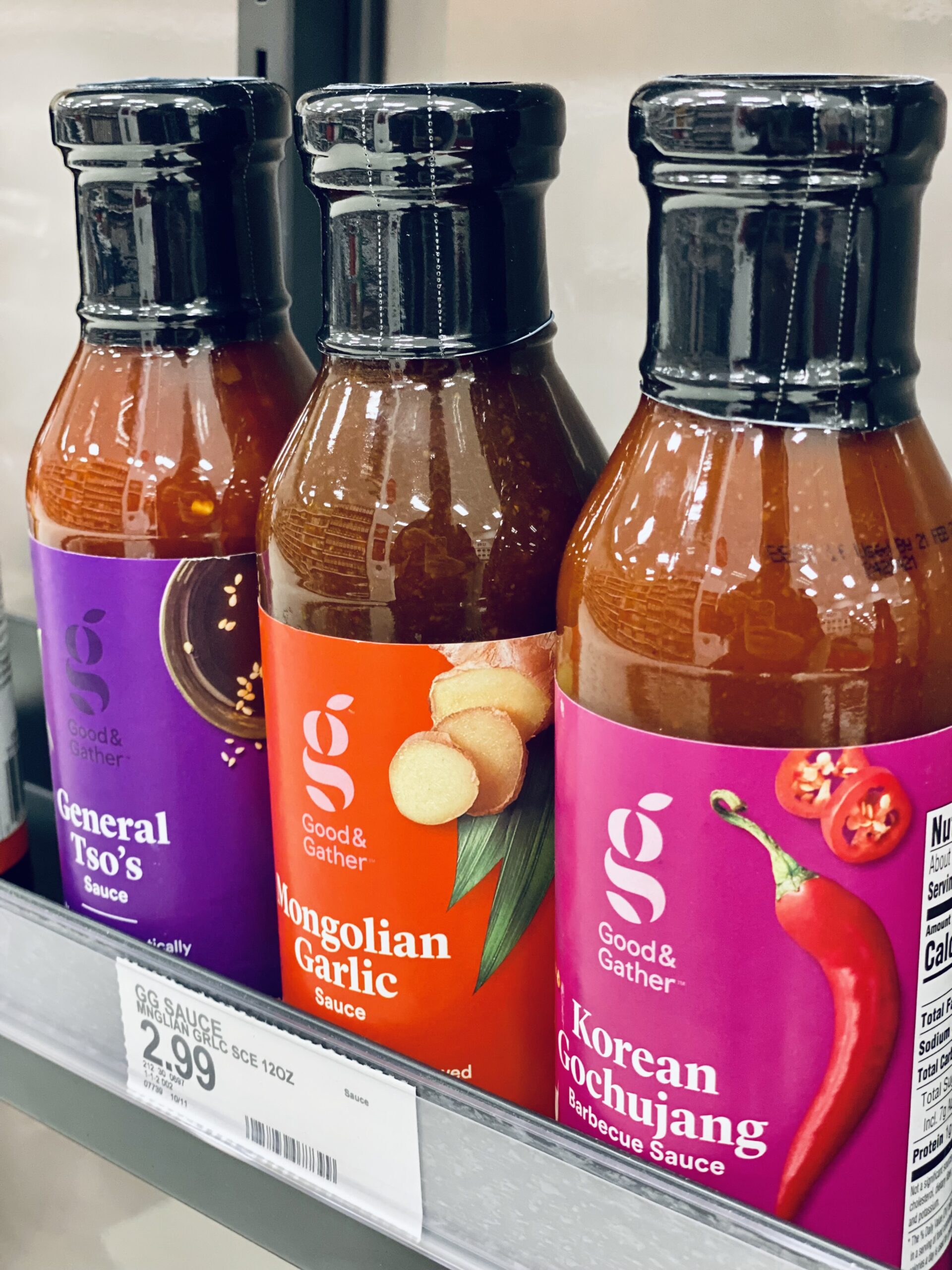 Good & Gather pasta, in various glorious shapes sure to fulfill all of your pasta dreams. Imported from Italy, these simple wheat-based products are hard-working pantry heroes! Stelline (tiny little stars) pair perfectly with chickpeas and veg broth for a hearty soup. Pennoni (tubular) slathered with creamy mushroom sauce for a savory stroganoff. Bring on the utility, bring on the fun!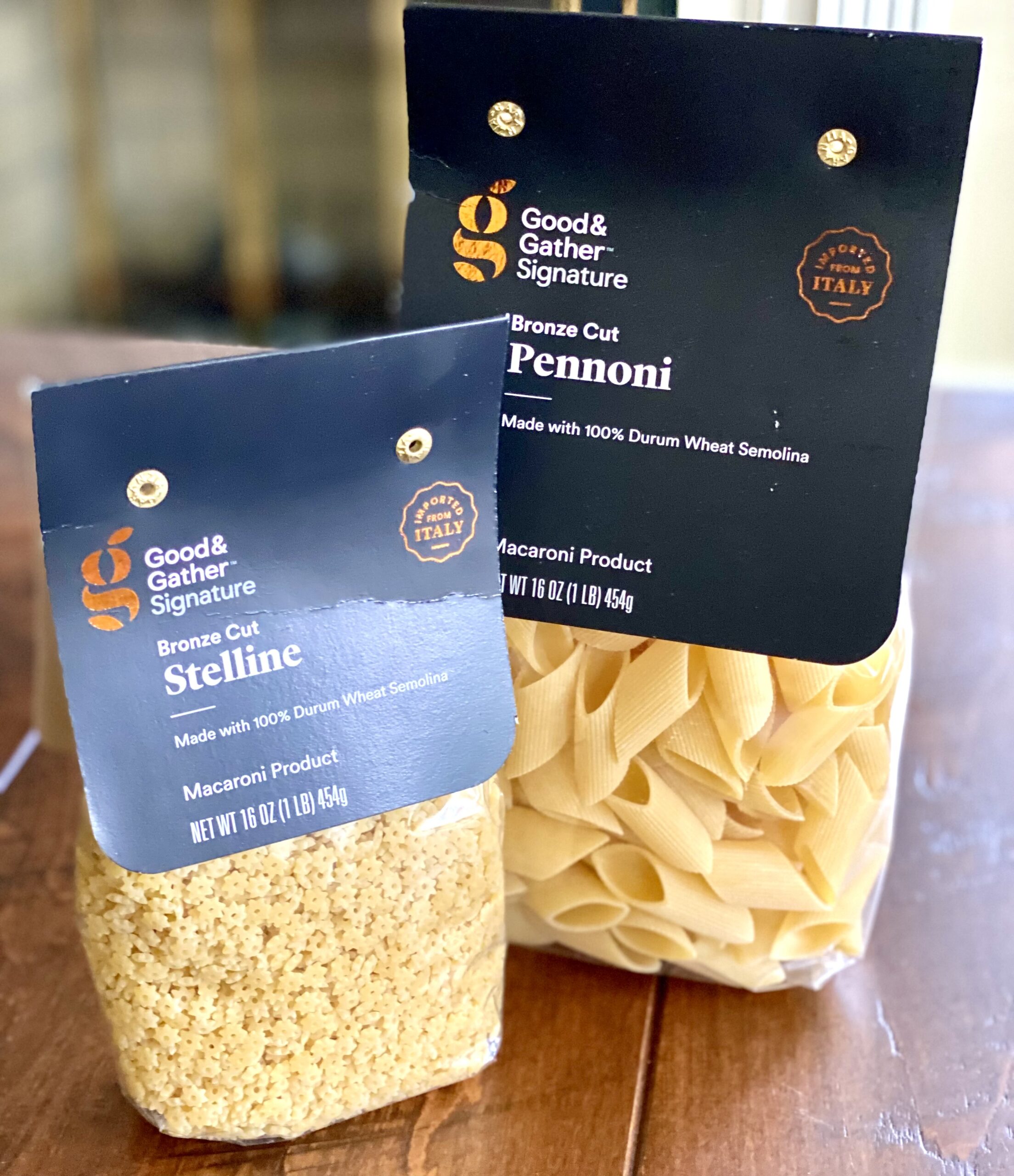 Yolélé Fonio. You may have never heard of Yolélé. You may have never heard of fonio. Well, friends, consider yourself introduced! Yolélé, loosely translates to "let the good times roll," is helping introduce West African grains to the world. Fonio, tiny gluten-free, ancient grains, are reminiscent of quinoa (but even smaller, if you can imagine) with a slightly nutty flavor. We like it for its novelty, versatility, not to mention health benefits (including amino acids vegans need). We were so keen on this new find, we've included a special fonio salad recipe at the conclusion of this article (featuring ingredients available at Target).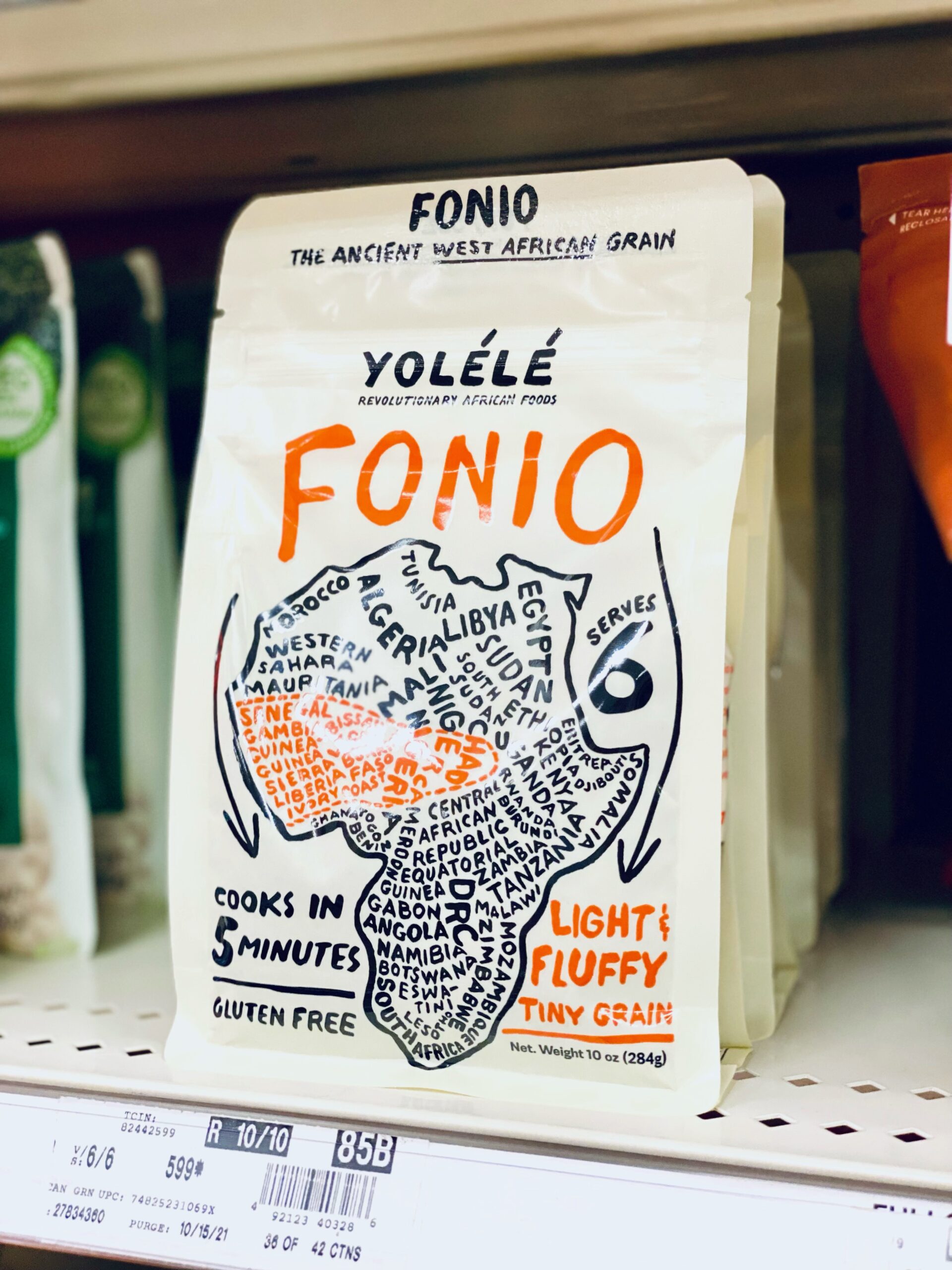 Dressing this fonio-inspired salad? Good & Gather fig balsamic vinaigrette, which we snagged for only $2.99. In that same aisle, we also picked up Good & Gather (organic) spicy brown mustard for a cool $1.89 and vegan mayo for only $2.69. While this mayo isn't the best we've ever had, it will definitely do in a pinch (or on a budget). Condiment crazy like us? Target has you covered.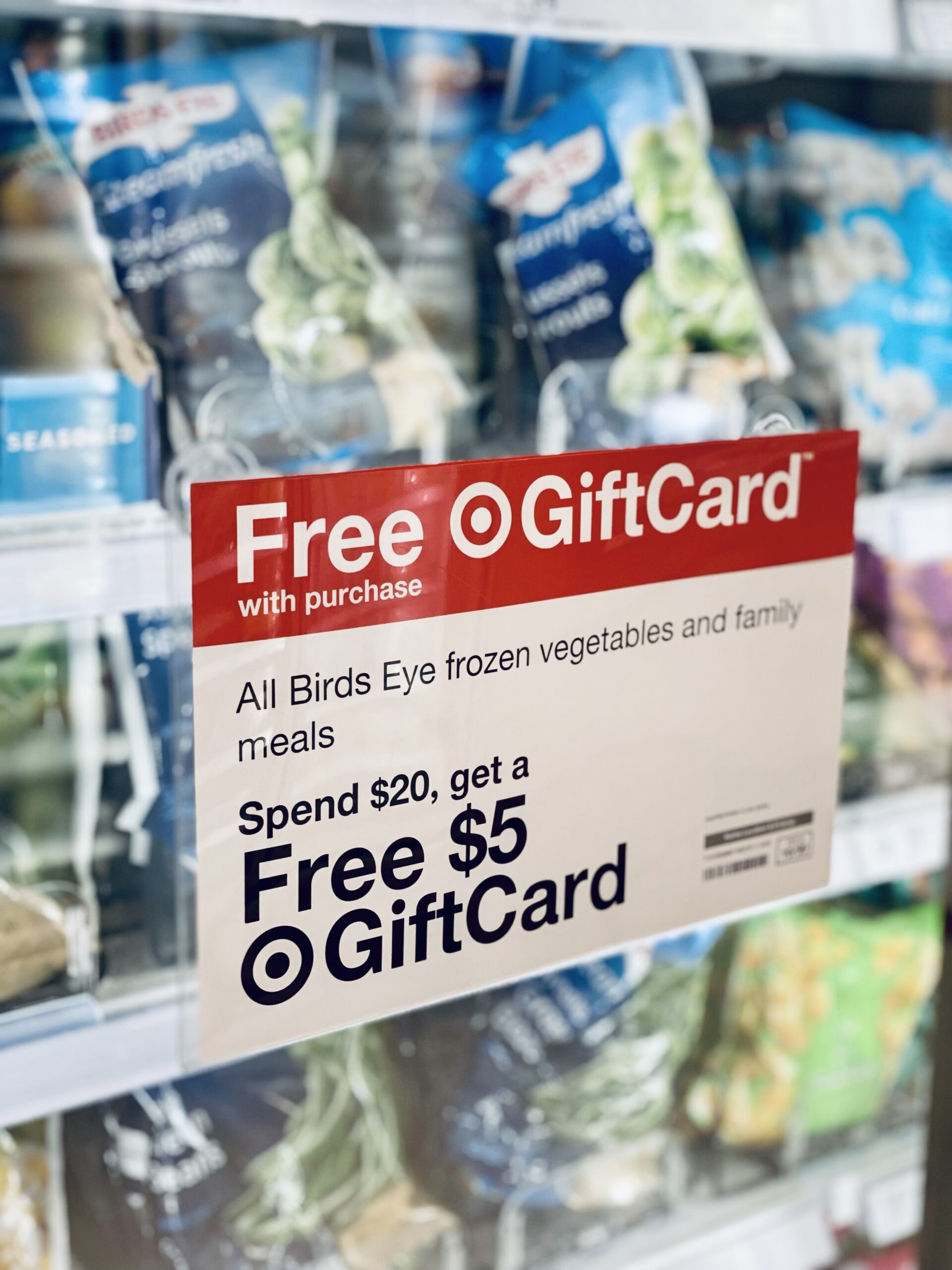 If this article has you ready to check out your local Target for your vegan basics, consider heading there on Tuesday, when Target launches its weekly food markdowns. Another tip, from one foodie to another? Keep a sharp eye out for the infamous Target gift card offers. That's right, get rewarded for stocking up on your favs. October's special, for example? Spend $20 on Birds Eye veggies and get a $5 gift card. (Check Target.com or your Target weekly circular for these killer offers!)     
If you are like so many trying to balance the needs of life, the thought of getting your grocery basics at Target (along with a new v-neck sweater and birthday party gift) might be just the ticket. And with grocery and essentials delivery (via Shipt) in many areas, as well as an expanded Drive Up service, Target offers loads of convenience and choices.  
This shopper's caveat? Not all Target grocery offerings are created equal. We hit a few stores in pursuit of this article and found quite a disparity in product offerings. That is to say, if you are fortunate enough to be in the vicinity of a large footprint store (or Super Target) your vegan options will be exponentially better.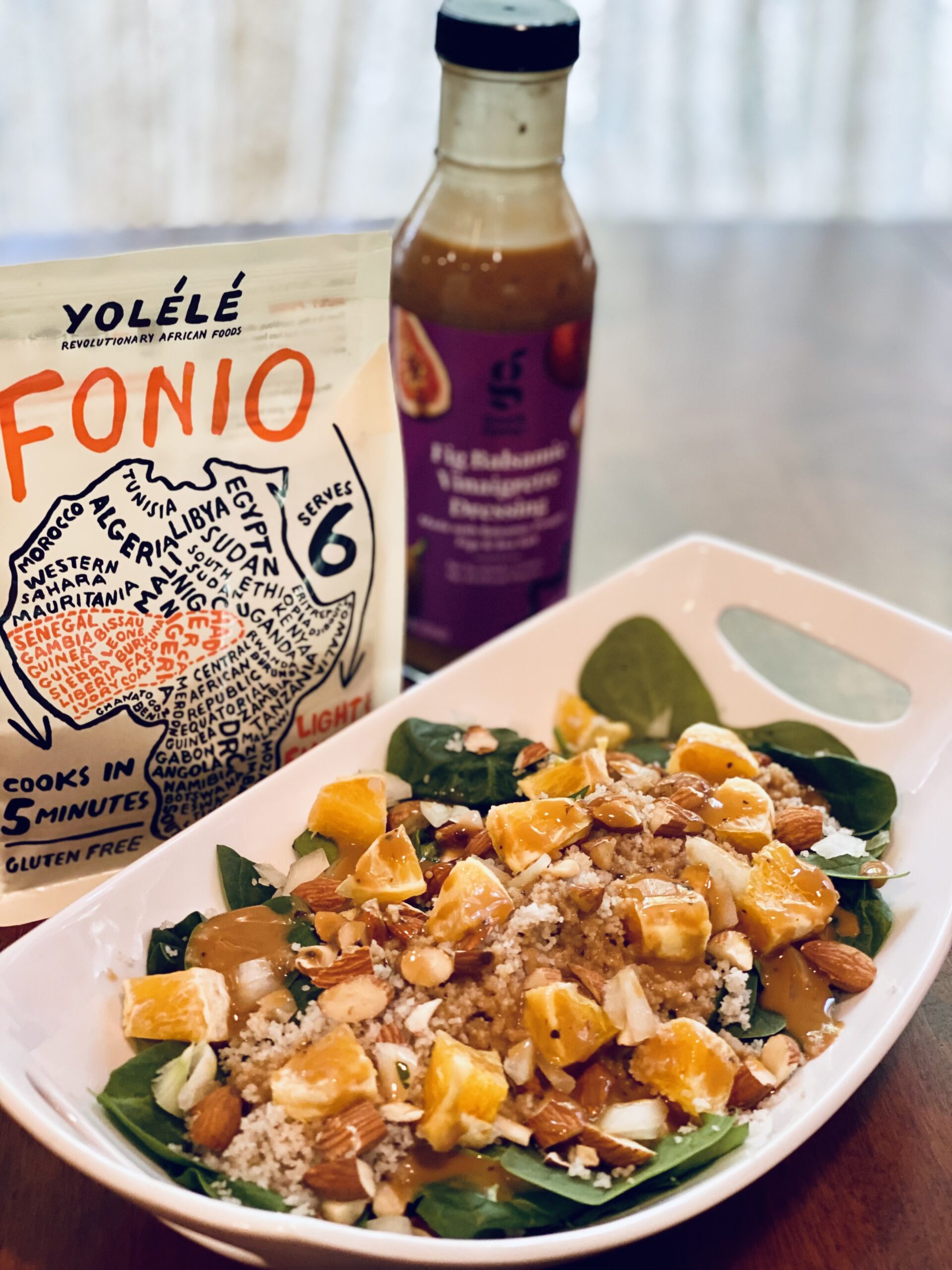 As promised, our Forino starter recipe! Simple, satiating, and all ingredients available at Target. Makes a perfect weekday lunch or effortless side.
What you'll need: 
½ c forino, prepared as directed and cooled  
3 c spinach, roughly chopped 
¼ c red onion, diced
½ c almonds, roughly chopped 
2 oranges, peeled and cut into bite-sized pieces 
Good & Gather fig balsamic dressing 
Optional garnish: vegan feta crumbles, chopped figs 
What you'll do:
Simply toss together all ingredients or layer for a more aesthetic vibe. Drizzle generously with fig balsamic dressing and garnish to suit your taste. Sub in apples and pecans (both also available at Target) for a more rustic flavor.

Still here even after the recipe? You must really like this article and we appreciate that (and you!) Congrats, you've made it to the movie trivia answer (unless you already Googled it 😉). Drumroll please! The movie is Career Opportunities. While admittedly we haven't seen this in a few decades, throwback 90s movies always seem like a fun idea. Give it a go on the next rainy Sunday afternoon; and on your next Target trip, check out the vegan eats and let us know what you think!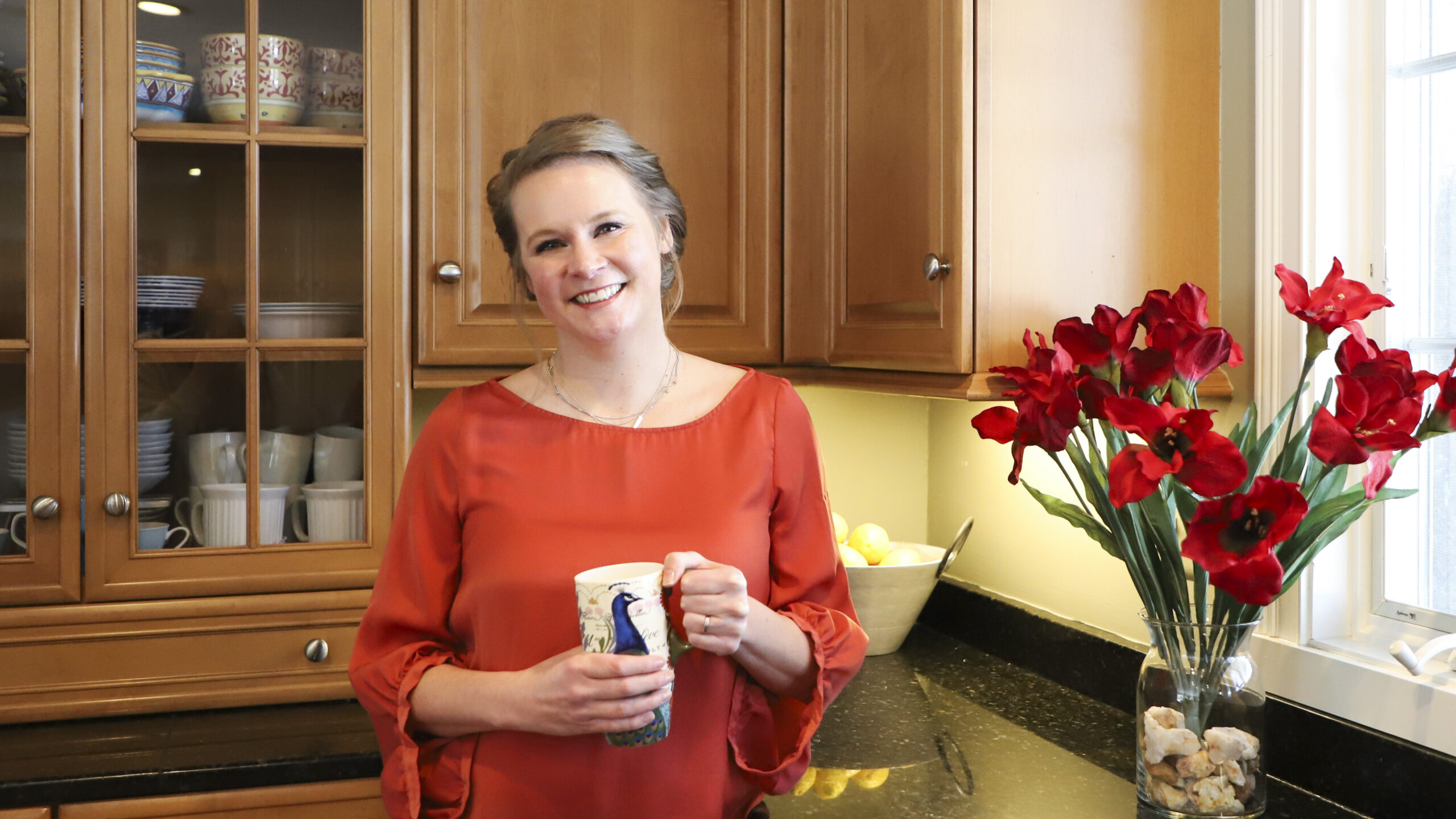 The Vegan Mary is a plant-based consultant, connoisseur, and writer, based in Oakland County. Mary holds a certificate of Plant-Based Nutrition from Cornell University, as well as a Master's degree in Business. Her continuing education includes multiple food and nutrition courses at Harvard and Stanford Universities. She spent the last two decades as a marketing executive before turning her sites and her experiences to vegan consultancy. TVM services clients across the US. When she's not cooking (or eating!), her passions include physical fitness, reading, and traveling. Find her on Instagram @the.veganmary and on Facebook @therealveganmary.