the best vegan brunch spots In metro detroIt
guest blog by the vegan Mary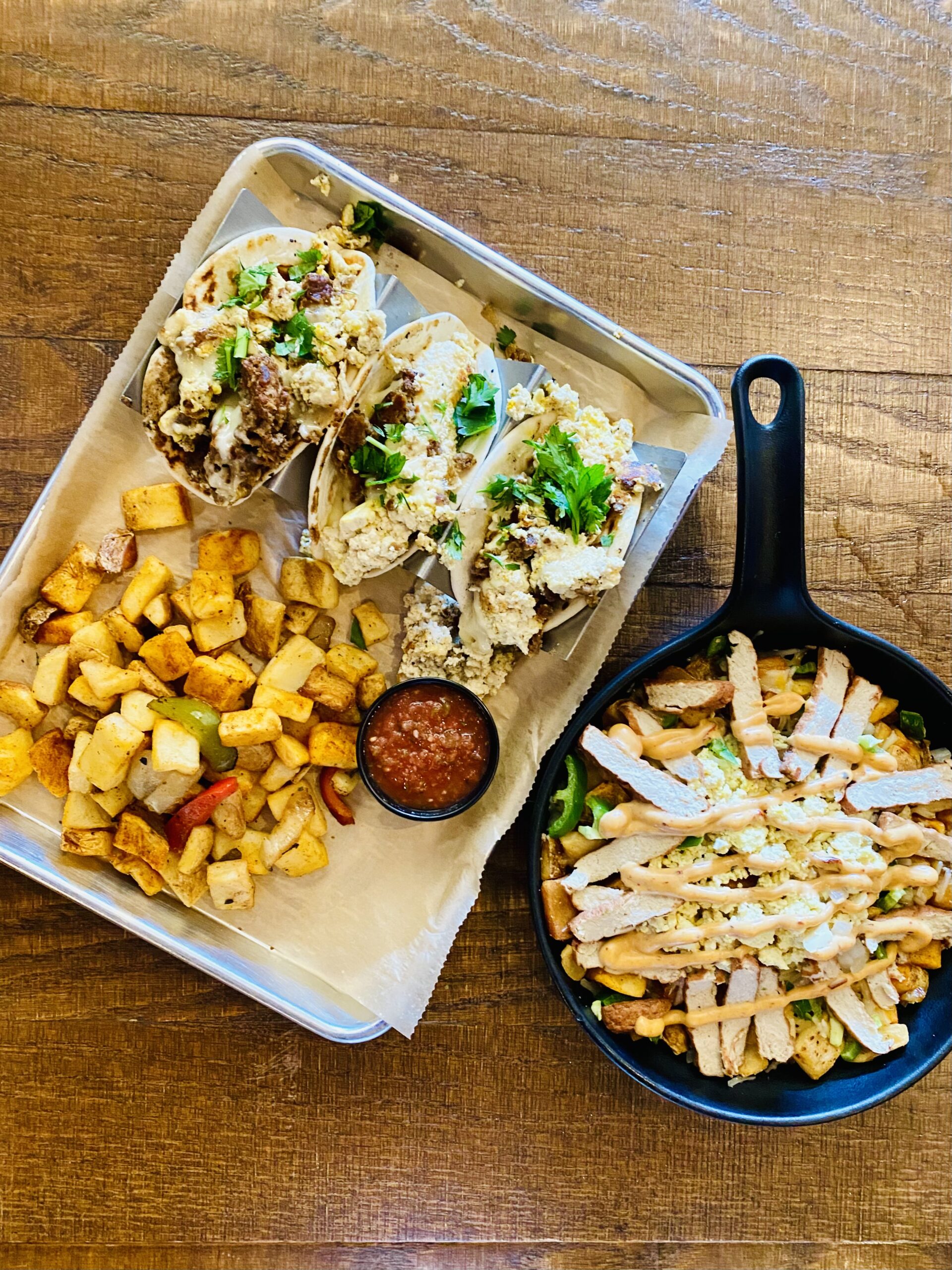 It's tough to beat a tasty brunch, especially alfresco, as the summer sun starts to shine bright in metro Detroit. Whether you're looking to soak up some of the previous night's indulgences or simply enjoy effortless fare, brunch is sure to make any day more exceptional. Brunch menus, once ladened with bacon and (eggs) benedicts, are now mercifully expanding to include more plant-based offerings. Long gone are the days of boring vegan brunch, think water-based oatmeal, and lowly sauteed veg, and we couldn't be more thrilled! Join us as we explore some of the very best vegan brunch offerings in metro Detroit; each and every one is guaranteed to hit all the right notes, be they sweet or savory.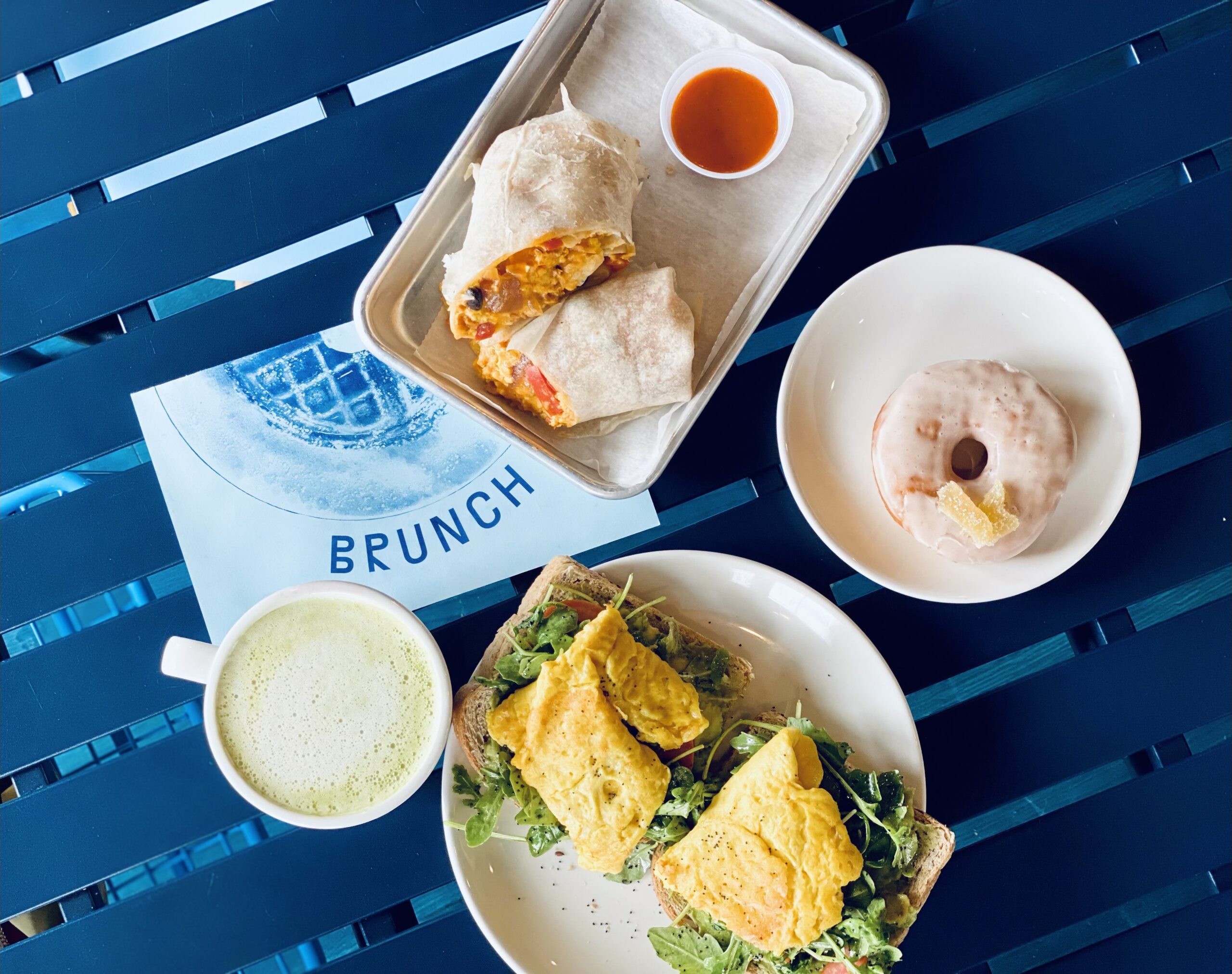 Ferndale
Brunch served weekends from 9 am – 3 pm
Ferndale's laid-back beer hall, with a recently remodeled taproom, is home to cool patrons and even cooler eats. And we sure can appreciate an eatery that offers boisterous nightlife and also a respite for the morning after (dare we say hangover food). Looking for something sweet? Try a Dooped donut or two. They have rotating flavors and trust us when we say there is simply no going wrong with any of them. Savory menu options also abound. The avocado toast hits all the right notes with a dreamy combination of smashed avo, arugula, fresh tomato, poppy seeds, and scrambled JUST egg.  One order is served with two pieces of multigrain toast, making it perfect for sharing. Bosco's breakfast burrito, ordered vegan with dairy-free cheese and soy chorizo, is a spice-lovers dream. Perfectly prepared, each and every bite proved to be flavorful and satisfying.
Quench your thirst with The Ferndale Project's expansive coffee offerings, including drip, pour-over, lattes, and cold brew (with plenty of vegan syrups like rose and lavender to customize your order). If hair of the dog is a bit more your speed, try any one of the dozens of Eastern Market Brewing Co. beers. Even non-beer aficionados will appreciate the sours and stouts on tap. Don't forget to check out the seasonal drink specials too, like the not to be missed matcha rose latte.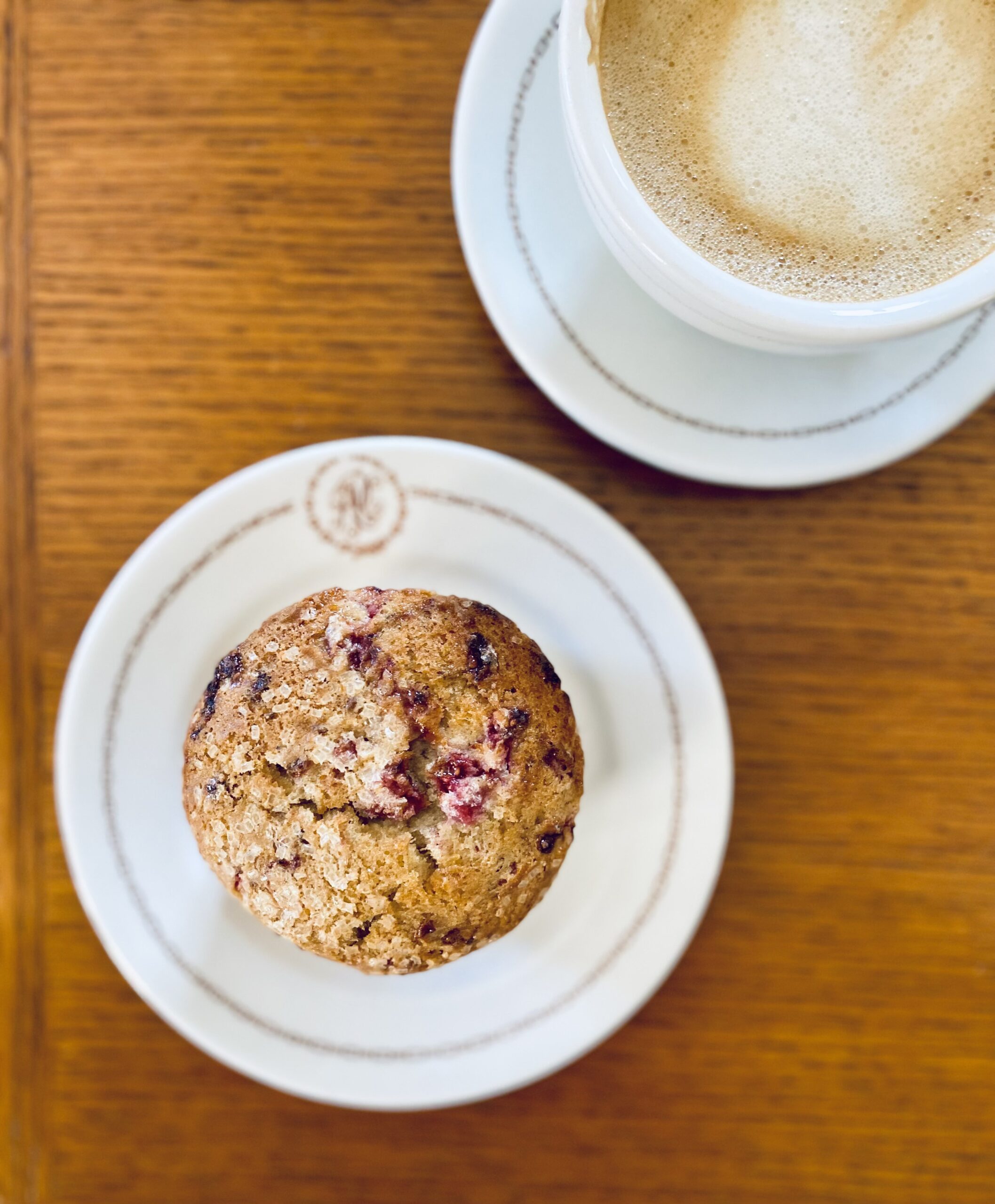 Detroit
Breakfast/lunch served all day
Located in Detroit's historic Boston-Edison district, this church-turned-eatery is home to an array of casual bistro style eats, making it a perfect spot for brunch. With many elements from the original church still in use, like restored glass windows and maple wood flooring, The Congregation exudes warmth, character, and nostalgia. Our favorite vintage décor piece? Wooden pews refashioned into the bar, from which baristas serve a host of bevies. With "Cheers" bar like hospitality, lush inside dining, patio and picnic style outside dining, you'll find all kinds congregating here. And perhaps not surprisingly, all seem like regulars.   
Among the hearty brunch offerings are staples like avocado toast and some of the best muffins in all of metro Detroit, brought in daily from Crispelli's Bakery in Royal Oak. We implore you to try the raspberry muffin; sweetened quick bread has never tasted so delicious. Dooped Donuts are showcased on the weekends and Detroit's own Good Cakes are also available; meaning any of your sweet cravings can be satisfied in an instant. If you are looking to satiate a big appetite don't miss the BBQ pulled artichoke on ciabatta, served with coleslaw and tangy Dijon. If you are looking for something a bit lighter, try the Caesar salad tossed with housemade dressing and fresh avocado. With seasonal menu adaptations, informed in part by a collaborative staff, there are always expanding plant-based items to consider. Giving us more reasons to come back again and again!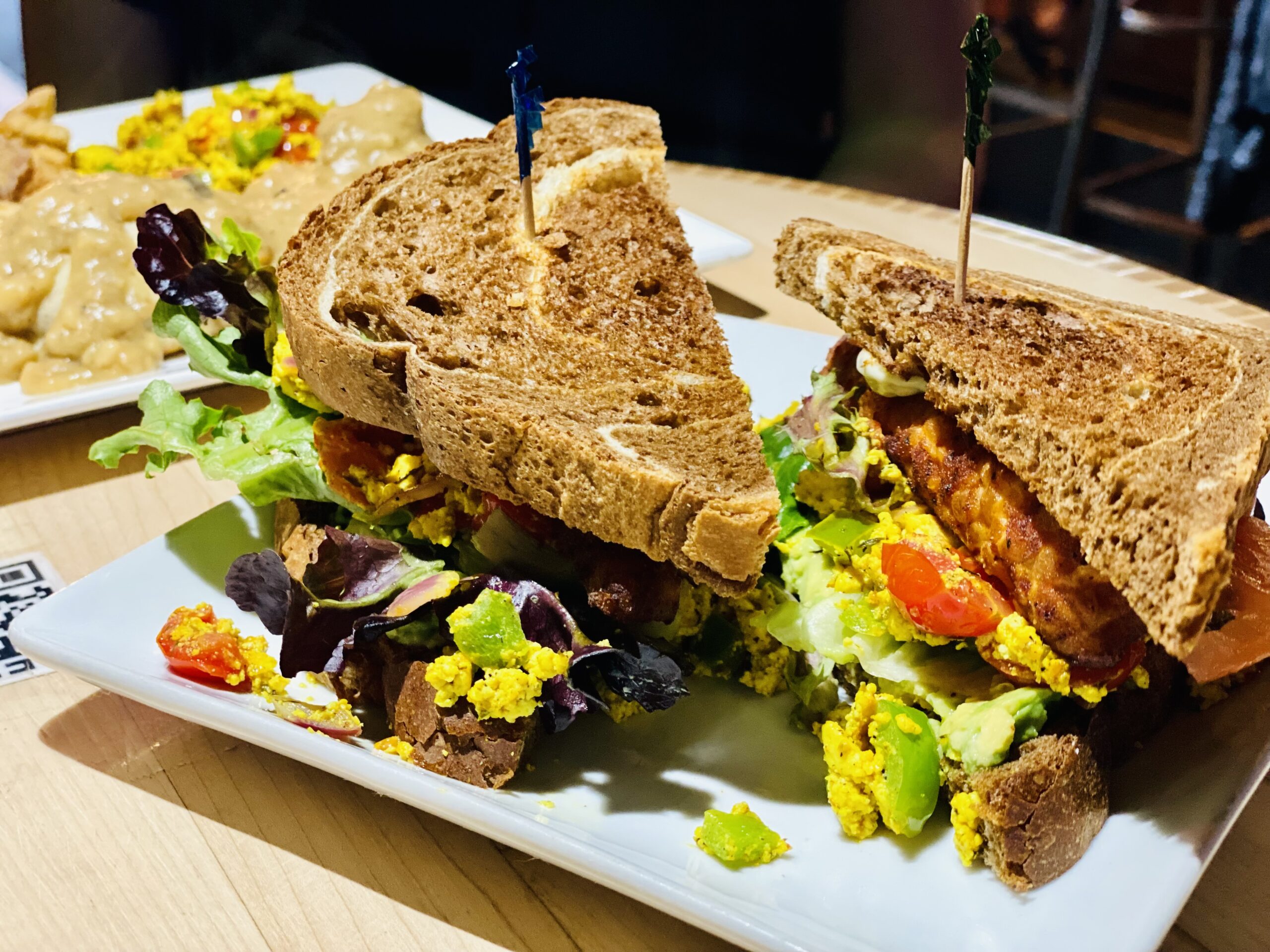 Detroit
Breakfast/brunch served weekdays 7 am – 11 am and weekends 9 am – 3 pm
If you think lager house and brunch aren't necessarily sympatico, let us introduce you to PJ's Lager House. This time-honored Detroit pub is known for its live music, flowing beer, and now vegan brunch! While vegan insiders likely know of its top rate vegan bar food (lunch and dinner service is a comfort food dream), its plant-based brunch offerings are just as tasty. Classics can be veganized in-house with a range of proteins including tofu eggs, soy sausage, and tempeh bacon. Our favorite brunchy entrée? The plentiful biscuits and gravy, with heavenly tastes-like-Thanksgiving savory mushroom onion gravy, served with breakfast potatoes and tofu egg scramble (complete with onion, pepper, and tomato). Like PJ's classic potato-based sides (all of the fries are to die), the breakfast potatoes are nearly addictive: crunchy, seasoned outside coating with a soft pillowy inside. Try not to scarf the entire plate and ignore your brunch companions altogether. Our other must-try? The B.L.E.A.T., features mounds of all of our favs: tempeh bacon, greens, tofu eggs, avocado, and tomato, all served with vegan aioli on toasted marble rye. This mouthwatering sammie is a handful, but we devoured every last bite.
With these savory brunch offerings and an easy come as you are vibe, put PJ's Lager House on your list for brunch time. PS: The Sweetwater Blue wheat ale is a perfect complement to a vegan brunch smorgasbord.
Ferndale
Breakfast/brunch served all day Wednesday-Sunday
Ferndale got a bit more fashionable when SpaceCat V-Stro moved into town in late 2020. Launching with an apparent bootstrapping philosophy (if we can make it during a pandemic, we can make it!), SpaceCat slings mostly vegan eats (with a few vegetarian options) specializing in breakfast and lunch. With quaint patio seating in the back, additional seating out front (showcasing the city's hustle and bustle), and soon to reopen indoor dining, there's sure to be a brunch spot with your name on it. Add to that charming décor, uber-friendly service, and one adventurous menu, SpaceCat is a must-visit.  
This extensive and unique menu featuring housemade eats from sauce, sides, snacks, salads, and sammies, means there is sure to be something for everyone in your brunch crew. If you are hitting SpaceCat for the first time, the breakfast bomb is a must-try. This monstrous roll-up-your-sleeves handheld, featuring from-scratch sausage patty, carrot bacon, greens, caramelized onions, and a temptingly oozy cheese sauce all on a jalapeño cheese biscuit, is unlike any breakfast sandwich you've likely had. We are not sure if you could fit one more amazingly savory topping on this serious sandwich, it's that packed with goodness. If your sweet tooth calls during brunch time, sink your teeth into the chik'n and waffle sandwich; perfectly tender breaded patties in between housemade waffles served with maple butter and syrup. Each entrée is served with warm breakfast potatoes or garlicky greens. If there is a more perfect combo of sweet and savory, we haven't found it!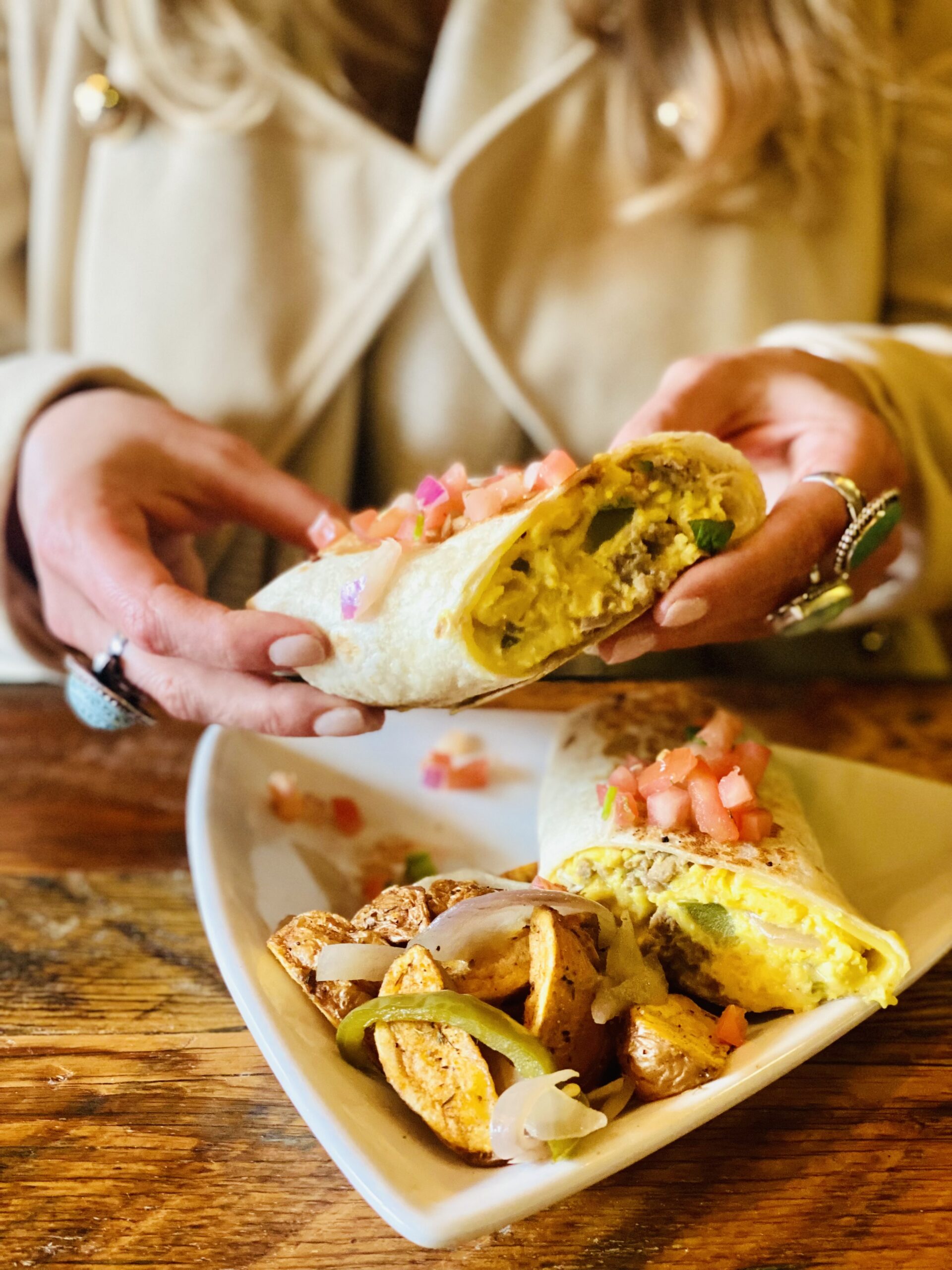 Royal Oak
Brunch served weekends 9 am – 3 pm
Ale Mary's receives the special distinction of being the only eatery showcased here and also on our recent Best Places for a Vegan Dinner Date in Metro Detroit blog. This welcoming Royal Oak beer hall offers killer eats (along with plenty of other traditional options) to make everyone feel at home, and brunch is no exception. Like its vegan lunch and dinner service, Ale Mary's has a dedicated vegan brunch menu. This complete page of gloriously tasty items ranging from brunchy to lunchy, is sure to please whatever food mood you find yourself in. The sheer volume of choices is one of our favorite aspects of brunching here; whether you are craving savory or sweet, salty or fresh, Ale Mary's has plant-based options galore.  
We are a real sucker for breakfast foods, so our most recent brunch splurge had us feasting exclusively on breakfast eats. The breakfast burrito, featuring Impossible chorizo, JUST eggs, hash browns, and a chipotle aioli is grilled to perfection and just what we needed to power through our Sunday. Another must-try is fried chik'n & waffles, a perfect blend of sweet and savory for those feeling indecisive (or just plain hungry). The Cinnamon Toast Crunch French toast, served unadorned save a dusting of powdered sugar, had both our sweet tooth and our stomach in heaven. The cinnamon raisin bread base is simple yet satisfying. A full complement of lunch items is also available including our all-time fav (v)ani pita sammie, as well as burgers, pasta, salads, and sides. Did we mention all milkshakes are vegan, too? Spike with your favorite booze from the full bar if you're feeling sassy.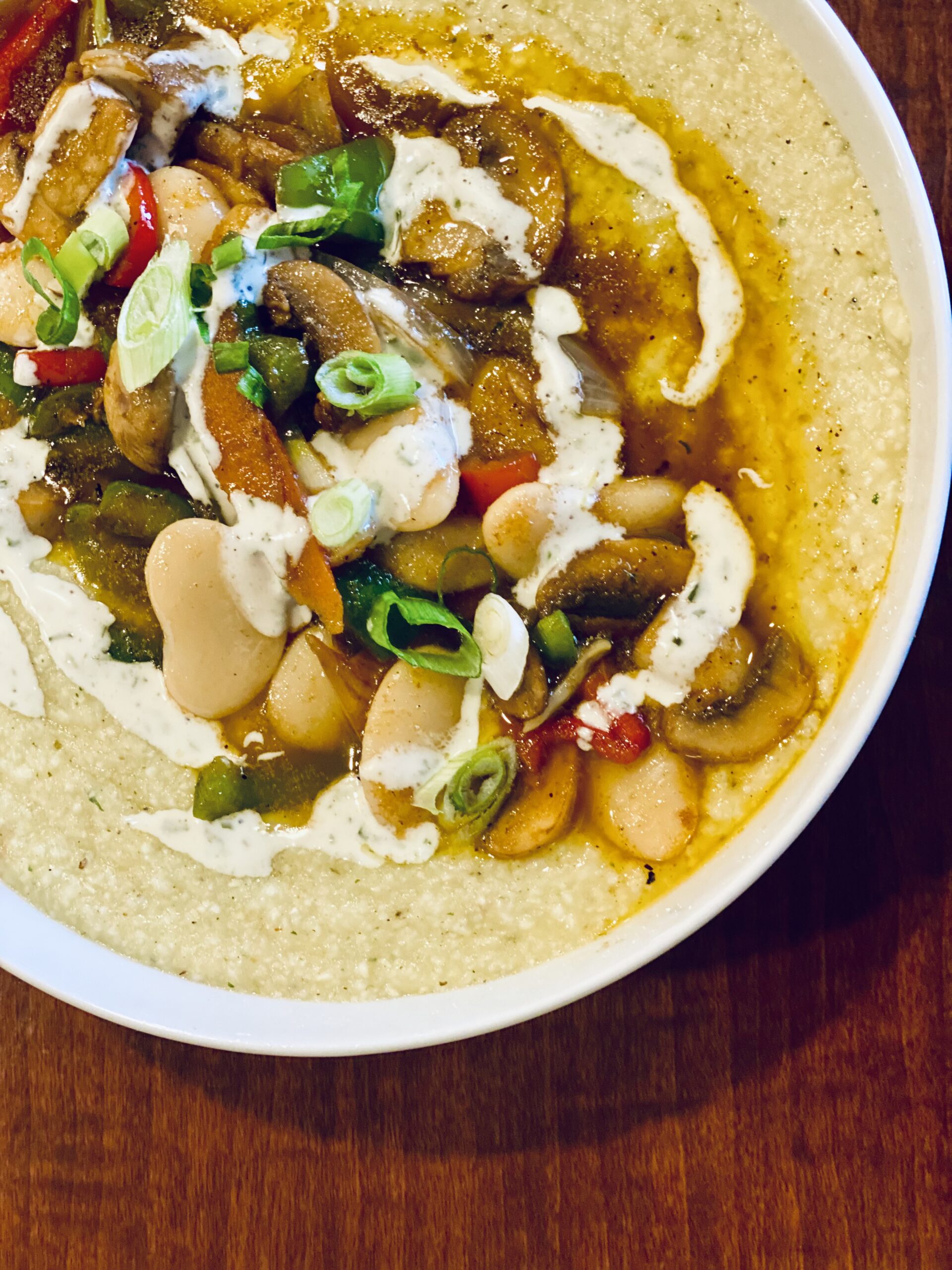 Pontiac
Brunch served Saturday 11 am – 2 pm
If distinctive flavors and an uplifting environment are your ideas of an idyllic brunch, look no further than Flavors of Jamaica. While this little-known eatery, tucked away in a Pontiac shopping plaza, may seem pedestrian to passersby, the experience is anything but. Pleasant Caribbean décor including tropical greens climbing the walls, a kitchen peeking through bamboo slats, and Rastafarian wall art pair with lively Jamaican music to create an oasis. And while flavors from this island nation may not be the first thing you think of when you consider brunch options, let us enlighten you.
Unequivocally, there is no going wrong with any selection from the distinct vegan brunch menu. The care taken in every made-to-order dish in this family-run restaurant is palpable. The jerk fried cauliflower and waffles, proving once again the power of the almighty cauliflower, is an inspired and insanely tasty take on a classic. The waffles and cauliflower are drizzled with a sassy jerk aioli, which creates culinary magic when paired with the maple rum syrup. The vegan ackee (the national fruit of Jamaica) sauté features a glorious blend of onions, peppers, chickpeas, and game-changing sun-dried tomatoes, which just burst with flavor. Accompanied by expertly prepared fried dumplings and plantains, we challenge you not to clean your plate. And whether you consider yourself a fan of grits or not, the buttered cremini and grits are a must. While simple in nature, this creamy combination of beans, mushrooms, and aioli over herbed grits is simply brunch perfection. This out-of-the-norm brunch spot is a masterwork of inspired eats and worth the trip!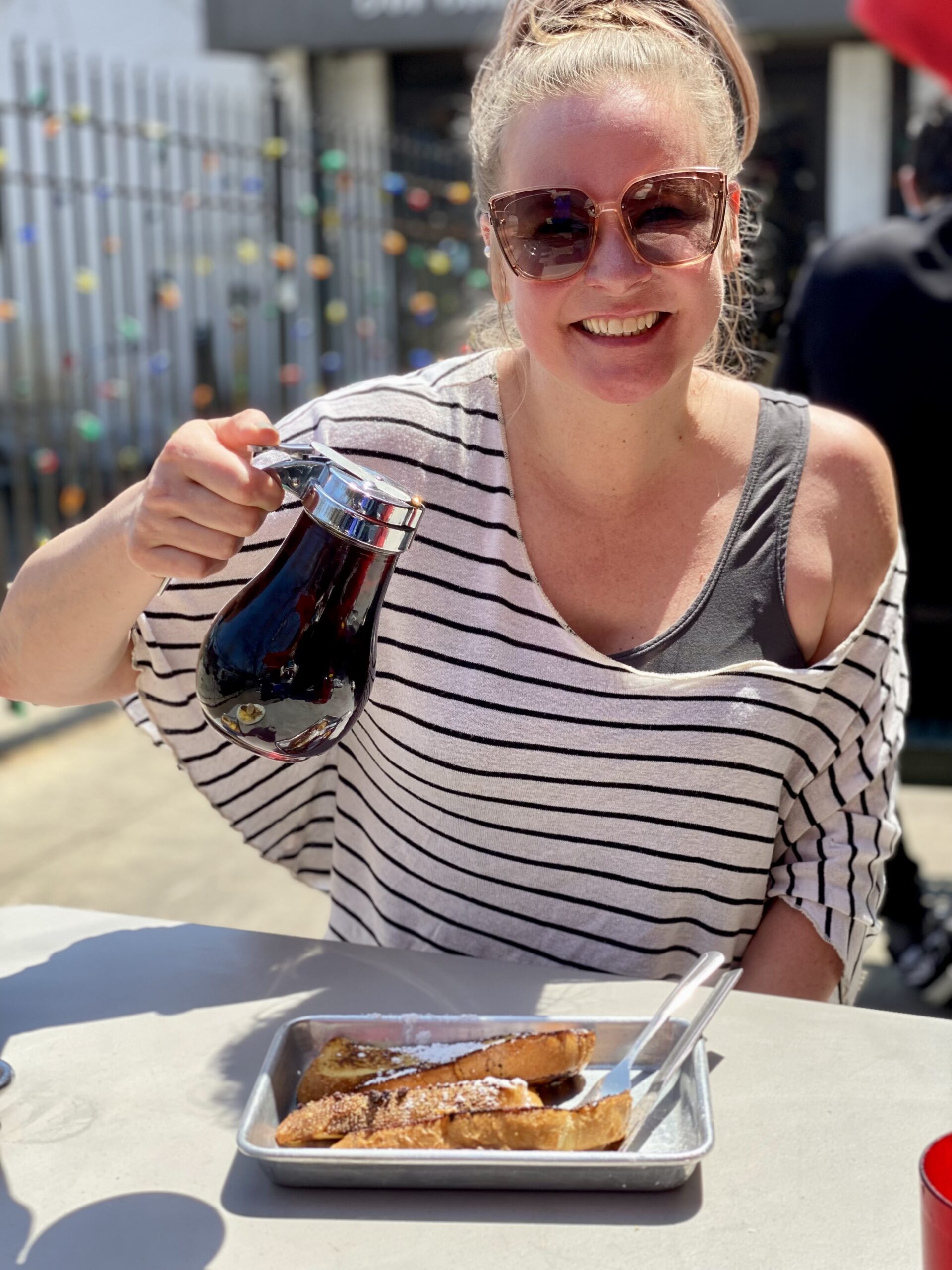 Detroit
Breakfast served all day
Everyone is welcome at Honest John's and with appetizing plant-based menu offerings, vegans will feel right at home. This laid-back Cass Corridor dive bar, open daily until 2 am, serves up comfort eats of all kinds and at all times. Its killer comfort classics, served all day, means you can have brunch any old time you'd like! We could certainly devour the chef's own special recipe for vegan French toast any time of day: think caramelized coconut cream custard and orange zest on locally-sourced Challah bread. Sign us up for that carb coma any day. If that sounds a bit sweet for your brunch palate, we recommend the breakfast sandwich. This seemingly pedestrian sammie is anything but: Beyond sausage, JUST egg, and cheese on an English muffin is breakfast personified. While we rarely use fast food as the bar, this sammie is as close to a (nostalgic) drive-through eat as we've eaten. The classic breakfast special (think deconstructed breakfast sandwich plus hash browns) and spicy breakfast burrito round out the vegan breakfast offerings and don't disappoint. There's no going wrong with any of these brunchy offerings.
During brunch, be sure to take stock in Honest John's festive Christmas lights (up all year round) and colorful signage (like blue neon "Men Lie" and "Sobriety Sucks"). Its authentic dive bar vibe even continues into the restrooms, tagged with rich graffiti and stickers galore (good luck trying to see in the mirror; you may need a friend to tell you if there's spinach stuck in your teeth). Honest John's, further punctuated with friendly staffers and extensive bevie offerings, is an inimitable Detroit must try.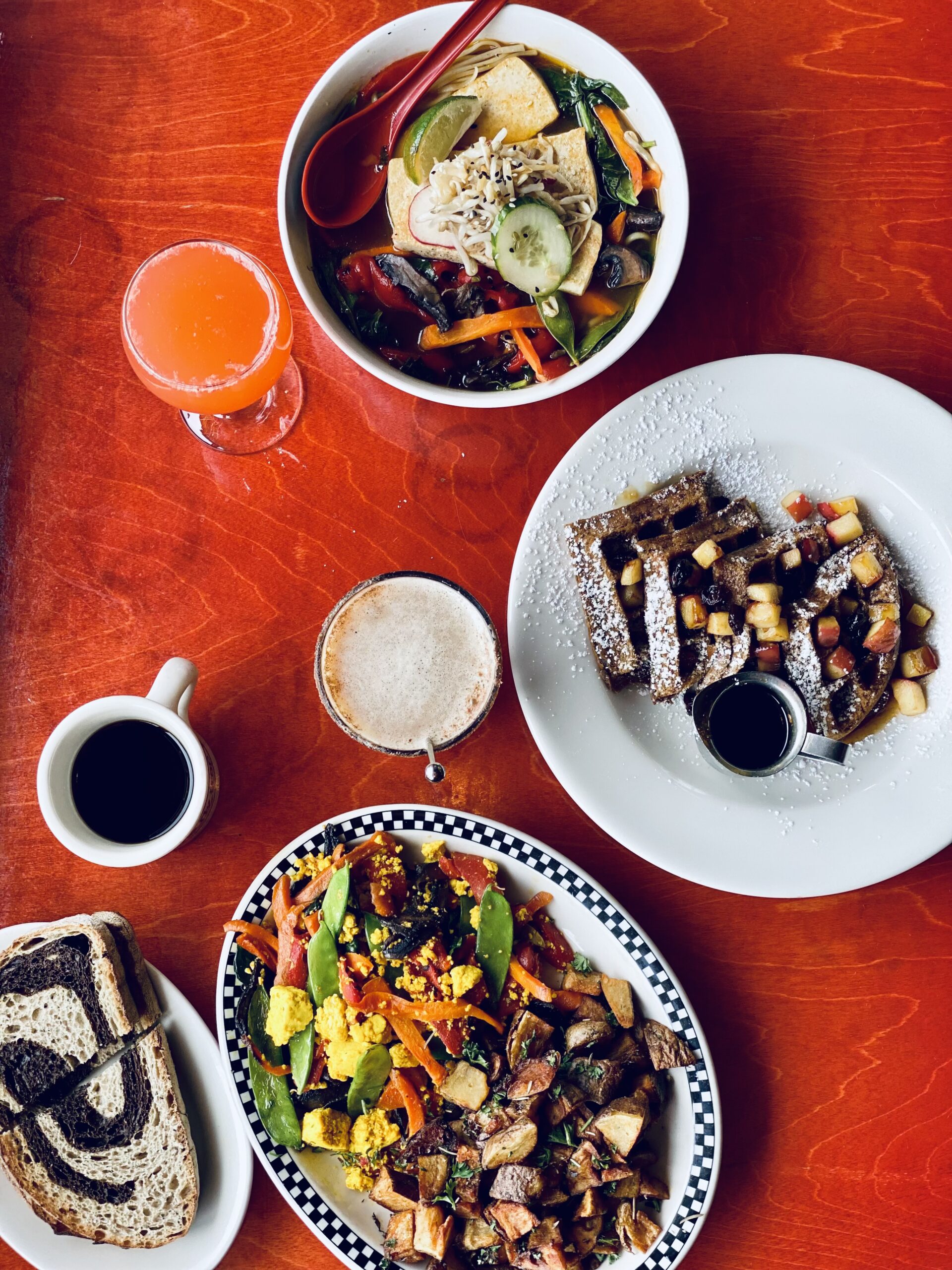 Ferndale
Breakfast/brunch served Tuesday-Saturday 8 am – 3 pm
This "finer diner" recently reopened, under new ownership, to much fanfare. The Ferndale mainstay, once famously featured on Guy Fieri's Diners, Drive-Ins, and Dives, is full of personality and charm. Service comes with not only a smile, but a nice chat if you're up for it. The colorful décor, peppered with fly-related artwork, only adds to the allure. With a full bar and killer cocktail menu, there is nothing not fun about The Fly Trap. Our fav brunch cocktail? 'Wake Up Jerry!': a rum-infused iced coffee drink with almond milk and simple syrup, served with a cocoa-sugar rim. Why have we never thought of this before?!?
Tasty brunch options can be found throughout the menu. Most breakfast items can sub tofu for eggs, making the veggie rumble a clear go-to. This savory scramble gets a leg up thanks to its generous portion of veg, including perfectly sauteed mushrooms and peapods. Gingerbread waffles served with sweet sautéed apples and cherries and house-made cinnamon syrup, are every bit vegan and delicious. We could indeed splurge on these daily, proving that gingerbread is definitely not just for the holidays! The tofu faux bowl, featured in Guy Fieri's show-inspired cookbook, is another fan favorite. Its lemongrass and chili-infused broth pairs beautifully with loads of veggies and noodles. This dish is also rumored to be the only tofu to ever appear on Diners, Drive-Ins, and Dives. If it's good enough for Guy, it's good for us!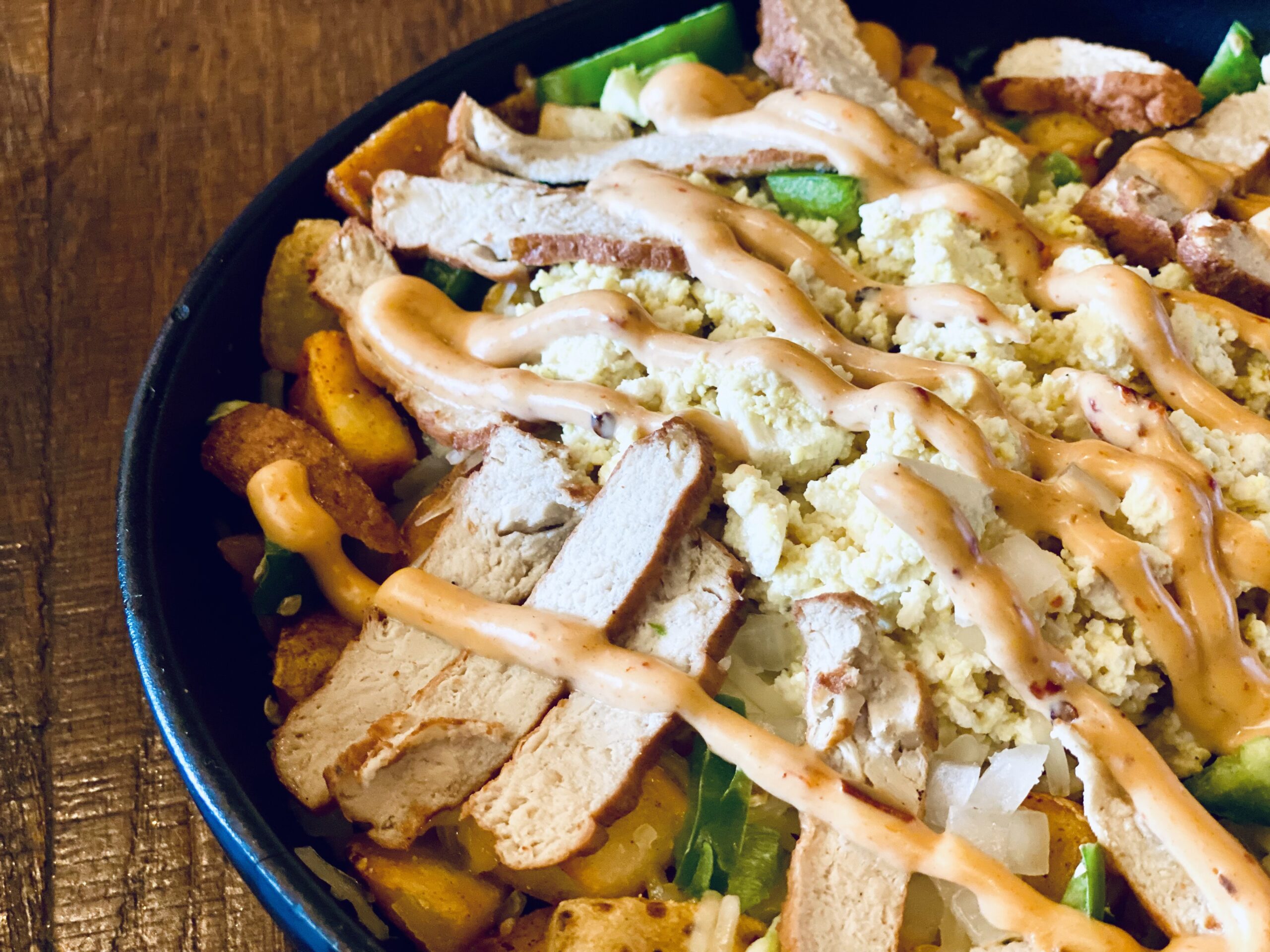 Detroit, Ferndale, and multiple other locations  
Brunch served weekends 10 am – 3:30 pm
Come for the (breakfast) shots, stay for the eggs. Anyone who has visited this American-style gastropub knows it offers an array of plant-based pub fare like tots, curly fries, chik'n fingers, Impossible burgers, fish tacos, and chili. (Yes, we have tried each of these and have never been let down.) What you may not know is that this casual pub, with multiple locations in metro Detroit, offers savory brunch options that will have you craving these eats all week long. This includes an imaginative almond milk-based cereal shooter flight with vegan-friendly options like Cap'n Crunch, Lucky Charms, and Fruity Pebbles. Each is uncannily reminiscent of their (not necessarily vegan) cereal counterparts.  If you want to start brunch off with a bang, give these a go. If a bloody Mary is more your weekend speed, check out the build your own bloody Mary bar.
While Bobcat Bonnies doesn't yet offer sweet vegan options for brunch, it makes our brunch list in part because of the flavorful (and potent) aforementioned cereal shooters and in part because its savory offerings are hearty, fun, and just plain mouthwatering. Case in point? The breakfast tacos stuffed with vegan eggs, chorizo, cheese, and habanero crema will delightfully clear your sinuses. Fans of this pub already know its potato offerings are always on point, and the breakfast potatoes that accompany the tacos are no exception. The spicy hash vegan style features chik'n, tofu scramble, cheese, and chipotle aioli, all delightfully served up in a skillet; making this reminiscent of down south home cooking. If your palate is looking for a non-eggy brunch option, the vegan mushroom melt (hoagie style with onions, peppers, mozzarella, and jus for dipping) and chik'n avocado sammie are our superbly satiating go-to recommendations.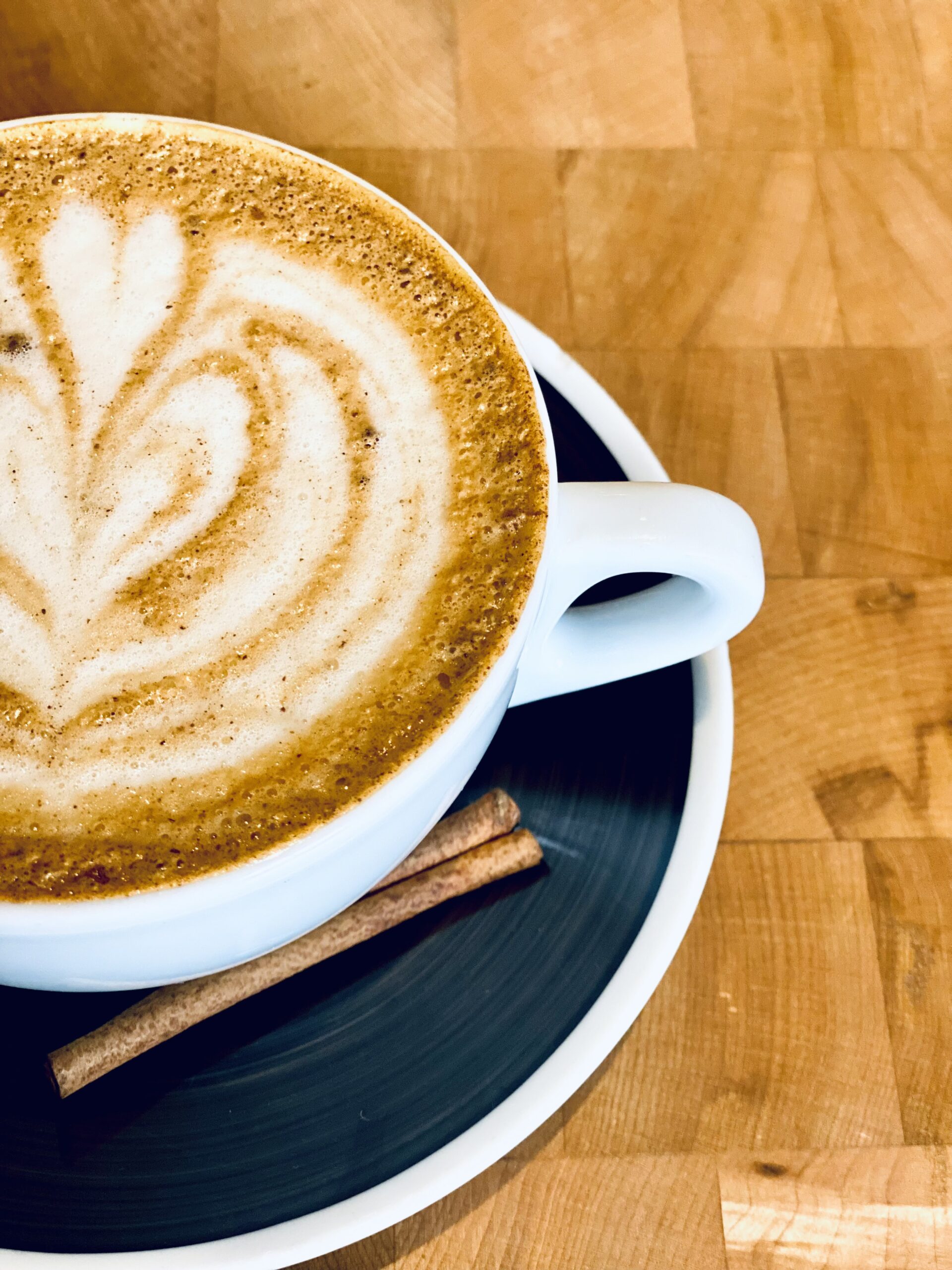 Birmingham 
Breakfast/Lunch served all day
An upscale Birmingham feel meets casual-chic dining at Commonwealth. While minimalistic (think clean lines, wooden accents, and greenery), this café still manages to retain the warmth of a local eatery. Place your order at the counter and choose from a range of first come seating, including bartop and cozy tables. The flexibility makes this a perfect spot for solo dining or brunching with friends.  You'll find a range of vegan eats on its regular menu, as well as on its monthly features list. And its monthly specials are the real deal; on point tofu black bean enchiladas and out-of-this-world pina colada pancakes, for instance. A seemingly innocuous brown rice bowl (a staple of the everyday menu) gets a fantastic flavor boost from perfectly sautéed kale, pickled cabbage, and a chili tamari dressing, catapulting it to must-enjoy status. Chia seed pudding with fresh fruit and coconut flakes, three potato hash, and even tomato soup help bolster the daily plant-based offerings. All of these made-to-order eats are complemented by an assortment of rotating baked goods (including the best chocolate muffin we've ever had!).  If you'd like to cap off your brunch with something sweet, indulge in one of the many flavors of vegan soft serve.
While you won't find any mimosas on the menu, you will find the finest coffee around. Featuring beans from Costa Rica to Kenya, Commonwealth's made-to-order coffee drinks are top-notch. Much like its food menu, its monthly drink features do not disappoint. Case in point? Maple latte featuring maple syrup, nutmeg, and cinnamon, is sure to conjure up all of your best memories of home. This café, with warm and knowledgeable staffers (who sure seem to love their jobs), is a lovely brunch destination regardless of your palate or preferences.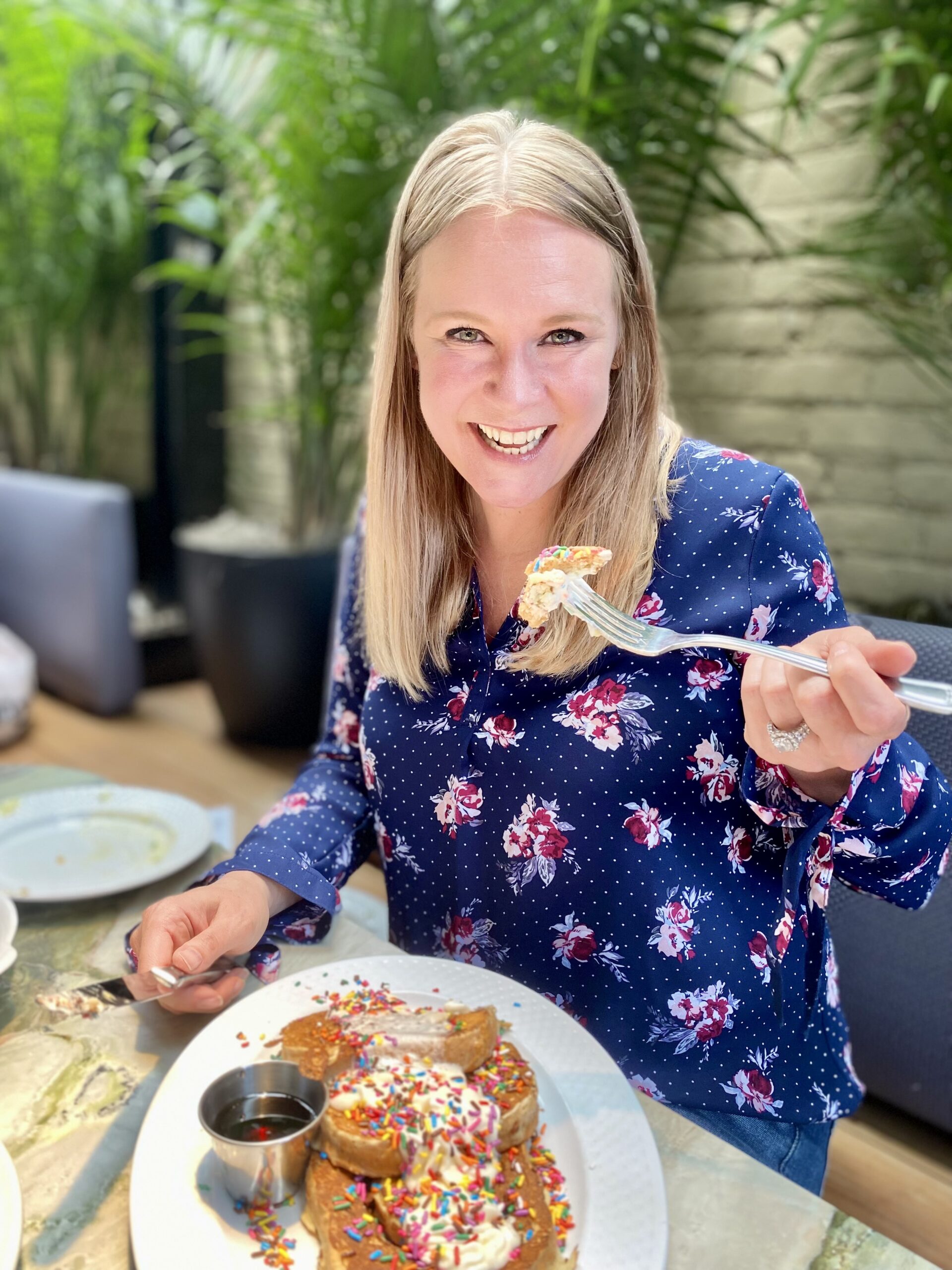 Ferndale
Brunch served weekends 10 am – 3 pm
Ferndale's Public House reopened late last year after an extensive remodel, which included a new garden patio, dedicated vegan kitchen, and revamped menu. All of which is music to metro Detroit plant-based foodies' ears and reason enough to put this eatery on our list of brunch favs. 
We highly recommend brunching in the garden patio, adorned with hanging faux wisteria and "Hello Gorgeous" flower wall for your post-brunch selfie. Kick back and enjoy one of the creative cocktails or mouthwatering mocktails, as you take in all that is the glorious vegan brunch menu. There's something for every taste bud, including cheddar jalapeño biscuits with a delightful herby softened butter: drench, devour, and repeat. And carb heaven doesn't stop there! The birthday cake French toast is some of the fluffiest we've ever had, made even sweeter with a cinnamon roll-like frosting and loads of sprinkles. Also, fireworks. Yes, I said fireworks. Trust me, you have to order these for the presentation alone! This dish is its own party, both visually and gustatory.  
One of the more unique dishes, mushroom hash, will have potato fans rejoicing. This uber-crispy potato hash is joined by JUST egg, cheddar cheese, and drenched in a savory smoked portobello gravy. If that seems a bit rich for you, try the (plain) Yukon hash. Simple and simply delightful. If you're looking for a hearty handheld, give the housemade plant-based burger (rich with beets and barley) on a buttery bun a go. We make ours a double because it's so damn pretty and also makes for fabulous leftovers. The vegan "B"LT is another beast of a sandwich, anchored by candied tempeh that lends just enough sweetness to make it nearly addictive. The Caesar salad pairs well with any (or all) of these sandwiches and is one of the best in town.
If Public House's current brunch offerings have you salivating, just wait until this summer! A new, sure-to-inspire vegan brunch menu, imagined and engineered by Meghan Shaw (of Street Beet fame) launches this summer.
With myriad options, it will be happy brunching for us plant-based foodies! Did your favorite make the list? We are always on the lookout for the latest and greatest eats in metro Detroit. Connect with us at The Vegan Mary on Instagram @the.veganmary and on Facebook @therealveganmary to share your favs and to keep up with our latest restaurant reviews.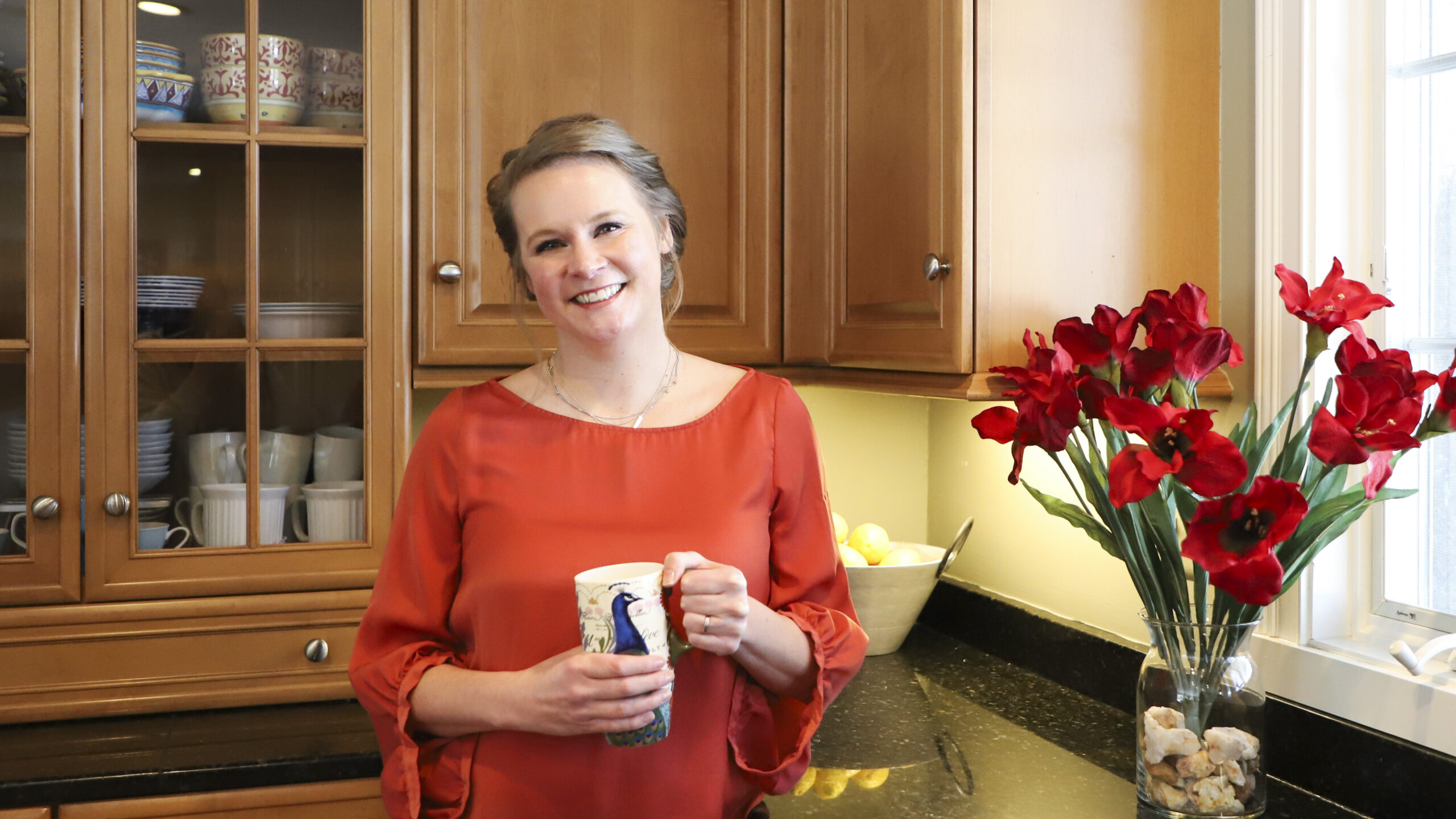 The Vegan Mary is a plant-based consultant, connoisseur, and writer, based in Oakland County. Mary holds a certificate of Plant-Based Nutrition from Cornell University, as well as a Master's degree in Business. Her continuing education includes multiple food and nutrition courses at Harvard and Stanford Universities. She spent the last two decades as a marketing executive before turning her sites and her experiences to vegan consultancy. TVM services clients across the US. When she's not cooking (or eating!), her passions include physical fitness, reading, and traveling. Find her on Instagram @the.veganmary and on Facebook @therealveganmary.