WHEre to fInd vegan optIons at fast food chaIns In mIchIgan
by rebecca from veggIes abroad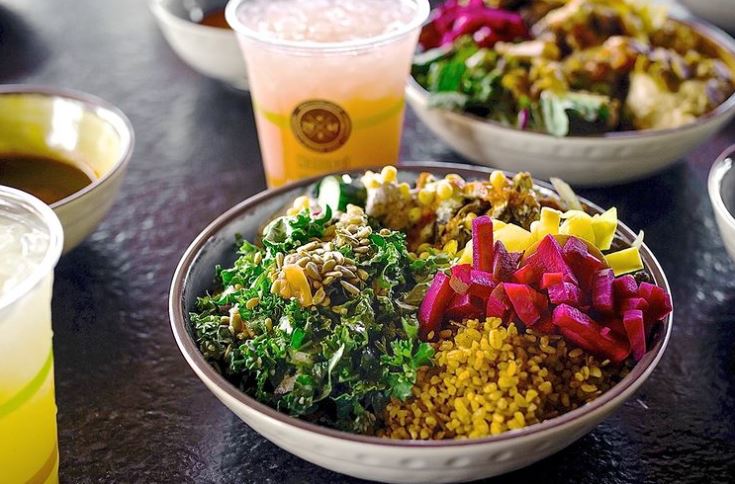 Vegan food options are on the rise—according to Sentient Media, in the last two years alone plant-based food sales have grown by 45%, and this growth isn't expected to slow down. The days of only finding vegan options at specialty markets and select restaurants are long gone—the diversity of options ranges from high-end cuisine to vegan burgers at fast-food chains and everything in between. Now I know fast food isn't everyone's first choice for food options, but sometimes it's the only choice; especially if you're in a more rural area or tight on funds. The next time you need something fast and vegan to eat, check out these 10 fast-food chains serving up vegan options throughout Michigan.
what you can order vegan at fast-food chaIns In mIchIgan
Burrito cravings are banished at Chipotle with their made-to-order lineup of fresh ingredients, including a vegan-friendly lineup of beans, sofritas, and more. Not in the mood for a burrito? No worries! Whip up your favorite fillings into a hearty bowl, salad, or tacos.
What's vegan at Chipotle:
Sofritas (tofu-based)

Black or pinto beans

Guacamole

White or brown rice

Fajita veggies

Salsas

Tortillas
For as long as I can remember Taco Bell has been a go-to fast food spot for vegan options. Over the years, their South of the Border fare has tested out new options like plant-based beef and even gotten rid of other options to the annoyance of fans. Nevertheless, Taco Bell still has plenty of Tex-Mex options (with a few modifications) to fill you up! One tip, order vegetarian items Fresco to ensure they are vegan.
What's vegan at Taco Bell:
Black Bean Crunchwrap Supreme (minus the sour cream and nacho cheese sauce)

Bean Burrito Fresco (minus the cheese)

Veggie power bowl (minus the cheese, ranch, and sour cream)

Crunchy or soft tacos with beans and veggies

Cinnamon Twists (no modifications needed!)

Black beans and rice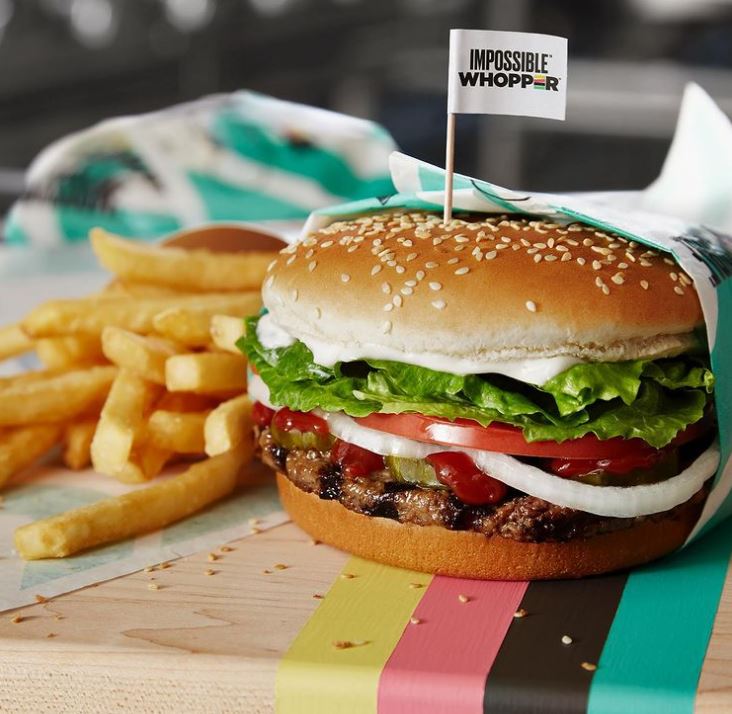 Burger King Impossible Whopper
Flame-grilled patties are no longer just for carnivores! With the addition of the Impossible Whopper to the lineup and the Impossible nuggets (in select markets, not yet Michigan), vegans have options!
What's vegan at Burger King:
Impossible Whopper (minus mayo)

French fries

Hash browns

Garden salad (minus the cheese)

Apple pie
Sandwich fans rejoice! Subway's made-to-order subs, wraps, and salads have made eating on the run super easy, especially since there are more Subways in the world than any other restaurant—crazy, right!?
What's vegan at Subway:
Italian white, harvest, hearty Italian, roasted garlic, ciabatta, and sourdough bread

Tomato basil and spinach wraps

A ton of condiments (herb garlic oil, sweet onion sauce, Subway vinaigrette, BBQ sauce, fire-roasted tomato sauce, buffalo sauce, and Italian)

Veggie patties (there are two versions, one vegan and vegetarian, so ask that they check the ingredients)
Another Tex-Mex spot with plenty of vegan options, including Impossible Meat to amp up your burrito, bowl, or tacos!
What's vegan at Qdoba:
Impossible Fajita Bowl 

Impossible Fajita Burrito

Impossible Tacos

Nachos (minus the cheese, load up on beans and veggies)
All salsas, veggies, beans, and tortillas are vegan at Qdoba.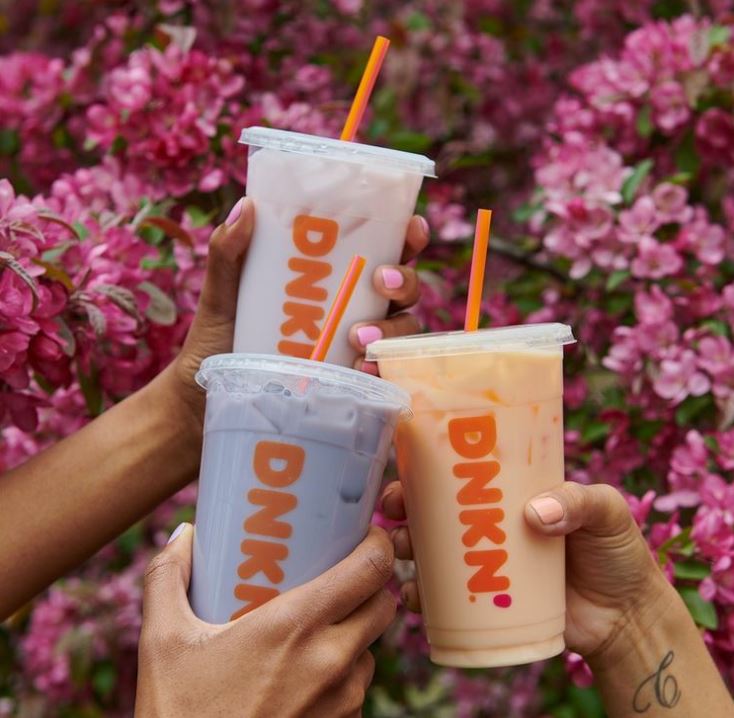 Dunkin' Coconut Refresher
Need a jolt of caffeine and a quick bite to eat to get your morning going? Then pop into Dunkin'! Although they stopped offering their Beyond Meat breakfast sandwich, vegans still have a few breakfast options to choose.
What's vegan at Dunkin':
Coconut and oat milk are available for coffee drinks

Dunkin' Refreshers

Select flavor shots: vanilla, hazelnut, toasted almond, blueberry, raspberry, and coconut

Cinnamon raisin, plain, everything, and sesame bagels

Hash browns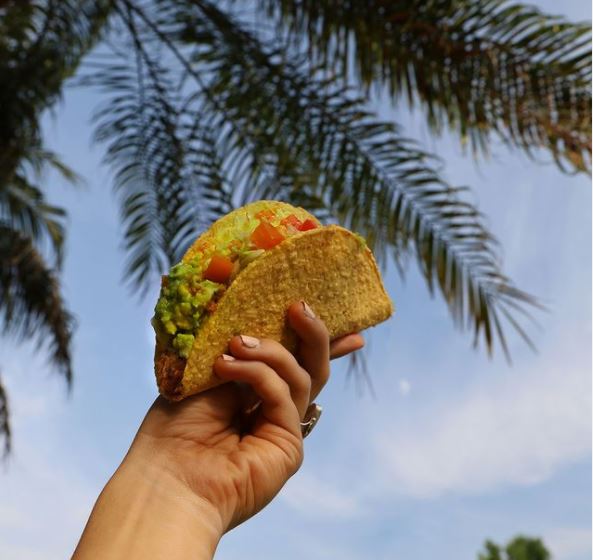 Del Taco Beyond Meat Taco
One more Tex-Mex option, because you can never have too many burritos, right?! Forget about basic bean tacos, Del Taco is whipping up a slew of vegan-friendly dishes with the addition of Beyond Meat to their lineup! 
What's vegan at Del Taco:
Epic Beyond Fresh Guac Burrito

Beyond Guac Taco

Veggie bowl

Hash browns

Crinkle cut fries
All Del Taco's items can be made to order, so if you want to substitute something or load up on more guac, go for it! Rest assured their beans and rice are vegan!
Although Michiganders can't get our hands on the Beyond vegan orange chicken yet, Panda Express does have a few other vegan options you should check out!
What's vegan at Panda Express:
White and brown rice

Chow Mein 

Super Greens (steamed broccoli, kale, and cabbage)

Eggplant Tofu

Sauces: chili, hot mustard, plum, potsticker, soy, sweet and sour, and teriyaki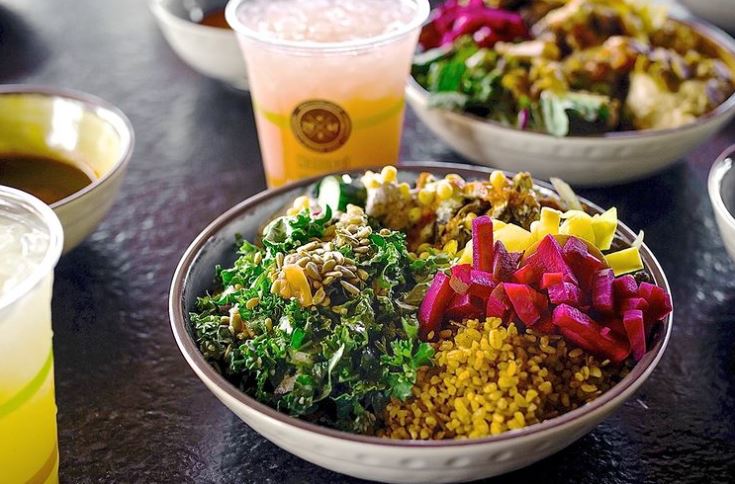 With four locations throughout metro Detroit, it's never been easier to grab Mediterranean-inspired grub! You can choose to build your own dish from their selection of grains and veggies or choose one of their signature dishes. The chain also does an excellent job marking which items are vegan, no guesswork necessary.
What's vegan at 2941 Street Food:
Turmeric basmati rice

Organic wheat

Hummus

Nomad Salad

Kaleboulleh

Turkish Salad

Peasant Fattoush Salad

Signature Falafel

Pickled veggies

Vegetable Arook 

Hummus and select sauces (cardamom BBQ, garlic sauce, chili tahini, red pepper chutney, The Blaze, and sweet and spicy harissa)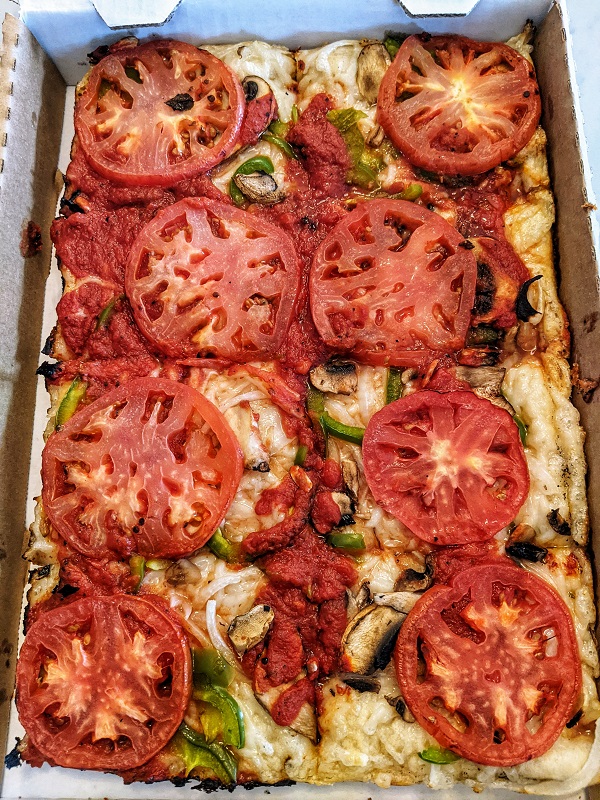 Buddy's Pizza – Gade Sawicki
You can't go wrong with a slice of Buddy's thick Detroit-style pizza—it's a Detroit treasure! Luckily for metro Detroit, Lansing, and Ann Arbor vegans, you can enjoy this pizza treasure too! Looking for more vegan-friendly pizza spots in metro Detroit? Check this out!
What's vegan at Buddy's:
Original Detroit-style pizza crust

Sicilian-style thin-crust

Original pizza sauce

Tomato basil sauce

Daiya cheese

Eastern Market veggie pizza (substitute regular cheese for Daiya)
There is one more fast-food behemoth that isn't on this list, McDonald's. As of the end of 2021, their vegan options are lacking, to say the least (sad garden salad, anyone?) but they are in the process of rolling out their McPlant (Beyond Meat burger, minus mayo and cheese to make it vegan) to more US locations in 2022. Currently, the burger is only available in eight test locations, but there is speculation that a large national rollout is on the horizon, maybe we will see it pop up in Michigan soon!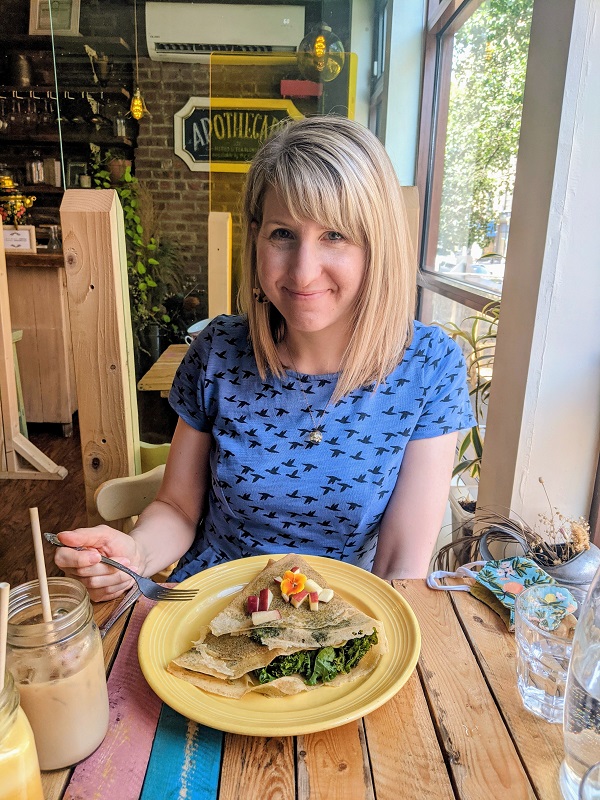 Hello! I am Rebecca Gade Sawicki, the Creator of Veggies Abroad, a vegan travel blog. My blog features vegan travel guides, tips and inspiration to explore the world. You can find my blog at https://veggiesabroad.com/ and follow my adventures on Instagram or Facebook @veggiesabroad