whIte bean Mac & cheese casserole
guest blog by cookIng up vegan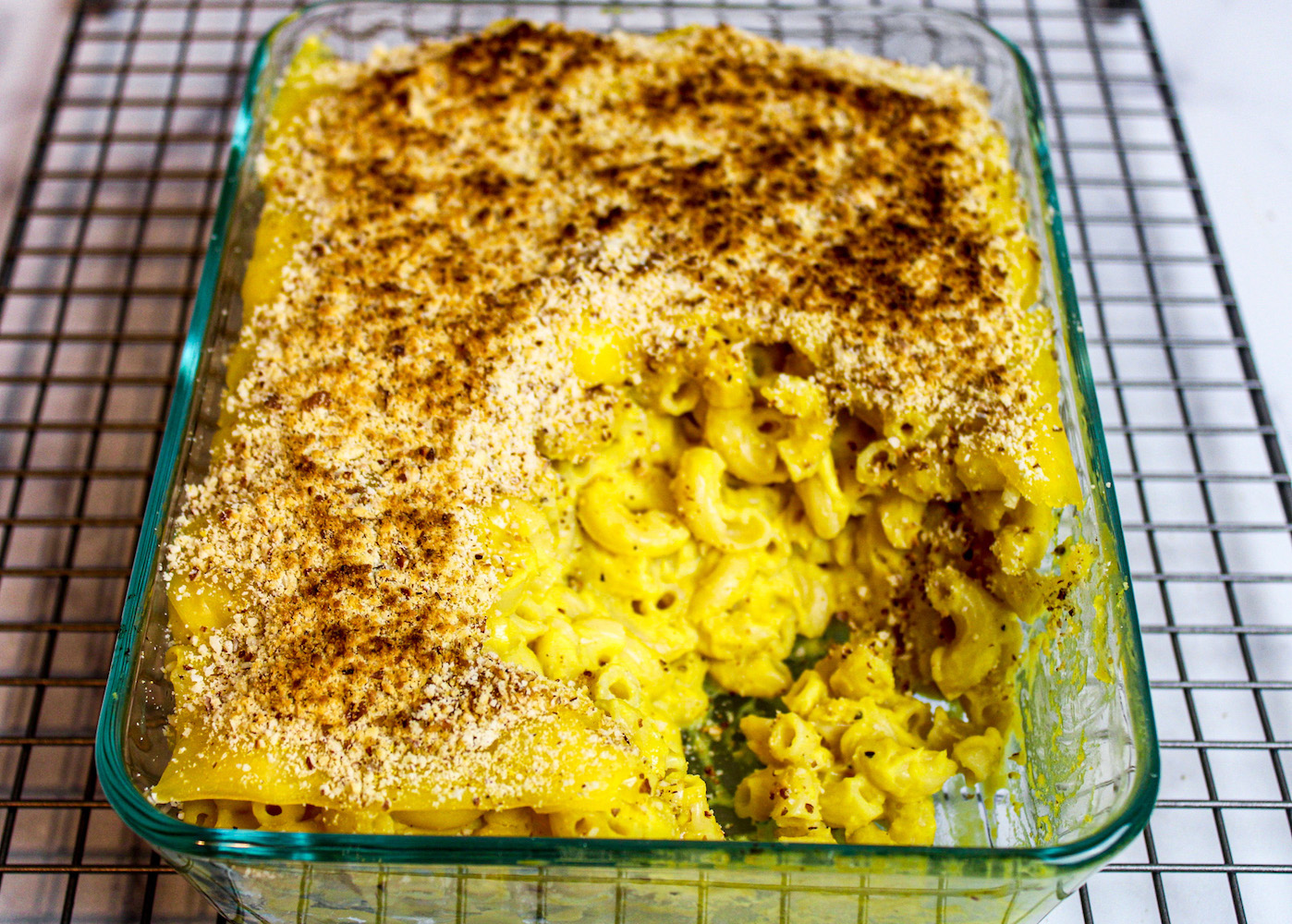 Say hello to your new favorite comfort food, White Bean Mac and Cheese Casserole. This gooey, cheesy, creamy, protein-packed, dairy-free version will leave you so happy and wanting more.
Hi friends! Luna and Nate here from the Cooking Up Vegan food blog. We're excited to work with VegMichigan and give you this exclusive new recipe!
We both grew up on Stouffer's and Kraft Macaroni and Cheese. Mac and cheese is just this classic nostalgic comfort food. With an emphasis on comfort food, so it's not exactly supposed to be "healthy" tasting. We've come up with a couple of different versions of this classic dish. The choice depends between the two if you want that classic comfort food vibe or the delicious healthier alternative.
This recipe does use a couple of pre-made products from the brand Violife, which helps add a cheesy flavor to this mac and cheese that mimics the real deal.  We originally were introduced to Violife when we attended a VegMichigan event at Cottage Inn. We had so many different types of pizza with Violife cheese. It definitely caught our eye as an ingredient to utilize in other recipes.
For this recipe, we used three of their products.
Violife Cheddar Shreds
Violife Mature Cheddar Slices
Violife Smoked Provolone Slices
If you're looking for a whole food mac and cheese recipe that's oil-free and nut-free, be sure to also check out our potato and carrot-based mac and cheese. It's so good!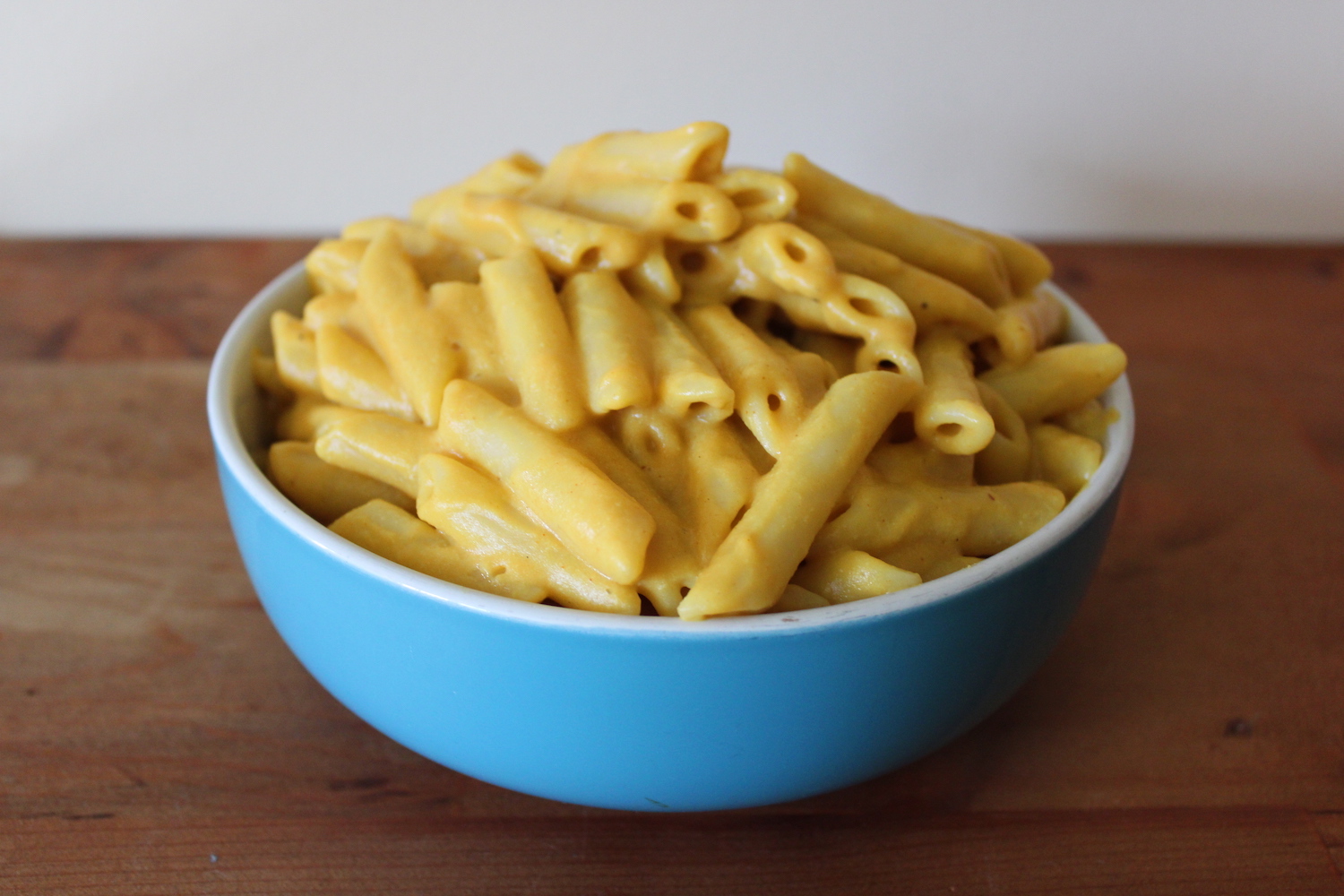 Nut-free & Oil-free, Potato Carrot Mac & Cheese
We wanted to make this dish even more "cheesy" than it already was, by adding slices of Violife mature cheddar and smoked provolone on top of the pasta. Simply, add the casserole dish into the oven. Broil till the cheese starts to melt. Once melted and bubbly, it's time to add the special crunch component. 
We went the extra 3-minute mile to whip up some almond parmesan. We used raw almonds (with the skins), nutritional yeast, and salt. Blend all the ingredients on high till grainy.
IngredIents and substItutIons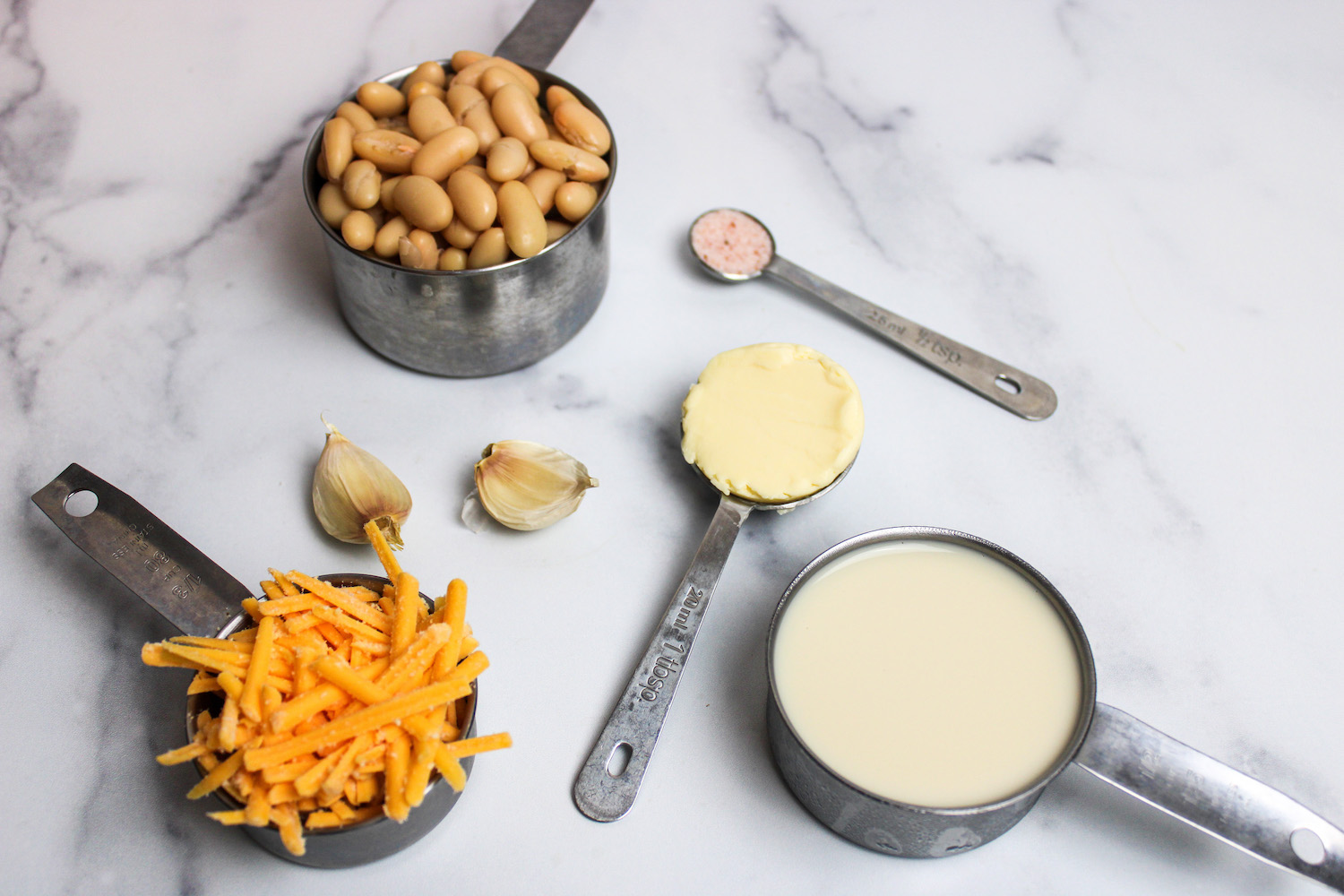 Below is some helpful information about the ingredients used to create this vegan mac and cheese sauce.
These white beans are so amazing. While the Violife cheese gives the sauce that nostalgic cheesy flavor, the blended beans give the sauce that creamy, thick, gooey consistency. Not to mention additional fiber and protein to this dish.
Let's be honest, for most dishes, the sauce is the star of the plate. Mac and cheese is no exception to this rule. For this recipe, we used a neutral "no sugar added" plant milk. Beware of the "no sugar added vanilla" options though. Once we accidentally used a "no sugar added vanilla" milk for a recipe test. Let's just say a "cheesy vanilla" isn't a thing because it's not supposed to be.  It is also good to note that not all unsweetened plant-based milks are sugar-free.  Some may not mention anything sweetened or unsweetened but will have 6g of sugar or more. That would be a lot of sugar in your mac and cheese! 
Although we used a neutral-tasting flax milk for this recipe, any unsweetened plant milk will work. Keep in mind that a creamier textured plant milk will really make this dish extra comfort foodie. For example, oat, cashew, or coconut milk would work best.
This was honestly the first time we used this product in our recipes, and it did not disappoint! These cheddar shreds are great for building the proper creamy, gooey texture that mac and cheese lovers everywhere admire.
vIolIfe mature cheddar slIces
The mature cheddar has a more developed flavor than the regular Violife cheddar shreds. It really helps bring a better depth to the cheese flavor, by adding that tangy quality aged cheese would have. So in our opinion, Violife mature cheddar is definitely a must.
Oh delicious fatty butter, where would comfort food be without you. As you may probably know, regular cow cheese has a pretty high-fat content. Vegan butter will do just the trick to bring out that fatty quality that makes the creamy in creaminess.
For this recipe, we used 2 small cloves of raw garlic in our cheese sauce. Be warned, we did test this multiple times, and sometimes, depending on the garlic, the flavor can be very evolved and strong. Particularly older bulbs that are turning green and starting to sprout. Once the cheese sauce has been blended, the garlic flavor will cook out more.
For those who want a more mild garlic flavor use 2 tsp of garlic powder instead of the raw bulb. Add the 2 tsp of garlic powder to the blender, along with the other cheese sauce ingredients, and blend on high as the recipe says. 
Turmeric is absolutely one of Luna's favorite spices. Probably one of the biggest things we argue about in the kitchen is if a dish needs turmeric or not. Luna is pretty much prone to shake this spice into everything if she could. Nate; however, doesn't appreciate the taste as much as she does. For that reason, turmeric is optional for this recipe. Not only does turmeric have positive health effects, but also adds beautiful color to the mac and cheese casserole.
We used regular elbow pasta for this recipe. The pasta can easily be substituted out for any pasta shape of your liking. This recipe would also be completely gluten-free if a gluten-free pasta made from quinoa, brown rice, or even chickpeas was used instead.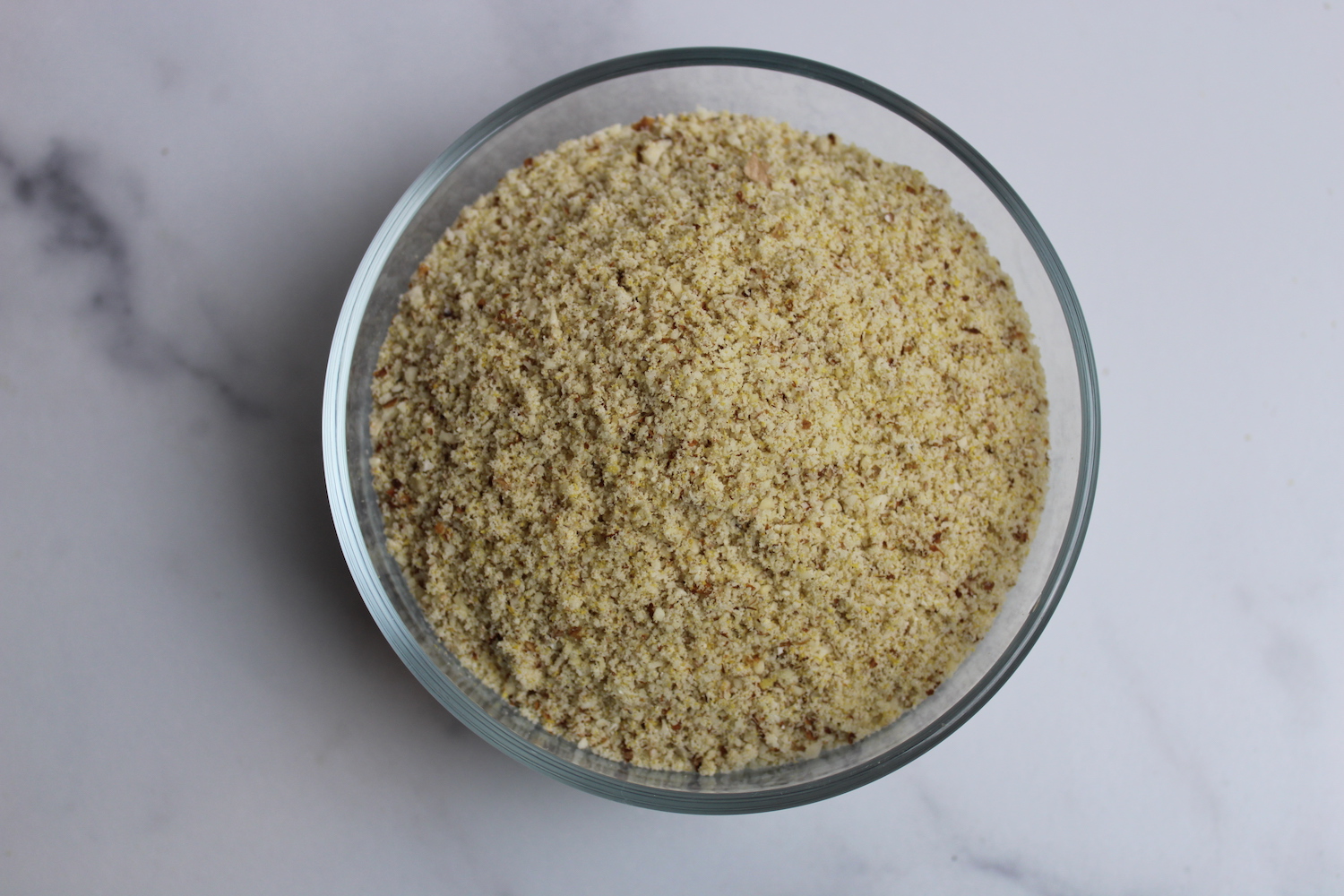 Almonds are the best nut to use when making "parm." Mostly because of their more neutral flavor. We used raw almonds, with the skins. It is important to note that if the almond parm was omitted this would be a completely nut-free dish.
While the almonds provide the body and texture the nutritional yeast provides the cheesy parmesan flavor.
We used Himalayan pink salt for this recipe, it's our go-to. Himalayan salt comes from the Punjab region of Pakistan. It contains dozens of trace minerals which give the salt its natural pink hue. Some of these trace minerals including calcium, potassium, and magnesium. The salt makes the flavor of the nutritional yeast really pop.
Sometimes when we make almond parm we use garlic powder. For this recipe in particular we decided to omit it because the cheese sauce already has enough garlic flavor. If anyone wants extra garlic flavor by all means add some garlic powder to your almond parm!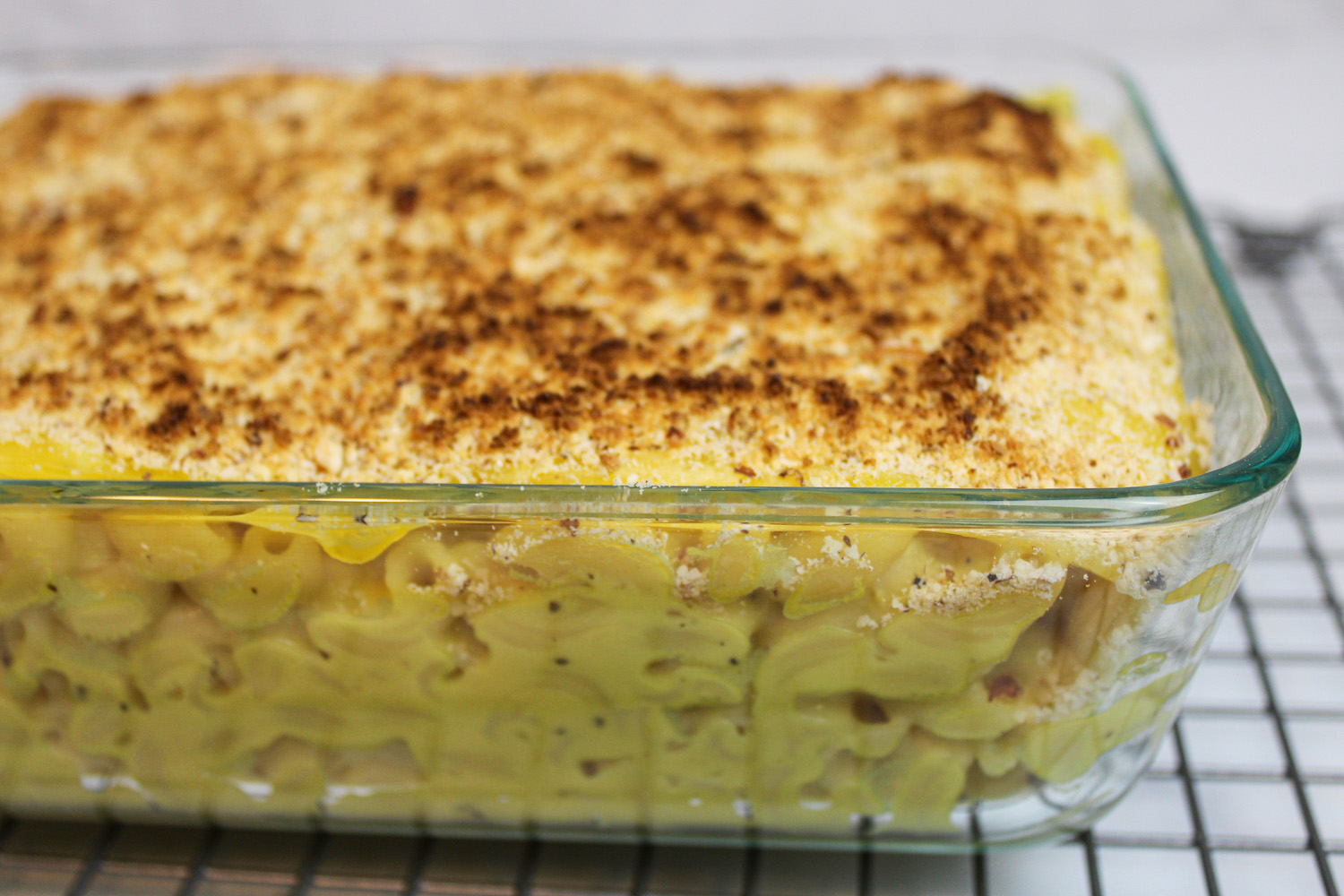 We use two kinds of cheese for the garnish.
As mentioned previously, the mature cheddar really gives a deeper cheddar flavor to the dish. When added on top and melted it makes this delicious casserole crust.
The smoked provolone has got a really nice smoky flavor that blends so well with the other cheddar products from Violife.
make yourself the ultImate vegan comfort meal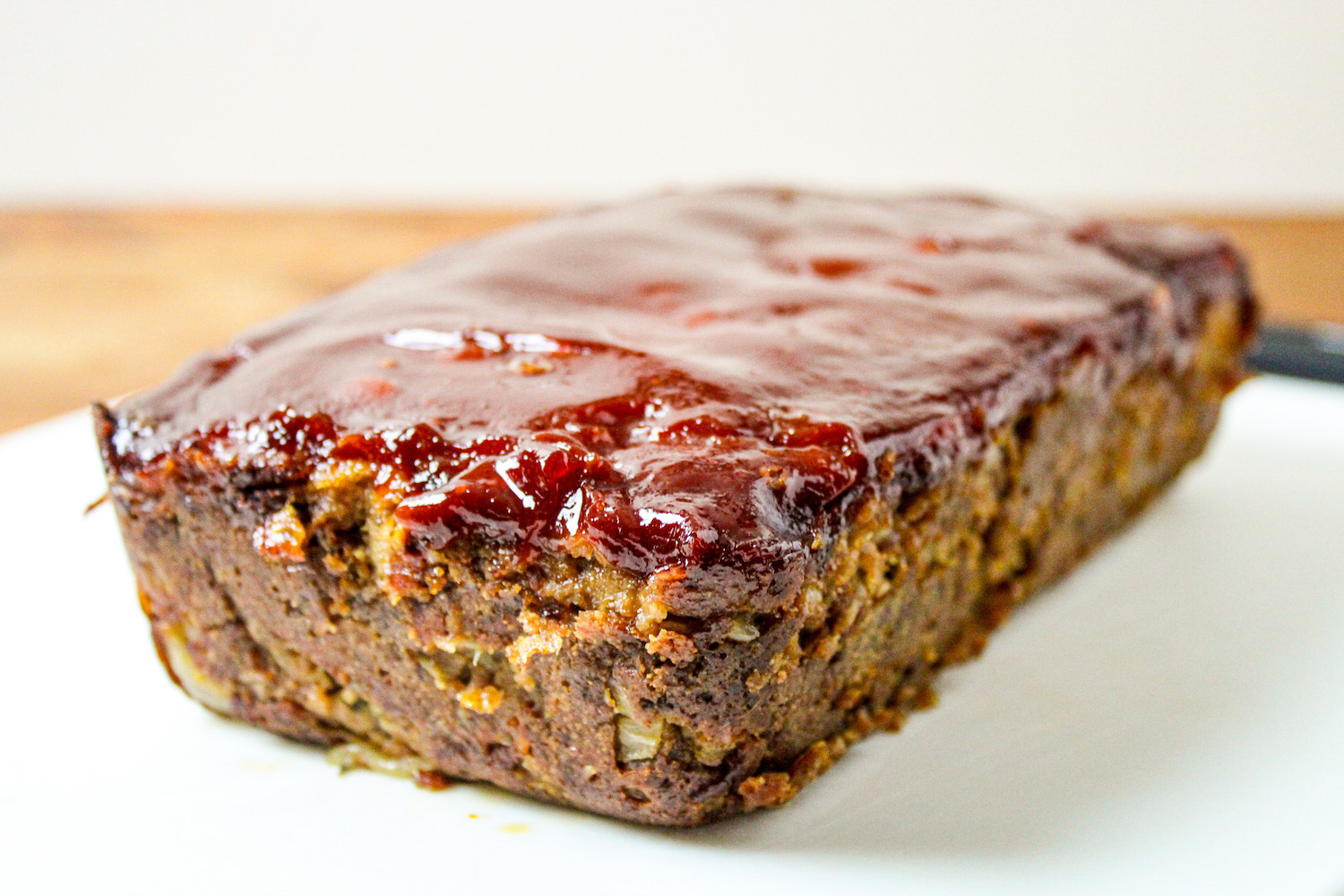 Vegan Meatloaf with Tomato Glaze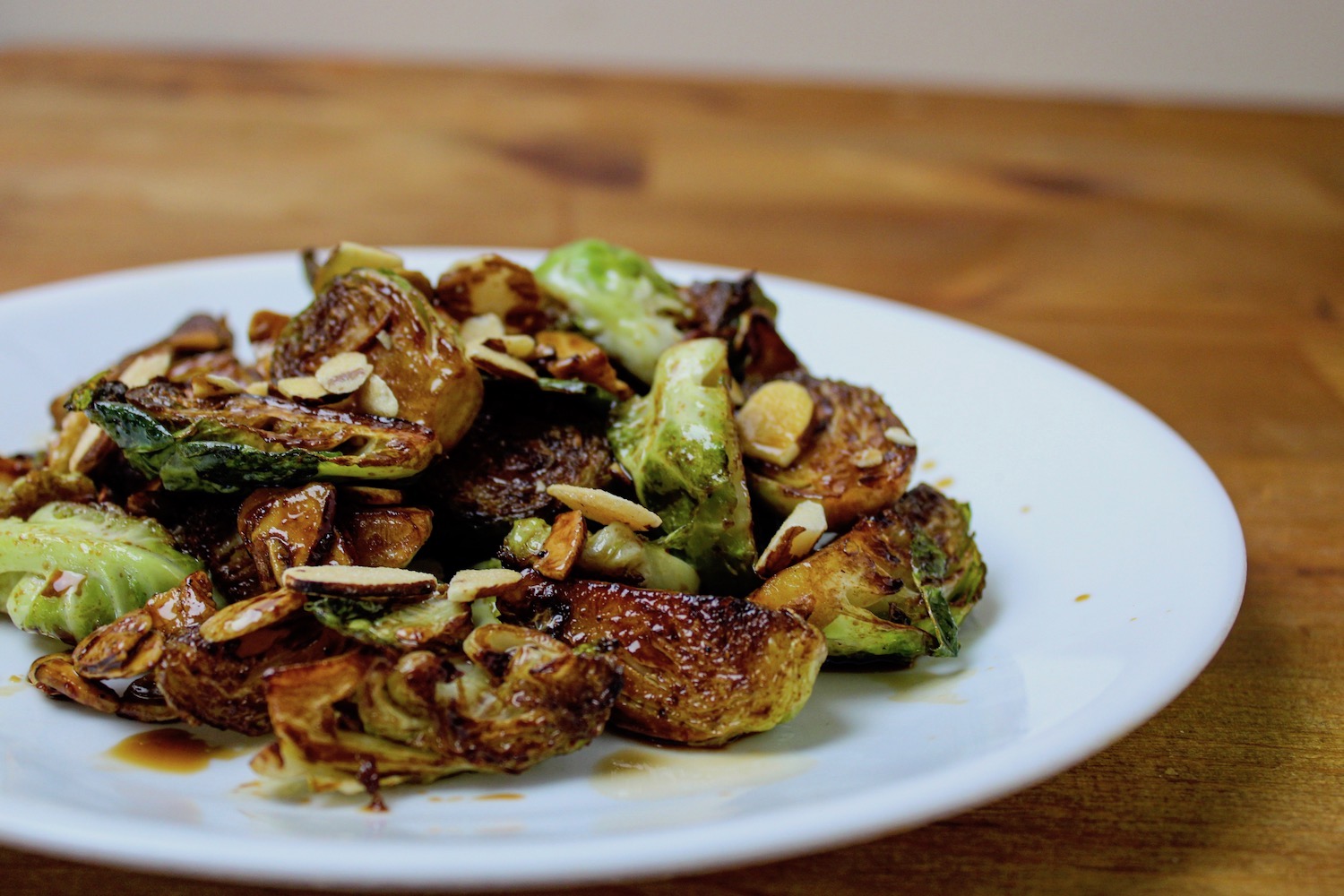 Balsamic-Glazed Brussels Sprouts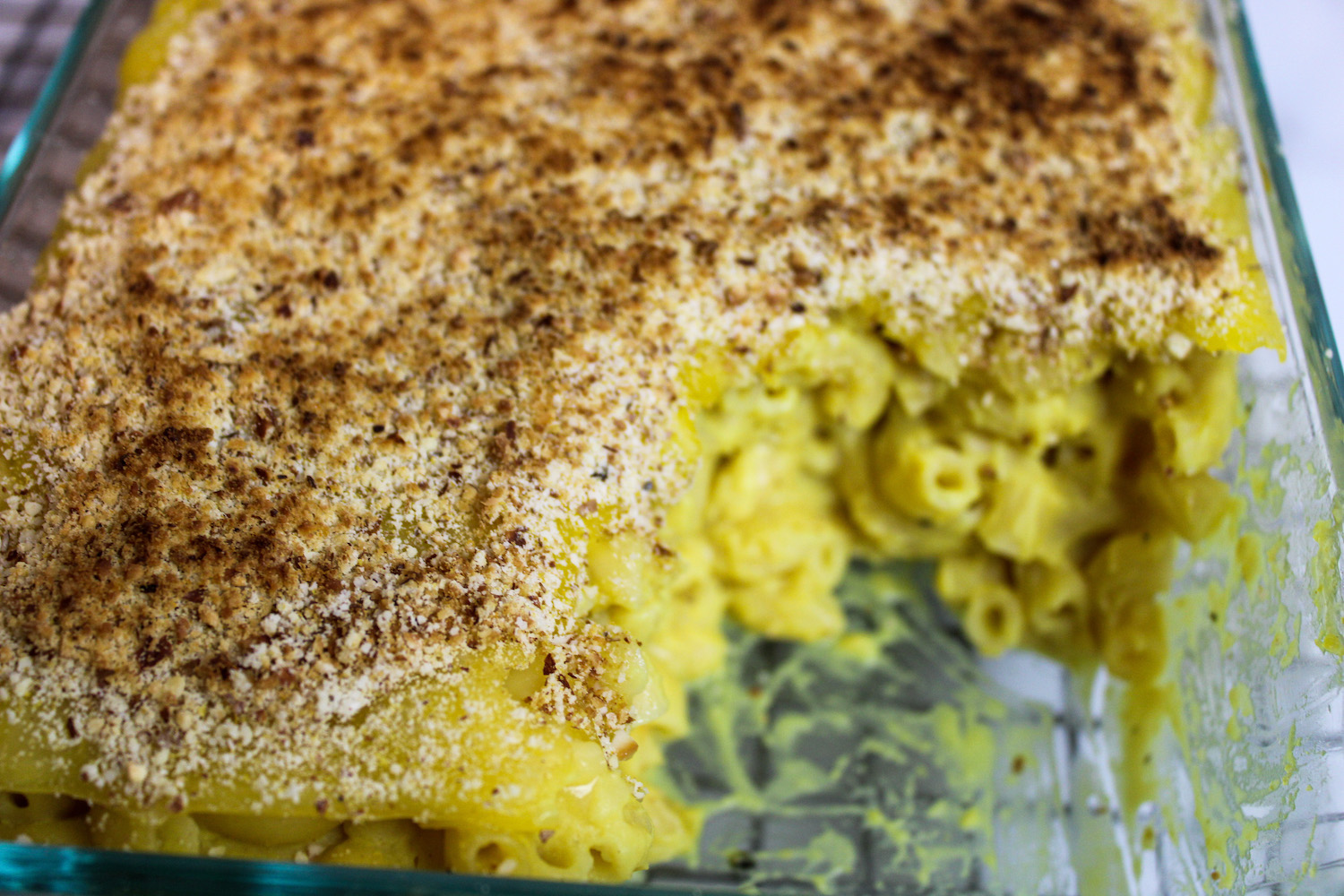 White Bean Mac & Cheese Casserole
whIte bean mac & cheese casserole
Cheese Sauce
1 Can (15.5 oz) Cannellini beans

1 Cup Plant milk, unsweetened 

2/3 Cup Violife Cheddar Shreds

2 Slices Violife Mature Cheddar

1/2 tsp Salt

1 tbsp Vegan butter

1-2 cloves Garlic OR  2 tsp Garlic powder

1/4 tsp Turmeric, optional
Almond Parmesan
1 Cup Almonds, raw

2 tbsp

Nutritional yeast

1/2 tsp Salt

1/4 tsp Garlic powder, optional
Baked Crust
3 Slices Violife Mature Cheddar

2 Slices Violife Smoked Provolone
Begin by adding all the parmesan ingredients into a high-speed blender and blend on high.

Add the contents into a container and set aside.

Next, bring a large pot of water to a boil for the pasta.

Then add all the cheese sauce ingredients into a high-speed blender.

At this time the water should be boiling and it's time to cook the pasta. Use the directions on your package for cooking time.

Add the sauce into a saucepan and cook on medium-low heat. If you added the turmeric, the sauce will turn a brighter yellow. Cook for about 5 minutes or until the raw garlic flavor has been cooked down.

Once the sauce has cooked for 5 minutes turn the heat off.

Strain the pasta from the water and mix the pasta into the sauce.

At this time set the oven to broil.

 Transfer the mac & cheese to your favorite casserole dish.

Next place the slices of mature cheddar and smoked provolone on top of the mac & cheese.

Once the oven has come to temperature add the Mac & cheese with the cheese slices into the oven.

Bake for about 5 minutes until the cheese slices begin to melt and bubble.

Take out the casserole and add a generous helping of almond parmesan to the top.

Add the casserole back into the oven until the parmesan gets nice and brown. The dish may need to be turned to get an even browning.

Once brown turn off the oven and place the casserole onto a cooling rack.

Allow the dish to cool for about 1 minute before diving in!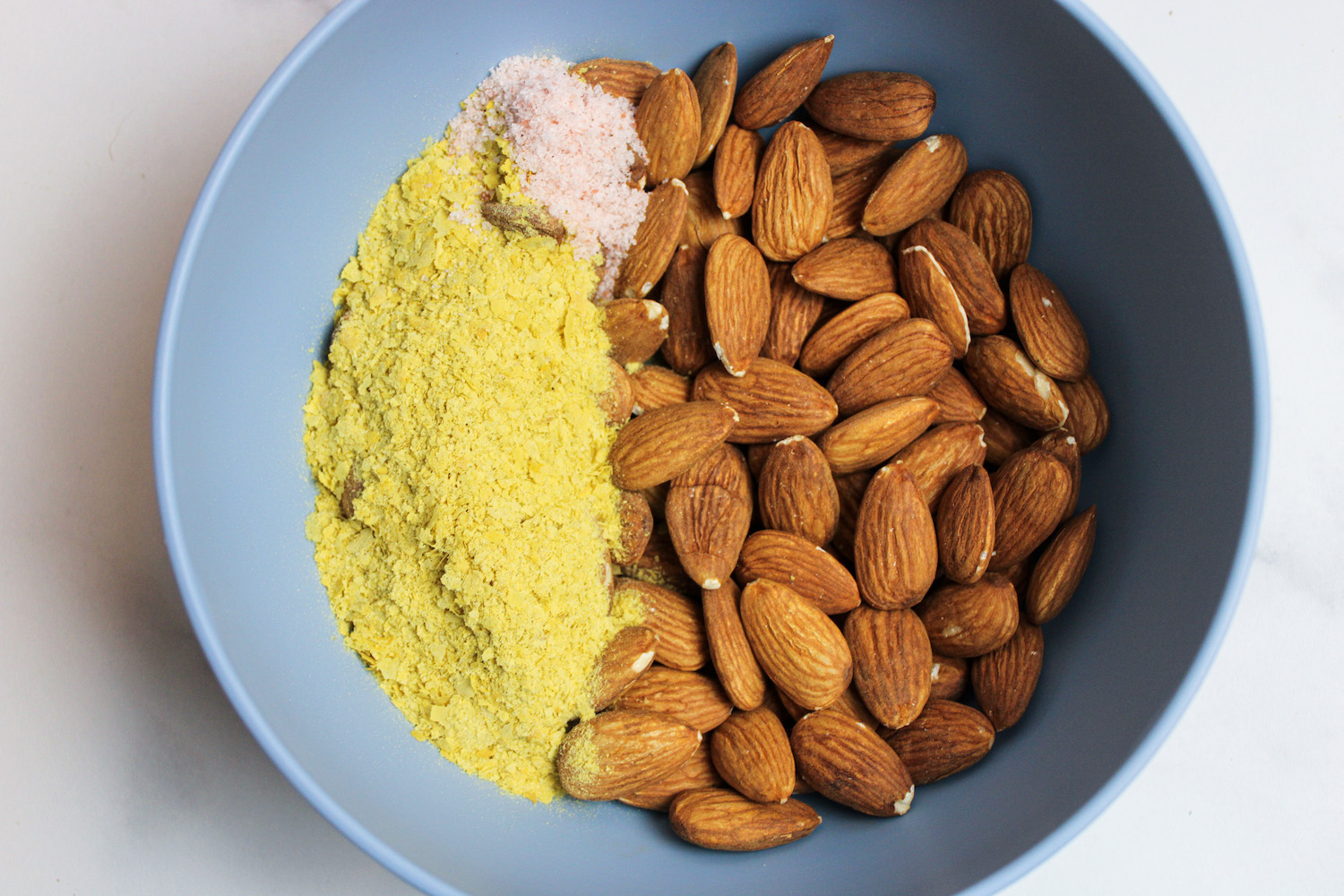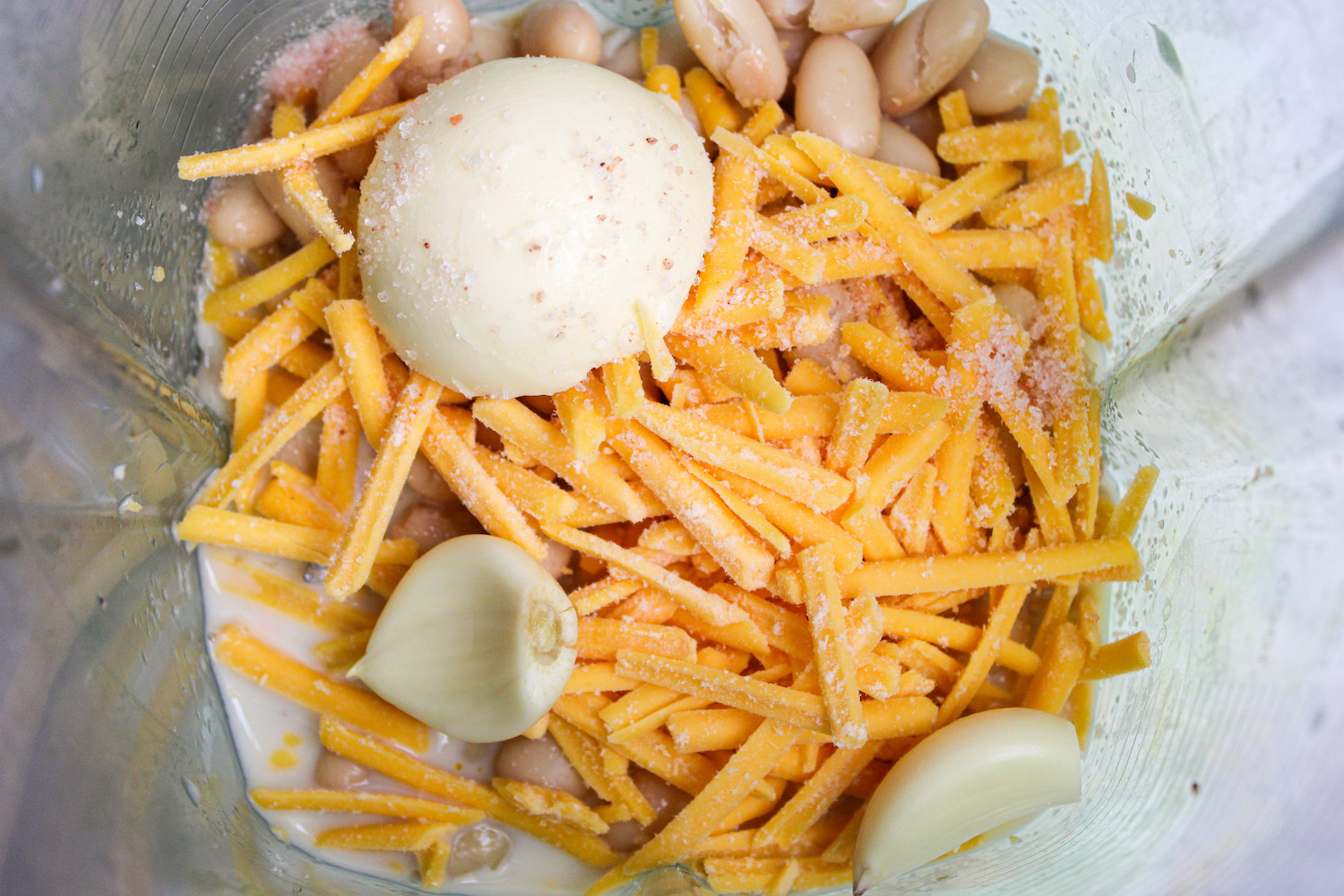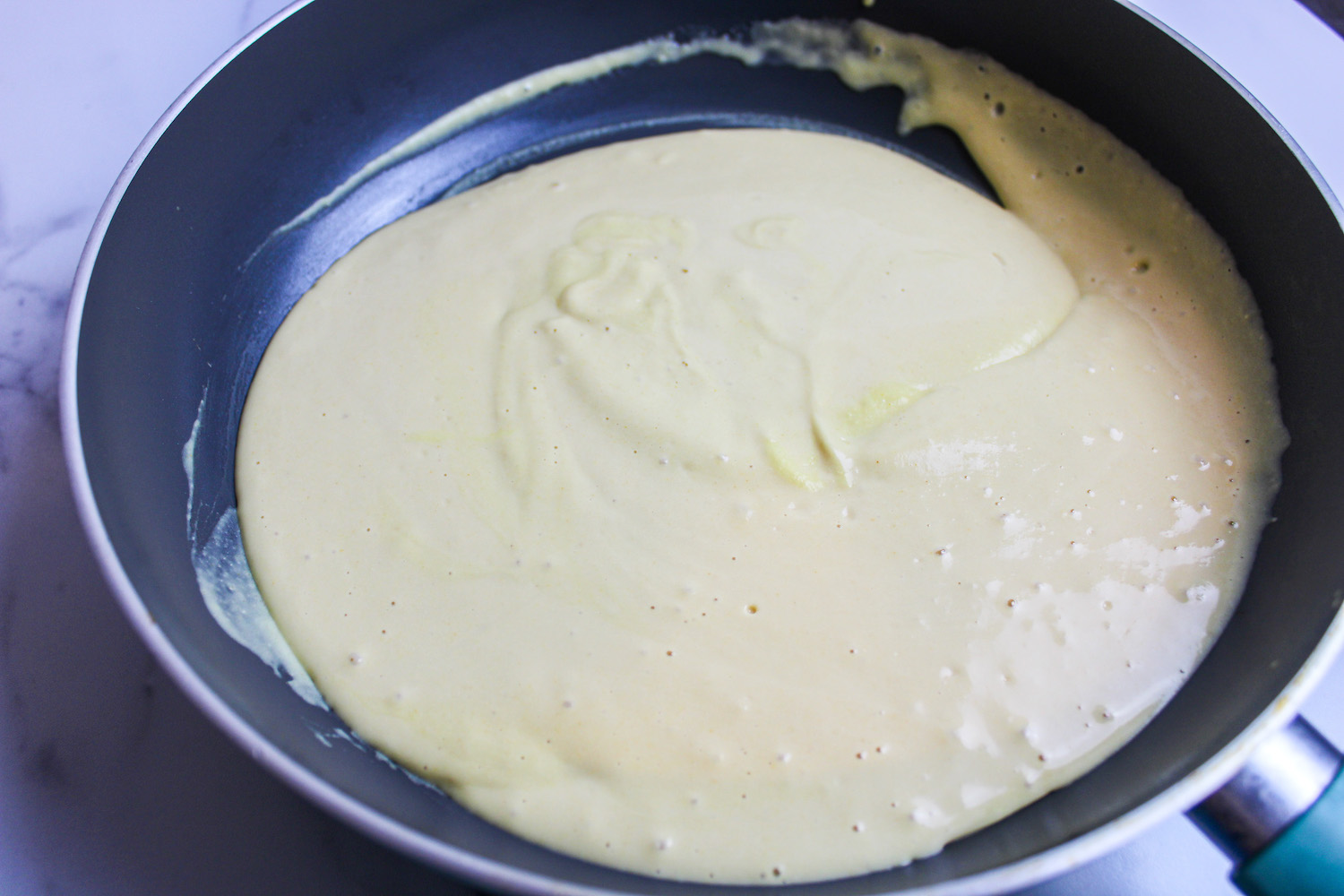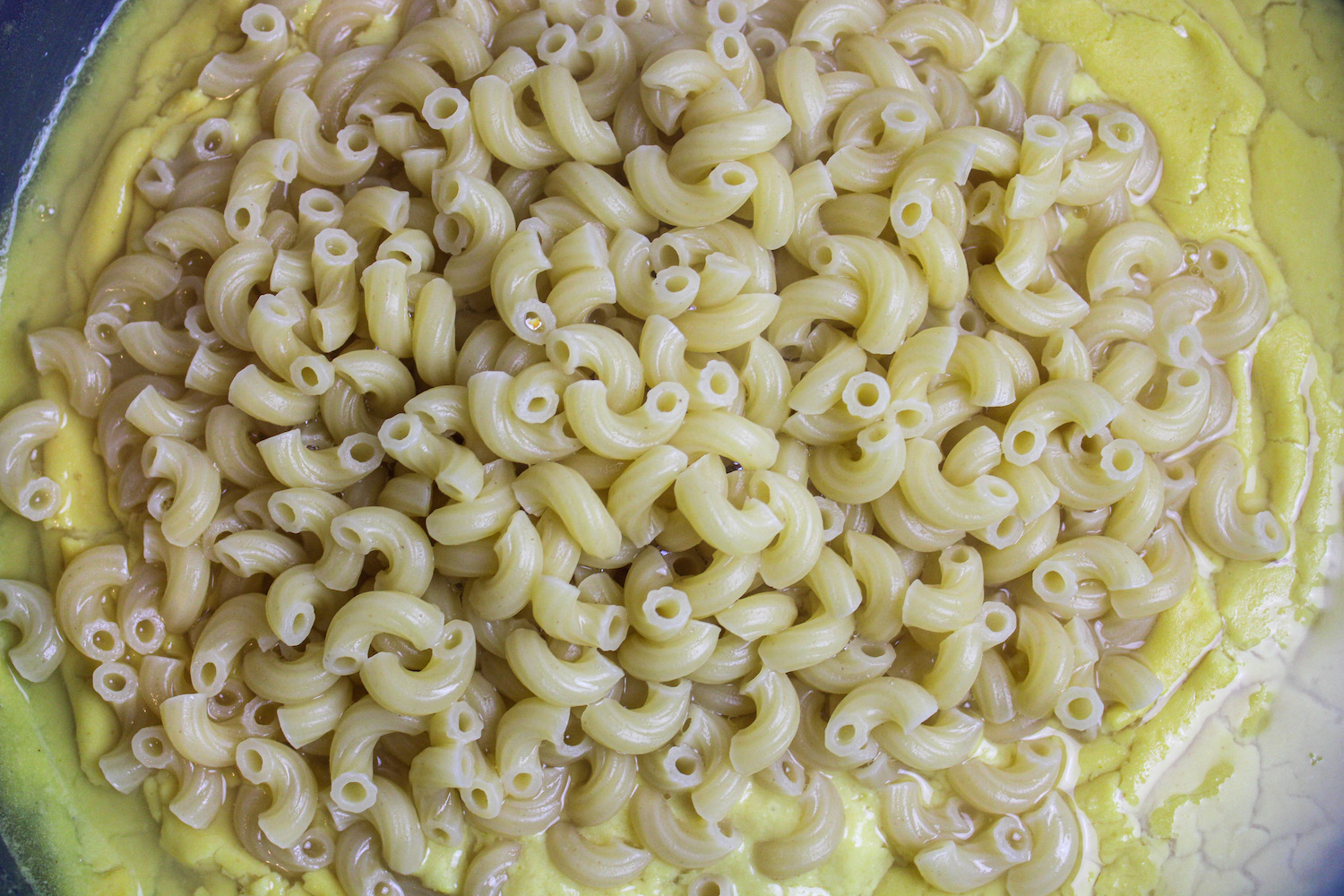 Mixing Pasta into the Cheese Sauce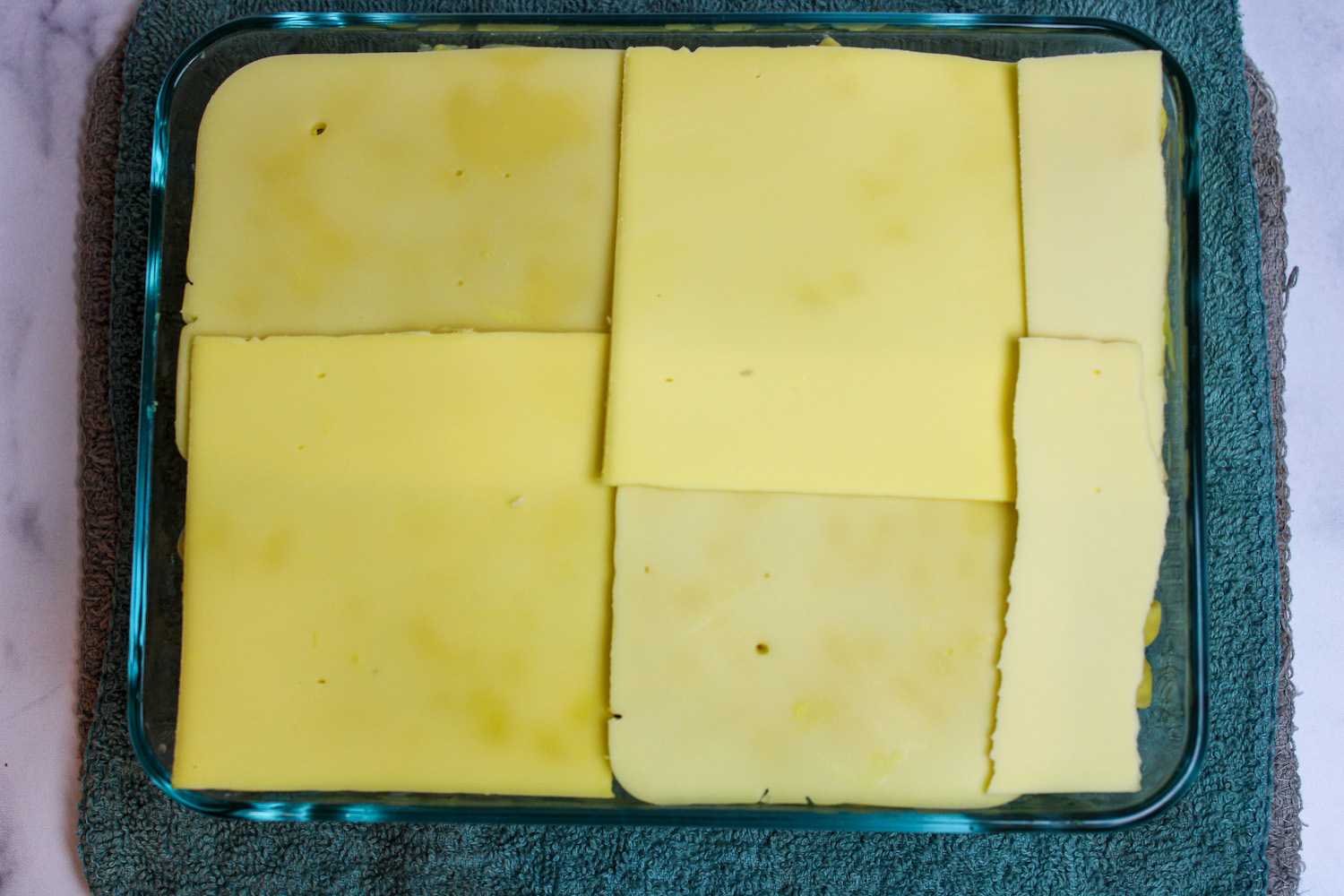 Sliced Cheese on top of Mac & Cheese in Casserole Dish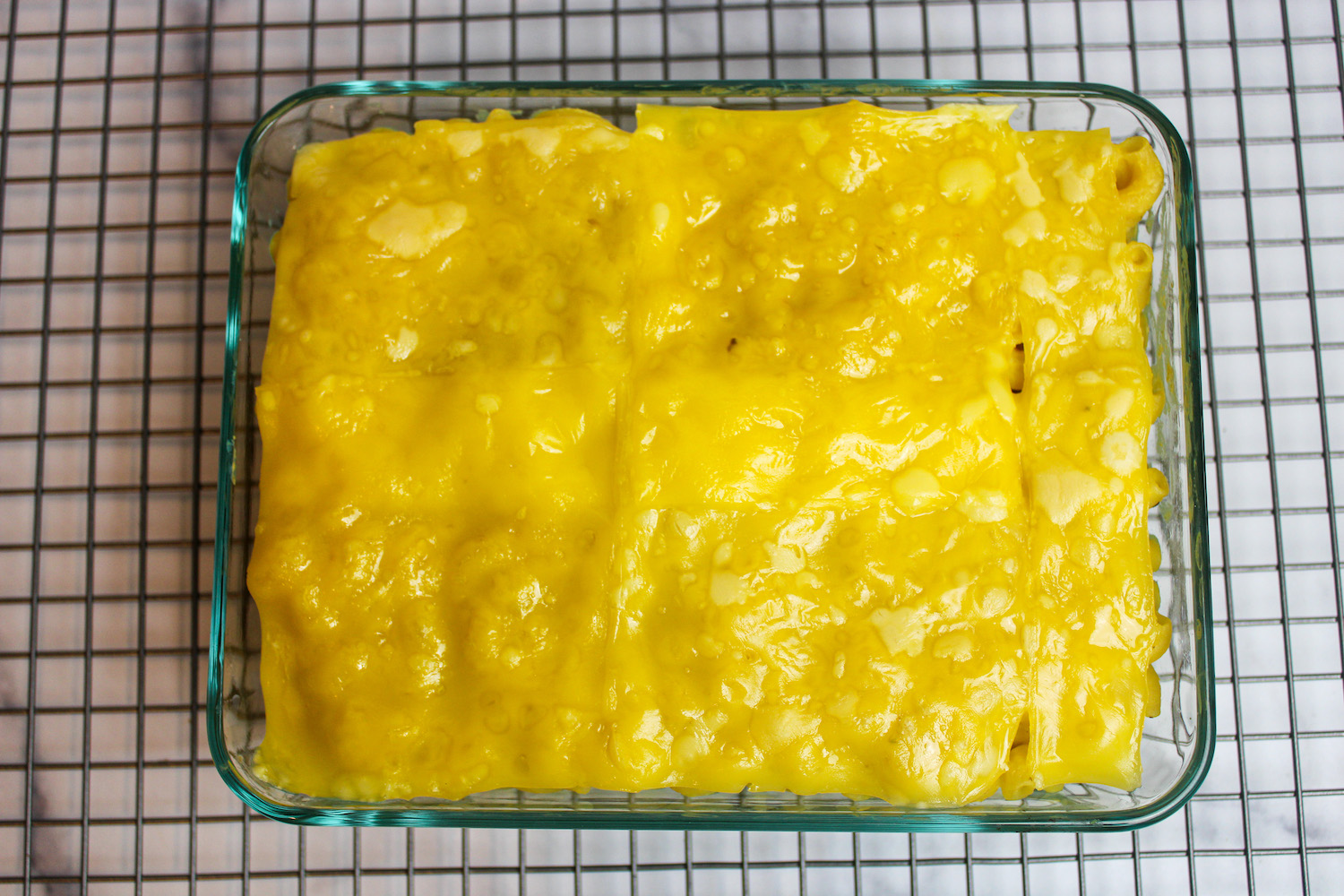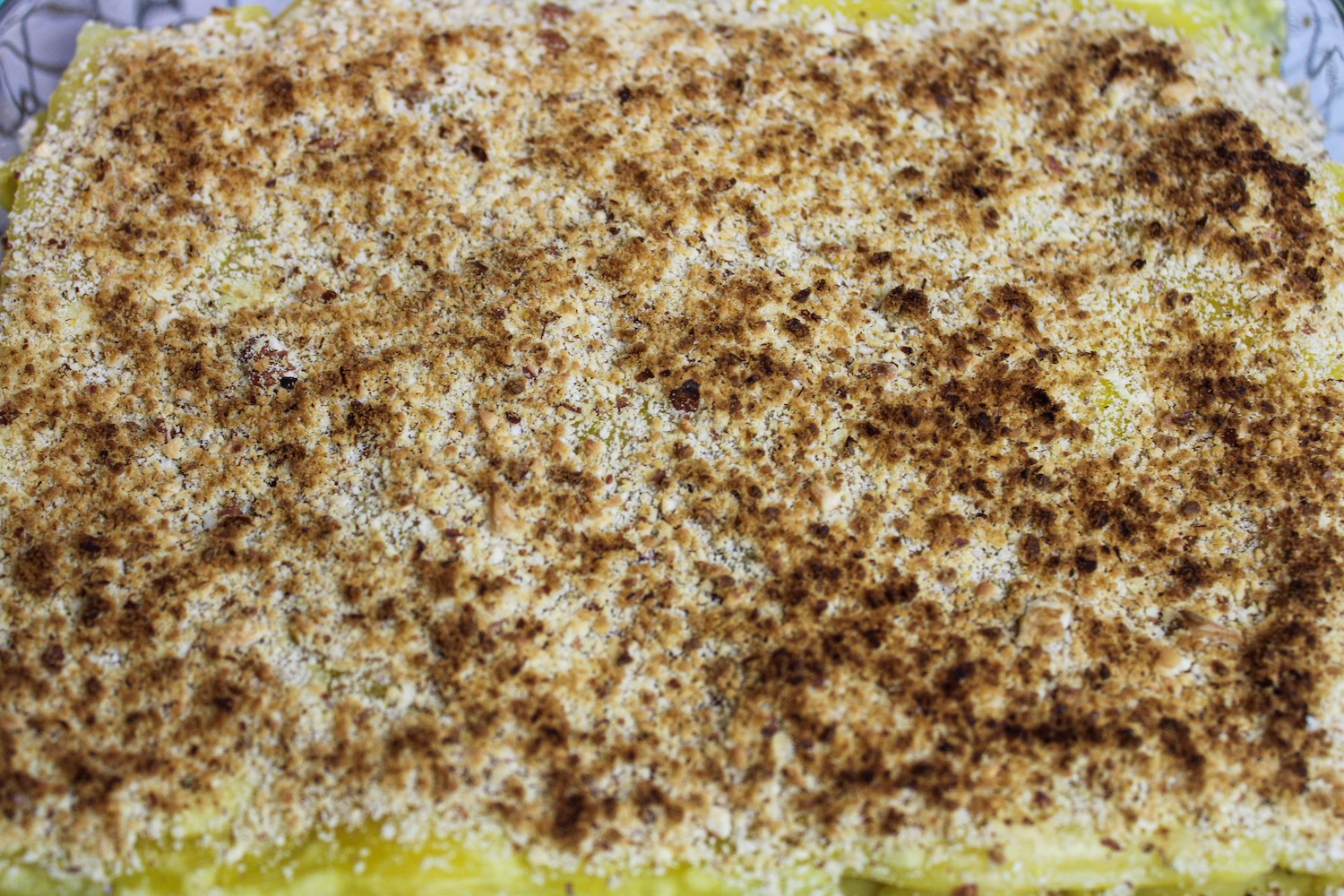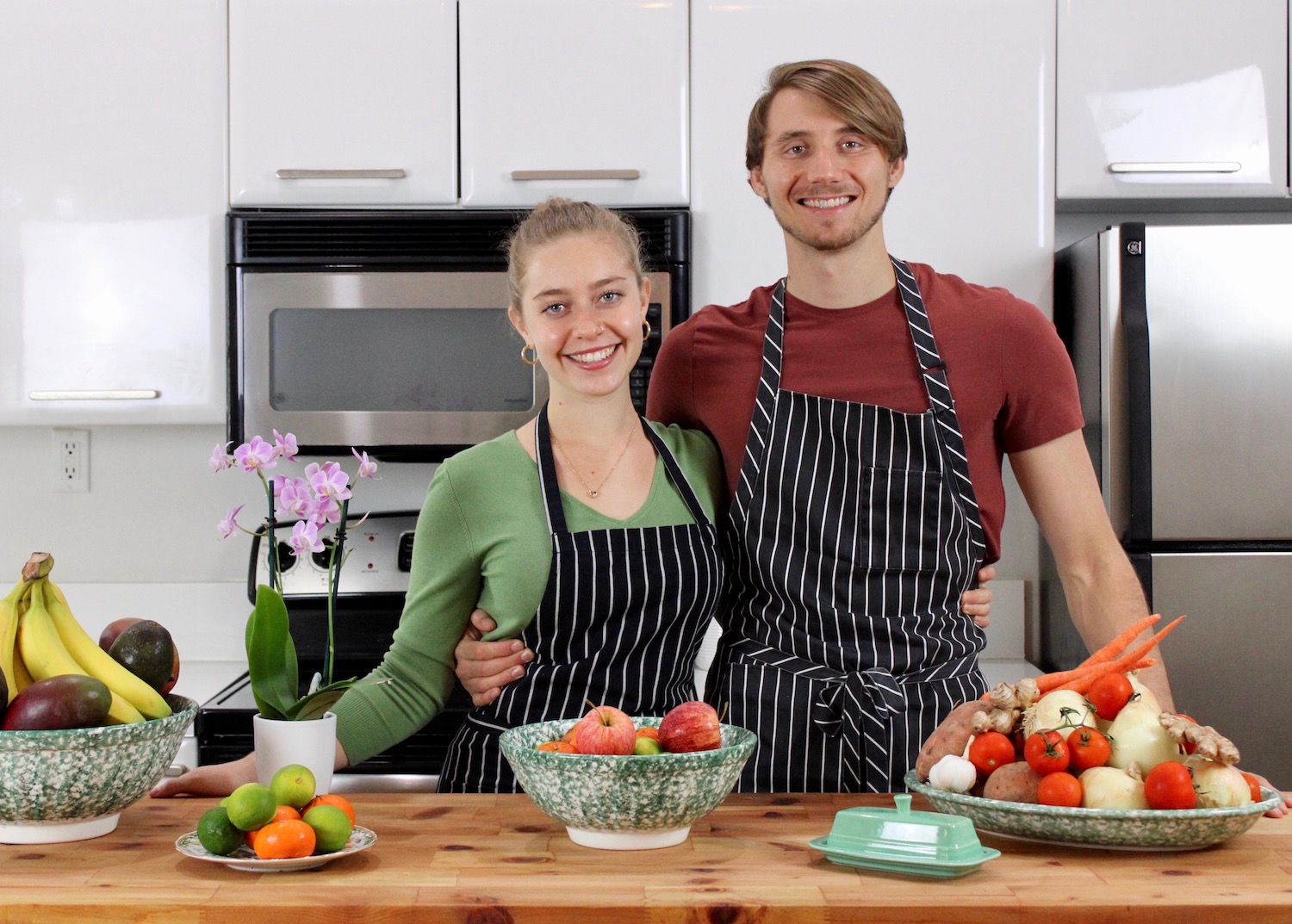 Hi everyone, we're Luna and Nate, professional vegan chefs. We run a vegan food blog called Cooking Up Vegan and are originally from the Ann Arbor area. Combined, we have spent over 15 years as professional chefs. Whether you have dietary restrictions, are looking for a quick and healthy recipe, or are willing to try something new, we're sure you'll find something delicious at Cooking Up Vegan.